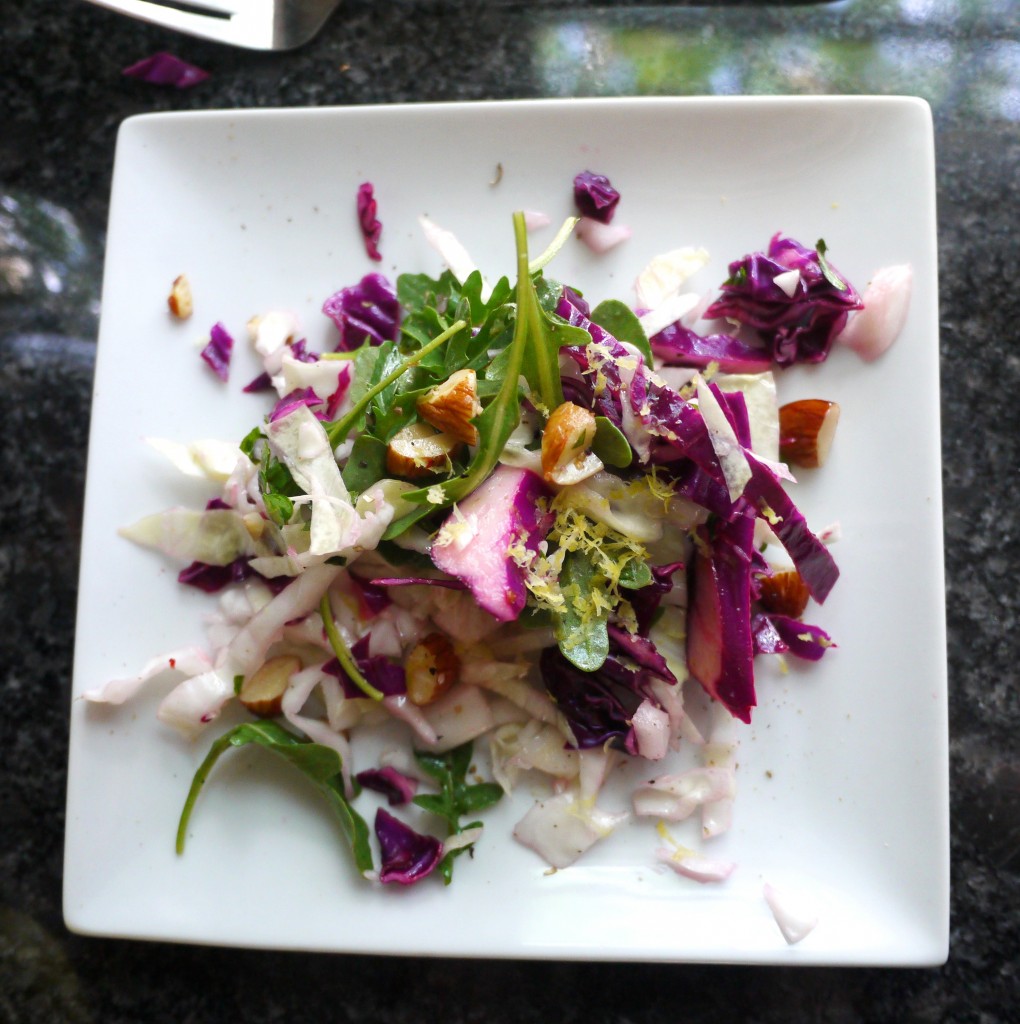 I think I've mentioned before that I'm not a big salad person. Unless that salad involves Mexican food or includes some type of salted Italian bacon or a warm goat cheese or a perfectly poached egg with a creamy, slightly runny yolk. Nor am I a huge fan of coleslaw. Or at least I didn't used to be – until I started making my own. That's when I realized that "slaw" doesn't have to be a big lump of runny, vinegary, over-mayonnaised cabbage that comes as an afterthought on the side of your deli sandwich. It was enlightening really. I went from giving cabbage the evil eye to finding it hard to walk past the cabbage in the grocery store without grabbing a big head of leaves. It's fresh, it's healthy and it's cheap. I don't know if you know this, but cabbage is pretty irresistible.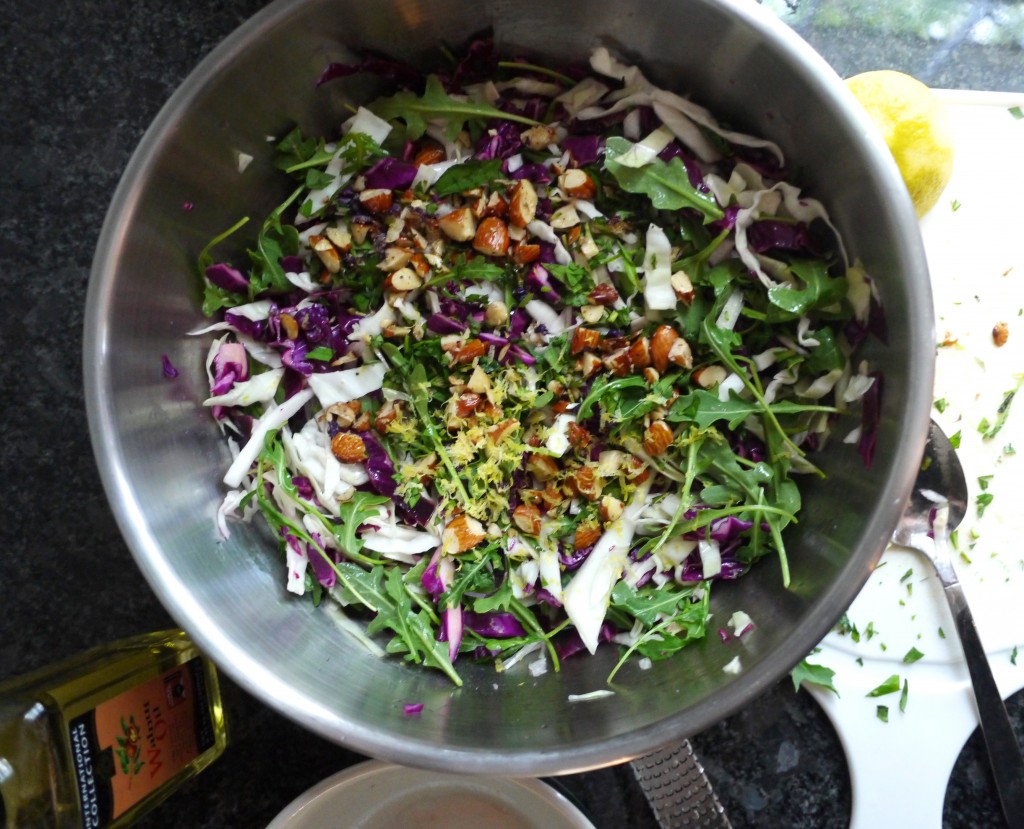 So, when I got an email from Tasting Table about a cabbage and watercress salad, I was immediately intrigued. Cabbage, yeah! Watercress, yeah! A salad that doesn't include lettuce and doesn't sound boring, yeah! In fact, it sounds perfect for a humid June evening.
Unfortunately, our grocery store decided to be out of watercress when I went shopping for this recipe. Apparently, they did not get the cabbage and watercress salad memo…. That's OK though. Arugula saved the day. Arugula is a little more substantial than watercress and adds that great bitter green flavor to the salad.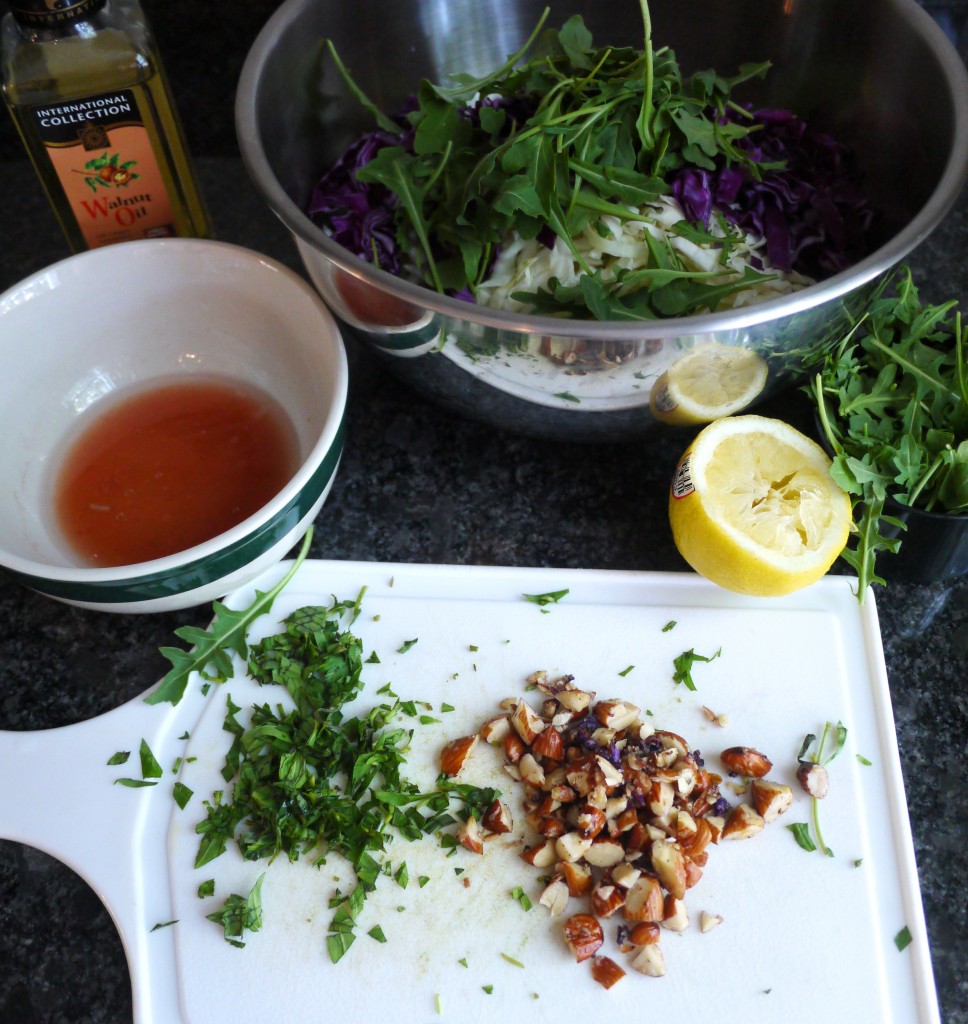 Healthy Recipe Ecstasy? The combination of flavors in this salad slaw really is perfect for a summer night. It's refreshing, it's tangy, it's citrus-y. It's the perfect accompaniment to whatever meat you're grilling. Or, if you want to go vegetarian, you can pair it with my goat cheese and cherry crostini which I'll share with you later this week. Get excited because it's some good stuff!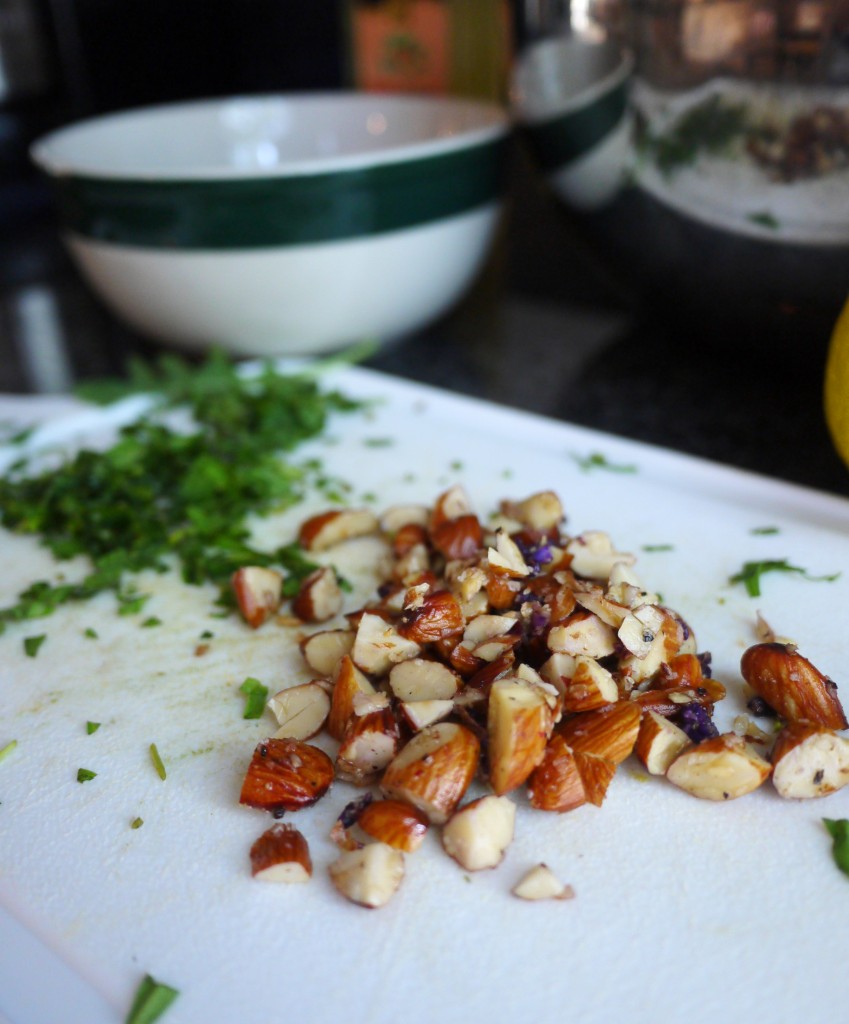 I made a few other changes to the recipe in addition to the arugula swap based on healthy and convenience. I didn't have sherry vinegar nor could I find it so I just used red wine vinegar. I swapped in almonds for the walnuts because almonds have less fat. And I swapped out the butter for olive oil when sauteing the nuts. That little change made this recipe dairy-free. It's also gluten-free, diabetes-friendly, Paleo-friendly, and vegetarian. There's basically nothing bad for you in here but it tastes oh so good. 🙂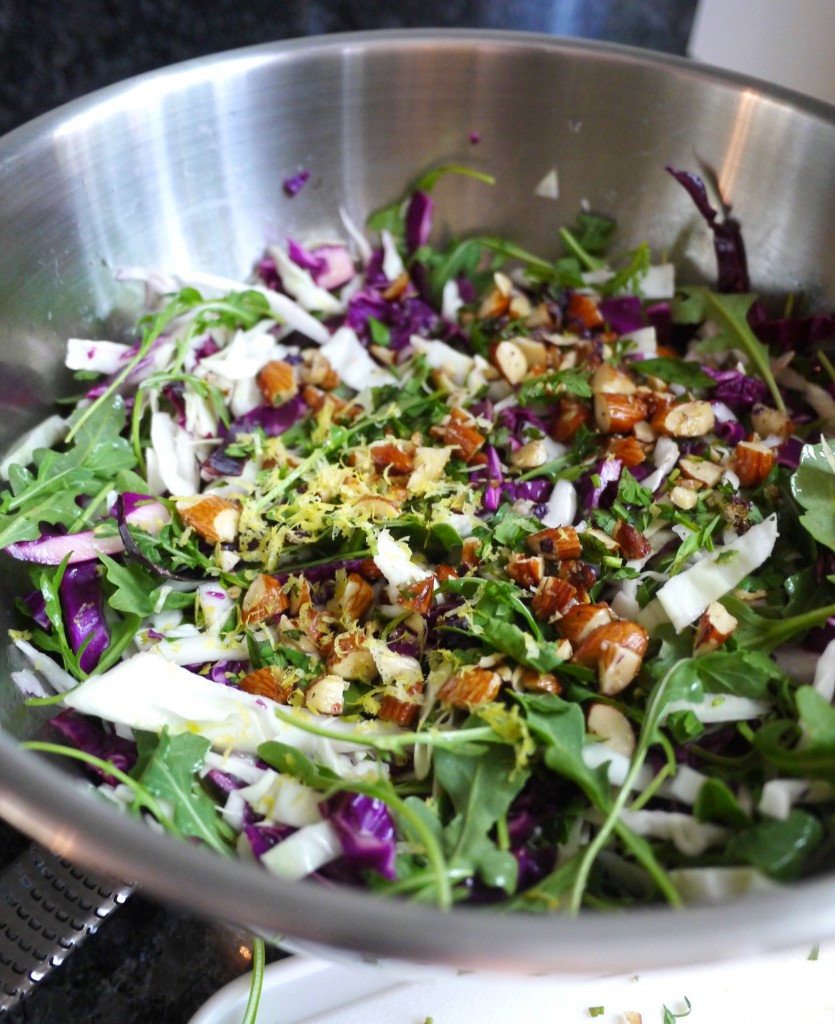 Cabbage & Arugula Salad with Almonds, Lemon & Tarragon
Author:
Healthy Recipe Ecstasy (Inspired by Tasting Table)
Ingredients
¼ cup red wine vinegar
1 garlic clove, quartered
1 tablespoon olive oil
¼ teaspoon freshly ground black pepper
½ cup dry roasted almonds, roughly chopped
¾ teaspoon kosher salt, divided
4 cups thinly sliced green cabbage (about ½ large cabbage)
3 cups thinly sliced red cabbage (about ½ medium cabbage)
1 and ½ teaspoons fresh lemon juice
2 tablespoons walnut oil or olive oil
2 cups loosely packed arugula leaves
2 tablespoons roughly chopped tarragon
Lemon zest for garnish (about half of one lemon)
Instructions
In a small saucepan set over medium heat, add the red wine vinegar and garlic pieces. Bring the vinegar to a simmer, turn off the heat, cover and set aside for 10 minutes. Remove and discard the garlic and pour the warm vinegar into a medium bowl.
In a medium nonstick skillet set over medium heat, add one tablespoon of olive oil. Once the oil is shimmering, add the black pepper, cooking until fragrant, about 30 seconds. Add the almonds and ½ teaspoon of the salt, stirring often until the almonds are warmed through, about 2 minutes. Transfer the walnuts to a medium plate and set aside.
Add the green and red cabbage and the arugula to a large bowl.
Add the lemon juice and the remaining ¼ teaspoon of salt to the vinegar. While whisking, slowly drizzle in the walnut oil or olive oil until the ingredients are combined.
Pour the vinaigrette over the cabbage and use your hands to toss together. Add the chopped tarragon and almonds and toss to combine. Top with lemon zest and more black pepper to taste.
NOTE: This salad tastes great room temperature or cold out of the fridge.