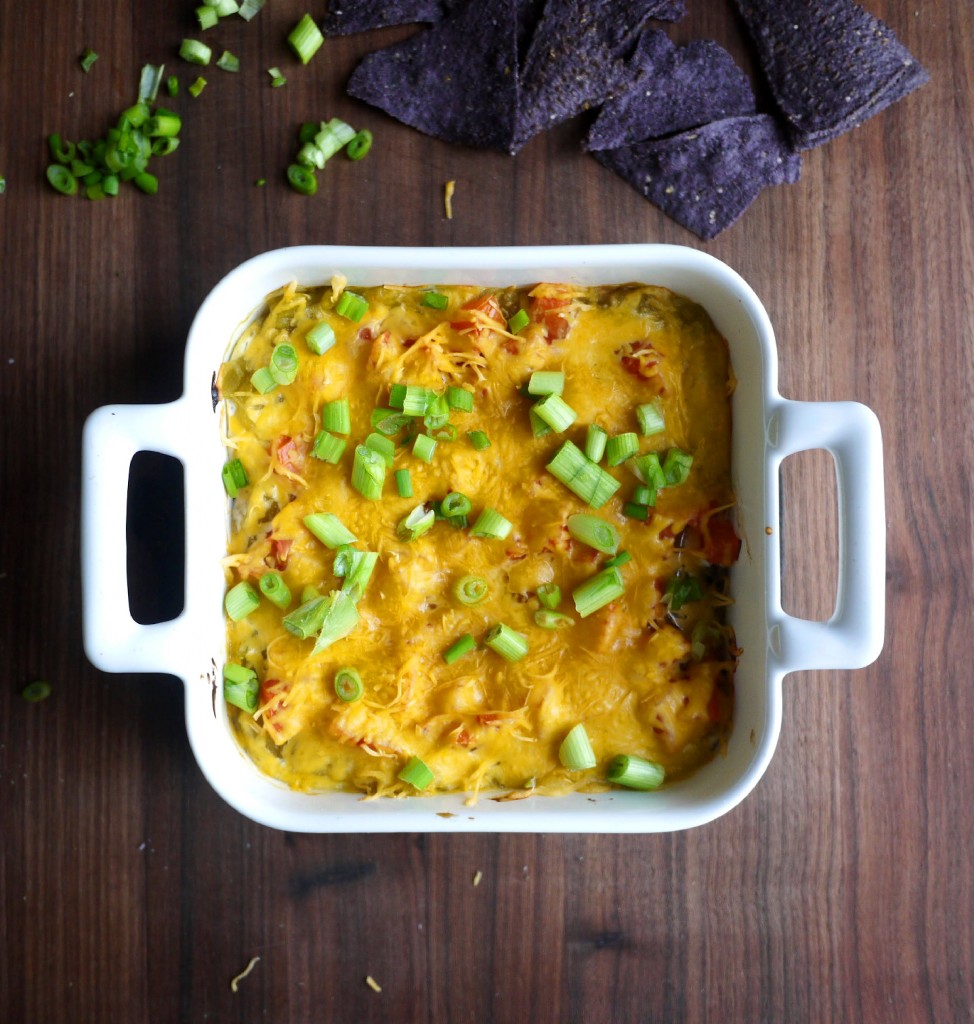 Seven layer dip. It's such a simple recipe – and not one that is usually thought of as being passed down from generation to generation by grandmothers and mothers protecting their secret ingredient (like a tomato sauce) – but it seems to invoke such a strong reaction out of the dip community. Some like it hot, some like it cold. Some top with olives, others top with scallions. Some include guacamole as a layer, some feel that guacamole has no place in the dip (sorry guac).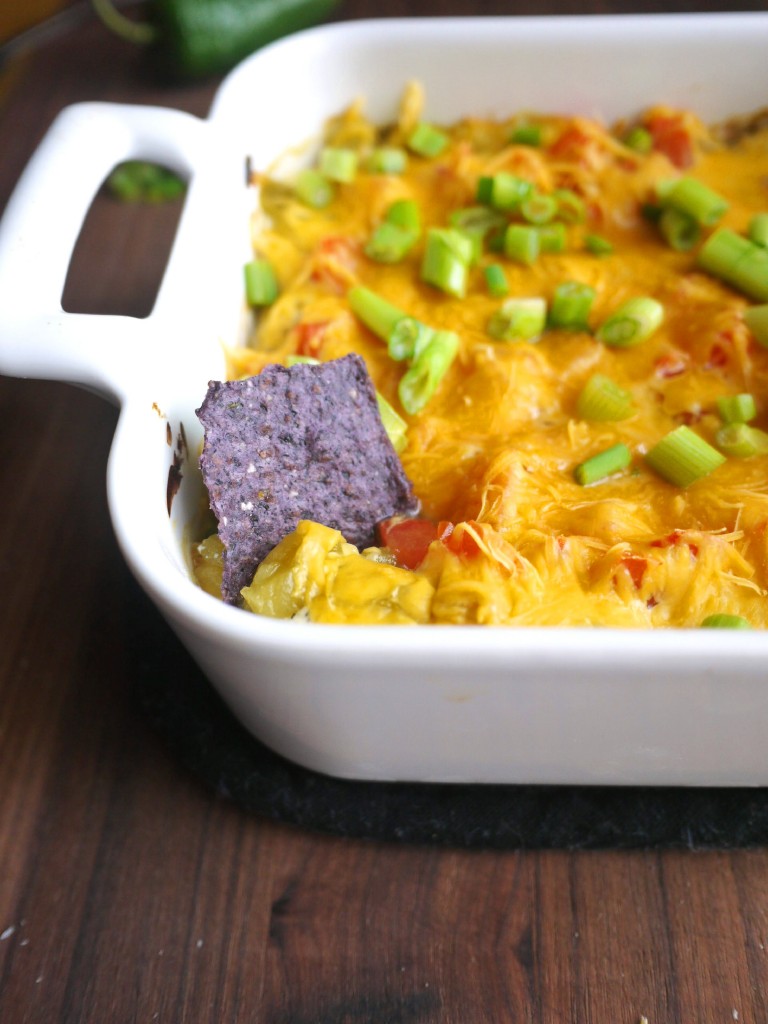 In my family, there are no secret-ingredient tomato sauces or decades-old casserole dishes. There is, however, the seven layer dip, which is the only "family" recipe that has been passed down to me so far. My mom has been making this dip for so long that she can't even remember where it came from. It's requested at every holiday gathering and sports-related event, and, subsequently, devoured by all in attendance (but mostly by me). I made my mom's dip for every Virginia Tech tailgate I hosted my senior year of college. I made the dip for countless parties, and, sometimes (particularly during my stressed out law school years), I made the dip just for myself. For me?? Thanks self.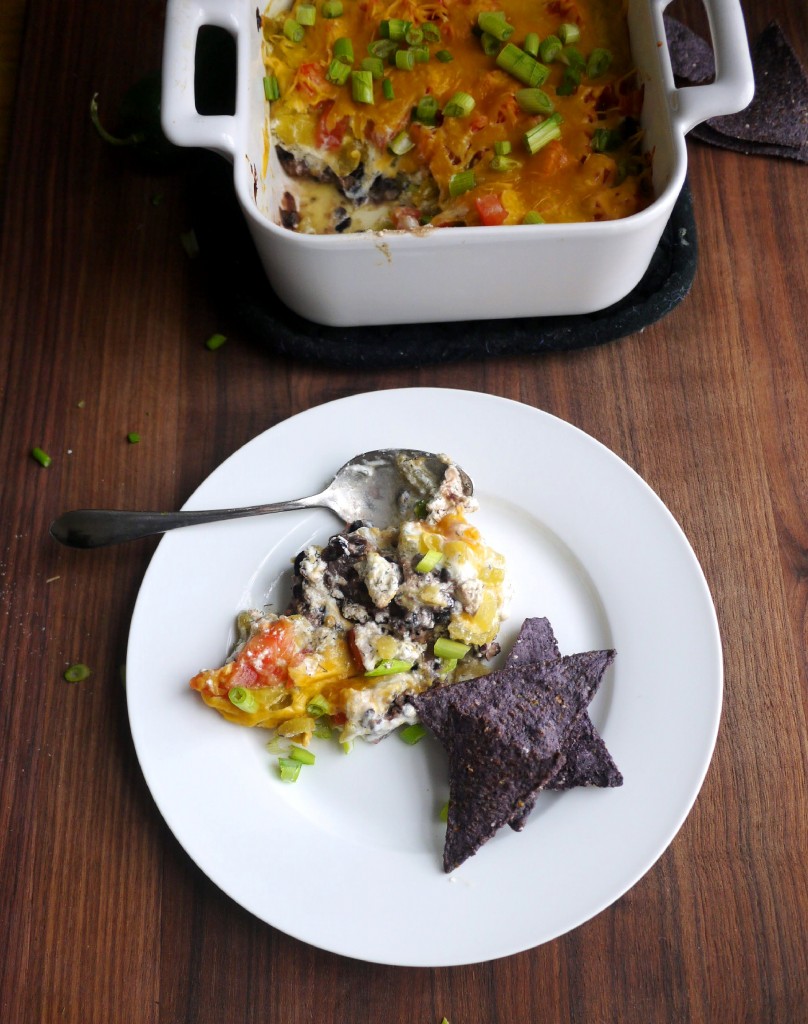 Here's my mom's view on the dip: Hot? Definitely. Olives? Check. Guac? Love it, but not in this recipe. Oh, and before you ask, the secret is that the tortilla chips are the seventh layer. 🙂 Over the years, the one thing we've disagreed upon are the olives. She loves them, I can't stand them. So, when I make the dip, I make it sans olives. When she makes it, I pull the olives off in disgust like a five-year-old before digging in. That would be me with dip up to my elbows.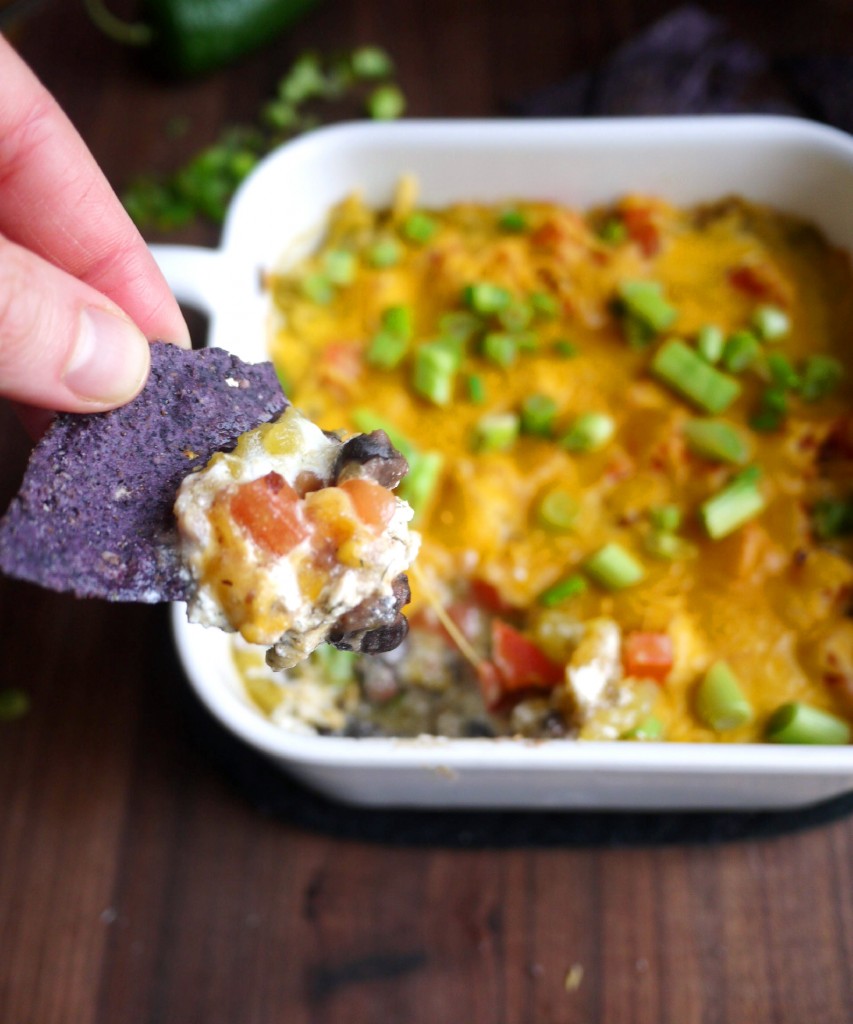 So, with Super Bowl Sunday upon us, I knew I couldn't let the weekend pass without making the infamous dip. However, as I move forward on my HRx track, I just couldn't bring myself to purchase sour cream (tummy no likey) and fatty refried beans and a package of "what exactly is that made of?" ranch dressing mix. What's a girl to do? Well, I decided to take a page from Bobby Deen's cookbook and HRx my mom's seven layer dip. That way, I still get to enjoy the dip during the Super Bowl frenzy, which, in my mind, is one of the best eating days of the year (who's playing again…???), but I don't have to feel uber guilty. And I know what's in my ranch-style yogurt because I made it myself!
Let's compare ingredients.
Mom's Dip: refried beans, full-fat sour cream combined with ranch dip mix, tomatoes, green chilies, full-fat cheddar cheese, olives and tortilla chips
My Dip: refried black beans, non-fat Greek yogurt mixed with onion powder, garlic powder, salt, ground black pepper, and dried dill weed, tomatoes, green chilies, low-fat sharp cheddar cheese, scallions, and organic and/or baked tortilla chips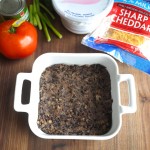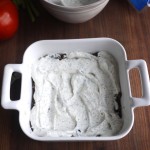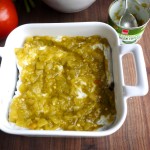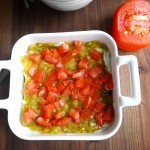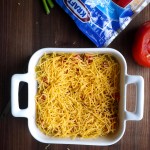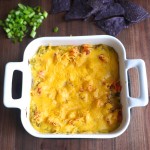 Mom, I will always love your dip, and you really can't beat the real thing, but my dip kicks a$$ (and will hopefully help me keep my a$$ in check). Black beans are more nutritious than pinto beans – they have more fiber, protein and antioxidants. Non-fat Greek yogurt is awesome because it's (a) non-fat (but not in the weird low-fat-cookie-that-contains-more-chemicals-than-real-food way) and (b) contains good-for-you bacteria. So you're actually doing something good for your stomach when you eat my dip. Instead of using the "what exactly is this made of?" ranch seasoning, I used my own spices to flavor the Greek yogurt. Then, I used low-fat sharp cheddar which cuts back on the calories without cutting back on the flavor. Finally, I went scallions over olives. Because olives are still gross <— and I'm still five. Baked, organic corn tortilla chips round out of my healthier seven layer dip. You can buy them baked in the store or bake them yourself.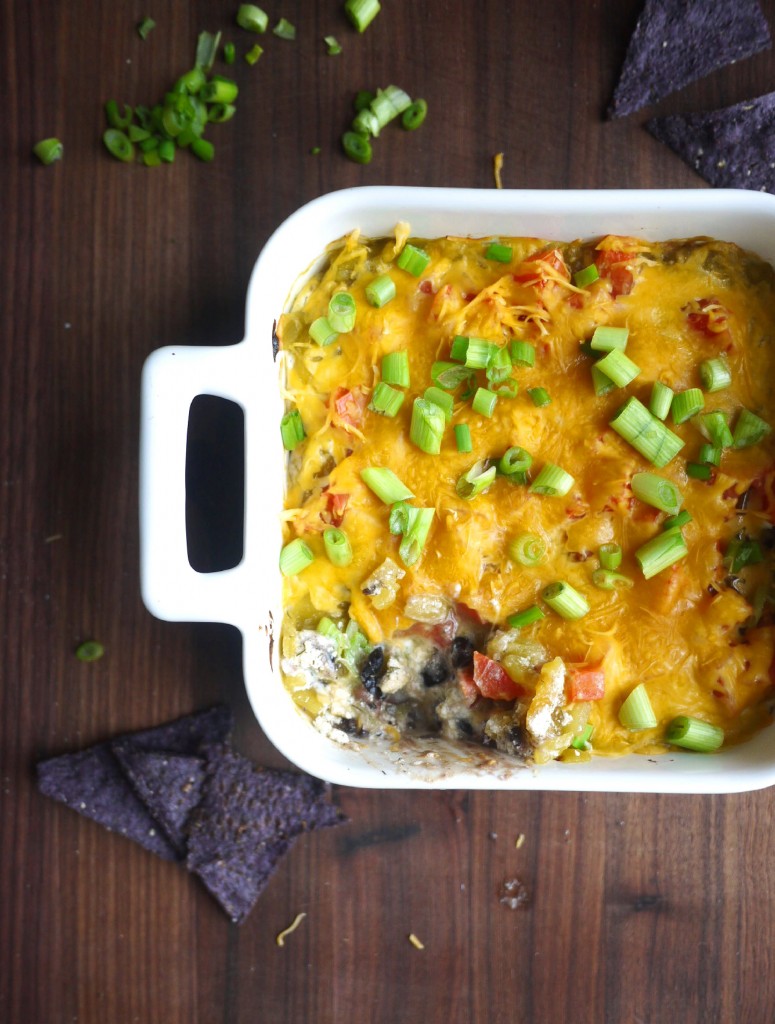 Most importantly, I used a small baking dish. If you're having a big party, you will want to double or even triple the recipe. If your shindig is small or you just want a yummy afternoon snack, then stick to my recipe. It's better to run out of dip than to be stuck with leftover dip (like that would happen) because if you're stuck with leftover dip you will find yourself heading to the fridge every hour on the hour for "just one more bite." Just me? Come on, I know you guys do it too!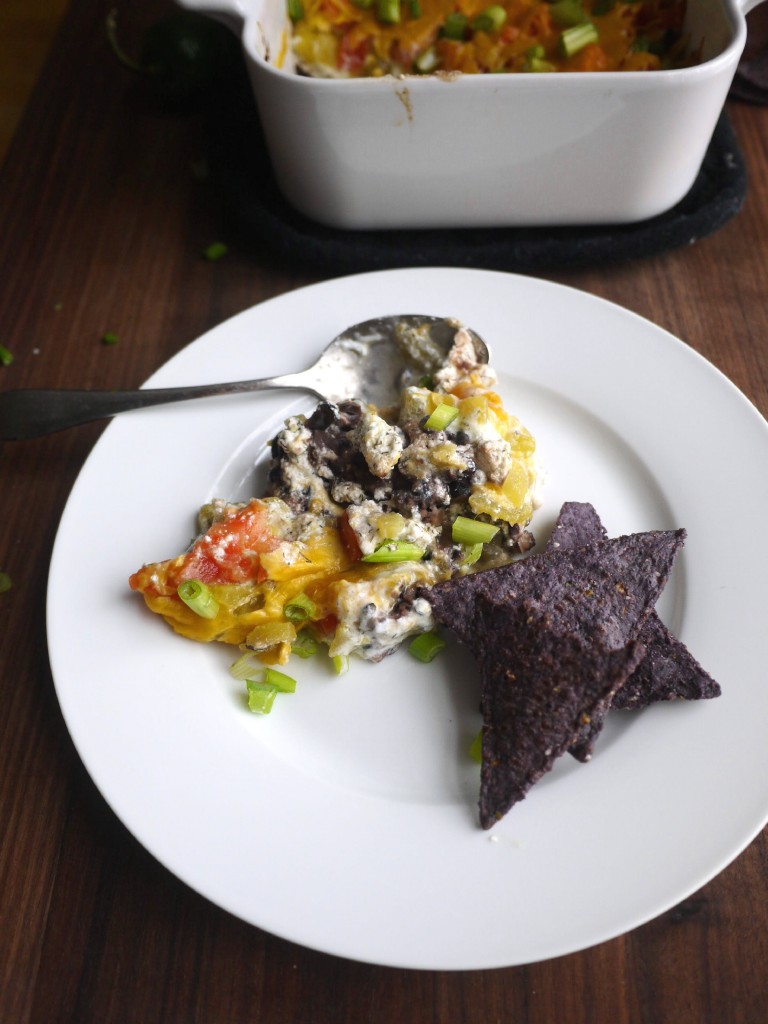 Stay tuned – on Friday I'm going to share my super easy, three ingredient appetizer that will be perfect if you find out last minute that people want to come to YOUR house to watch the big game. If you need more game-day ideas, check out these Super Bowl food makeovers and my other healthy appetizer ideas.

Not My Mom's Seven-Layer Dip
Author:
Healthy Recipe Ecstasy (Inspired by Mom)
Recipe type:
Appetizer/Dip
Ingredients
1 15-ounce can refried black beans
8 ounces (1 cup) non-fat Greek yogurt
¼ teaspoon garlic powder
½ teaspoon onion powder
1 teaspoon dried dill weed
Salt to taste
Black pepper to taste
4 ounce can fire roasted diced green chilies
Half of one large tomato (about ½ cup), diced
½ cup reduced fat sharp cheddar cheese
Scallions for garnish
Jalapeno (optional garnish if you like your dip extra spicy)
Tortilla chips (your favorite healthy brand - try to stick with baked, not fried, for an extra health kick)
Instructions
Preheat the oven to 450 degrees.
Mix yogurt with the onion powder, garlic powder, dried dill, salt and pepper.
Add the black beans to a small baking dish. Spread the yogurt evenly on top of the black beans. Add the green chilies, then the diced tomato, spreading both in an even layer. Top with the cheddar cheese.
Bake for 10 minutes or until cheese is melted and bubbly.
Garnish with scallions and jalapeno (optional). Serve hot with tortilla chips.
NOTE: My mom always heats her dip up in the microwave. Alternately, you can put the dip in a microwave safe dish and heat it in the microwave for 5 minutes.