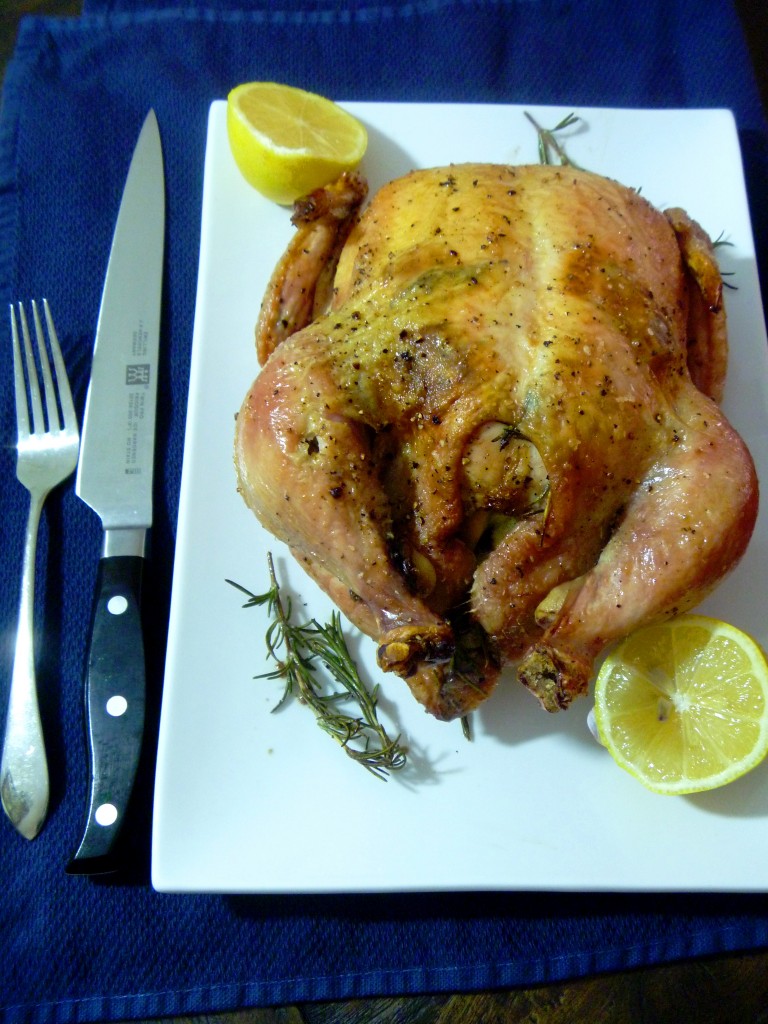 Over the holidays, I decided that if I want to be a better food blogger, I need to go back to the basics. I didn't learn to cook like a normal person – starting out with simple omelets and spaghetti. Sure, I was a whiz at making cookies with premade cookie dough. But, when I started baking, I skipped right over how to make a cookie from scratch and went head first into making an elaborate three-layer almond toffee cake. When it worked, it gave me a false sense of ability. Like, if I can master a three-layer cake, I can make anything. Authentic Brazilian food. Done. Curry? No problem. Risotto? What's so tricky about that? Because I'm good at following directions, I was able to make it through some pretty hefty recipes.
BUT, what I could not seem to do was roast a simple chicken. I talked about this a little bit when I roasted a turkey. I've tried twice in my life to make roast chicken. Both times were undercooked failures. Both times Alasdair had to rescue me. You know engagement chicken? It was more like un-engagement chicken.
So, I made a decision. I had to go to the master: Martha Stewart. I have this GIGANTIC Martha Stewart's Cooking School book that teaches you to cook all the basics, and I told myself I would make every recipe in the book until my technique was perfect. I think I've cooked about three recipes so far… Fortunately, due to Martha's great instructions, all three have turned out amazing. And the chicken was no exception! I did it, I finally made a roast chicken that didn't cause Alasdair tooooo much salmonella concern.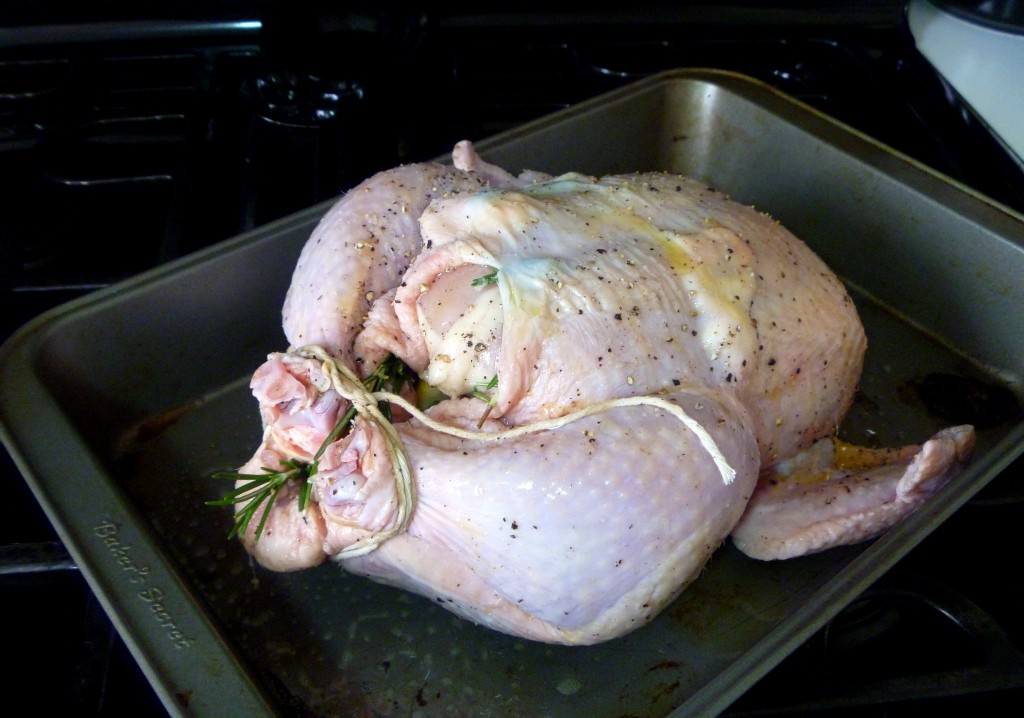 Look at that perfectly white chicken breast!
If you want to use the chicken juices and drippings to make a delicious gravy, check out my Sherry-Spiked Gravy for directions. Now you can enjoy roast chicken all week long!
Healthy Recipe Ecstasy?? YES! Salty, crispy chicken skin and juicy flavorful chicken meat. This roast chicken was actually perfect. Best part is, it's really not that hard to make. As long as you have the right tools — I'm talking about a meat thermometer and some cooking twine — it's relatively easy. Though I rated the difficulty at a "medium" because it's never that easy to remove the "giblets." 🙂

Perfect Roast Chicken
Author:
Healthy Recipe Ecstasy (Barely Adapted from Martha Stewart's Cooking School)
Ingredients
1 fresh whole chicken (about 4 pounds)
Coarse salt and freshly ground pepper
1 lemon, cut into ¼-inch rounds
4 sprigs rosemary
3 garlic cloves, crushed
2 tablespoons unsalted butter, room temperature
Oive oil (optional)
Instructions
Heat the oven to 450 degrees. Remove all the "giblets" from the chicken cavity. This part took some getting used to but I can totally handle it like a pro now! Let the chicken rest at room temperature. Seriously, let it rest. In the past, I've skipped this step because I'm impatient, and maybe that's why I could never quite get the chicken right.
Rinse chicken under cold water, then pat dry inside and out. Season the cavity with salt and pepper, then stuff with lemon, rosemary, and garlic. Rub the skin with the butter which you also let sit at room temperature. Again, I learned this the hard way. It's really hard to heat the butter to room temperature without it melting, so just let it hang out with the chicken for an hour.
Tie the chicken legs together with the twine to keep the goodies inside. Rub some butter under the skin as well. Season all over generously with salt and pepper. I got really generous, and it was amazing.
Place chicken in a large ovenproof skillet or a small roasting pan. You can add a rack to keep the chicken from sticking to the bottom of the pan. I just sprayed the pan with cooking spray and put the chicken in the pan. It stuck a little but it was fine. Drizzle with some olive oil if you want extra crispy skin.