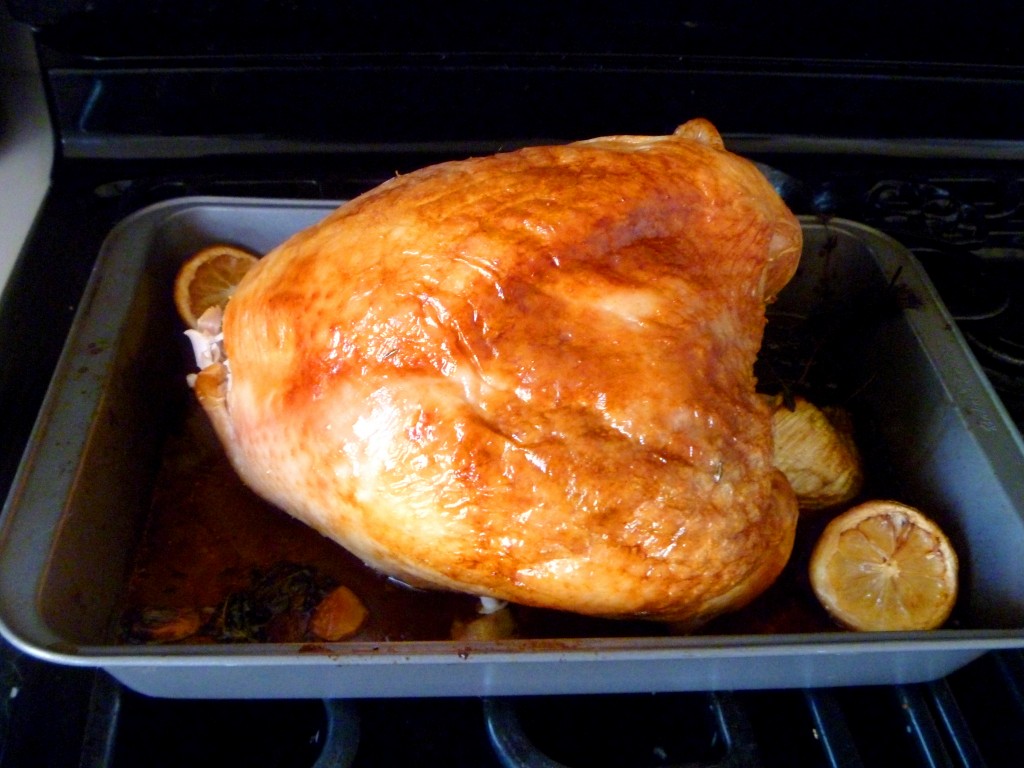 Earlier this week I admitted that I've never cooked a turkey. After a big Thanksgiving dinner with family where my uncle cooked a regular turkey AND a smoked turkey, I decided that it was time to overcome my fear of the bird. Yesterday, the day after Thanksgiving, I decided to wake up at the crack of dawn and cook my first turkey.
And, unlike my attempts with roast chicken, it turned out delicious!! More importantly, it was actually cooked all the way through. Alasdair's stamp of approval was as follows: "I don't usually like this kind of food that much but this is really good."
Of course, since this was my first turkey, I had to follow a recipe. Once again, I turned to trusty Michael Symon. Since we've been sharing a brain lately, I felt like maybe I could get through his Chorizo Stuffed Turkey recipe without problems. Oh yeah, Michael Symon, that Turkey Risotto you just made for The Chew? I was tossing that idea around as well… First the Spaghetti Squash Fritters, then the Risotto. It's like you're inside my mind! Anyways, back to the turkey….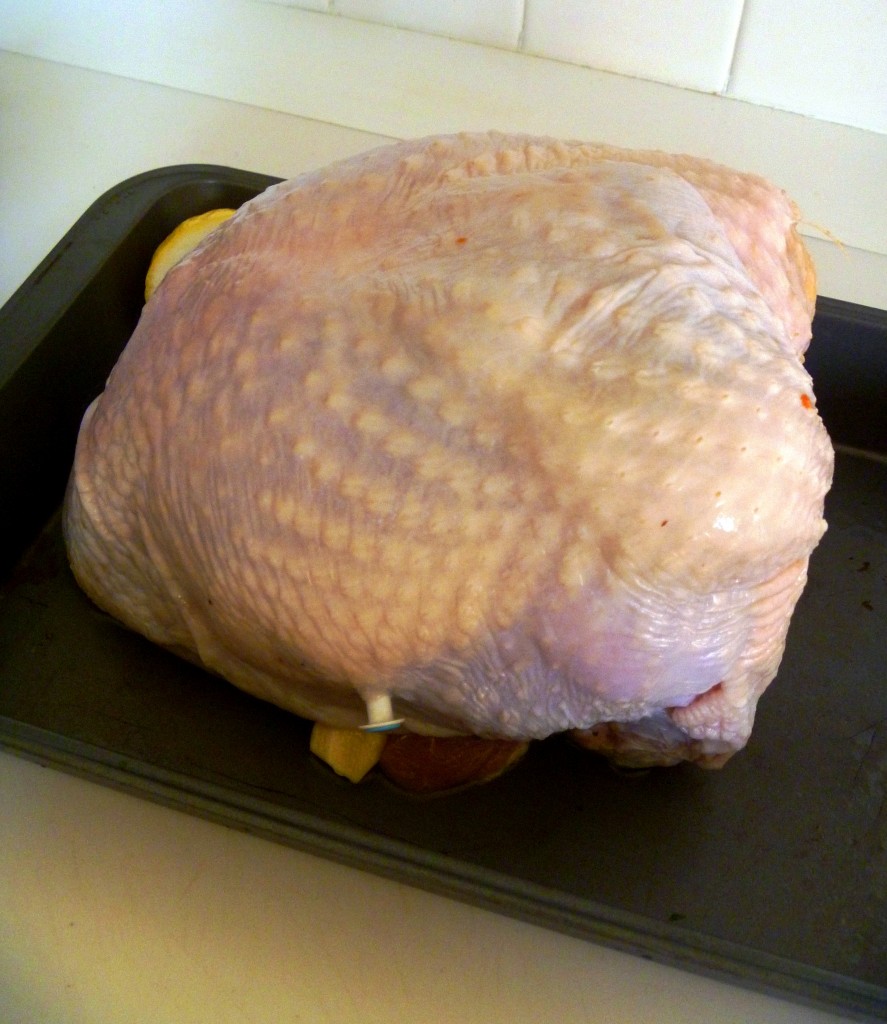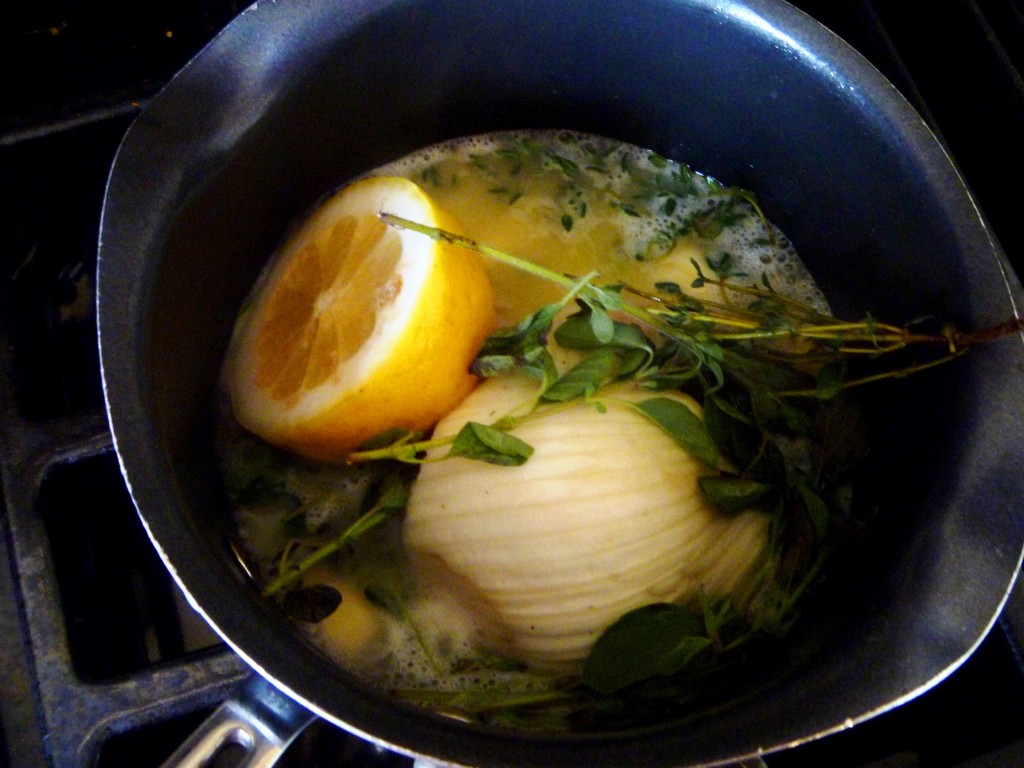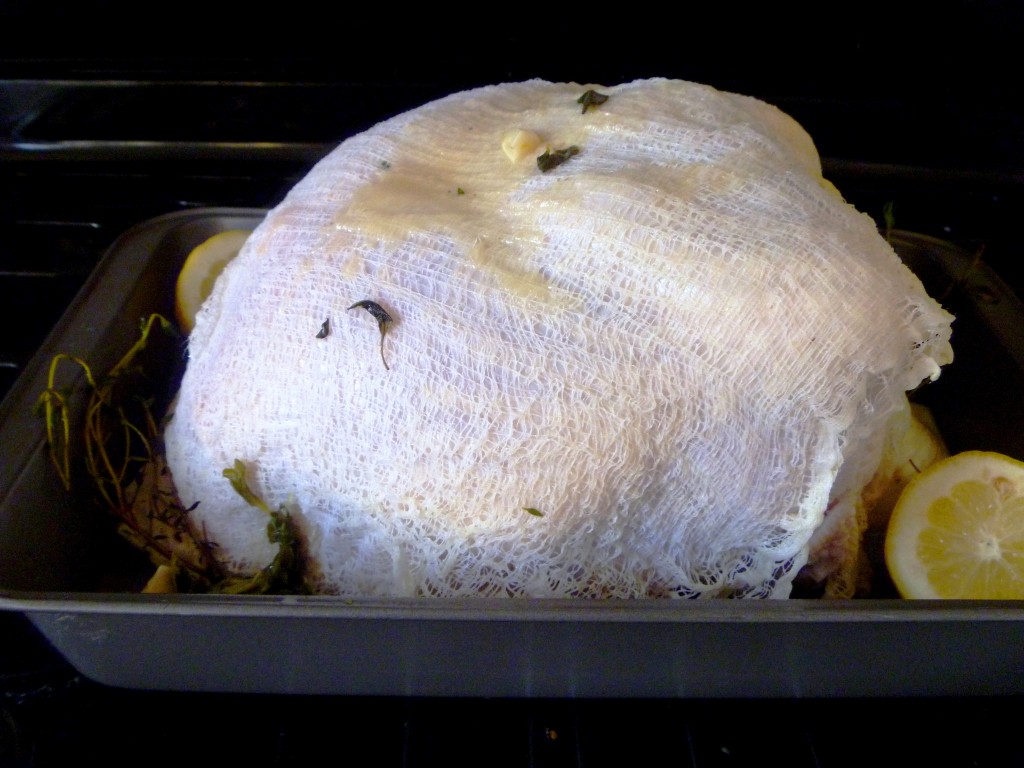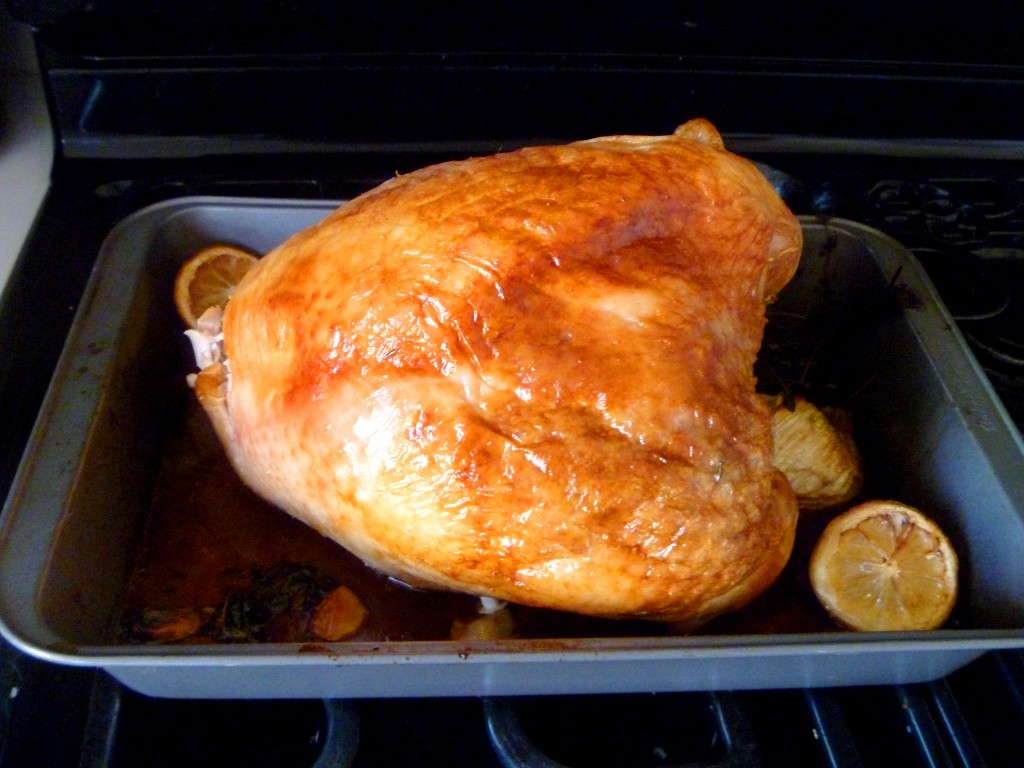 I followed the recipe pretty closely. But, as always, I made a few changes. First, I brined the turkey, which I know Michael Symon will think is sacrilege, but I jut wanted to test it out. Second, I halved the ingredients because I got a six-pounder. I know some people might call a six-pound turkey a chicken (ahem, Paul!), but I wanted to start small. Third, I didn't use the onions. Because I forgot about the onions. Whoops! Finally, I replaced the parsley with rosemary because Alasdair's a big fan of that herb.
I don't know what I was so scared of – it really wasn't that hard. The only hard part was that my turkey seemed to missing its wings so it kept flopping over lopsided in the pan. But, I didn't mind because it was all nice and golden brown with crispy skin and moist meat inside. The spicy chorizo was a nice touch as well. YES!

My First Turkey
Author:
Healthy Recipe Ecstasy (Adapted from Michael Symon)
Ingredients
For the Brine:
1 gallon water (or however much you need to cover the turkey)
1 cup Kosher salt
½ sugar
¼ cup dried tarragon
1 teaspoon black pepper
For the Turkey:
1 6-pound turkey
¾ pounds Chorizo sausage (removed from casing)
6 garlic cloves (peeled)
½ lemon
¼ fennel bulb
5 sprigs of fresh oregano
2 sprigs fresh rosemary
For the Cheese Cloth Dip:
¼ cup chicken stock
½ stick of butter
½ head of garlic (peeled)
¼ fennel bulb
½ lemon
3 sprigs fresh oregano
1 sprig fresh rosemary
Cheese Cloth
Instructions
To brine, all I did was put the turkey and all the brining ingredients in a huge pot and let them sit overnight in the fridge. If you read about brining, it says that you're supposed to use fresh spring water or boil the tap water. On the advice of my uncle, I used plain unboiled tap water and everything turned out fine.
When you're ready to begin cooking, take the turkey out of the pot, rinse it off and pat it dry. Let the turkey come to room temperature (30-60 minutes). Preheat the oven to 425 degrees F, with the oven rack set on the lowest rung.
The recipe says to put the chorizo in a piping bag and carefully pipe it under the skin of the breast in an even layer. I just put the chorizo under the skin with a wooden spoon because I didn't have a piping bag and it worked fine. Tuck the garlic, lemon, fennel, oregano, and rosemary into the cavity of the turkey. Put the turkey on a roasting rack or roasting pan, breast side up.
For the Cheese Cloth Dip: In a small pot, bring chicken stock and butter to a simmer. Add all the ingredients for the cheese cloth dip and bring to a boil. Reduce to a simmer and cook for about 10 minutes. Remove from the heat and allow to cool slightly.
Once cool enough to handle, soak a double layer of cheese cloth big enough to cover the bird in the butter mixture. Pour the remaining contents of the pan over the bird, pushing the pieces of vegetables and herbs into the bottom of the roasting pan.
Place the turkey in the oven and roast for 45 minutes. Turn the temperature down to 375 degrees F and continue roasting for another 10-15 minutes per pound. I cooked the turkey for 50 minutes and then I removed the cheesecloth in the final 10 minutes to get more browning.
Allow turkey to rest for a minimum of 20-30 minutes. And, voila, my first turkey!
I even used the pan drippings to make gravy. Check out my recipe here (coming soon).