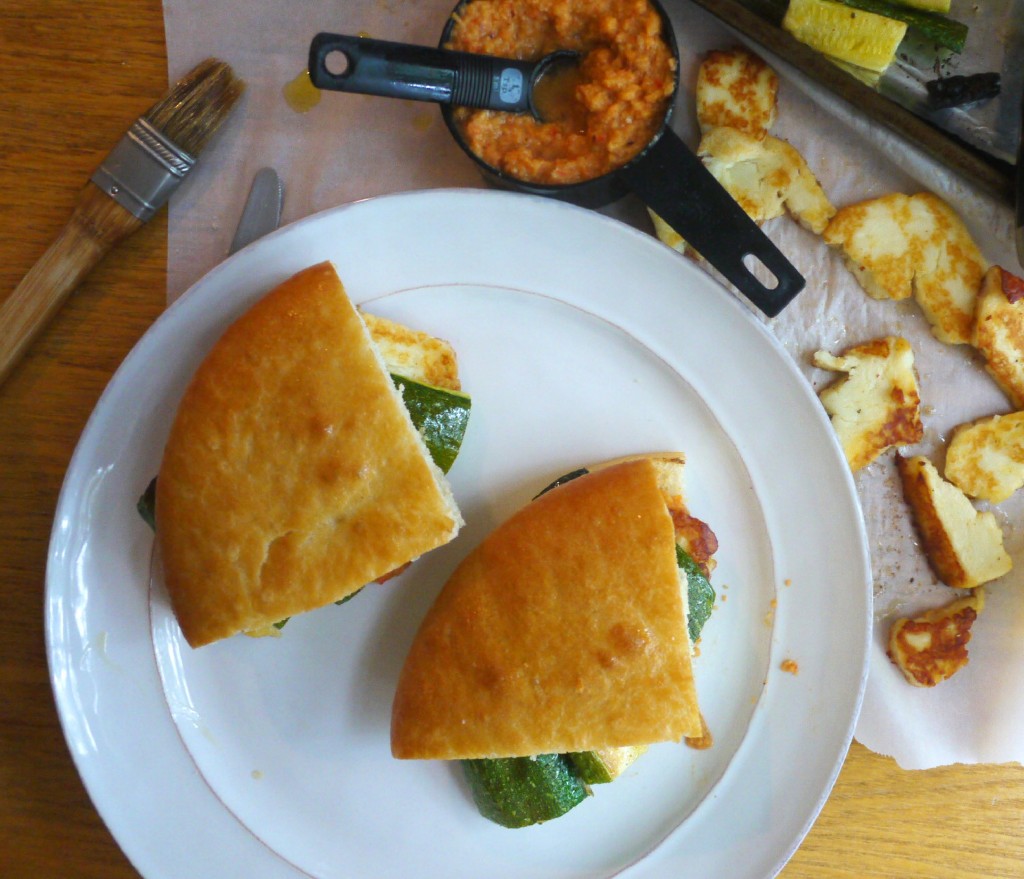 After our over-indulgence of lamb roasts, chicken curries, pork pies, and other minced meats, Alasdair came home with a shocking declaration. "Michelle," he said to me, "I think I'm going to stop eating meat." I nearly choked on my pancetta. My meat and potatoes man who whines every time I serve a vegetarian dish is going to stop eating meat. I quickly gathered that he meant temporarily, and not eating meat really meant cutting down on meat, but you see my point. It was quite a shocker. Fortunately, I had in mind a vegetarian meal inspired by a delicious sandwich I ate at the Ubiquitous Chip in Glasgow. BD (before declaration), if I had mentioned that I was making a meat-free veggie sandwich for dinner, Alasdair would have taken one look at me, turned around without saying a word and headed out the door for a Chipotle burrito bowl. But, AD (after declaration), and knowing how much I enjoyed the sandwich while in Glasgow, he was not only willing to try my vegetarian dinner, but he was actually looking forward to it.
So, to make sure he happily munched his way into a meat-less existence, I knew this sandwich had to be the real thing. It had to be hearty and chock full of flavor or else I'd be hearing, "where's the beef?" In order to reach my goal of sandwich ecstasy, I knew it was going to be an involved process. Readers beware. This sandwich is not for the faint of heart. You will not be slapping some cheese and veggies on some whole-wheat bread and calling it a day. In order to make the sandwich greater than the sum of its parts, I knew that the parts had to be extraordinary.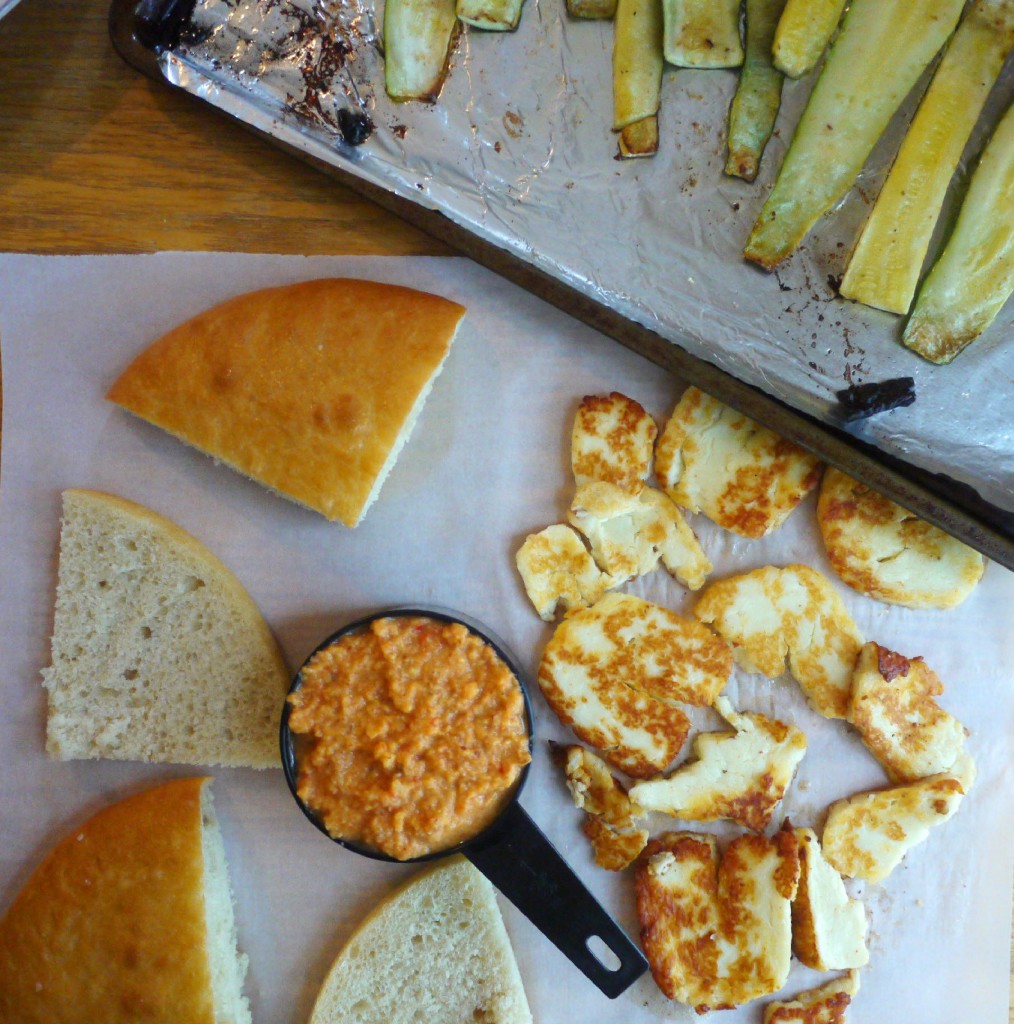 That's why I roasted the zucchini. That's why I blackened the peppers for a smoky romesco sauce (adapted from Estadio's Smoky Romesco via Washington, D.C. Chef's Table). That's why I bought a beautiful focaccia bread. And that's I walked into Zaytinya, a highly-rated D.C. restaurant, and asked if I could buy some halloumi cheese from their kitchen when the grocery store turned up none (thanks again, Zaytinya!). Sure, feta may have worked. Mozzarella would have tasted fine. But there is nothing quite like pan-fried halloumi. It's DIVINE. As in, I was worried none of the halloumi would actually make it into the sandwich because I kept eating it straight out of the pan divine.
So what was the verdict from my meat-loving beau? His exact words: "The sandwich was so tasty and flavorful that I didn't even miss the meat." Score one for all the vegetarians out there! My inner kitchen goddess is doing a happy dance.
Healthy Recipe Ecstasy? All I can say about this sandwich is that it's worth the carbs, it's worth the gluten, and it is so worth the dairy. It's salty, creamy, bready, pan-fried deliciousness. It's also worth all the time and different steps it takes to bring the sandwich together. Before you think I've gone to the dark side, let me reassure you with some health talk. Halloumi is usually made up of a mixture of goat's and sheep's milk cheese – which is easier for some people with dairy issues (namely, me) to digest than cow's milk cheese. It also has a high melting point so you can toss it in some olive oil and do a light pan-fry without the need for any breading or tons of oil. Then there's the vegetables and the romesco sauce. This sandwich includes zucchini, red pepper, tomato, onions, and jalapeno so you don't need to feel guilty because you're getting at least 1-2 veggie servings for the day.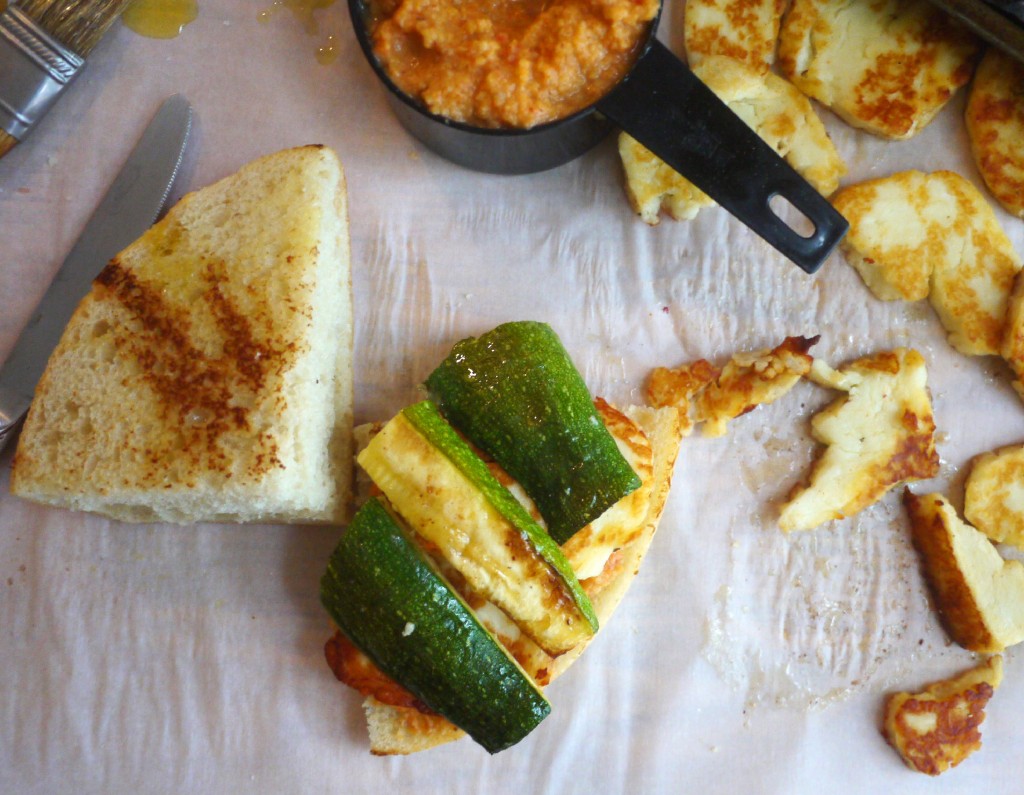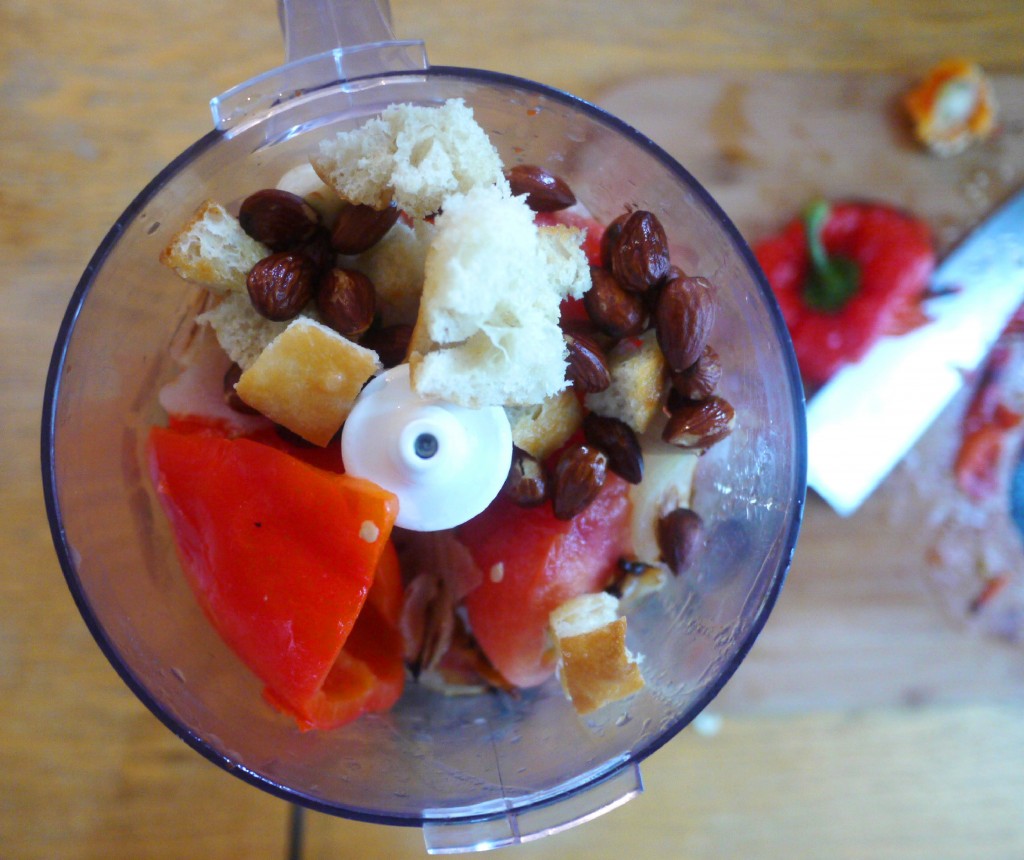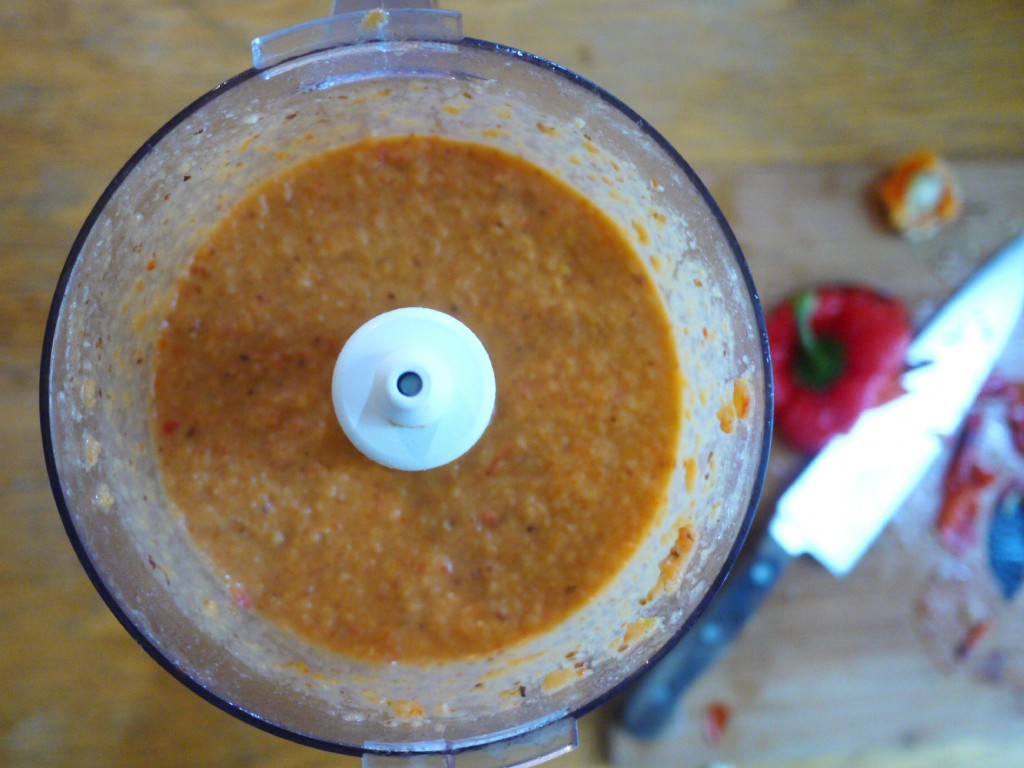 Now, if you have gluten and wheat issues and truly can't stomach the thought of the focaccia bread (pun intended), here's my suggestion. Chop the roasted zucchini. Leave the cubed bread out of the romesco sauce – it won't be as thick but it will still be tasty – or substitute gluten-free bread. Spread the romesco sauce on gluten-free bread or crackers and add a few pan-fried halloumi cheese slices. Finally, top the cheese with the chopped zucchini, a drizzle of olive oil and a sprinkle of sea salt. Voila, you've got all the best parts of the sandwich. Either way, it's a great treat for meatless Mondays!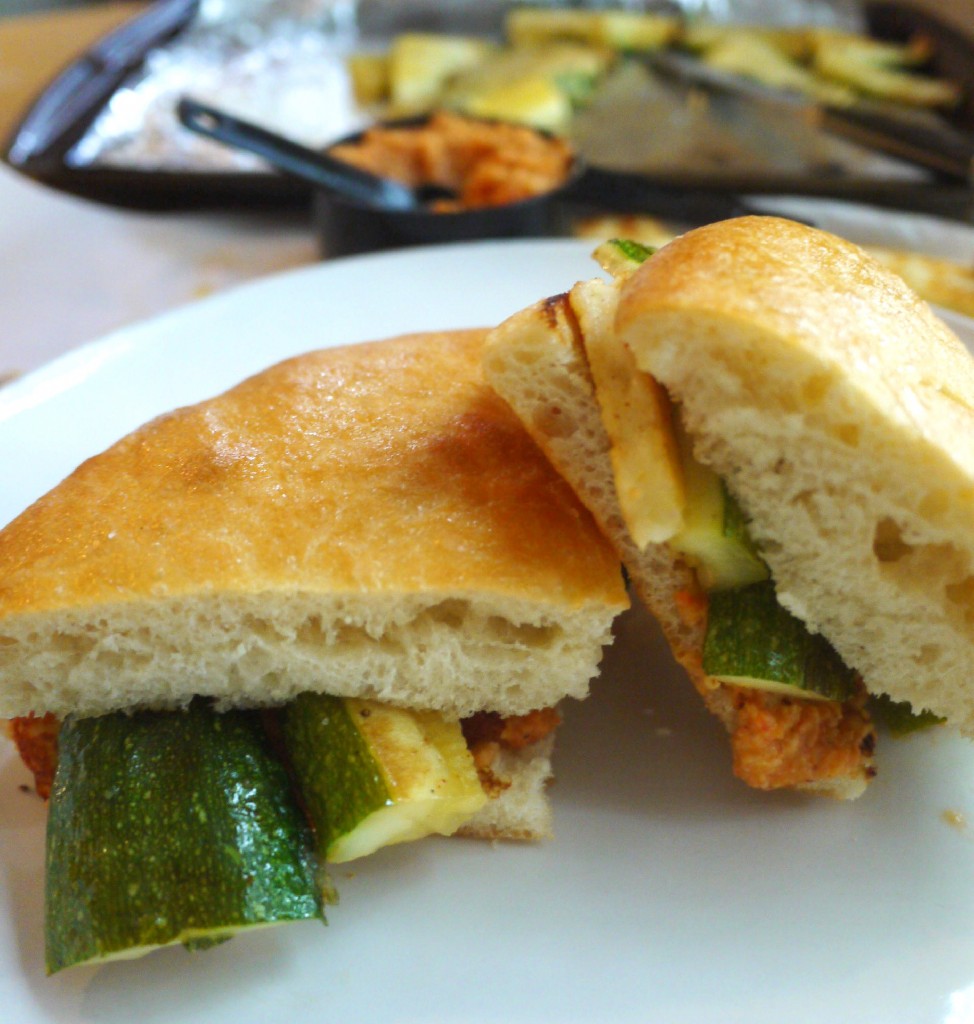 Pan-Fried Halloumi and Roasted Zucchini Sandwich with a Smoky Romesco Sauce
Author:
Healthy Recipe Ecstasy
Ingredients
ROMESCO SAUCE:
¼ white onion, peeled and cut into chunks
¼ whole jalapeno
1 medium red bell pepper
1 tomato
¼ cup olive oil plus 1 tablespoon olive oil
¼ cup unsalted almonds
¼ cup toasted, cubed bread
1 clove garlic
¼ cup water
½ tablespoon sherry vinegar
½ teaspoon salt
SANDWICH:
2 medium zucchinis
8 ounces halloumi cheese, sliced (yields about 8 slices)
¼ cup olive oil, plus more for brushing bread
Salt and freshly-ground black pepper to taste
Dash of cayenne pepper to taste
1 round of focaccia bread
Sea salt to taste
Instructions
ROMESCO SAUCE: Set oven broiler to high heat. In a medium bowl, toss together the onions, jalapeno, red pepper, and tomatoes in ¼ cup oil and salt. Lay the vegetables out on a foil-lined baking sheet and broil for 9-10 minutes, turning vegetables every three minutes, until blackened.
Put all the vegetables in a large bowl and cover with plastic wrap. Let cool for 10-15 minutes. Remove the seeds from the jalapeno and bell peppers and peel all the peppers. Roughly chop the peppers and tomato.
While the vegetables are cooling, heat a small pan over medium heat with one tablespoon of olive oil. Fry the almonds, cubed bread, and garlic. Cook until golden, about four minutes. Set aside and save the oil.
Put all the ingredients into a blender with ¼ cup of water. Blend until combined, and then add the sherry vinegar and ½ teaspoon salt. Blend again while slowly adding the saved oil. Taste and adjust seasonings as necessary.
ZUCCHINI AND CHEESE: Heat the oven to 425 degrees. Use a vegetable peeler or knife to cut the zucchini into thin strips. Combine the zucchini strips and halloumi slices in a medium bowl and toss with ¼ cup olive oil, salt and pepper to taste, and a dash of cayenne pepper to taste. Add the zucchini to the same foil-lined baking sheet you used to broil the peppers and tomatoes. Roast for 20 minutes, flipping halfway through, until the vegetables start to brown.
While the zucchini is roasting, heat a skillet over medium high heat. No need to add any oil to the pan because the halloumi has already been tossed in oil. Add the halloumi to the pan and fry for one minute or until the cheese is golden, and then flip and fry for an additional 30 seconds on the other side. Work in batches if necessary. Set aside.
TO PREPARE SANDWICH: Cut the focaccia round into quarters and then slice each quarter open so there is a top and bottom slice of bread. Brush the inside of each bread slice with olive oil and a sprinkle of sea salt to taste.
Heat a skillet on medium-high and toast the bread, face down, for about 30-45 seconds or until golden brown.
Add two teaspoons romesco sauce to the top and bottom slices of bread. Add two slices halloumi to the bottom slice of bread. Add 3-4 zucchini strips on top of the cheese. Top with the other slice of bread. Press down and enjoy!
NOTE: You should have about 1.5 cups romesco sauce which is more than enough for four sandwiches with sauce leftover. And you will want sauce leftover because it's that good. Add it to pasta, chicken, toast, whatever floats your boat!