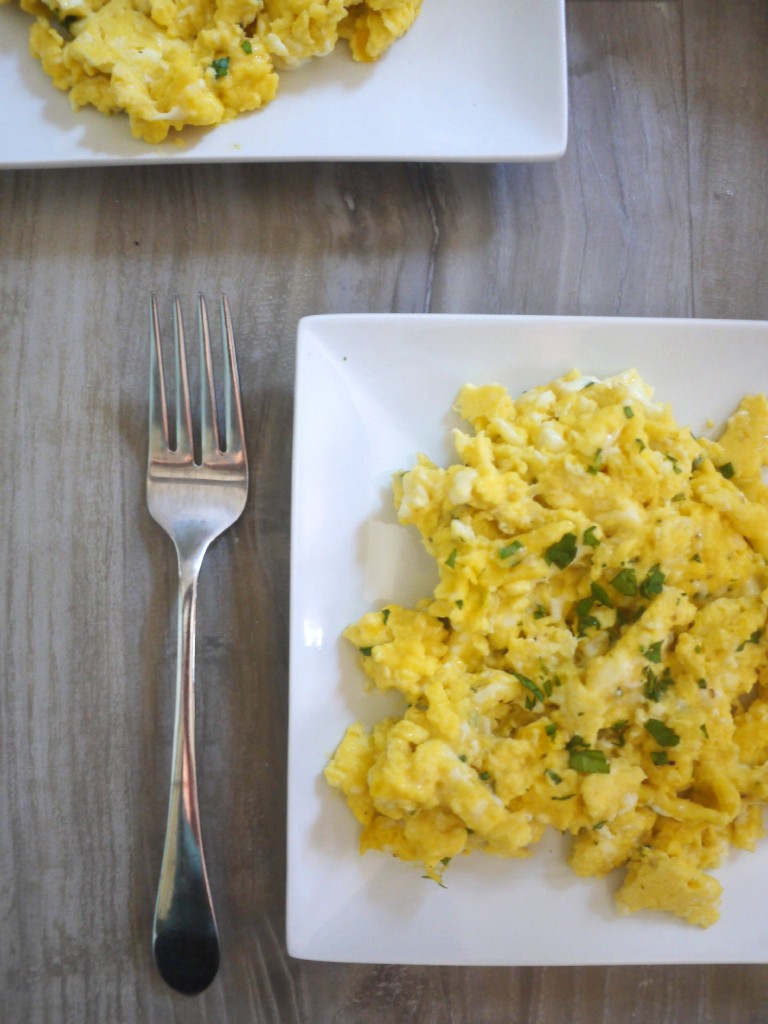 I love waking up on a Saturday morning with nothing to do except eat a hearty breakfast, drink a cup of tea, and catch up on my soaps.  A couple of weekends ago, after many weekends of being out of town, I had just that kind of morning. Still half asleep, I rolled out of bed, slowly made my way downstairs, and opened the fridge in search of some breakfast eats. I spotted fruit (always a breakfast staple in my house), almond and blueberry pancakes leftover from the previous morning's breakfast, and a carton full of eggs. Perfect. I grabbed the fruit, threw the pancakes in the microwave, and pulled out the eggs to make my usual scramble.  Side note: How cute is the stoneware egg crate I received as a wedding shower gift? Thanks Sherry!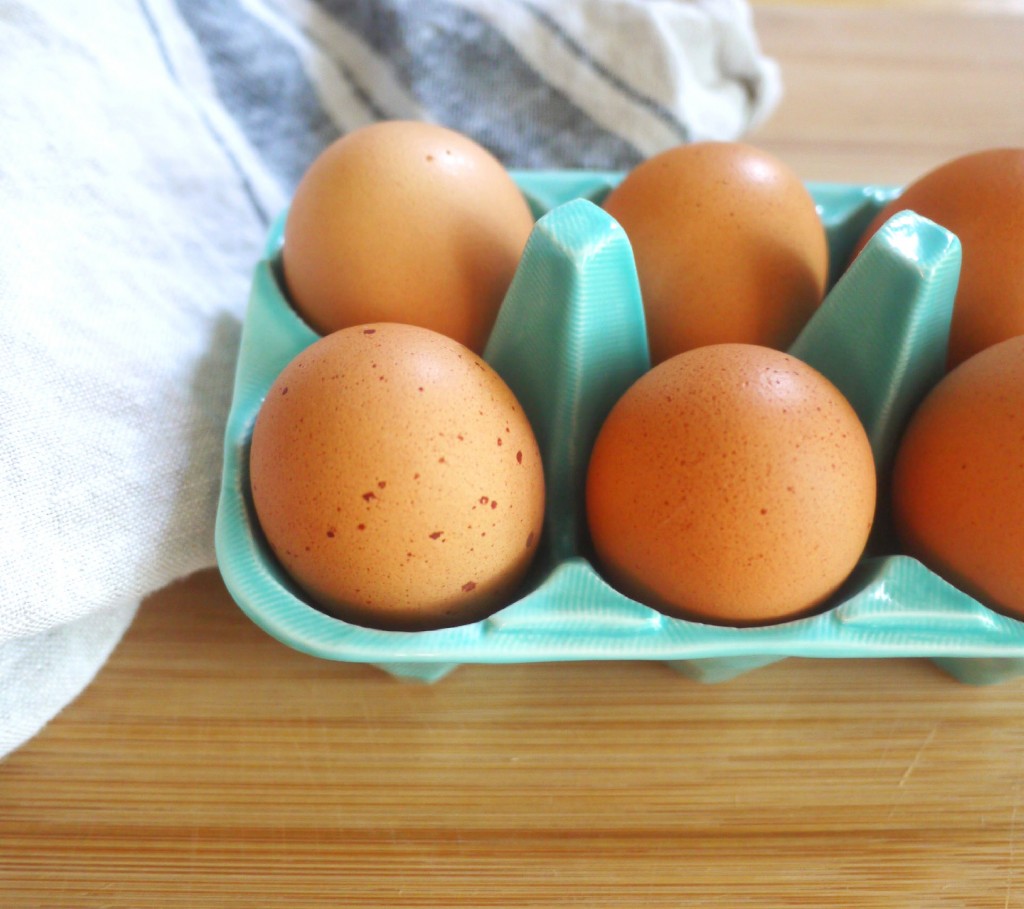 In case you're wondering, my usual scramble includes eggs, a sprinkle of salt and pepper, and whatever herbs or leftover veggies I can find in my produce drawer. No milk or cheese. If I'm feeling a little naughty, I might add a touch of butter to the pan along with the olive oil. That morning, however, something different occurred. Still in my sleepy morning haze, and without thinking twice about it, I opened the fridge and reached into the condiment section to get the Dijon mustard. There was nothing premeditated about this action. I didn't think to myself, you know what, Dijon mustard would really liven up this scramble. I honestly cannot explain it – maybe I thought the mustard was butter? We will never know. But, that morning, before I even acknowledged what I was doing, I was whisking a spoonful of Dijon mustard into the eggs. I briefly thought to myself, this may turn out gross. But, because I was still not fully awake, I didn't dwell on the matter.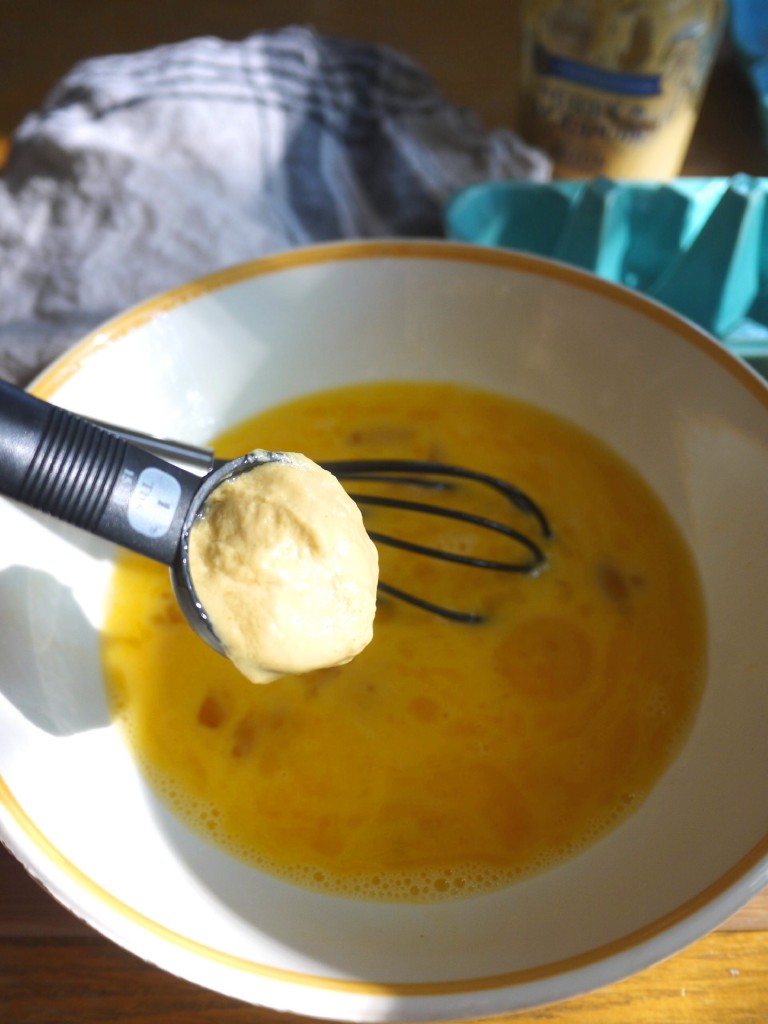 Once scrambled, I plated the eggs, the pancakes and the fruit, and sat down with Alasdair to eat. My mind had already moved on from the Dijon mustard incident, and I was contemplating the lazy day ahead. But then, Alasdair brought my attention back to the meal in front of us.  "These eggs are good," he said. "Really good." "I added mustard," I replied, thinking what's the big deal? Then I tasted the eggs. Wow, I thought. These ARE really good. So good that Alasdair requested the eggs again the next morning. So good that when I asked him what was the best thing I made that week, out of amazing sandwiches, yummy pancakes, and crispy fish dishes, he said: the eggs.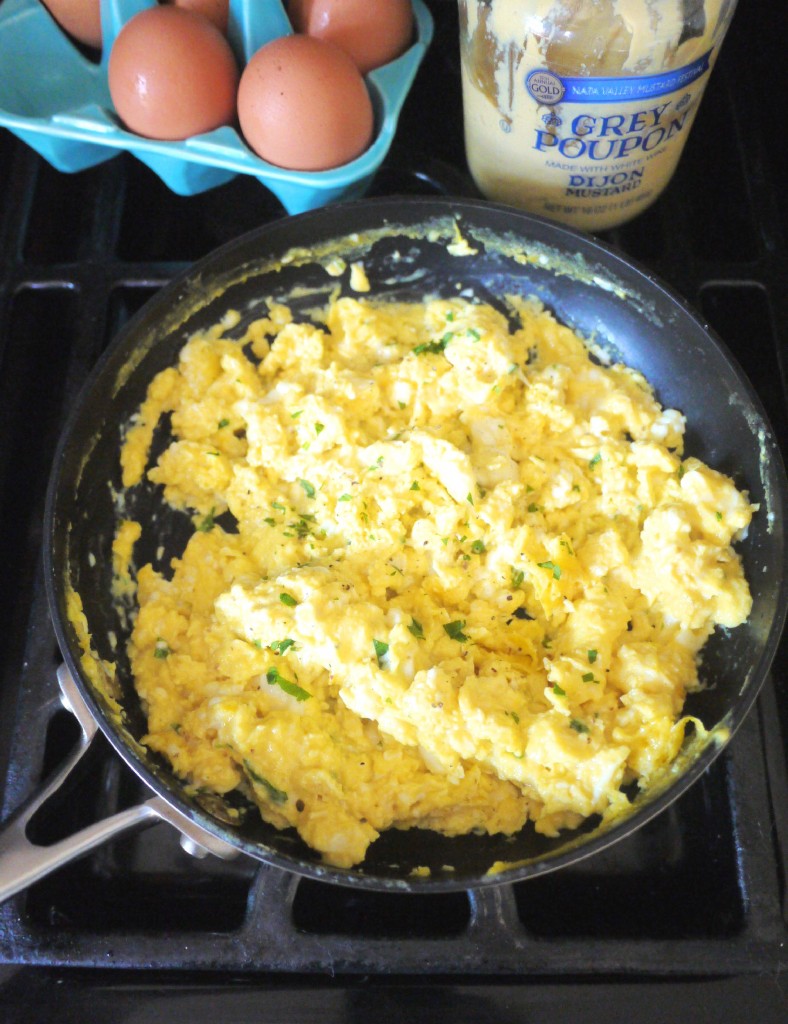 Healthy Recipe Ecstasy? Oh yes. This is a breakfast dish I could eat every day. In fact, I pretty much have eaten nothing else for breakfast since I first made these eggs. If you're not a huge mustard fan and you're worried about your eggs tasting like mustard, don't fret. The Dijon adds just a hint of something special but doesn't take over flavor-wise. Speaking of flavor, if you're not a big tarragon fan, feel free to add your favorite herb. I like the cool licorice flavor of the tarragon which contrasts nicely with the warm, creamy eggs, but chives or basil would work just as well. The mustard also plays an important role in making the eggs extra creamy without the need to add any milk, cream or cheese. Yeah for creamy, dairy-free scrambled eggs. And, before anyone bites my head off. Eggs are not dairy! I repeat, eggs are not dairy. If you combine the eggs with my gluten-free pancakes and some fruit, like I did, you have a great dairy-free, gluten-free, and Paleo-friendly breakfast/brunch. Oh, and did I mention there are five ingredients in this recipe and it's ridiculously easy to make?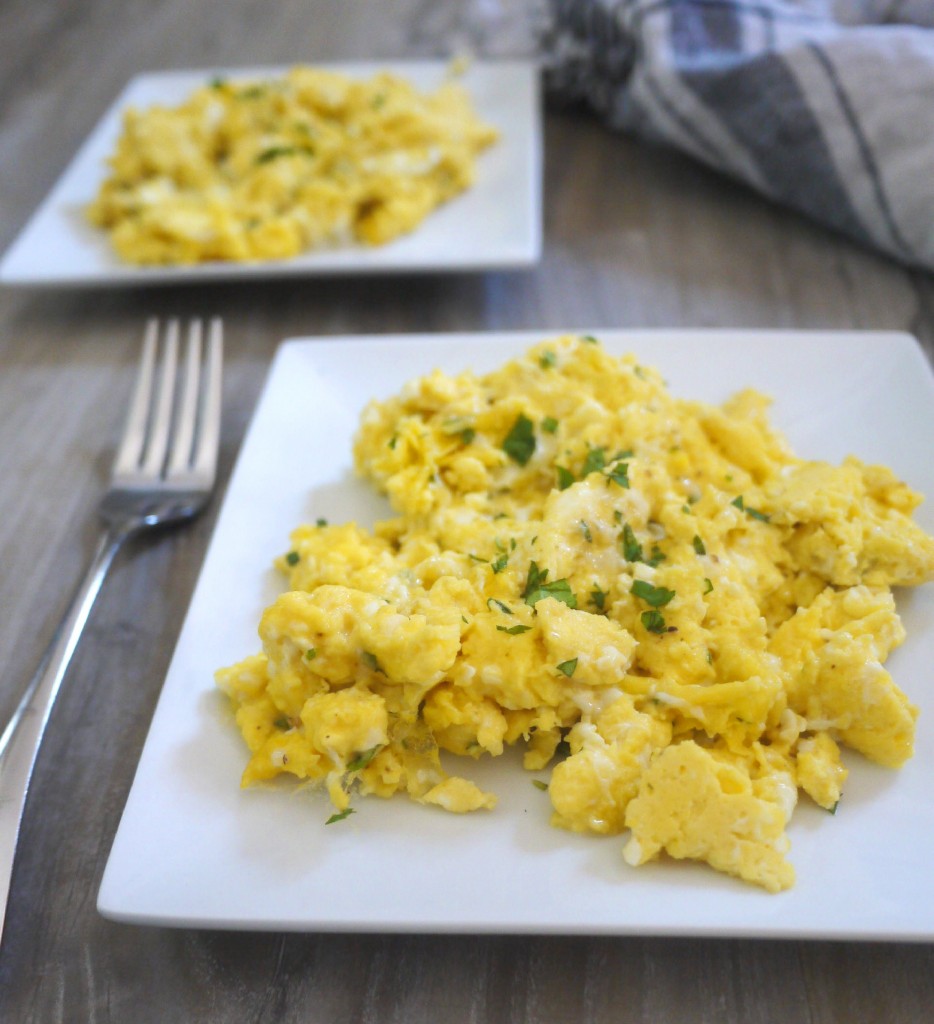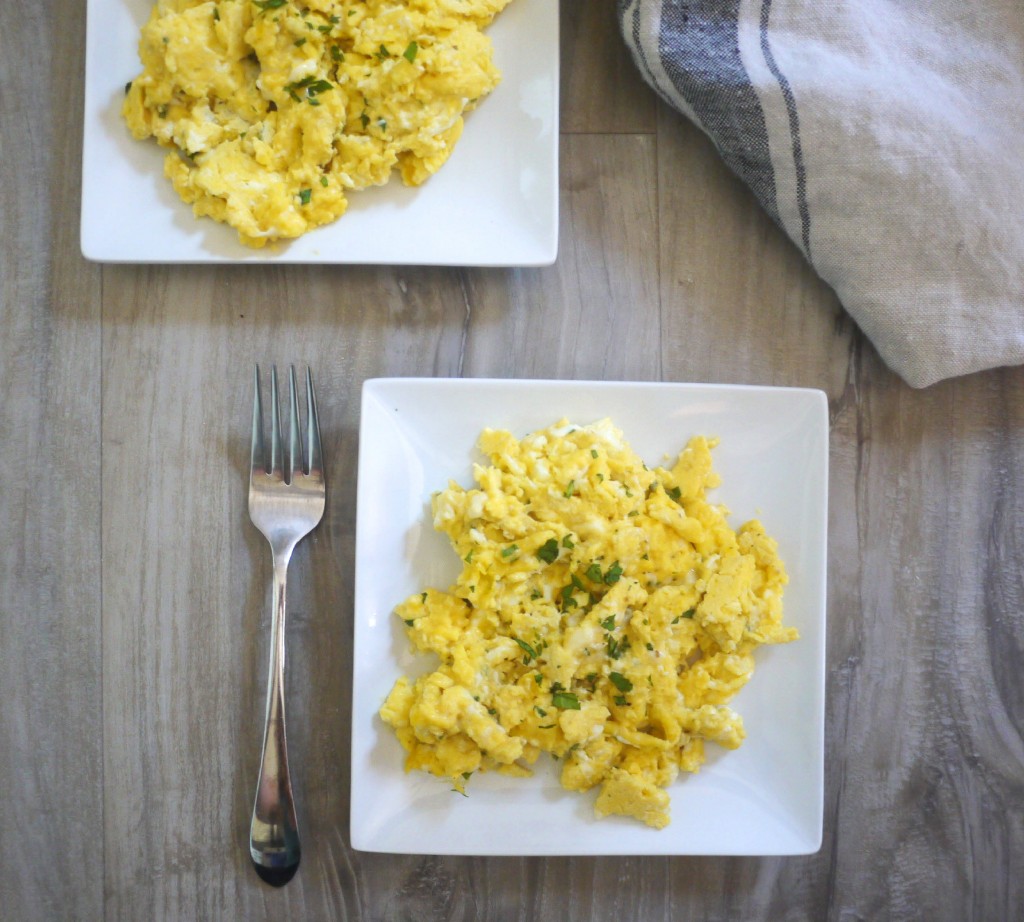 Dijon and Tarragon Scrambled Eggs
Author:
Healthy Recipe Ecstasy
Recipe type:
Breakfast/Brunch
Ingredients
6 eggs
1 generous tablespoon Dijon mustard
Freshly-ground black pepper to taste
1 tablespoon olive oil
1 teaspoon tarragon, plus more for garnish
Instructions
Whisk together the eggs. Gently mix in one generous tablespoon Dijon mustard. If you love mustard, feel free to add a bit more. Add freshly-ground black pepper to taste.
Finely chop the tarragon leaves.
Heat one tablespoon olive oil in a medium-sized nonstick skillet over medium heat. Add the eggs to the pan. Turn the heat down to medium low and begin stirring with a wooden spoon or rubber spatula. Keep the eggs moving constantly, pulling them from one side of the pan to another. It will be a slower process than you are probably used to over medium low heat, but your eggs will be soft and creamy and won't stick to the pan.
When the eggs are almost done cooking, turn off the heat, and add the chopped tarragon leaves. Give the eggs one last stir and divide among 3-4 plates. Garnish with more black pepper to taste and a sprinkle of chopped tarragon.
NOTE: The tarragon has a strong, distinctive flavor so make sure not to over garnish. You want the tarragon flavor to be subtle, not overwhelming.