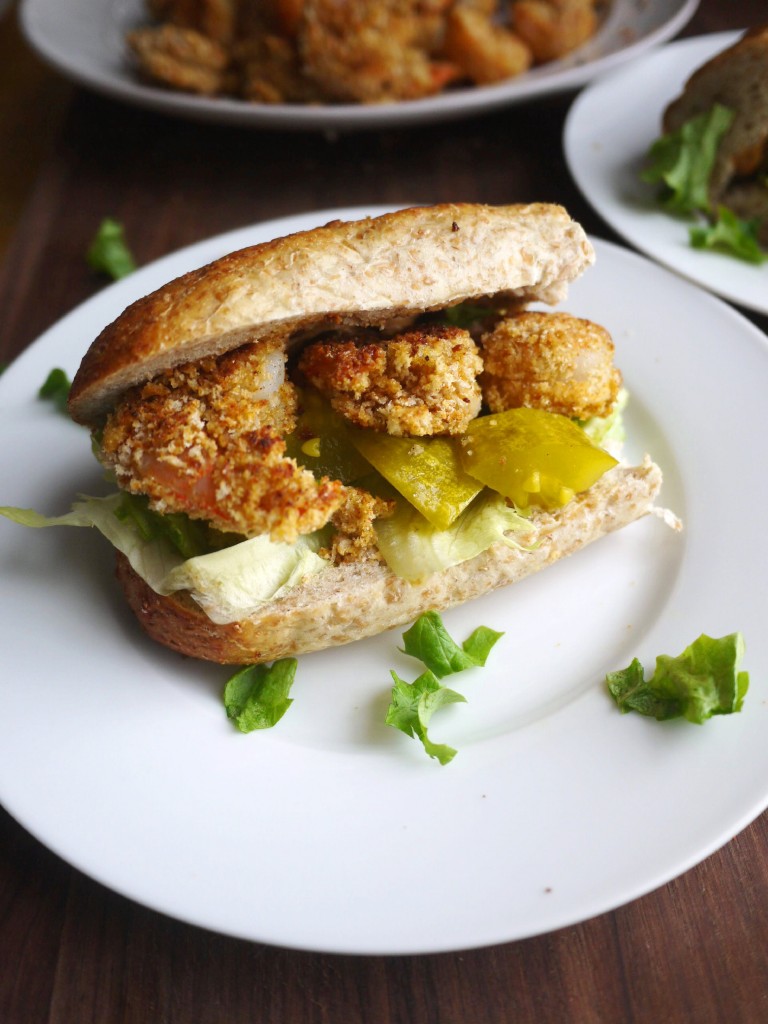 The second recipe in my installment of New Orleans eats & healthy treats is the shrimp po' boy. I know what you're thinking. How can a deep-fried, bread- and sauce-filled shrimp po' boy possibly be healthy? Not possible! YES, possible! Is a shrimp po' boy going to be gluten-free? Unlikely. Is it going to be something you should eat for lunch every day? Probably not. Can it be made healthier without losing its crispy, crunchy, ooey-gooey flavor? Absolutely.
Healthy Recipe Ecstasy? Yes! To make the lightened-up version of the shrimp po' boy, I used the leftover Creole shrimp from my Creole Shrimp Caesar Salad, which I breaded using cornmeal and panko bread crumbs and then lightly fried. So, right off the bat we're dropping calories because we've said buh-bye to the deep fryer and we used a lighter breading. You're also getting a 2 for 1 meal with the shrimp – the caesar salad is just as good as the po' boy which I know sounds crazy but I promise I'm telling you the truth. Would I lie? <– angel face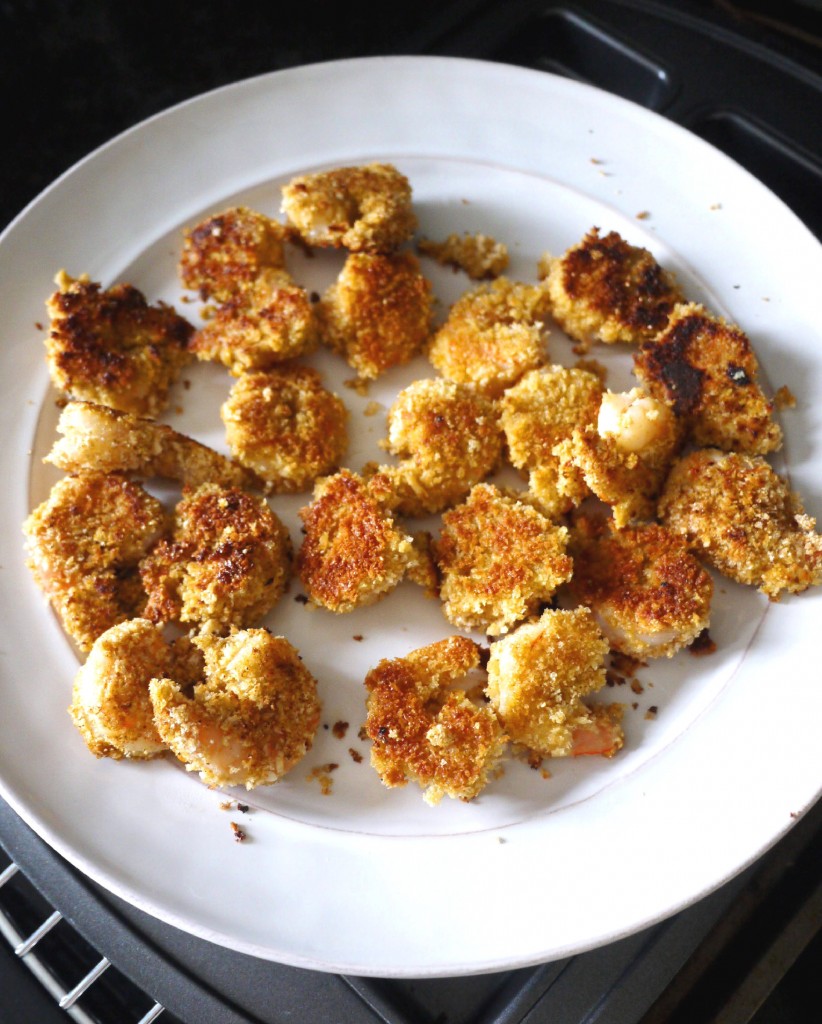 Then, I swapped the huge sandwich roll for a whole-wheat baguette, and I removed some of the breading inside the baguette because (a) you don't need it, (b) it helps knock off a few calories and carbs and (c) you really need the space to add all the fixins'! Next, I decreased the amount of mayonnaise in the remoulade sauce and used a low-fat variety.
I also kept the portions small. The restaurant po' boys are HUGE. I only need about one-third of the size usually served, but if an entire sandwich with fried seafood tumbling out both ends is put on a plate right in front of me, nine times out of ten, I will eat the entire sandwich. I feel bad for wasting food – not a good habit. The carb overload makes me feel sick and sluggish for the rest of the day. However, if a four-inch sandwich makes it way onto my plate paired with a nice salad or some veggies, then I feel completely satisfied. So, it bears repeating, keep the portions small to ensure this remains a healthy recipe.
I felt a little naughty eating a po' boy for dinner, but with all the healthy alterations, it's an indulgence that's not really that much of an indulgence. Isn't that the best kind? NOTE: The recipe makes twice the amount of shrimp than you need. I did this on purpose so that I would have leftovers to make shrimp caesar salad. I like to make the salad for lunch and then use the leftover shrimp to make the po' boys for dinner – like I said, it's a 2 in 1 recipe! But, they can just as easily be switched. Or you can make a big batch of the shrimp over the weekend and make yourself New Orlean's inspired salads and sandwiches all week long. That's my plan. 🙂

Lightened-Up Shrimp Po' Boy
Author:
Healthy Recipe Ecstasy
Ingredients
Shrimp:
2 pounds gulf shrimp, peeled and deveined
1 cup stone ground cornmeal
2 eggs, whisked
1 and ½ cups Panko bread crumbs
¼ cup Cajun or Creole seasoning, divided (if you don't have Cajun or Creole seasoning, it's really easy to make and you probably have all the spices in your pantry already. Check out this website for the ingredients and measurements: http://homecooking.about.com/od/spicerecipes/r/blspice14.htm)
Olive oil or canola oil for frying
Remoulade Sauce:
½ cup low-fat mayonnaise
¼ cup Dijon mustard
1 teaspoon Worcestershire sauce
1 tablespoon prepared horseradish
1 dill pickle, minced
1 large garlic clove, minced
½ teaspoon cayenne pepper
½ tablespoon paprika
Sandwich:
1 whole-wheat baguette
1 cup shredded lettuce
2 dill pickles sliced
Instructions
Shrimp:
Mix the cornmeal and ⅛ cup Creole seasoning and add to a shallow dish. Add the eggs to another shallow dish. Mix the Panko and ⅛ cup Creole seasoning and add to a third dish.
Clean and dry shrimp. Dip each shrimp into the flour mixture, then into the egg, and, finally, into the bread crumb mixture, shaking off excess breading.
Heat a large frying pan over medium-high heat and add enough oil to coat the pan. Add the first batch of shrimp (you may need to do 3-4 batches so you don't crowd the pan) and lightly fry the shrimp on each side for about 3-4 minutes or until crispy and golden brown all over. Turn the heat down if the shrimp are browning too quickly. Then, place the shrimp on a paper towel-lined plate to drain off excess oil. Repeat until all the shrimp are cooked.
Remoulade Sauce:
Whisk together all the ingredients for the remoulade sauce in a medium bowl. Adjust seasoning if needed.
Sandwich:
Cut the baguette into four-inch rolls and slice each roll open. If you have a 12-inch baguette, then you will have three sandwiches. Scoop out most of the bread inside the baguette. The crispy outside is the most important part for this sandwich - you won't miss the inside bread, I promise!
Toast the bread in the oven until its warm and crispy on the outside and heat the shrimp.
Spread 1-2 tablespoons of the remoulade sauce on the inside of each baguette. Add the shrimp, lettuce, and sliced pickles. You can also add tomato slices, but I prefer my po' boys sans tomatoes.
Serve warm and enjoy!