As promised, this week I'm cooking up some of my New Orleans favorites – with a healthy spin of course. 🙂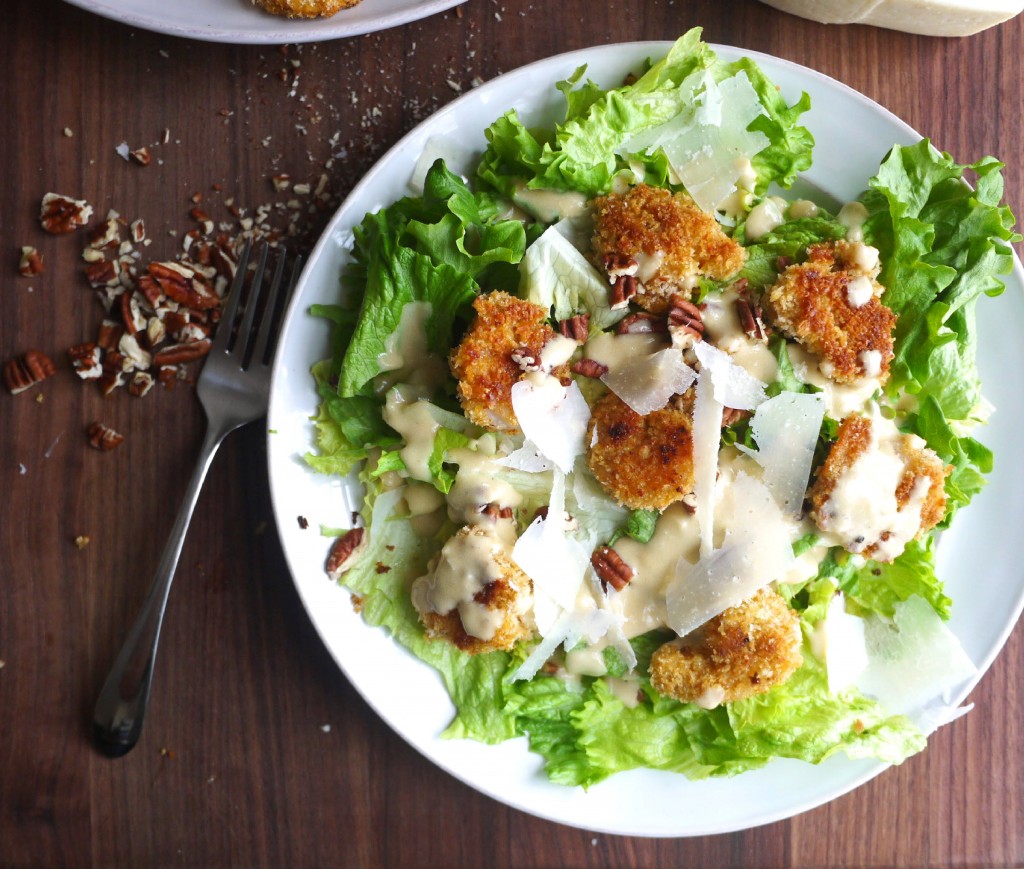 On our second day in New Orleans, Alasdair and I went out for a late lunch at Café Pontalba. We sat right next to an open floor-to-ceiling window while a major storm passed through the city. Being inches away from the torrential downpour while casually eating was incredibly atmospheric and made for a very memorable meal.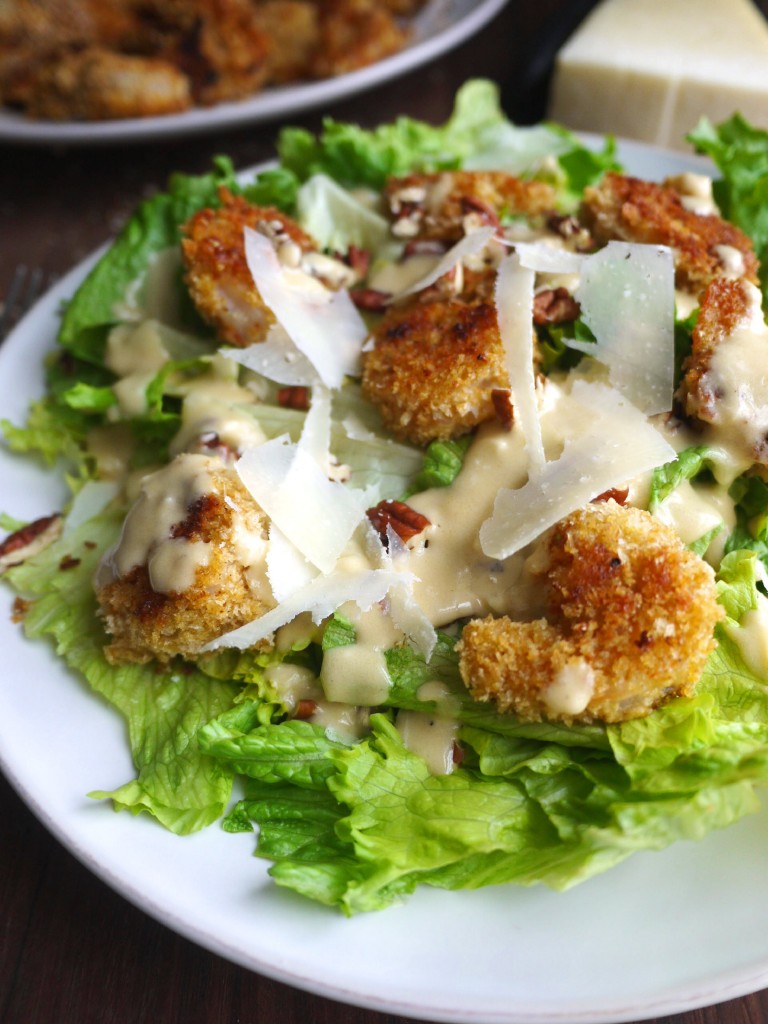 I wasn't that hungry because we'd eaten a three-course breakfast earlier in the day, so I decided to order a simple shrimp Caesar salad. I wasn't expecting much because I'm not a huge salad person, so I was kind of bowled over by how much I enjoyed this salad. You would think I was digging into a piece of sinful chocolate cake, I was like head over heels for this salad. The fried shrimp was crunchy and flavorful, the dressing was rich and creamy, and the pecan garnish was an unexpected touch. After my first bite, I said, I HAVE to make this when we get back home! And/or I need to eat nothing else but this salad while we're here in NOLA.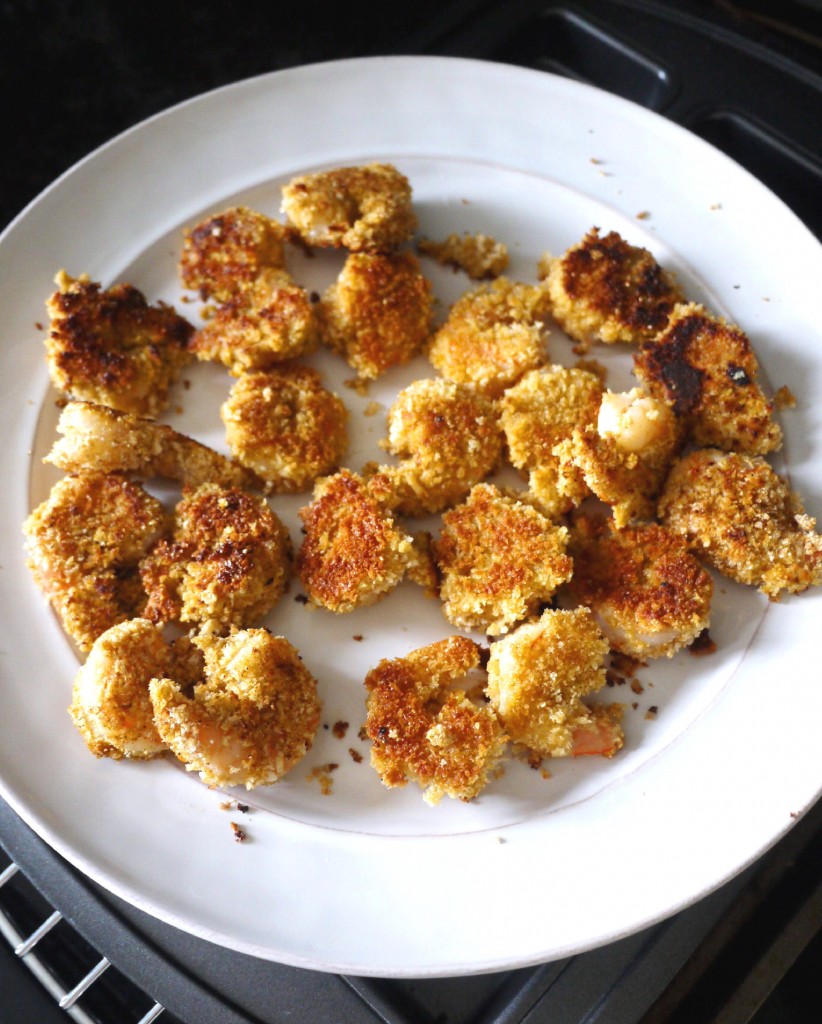 My next thought was, it's probably not that healthy with the fried shrimp, croutons, tons of creamy dressing, and an overabundance of fatty nuts and cheese…. The food in New Orleans is AMAZING but it's also amazingly unhealthy. Fortunately, I knew it wouldn't be hard to tweak the salad to make it a little more health conscious. It's super simple to make a healthier Caesar dressing (cut waaaay down on the mayo and oil) without cutting out the flavor, and, in my opinion, there's really no need for croutons when you have breaded shrimp. I also used Pecorino cheese which is similar to Parmesan but made with sheep's milk instead of cow's milk because I find sheep's milk easier to digest.
Healthy Recipe Ecstasy? Absolutely! How good does that look?? Not only did I cut down on the mayo and oil in the dressing, I also cut the cheese out of the dressing. If you have dairy issues, feel free to leave out the cheese shavings for a completely dairy-free dish. They're a nice garnish but really not necessary. As for the shrimp, I used a combo of cornmeal and panko breadcrumbs for the coating and did a very light flash fry (not a deep fry which I'm sure is how it went down in NOLA). If you have gluten issues, you can skip the panko breadcrumbs and just coat the shrimp in cornmeal before frying. Or you can leave the shrimp naked and just sauté or grill them. Either way, this salad is light and refreshing and the crispy creole shrimp keep it from being just another boring lunch meal. There is nothing boring about crispy shrimp! NOTE: The recipe makes twice the amount of shrimp than you need. I did this on purpose so that I would have leftovers to make shrimp po' boys. Or maybe just so I could sneak to the fridge and pop little shrimpers in my mouth all day long. Yep, that's it.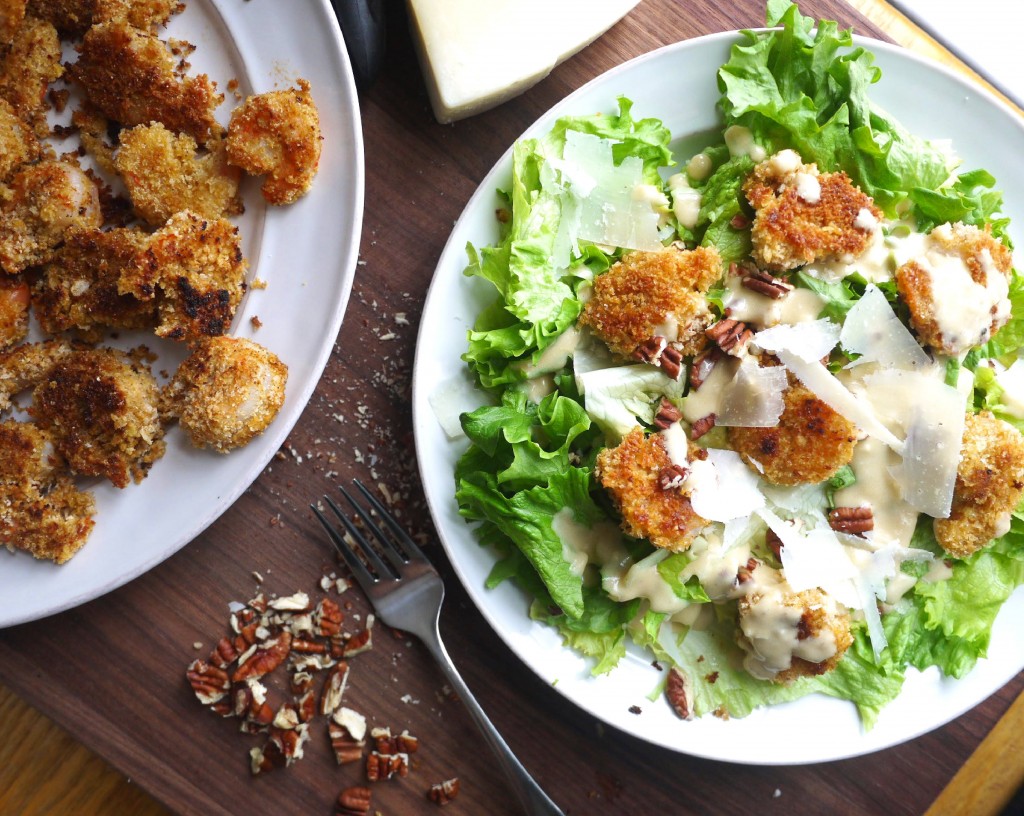 Creole Shrimp Caesar Salad
Author:
Healthy Recipe Ecstasy
Ingredients
Shrimp:
2 pounds gulf shrimp, peeled and deveined
1 cup stone ground cornmeal
2 eggs, whisked
1 and ½ cups Panko bread crumbs
¼ cup Cajun or Creole seasoning, divided (if you don't have Cajun or Creole seasoning, it's really easy to make and you probably have all the spices in your pantry already. Check out this website for the ingredients and measurements: http://homecooking.about.com/od/spicerecipes/r/blspice14.htm)
Olive oil or canola oil for frying
Dressing and Salad:
2 garlic cloves, minced
1 teaspoon anchovy paste
2 tablespoons freshly squeezed lemon juice
2 teaspoons Dijon mustard
1 teaspoon Worcestershire
2 tablespoons low-fat mayo (like Hellman's)
2 tablespoons extra-virgin olive oil
¼ teaspoon kosher salt
¼ teaspoon freshly ground black pepper
1 head romaine lettuce, coarsely chopped.
¼ cup coarsely chopped pecans
Pecorino-Romano cheese shavings (optional)
Instructions
Shrimp:
Mix the cornmeal and ⅛ cup Creole seasoning and add to a shallow dish. Add the eggs to another shallow dish. Mix the Panko and ⅛ cup Creole seasoning and add to a third dish.
Clean and dry shrimp. Dip each shrimp into the flour mixture, then into the egg, and, finally, into the bread crumb mixture, shaking off excess breading.
Heat a large frying pan over medium-high heat and add enough oil to coat the pan. Add the first batch of shrimp (you may need to do 3-4 batches so you don't crowd the pan) and lightly fry the shrimp on each side for about 3-4 minutes or until crispy and golden brown all over. Turn the heat down if the shrimp are browning too quickly. Then, place the shrimp on a paper towel-lined plate to drain off excess oil. Repeat until all the shrimp are cooked.
Dressing and Salad:
In a medium bowl, whisk together the garlic, anchovy paste, lemon juice, Dijon mustard, Worcestershire sauce, and low-fat mayonnaise until well combined. Slowly whisk in the olive oil. Season with salt and pepper.
Add the lettuce, shrimp, pecans and dressing to a large bowl and gently mix until all the ingredients are coated with the dressing. Top with cheese shavings if desired.