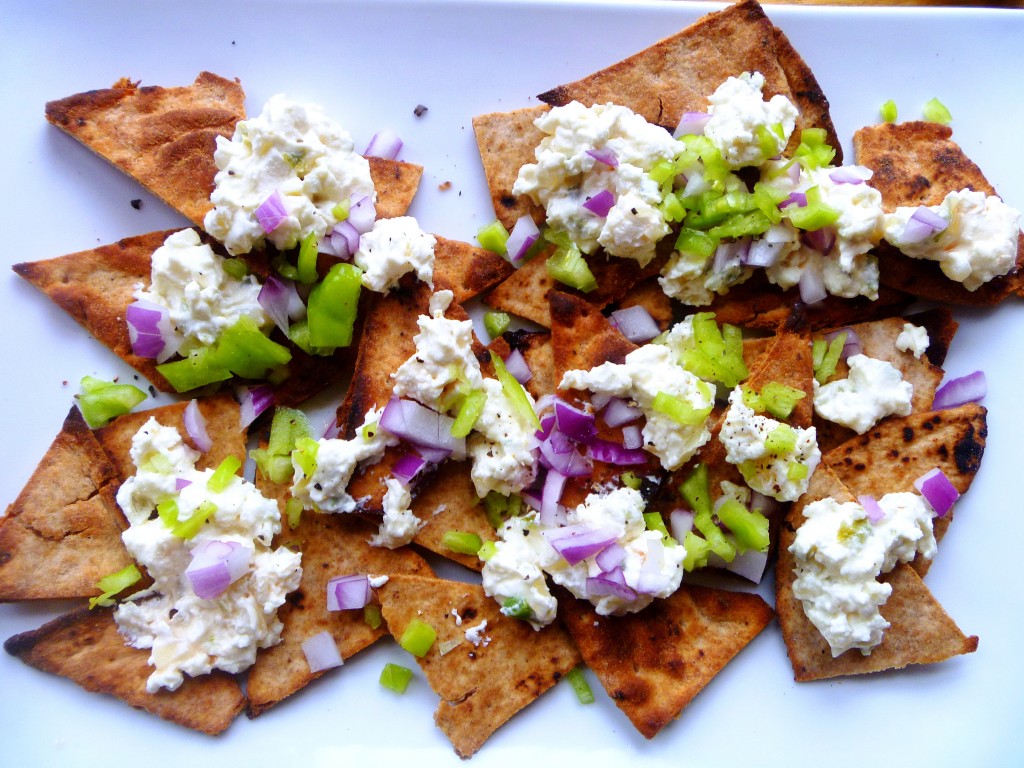 Hurricane Sandy called yesterday and said she wanted nachos. Not any old nachos, but Crazy Feta Greek Nachos. What are Crazy Feta Greek Nachos? Well, they're the kind of thing you create when you are stuck inside during a hurricane. The idea was inspired by my recent tasting at Cava Grill in Tenleytown (check out the post on Capital Cooking). Cava Grill has this amazing dip called Crazy Feta. It's feta cheese sauteed with jalepenos and onions. It's delicious, it kicks regular old feta's butt, and I was craving it something bad yesterday. Since the metro was shut down, and I couldn't make my way to the Cava Grill in Tenleytown, I decided to make myself some Crazy Feta to spread on a sandwich or eat with some pita chips. Then, I got a better idea. CRAZY FETA NACHOS. It might just be crazy enough to work.
Think of a Greek salad with all its yummy toppings. Feta, banana peppers, red onions, red wine vinegar (no olives because I hate them – sorry olives). Now, think about Greek salad toppings and Crazy Feta thrown on top of crunchy baked pita chips. Why hasn't anyone done this before?? It's GENIUS.'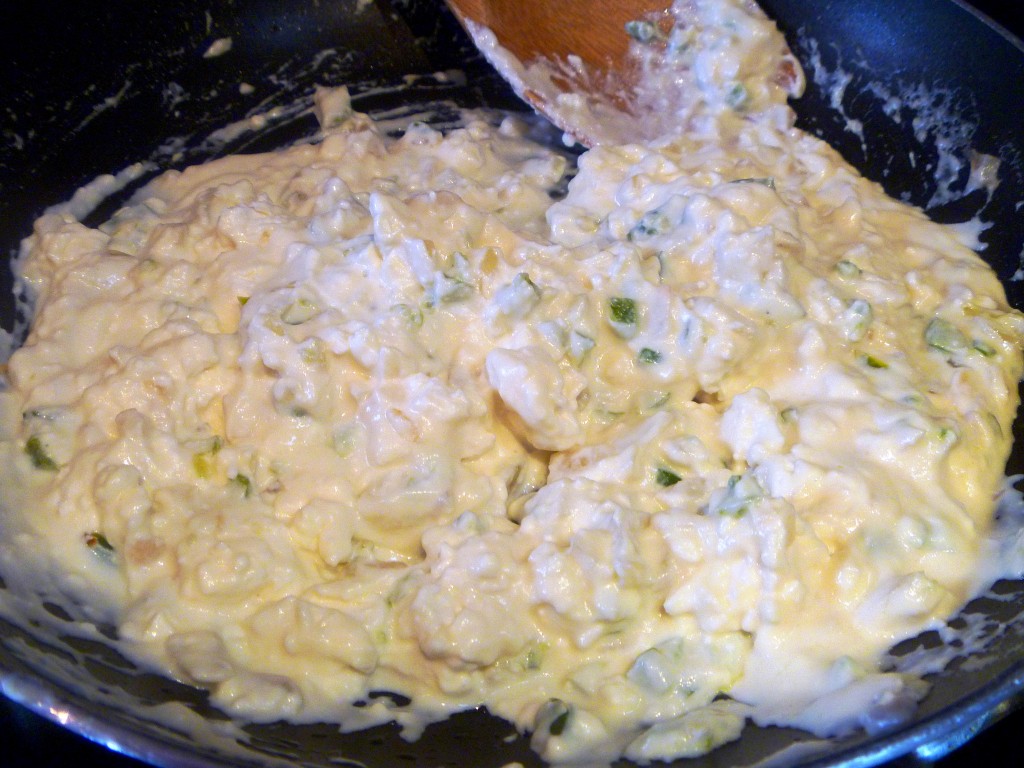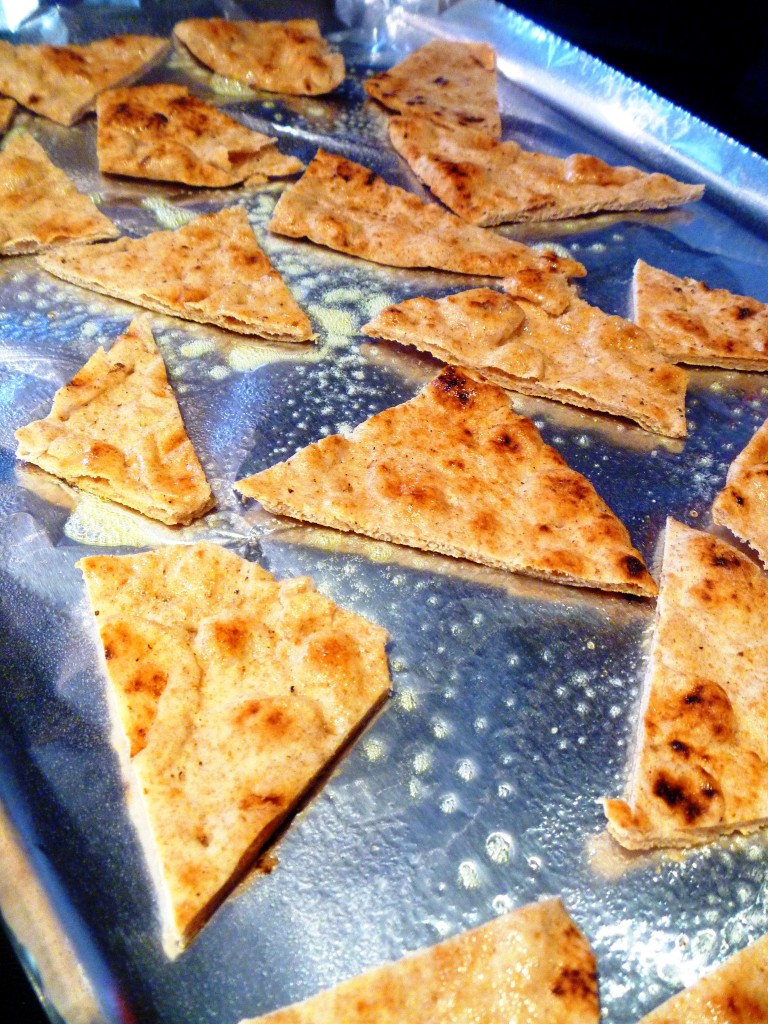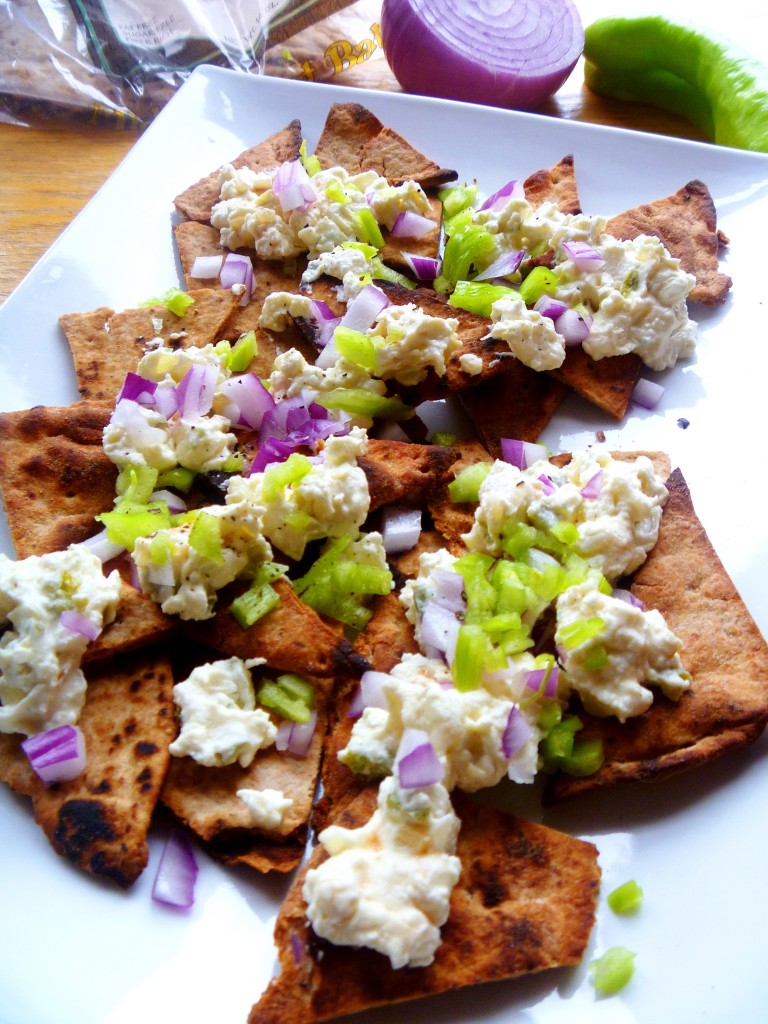 You will have leftover Crazy Feta. I did that on purpose. This recipe makes enough nachos for a lunch for one person or an appetizer/snack for two people. The nachos will not keep so you don't want to make more than that (unless you're having a party in which case you want to double or triple the recipe). The Crazy Feta, on the other hand, keeps great. You will want leftovers, I promise. You can heat the Crazy Feta and use it as a dip or you can throw it in an omelette (did that for breakfast – yum!) or you can spread it on a sandwich (did that for lunch – yum again!) Basically you can put Crazy Feta on anything and it will be tasty. Excuse me while I go dip into some more Crazy Feta…. 🙂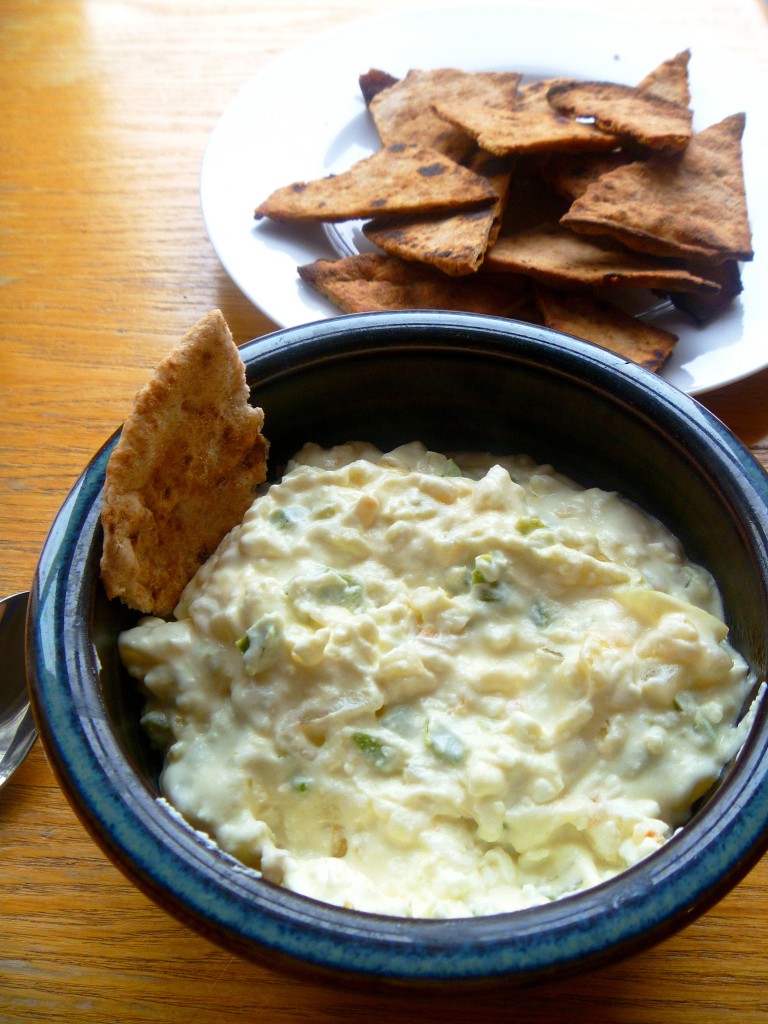 Healthy Recipe Ecstasy? If you're looking for a fun snack or a light lunch, this is a great way to go. I took whole-wheat pitas and baked them into pita chips. Super easy and healthier than store-bought pita chips that may contain added ingredients or unhealthy oils. Then, I topped the chips with peppers and onions and a moderate amount of cheese. Unlike regular nachos, you don't need to pile on the cheese because Crazy Feta packs a big punch in small doses. If you need to make these gluten-free or wheat-free, you can certainly swap out the pita chips for corn or nut chips. You'll lose a bit of the Greek "flair," but the nachos will still taste fantastic and that's what counts.

Crazy Feta Greek Nachos
Author:
Healthy Recipe Ecstasy
Recipe type:
Appetizer/Snack
Ingredients
Crazy Feta:
1 tablespoon olive oil
½ cup onions, diced
¼ cup jalepenos, diced
10 ounces of feta cheese
Nachos (you can play with these portions based on your preferences):
1-2 large pitas or 3 smaller pitas
¾ cup of the Crazy Feta
2 tablespoons red onions, diced
1-2 tablespoons banana peppers, diced
1 tablespoon red wine vinegar
Freshly-ground pepper to taste
Olives (optional - I opted out)
Instructions
First, you need to make the Crazy Feta. Heat one tablespoon olive oil in a medium saute pan over medium-high heat. Add the diced onions and cook for 1 minute. Then, add the diced jalapeno and cook for another two minutes until the onions and jalapeno start to soften. Next, add the feta cheese. Turn the heat down to medium and cook for another three minutes, stirring frequently to break down the feta and combine it with the onions and jalapeno. You want the pan hot enough that all the ingredients combine but not so hot that the feta completely melts.
Once the feta is done cooking, put it in a bowl and set it aside.
Next, heat the oven to 450 degrees. Cut the pita into triangles. My large pita and a half yielded about 24 triangles. Coat a baking sheet and the pita triangles with cooking spray. Add the triangles to the baking sheet and cook for five minutes.
Keep a watch on your triangles - I thought they would cook for about 10 minutes which is how long I cook my tortillas to make tortilla chips but they cook way faster!
The final step is assembly. Add about ¾ cup of the Crazy Feta to the baked pita chips. Add red onions and banana peppers. Sprinkle the tablespoon red wine vinegar and freshly-ground black pepper over top and you're τελικό! (That's "finished" in Greek.) Of course, if you so desire, you can also top the nachos with olives... I won't judge you, I promise.