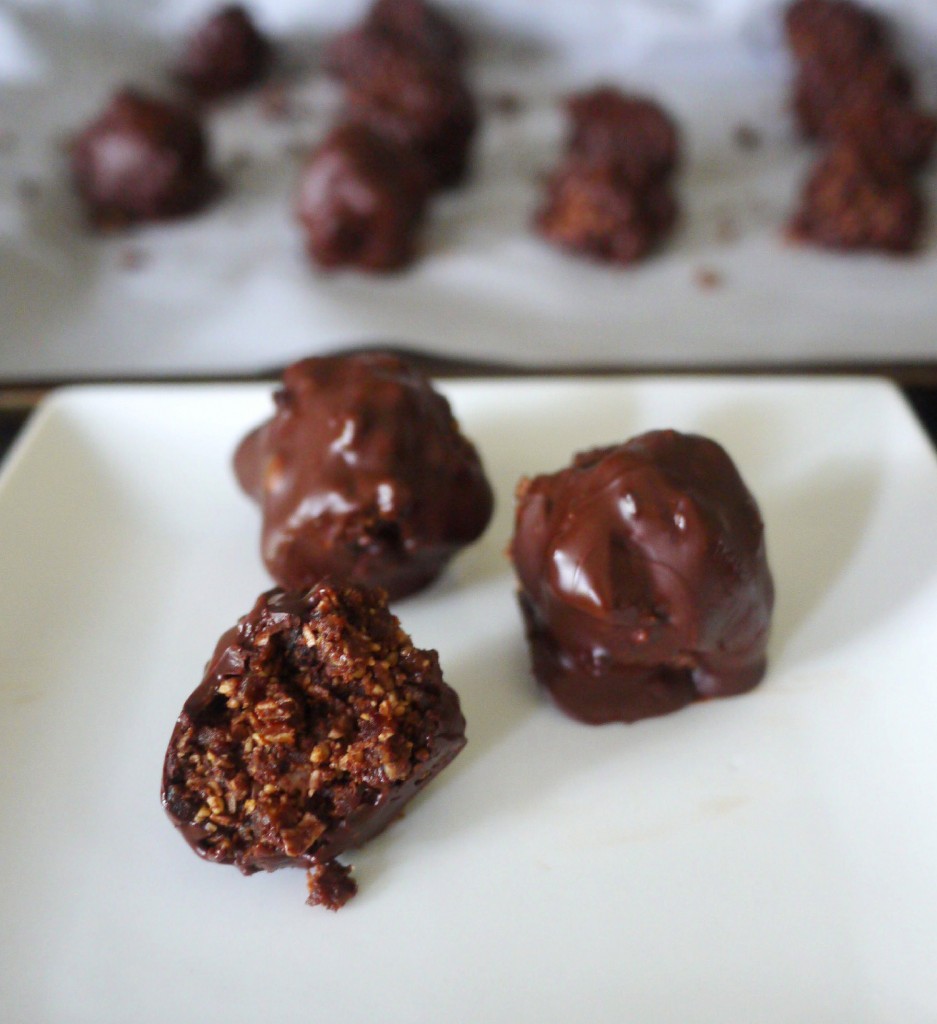 We have an addiction in this house. No, I'm not talking about my cheese addiction. Nope, not talking about my fiancé's curry addiction either. I'm talking about our joint addiction to Lindt chocolate. It started when I received some free bars of Lindt Dark Chocolate with Sea Salt. I was never the kind of girl who would sit there and drool over a chocolate bar. Snickers, maybe. But a plain chocolate bar? Ehhh…boring! That's until I had my first bite of Lindt Dark Chocolate with Sea Salt. It was a chocolate bar epiphany. It wasn't too hard to get Alasdair on board with my addiction seeing as how his love for chocolate far outweighs my own. For awhile, every night after dinner, we were devouring full-sized bars of this salty, dark chocolate. (Shame Face.)
But now we're on a diet. Not just any diet — the all-important, all-encompassing pre-wedding diet. That's right, we're five weeks out from our wedding and we're just now beginning the fitness regime that will shape us into our best-looking selves when we don our wedding regalia. Most people probably start their wedding diets at least six months before their weddings, but we're not most people. We are the kind of people who have little to no willpower when it comes to food and drink. We can barely go three days without a treat, an indulgent dinner out, or ingesting something that would be deemed falling off the wagon in terms of our diet.
That's why, instead of depriving ourselves for the next five weeks until we've both morphed into starving monsters who can barely recognize each other at the alter (or in our case, the side of the Seine River), I've decided to put a stop to our unhealthy and rather expensive Lindt addiction. How is that possible, you ask? Well, instead of buying chocolate treats which may have added sugars and/or chemicals, I'm going to make them. Who needs Lindt when you have Chocolate Coconut Date Truffle Bites with Sea Salt??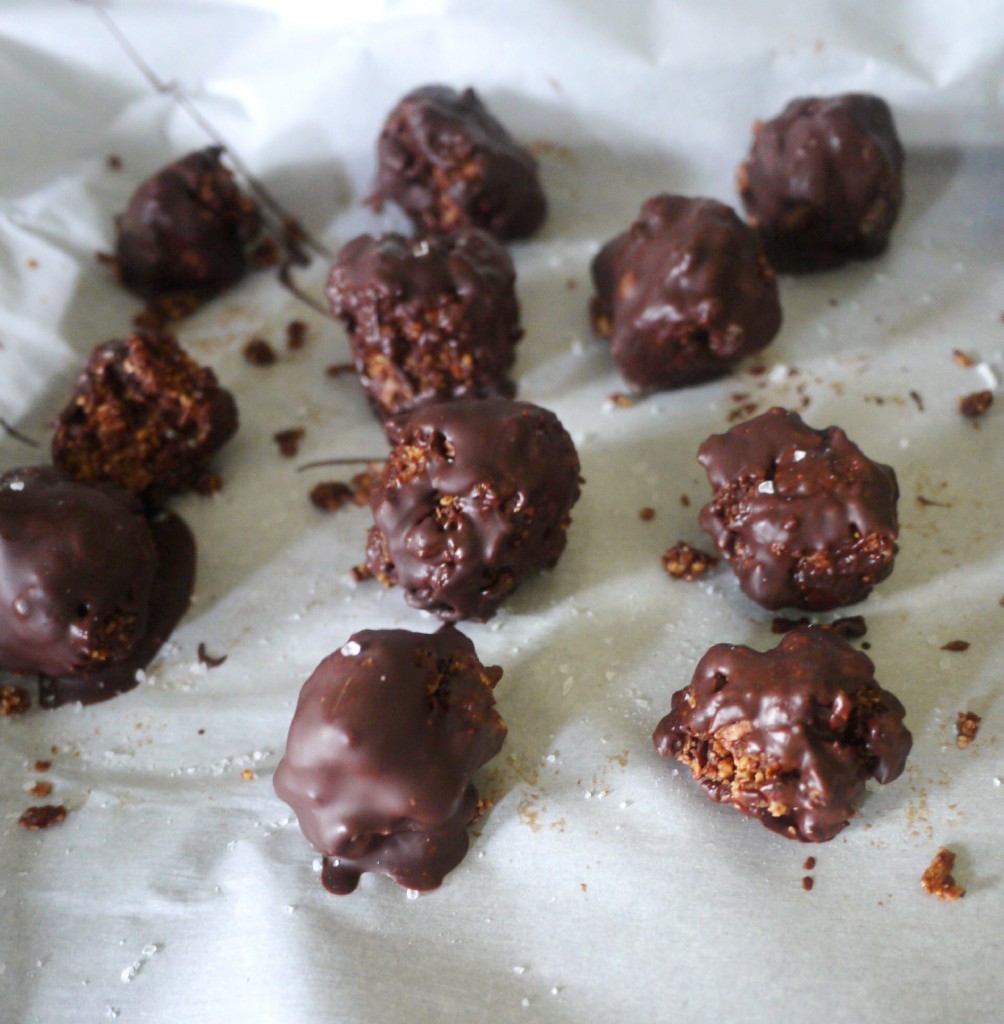 I stumbled across this recipe while I was oogling the carrot cake pancakes. As you may remember, I am not much of a baker so it goes without saying (though I'm going to say it anyway) that desserts, sweets and treats are not my forte. In fact, the thought of making my own chocolate treats was slightly intimidating. Fortunately, I am not scared off easily. I once made a pretty impressive three-layer almond toffee cake when my only previous cake experience had been with a box of funfetti. Sidebar: Funfetti is still the birthday cake of choice for me and my family. Even more fortunate, this recipe actually seemed easy – no oven involved, no baking dishes needed, no flour to contend with. I got this, I thought, with a cocky shoulder shrug. And I did. When it was over and done, I got 18 de-lic-ious truffles bites that will likely be the cause of many future rock, paper, scissor wars in my house over who gets the last little bite.
Healthy Recipe Ecstasy? Not only are these truffle bites de-lic-ious, but they really were easy! We're talking six ingredients (not counting salt), most of which I already had on hand. We're talking dumping it all into a food processor which does most of the work for you. Then, you roll, chill, dip and chill. Not chill like "I'm chillin'" but chill in the fridge. Though you can totally chill out while your truffle bites chill. Unless you're me, in which case, you make dinner during that time.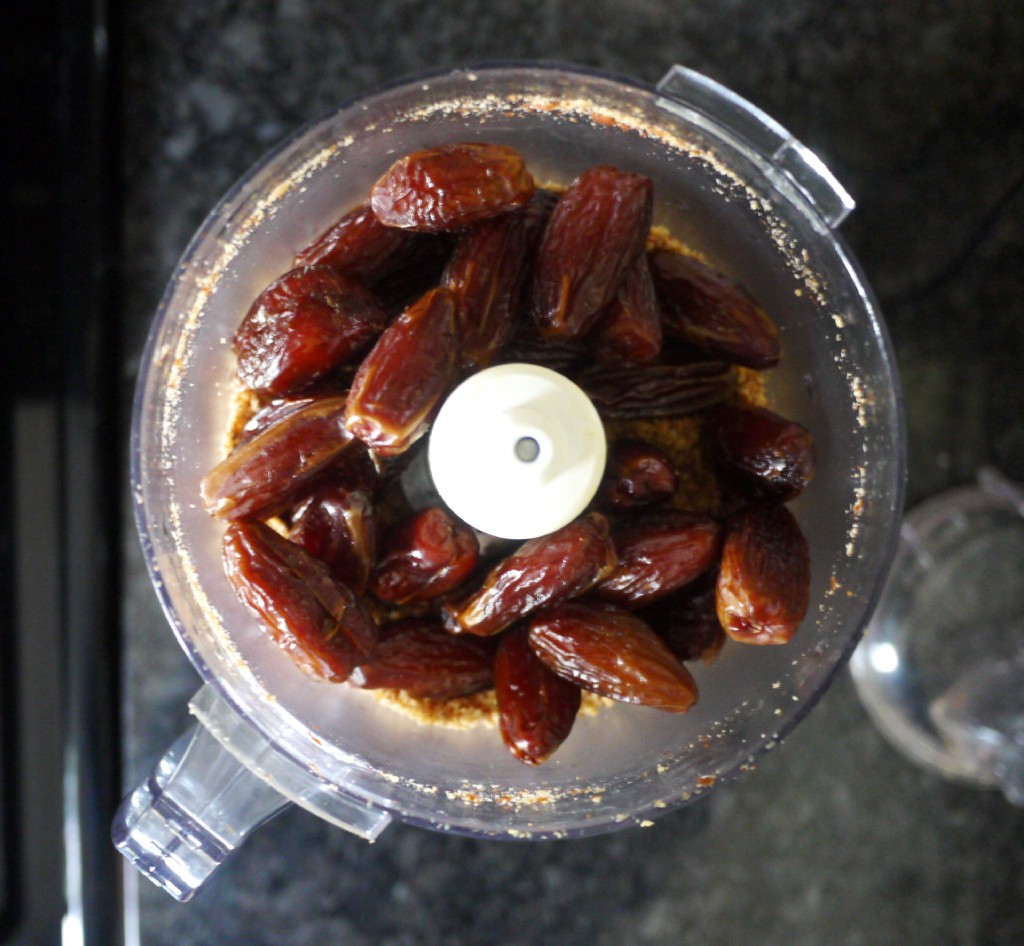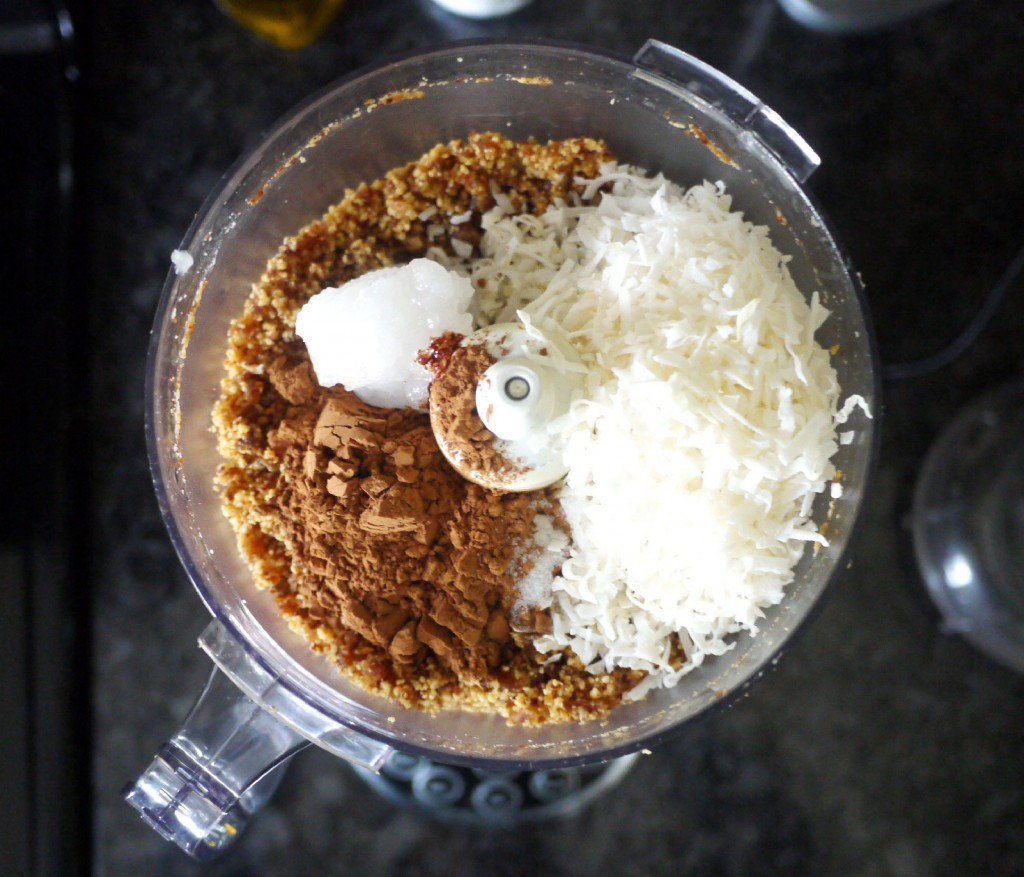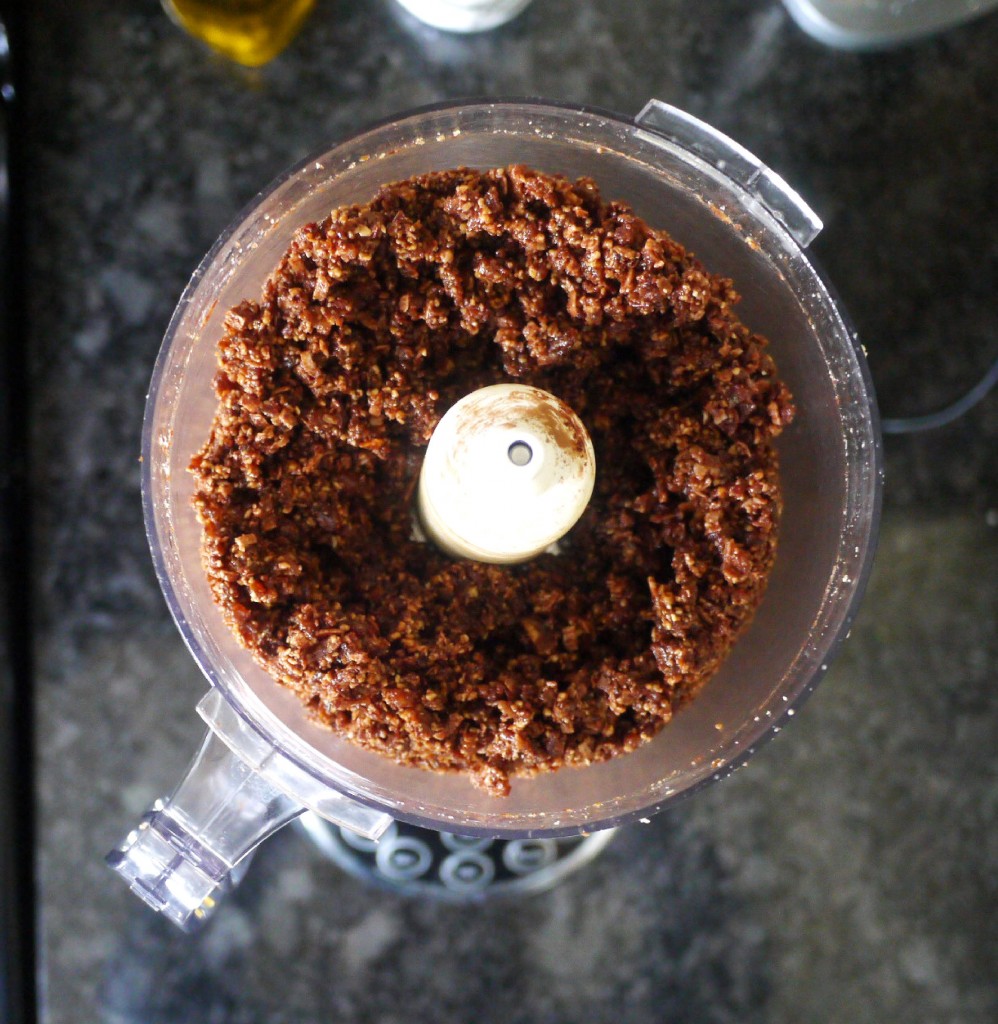 Alright, alright, I'm not being entirely honest about the simplicity of the process. In fact, I may have glossed over the "roll" part because rolling the dates was a pain in my chocolate-loving butt. The date mixture is sticky and tends to fall apart while you're rolling. It gets all over your hands and makes quite a mess. Luckily, I had a backlog of my favorite soap opera on the DVR (General Hospital for all you Luke and Laura fans out there), and the "roll" time passed without too much heartburn. So, with that bit of honesty out of the way, I promise you will be chilling and dipping in no time.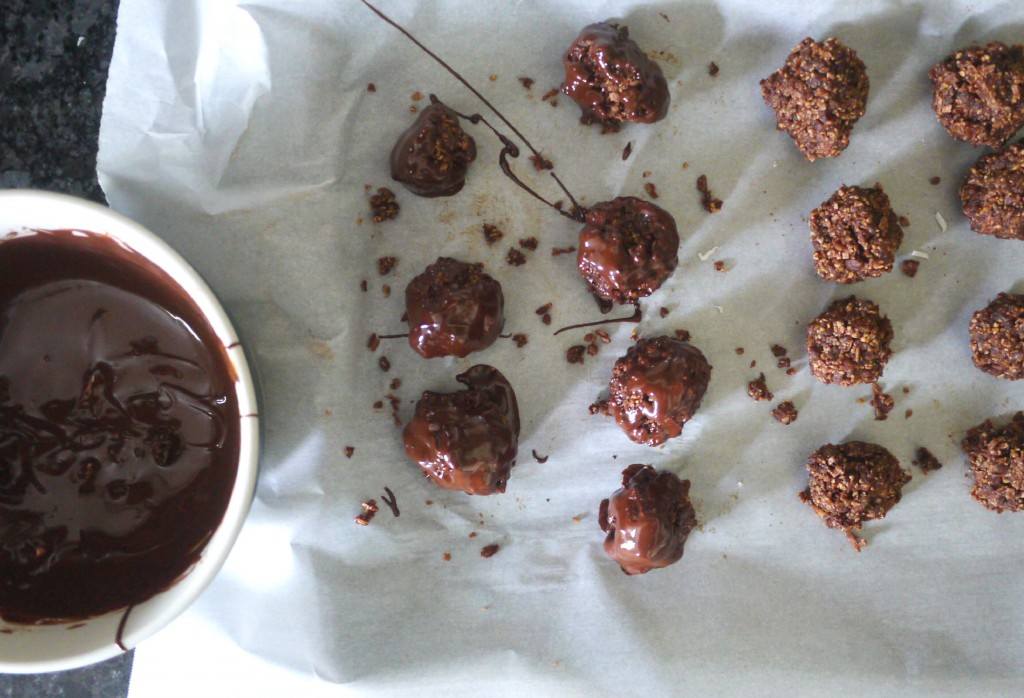 Remember how I said there are only six ingredients? Well, that's not just important for your wallet, it's also important for your health. Most chocolate treats contain all sorts of unnecessary ingredients and added sugars. With fiber-rich dates, heart-healthy almonds, and antioxidant rich cocoa powder as the main ingredients, these truffle bites aren't just a treat for your taste buds, they're a treat for your body. And, depending on what kind of bittersweet chocolate you use, they can be gluten-free and dairy-free too.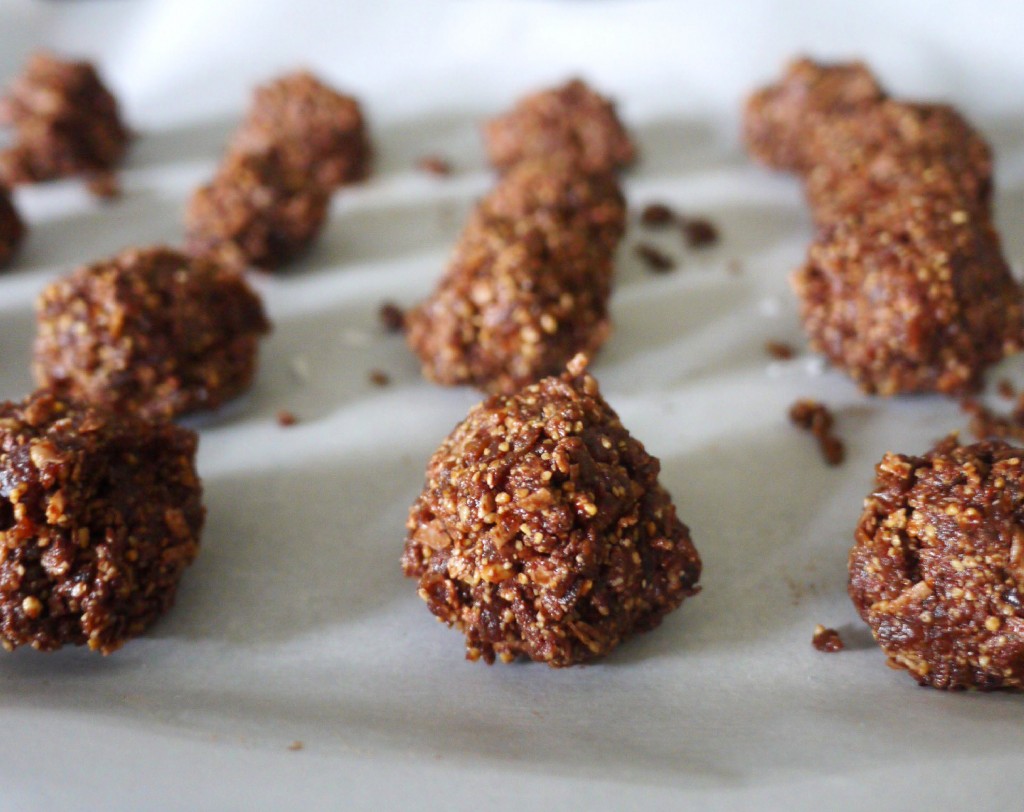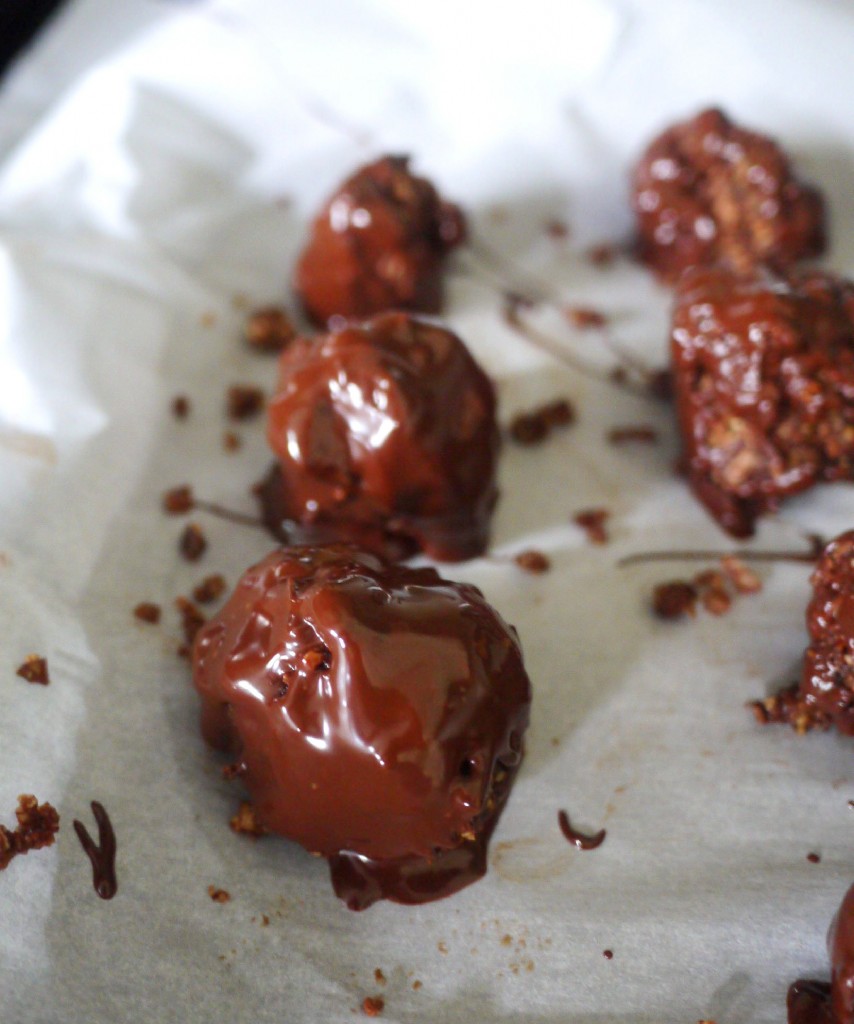 Chocolate Coconut Date Truffle Bites with Sea Salt
Author:
Healthy Recipe Ecstasy (Slightly Adapted From Cooking Light)
Recipe type:
Dessert/Snack
Ingredients
⅔ cup roasted, salted almonds
30 whole pitted dates
½ cup flaked unsweetened coconut
2 tablespoons unsweetened cocoa
1 tablespoon coconut oil
⅛ teaspoon salt
4 ounces bittersweet chocolate, chopped
Sea salt for garnish
Instructions
Place almonds in a food processor; process until finely ground. Add dates; process until finely ground. Add coconut and next 3 ingredients (through salt); pulse until combined.
Scoop about 2 teaspoons cocoa mixture with a spoon, and roll into a ball. Repeat the procedure with remaining cocoa mixture. Don't worry if the truffles are a bit crumbly while you're rolling, they will harden when they chill. Place the truffles on a platter or baking sheet lined with parchment paper; refrigerate 1 hour.
Place chocolate in a medium microwave-safe bowl; microwave at HIGH 1 minute and 20 seconds or until melted, stirring every 20 seconds. Add truffles, stirring gently to coat. Lightly sprinkle truffles with sea salt.
Return truffles to the refrigerator until the chocolate sets. Enjoy!
NOTE: Keep the truffles refrigerated, and enjoy for 1-2 weeks.