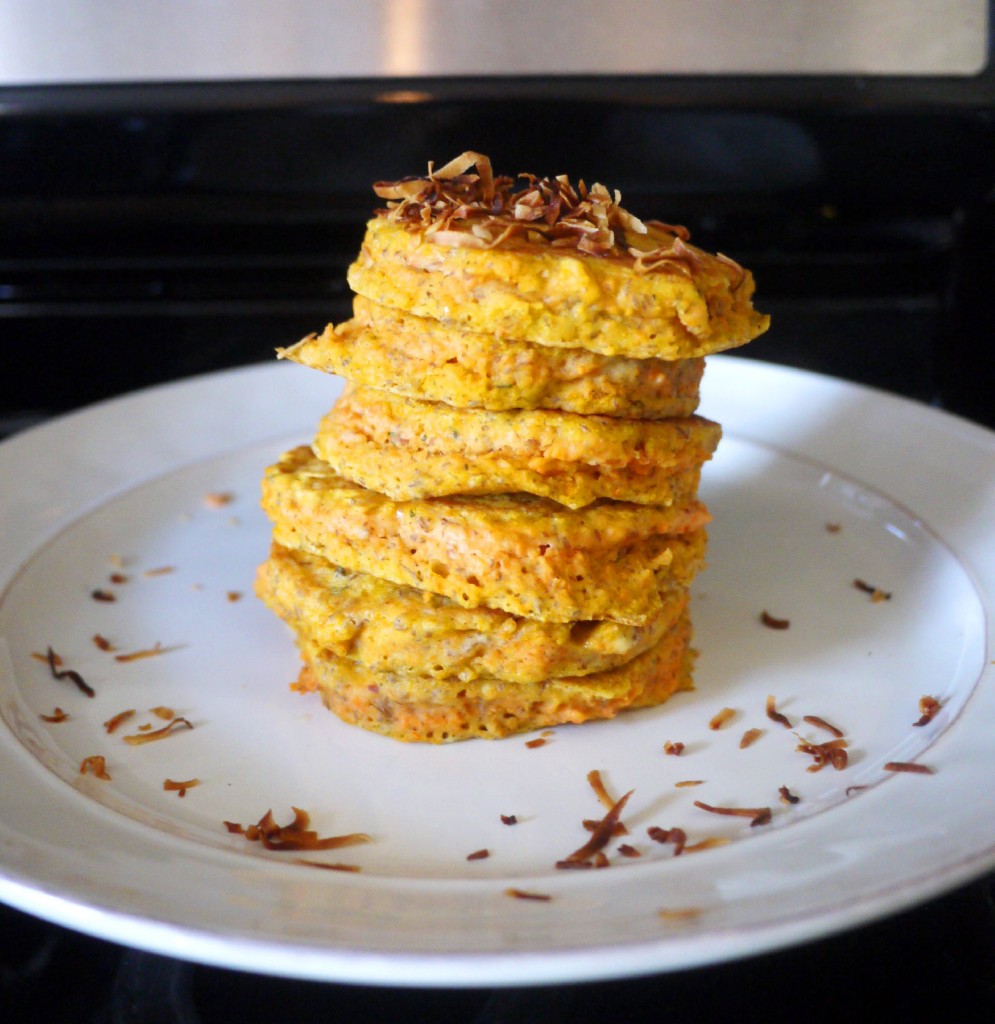 Awhile back, Alasdair went to the grocery store by himself. Yes, I meant that to sound a bit ominous. I usually like to attend the shopping trips because (a) I obviously need very specific ingredients for my recipes and (b) he sometimes goes overboard when he's left to his own grocery-shopping devices. In preparation, I wrote him out an extremely detailed grocery list that included, among many other things, carrots. In true Alasdair style of over-achieving at the grocery store, he brought me back one bag of baby carrots and two huge bags of regular-sized carrots. I've been doing my best to snack and cook my way through the massive backlog of carrots in our fridge, but it was becoming clear that, at the rate I was going, I wasn't going to make it to the last bag of carrots before they went bad. Ever the practical one when it comes to deteriorating produce, Alasdair suggested that I make a carrot cake. Ok, I thought, that makes sense. Too many carrots, so little time – carrot cake is the perfect solution. Except that I don't really like carrot cake. It's not really the cake part, it's more the cream cheese frosting. I just don't like sweetened cream cheese. Cream cheese is perfect, heavenly even, on its own. There is absolutely no reason to add sugar.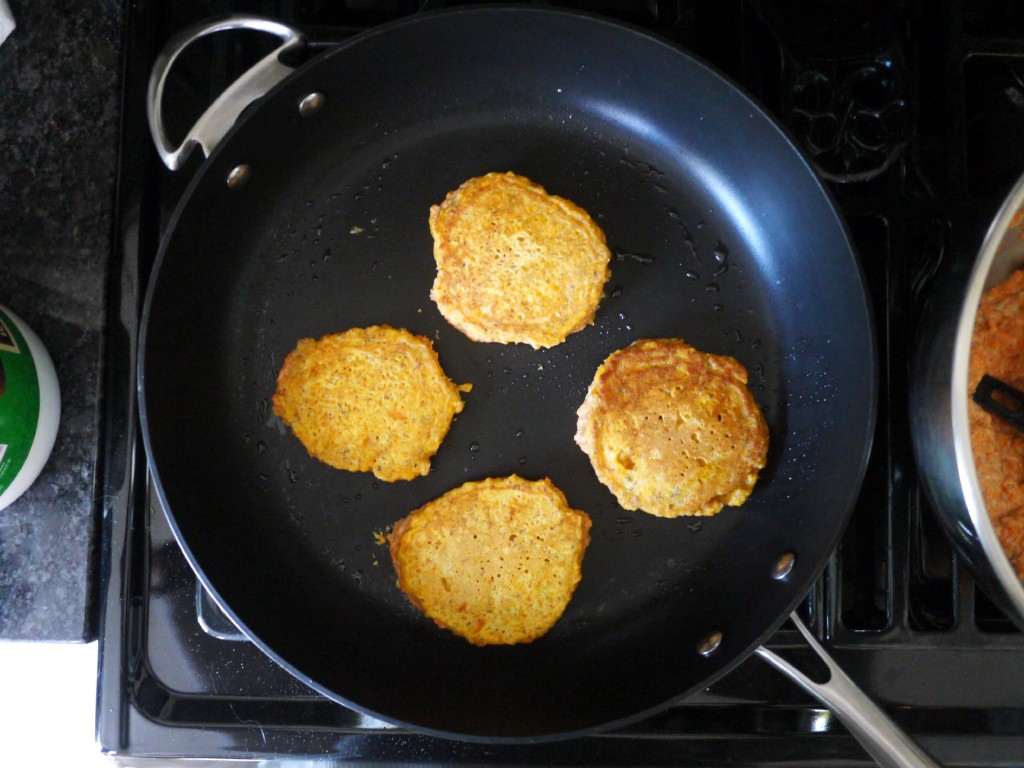 So, rather than make a cake that I don't love, I thought I'll make carrot cake muffins. Those don't require frosting. I was all set until I started flipping through the Cooking Light website and saw…wait for it….Carrot Cake Pancakes! I'd never heard of such a crazy recipe but I was immediately intrigued. I quickly scrapped my muffin plans and took on the challenge of HRx-ing the Carrots Cake Pancakes.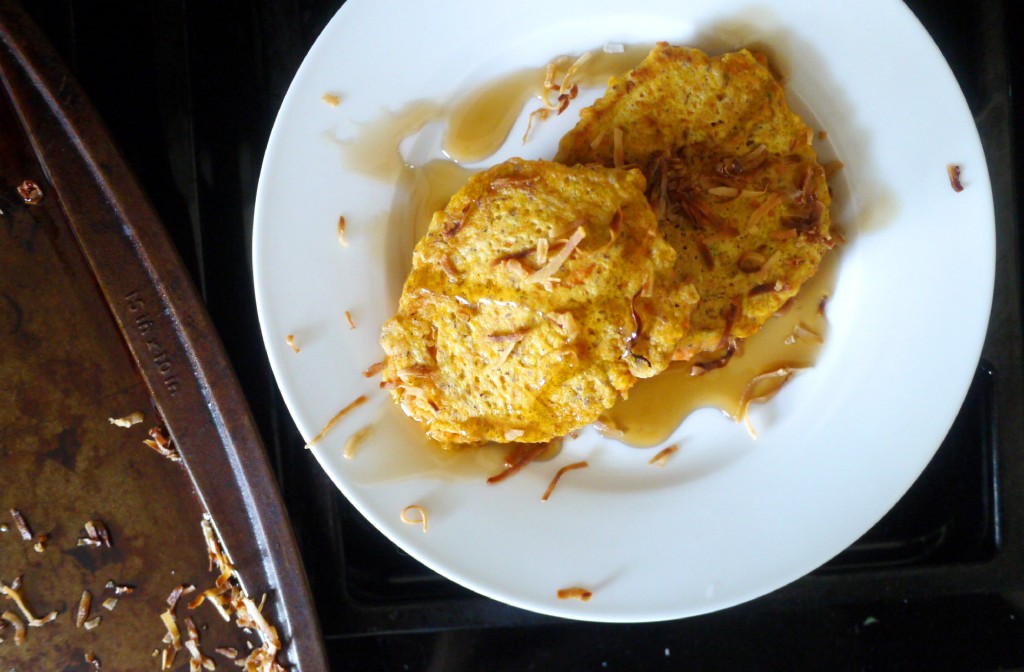 It turned out it wasn't much of a challenge. These delectable pancakes are easy to throw together in the morning, and they happily accommodated my HRx adaptations. The only hard part about this recipe is the "finely grated carrots." And that was only hard because I didn't realize that I could quickly shred the carrots in my food processor using the chop button in 1/16th of the time it took me to grate. Seriously. It took me a full minute to grate just one carrot. My food processor did the whole batch in 30 seconds. For the love of kitchen technology….. Now that I've realized I can use my food processor for more than just a pureed soup, these pancakes might become a weekend staple.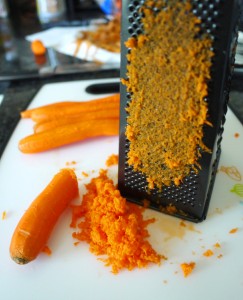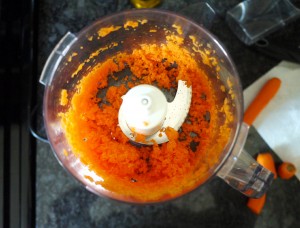 Healthy Recipe Ecstasy? Cooking Light's recipes are already on the healthy side. Hence the name, Cooking "Light." But sometimes they are not quite "HRx." Sometimes it's the inclusion of dairy, other times it's the amount of bread, and still other times their recipes are just perfect. For these pancakes, I made some slight adjustments for health reasons and I made other adjustments for taste preference. Cooking Light's Carrot Cake Pancakes contain 1 and 1/4 cups flour. My pancakes contain 1 cup flour and 1/4 cup ground flaxseed to increase the amount of good fats and fiber. Cooking Light's pancakes use low-fat buttermilk. My pancakes use light coconut milk to make these a dairy-free option. Cooking Light's pancakes have a honey butter topping. Mine are topped with maple syrup and toasted coconut flakes. I'm sure Cooking Light's pancakes are divine. But, I think mine might possibly be divine-er (yes, I know that's not a word, but it should be). I loved the soft, fluffy pancake texture with the slightly nutty flavor and the hearty carrot filling with a hint of ginger and thyme (thrown in for the simple reason that it was in my fridge).  Who knew that carrot cake pancakes are the perfect, healthy way to start your day? 🙂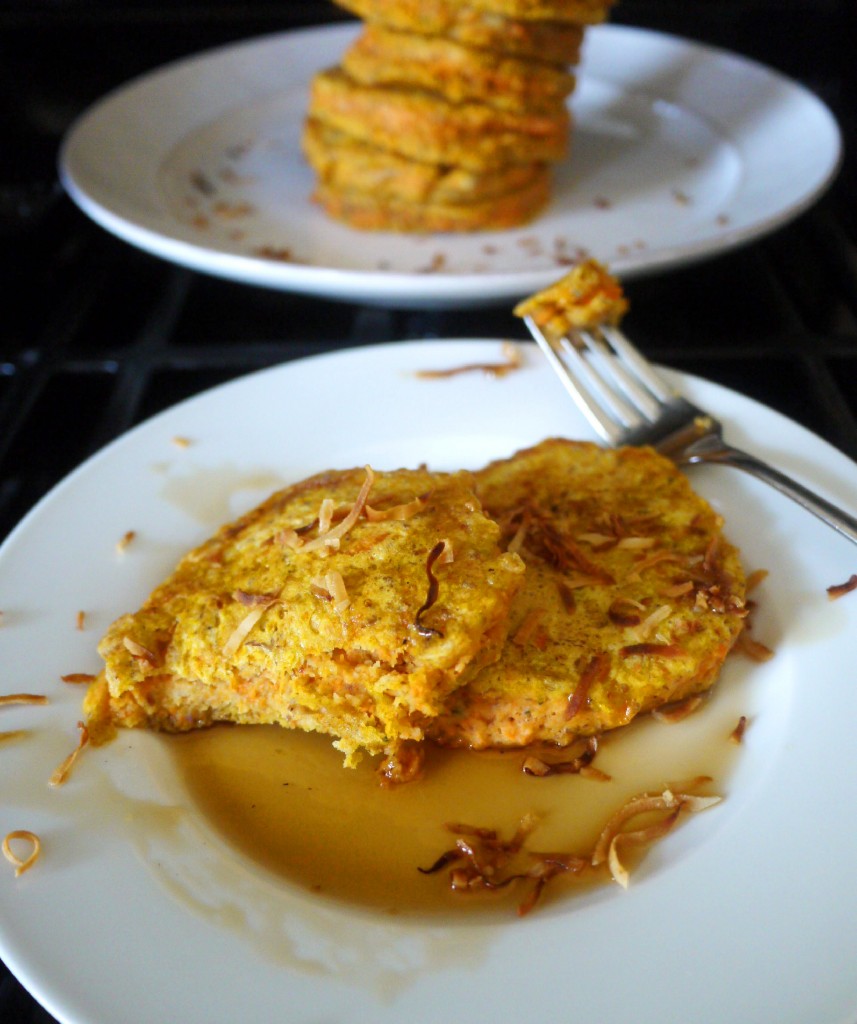 Carrot Cake Pancakes with Toasted Coconut
Author:
Healthy Recipe Ecstasy (Adapted from Cooking Light)
Recipe type:
Breakfast/Brunch
Ingredients
1 cup all-purpose flour
¼ cup ground flaxseed
2 teaspoons baking powder
¾ teaspoon finely chopped thyme
½ teaspoon ground ginger
¼ teaspoon salt
⅛ teaspoon freshly ground nutmeg
¼ cup light brown sugar
¾ cup light coconut milk
1 tablespoon coconut oil, plus two teaspoons for cooking the pancakes
1½ teaspoons vanilla extract
2 large eggs, lightly beaten
2 cups finely grated carrot (about 1 pound or 6 large carrots)
½ cup unsweetened coconut flakes
Maple Syrup
Instructions
Spoon flour into measuring cups and level with a knife. Combine flour and next 6 ingredients (through nutmeg) in a large bowl, stirring with a whisk.
Combine ¼ cup brown sugar and next 4 ingredients (through eggs) in a small bowl. Add sugar mixture to flour mixture, stirring just until moist. Fold in 2 cups carrots.
Heat a large nonstick skillet over medium heat. Coat pan with one teaspoon coconut oil. Spoon 4 (1/4 cup) batter mounds onto pan, spreading with a spatula. Cook for 2 minutes or until tops are covered with bubbles and edges look cooked. Carefully turn pancakes over; cook 1 minute or until bottoms are lightly browned. Repeat with remaining batter and remaining teaspoon coconut oil. Keep pancakes warm.
Heat the broiler. Add the coconut flakes to a baking sheet coated with cooking spray. Broil the coconut flakes for 1-2 minutes, until they are golden brown. Keep an eye on the flakes because they will burn quick.
Top pancakes with toasted coconut flakes and maple syrup. I didn't think about this until after eating the pancakes, but garnishing with some chopped thyme wouldn't be a bad thing...!
NOTE 1: Shredded carrot tip - after shredding, drain the carrots on a paper towel-lined plate for 15 minutes, pressing down with a second paper towel every few minutes to help them release their moisture.
NOTE 2: The batter will be a bit thicker than regular pancake batter. Do not be alarmed. Just spoon the batter onto the pan and flatten it with your spatula.