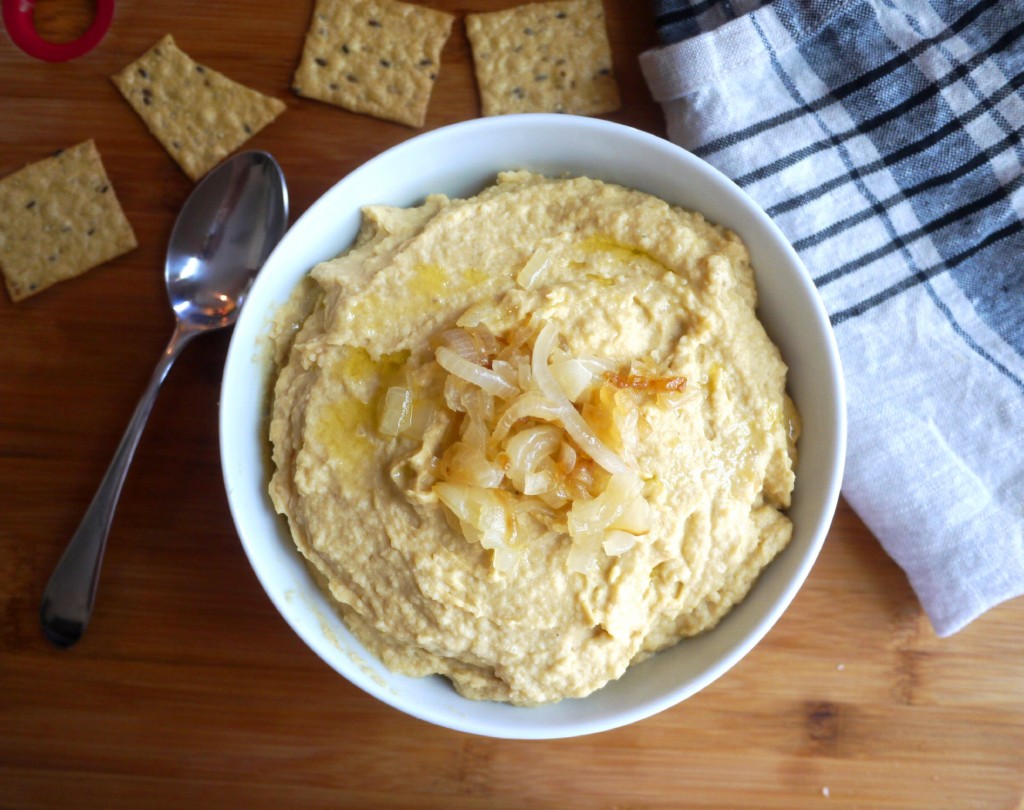 Now that the last bits of my jet lag have finally evaporated, and I'm no long enveloped in that time confusion fog that usually hits around mid-day, I can reflect on my trip to Scotland with a clear head (and a clear stomach). My head is thinking back to the surprisingly warm weather, the beautiful scenery, and the great times we had with family and friends. My stomach, on the other hand, is remembering the only thing my stomach is interested in: the food. Specifically, a certain caramelized onion hummus. What does hummus have to do with Scotland, you ask? Well, let me start by saying that Scottish food often gets a bad rap over in the States. For instance, take this line from the movie, So I Married an Axe Murderer:
Harriet Michaels: Do you actually like haggis?
Charlie Mackenzie: No, I think it's repellent in every way. In fact, I think most Scottish cuisine is based on a dare.
Great movie, hilarious quote, but not quite accurate. Sure, when you really think about it, haggis sounds disgusting – offal mixed with oatmeal and boiled in a sheep's stomach. Blech. But then you taste it, you realize (or I realized) that haggis is not only edible, it's pretty darn good. And then there's the black pudding, which is basically a sausage patty made with blood. Again, it sounds like something that only the characters from Twilight would be interested in eating. But it's actually ridiculously tasty when done right. My stomach is salivating at the thought… Anyways, aside from the daring cuisine I just mentioned, Scotland offers up creamy steak and ale pies, crispy fish and chips, fresh seafood, and sinful pork pies.
Scotland is by no means the culinary capital of the world, and I was definitely looking forward to returning home to Washington, D.C. where the restaurant scene gets better every year, but it's got more to offer than blood and sheep organs. What I realized, however, is that Scottish people don't seem that interested in their own cuisine. If you ask a Scottish person their favorite food (case in point, my fiancé), the answer will never be haggis or steak pie. More often than not, the answer will be:  "curry." Scotland, and the UK in general, has perfected a vast array of Indian curry dishes to the point where it almost seems that curry is the national cuisine rather than haggis or Highland beef or fresh prawns. My theory is that Scottish people are so unimpressed with their own cuisine that they have worked to perfect the cuisine of other countries. That's where the hummus comes in (told you I'd get around to it!).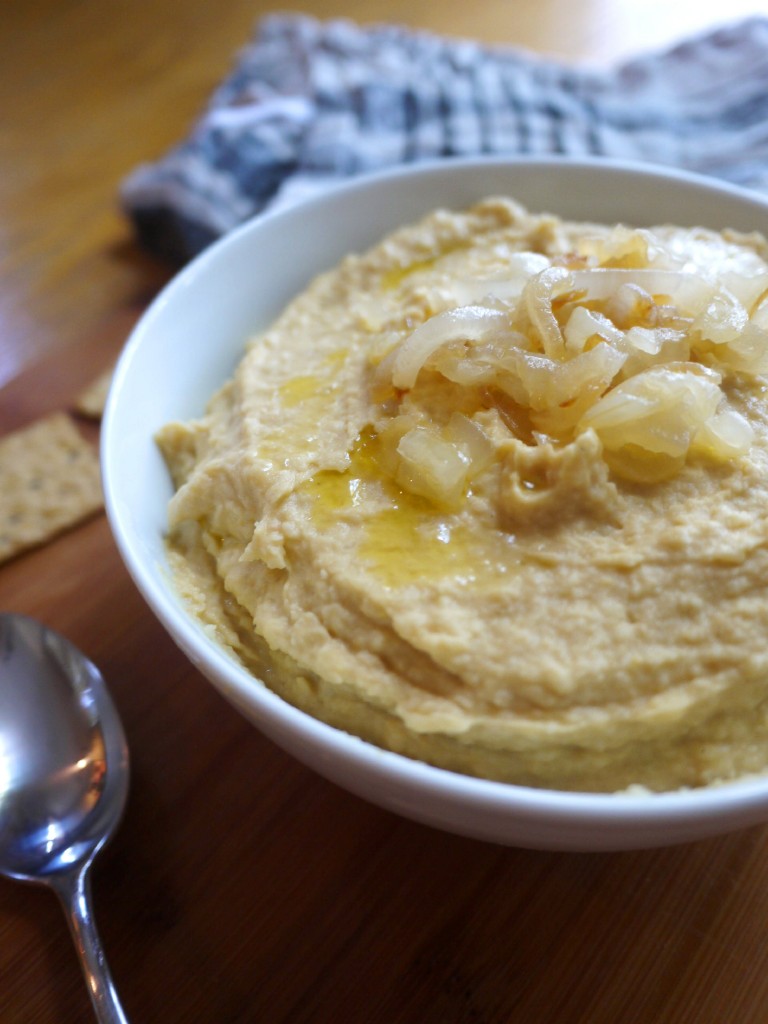 This caramelized onion hummus (a Middle Eastern staple), from Tesco, was the single best food I ate during our trip. For those of you who don't know, Tesco is a mid-range grocery store located all over the UK. Similar to a Giant or a Harris Teeter. I think I've made my love for caramelized onions clear in the past. So, it shouldn't surprise you that when we stopped at Tesco for sustenance, I couldn't resist snapping up a cartoon of caramelized onion hummus.  Nor could I stop myself from devouring the entire carton or going back to Tesco twice more to buy additional cartons of hummus.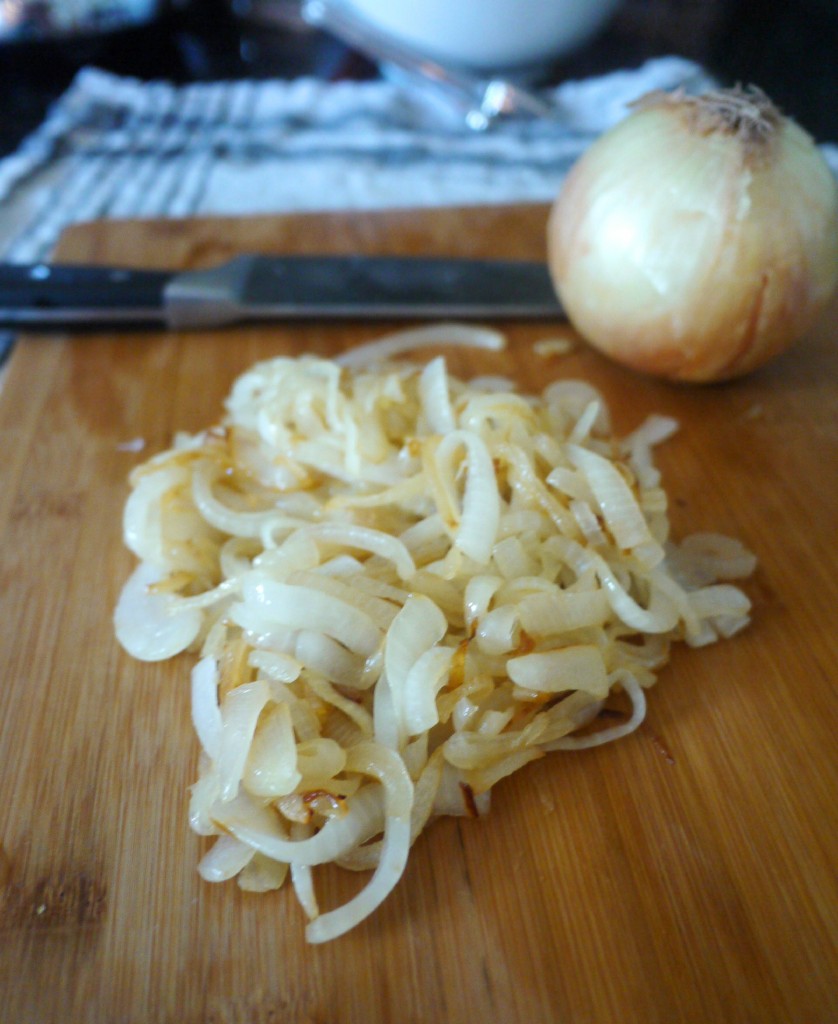 I knew my life back in D.C. wouldn't be complete without this hummus. So, I considered smuggling it over in my suitcase. I thought about having it shipped. I contemplated moving to Scotland, preferably within walking distance to a Tesco. Finally, I came to the much saner conclusion that I should just make my own caramelized onion hummus.
Healthy Recipe Ecstasy? While it's not as good as Tesco's version, it's definitely the best hummus I've ever made and it's better than the hummus I find at our grocery store. And now, I cannot wait to snack on it all week long. I'm going to put it on sandwiches, I'm going to eat it with carrots, and I just might eat it with a spoon. The best part is that I don't have to feel guilty because hummus is made with such healthy, good-for-you ingredients: chickpeas, olive oil, garlic, onions, and tahini.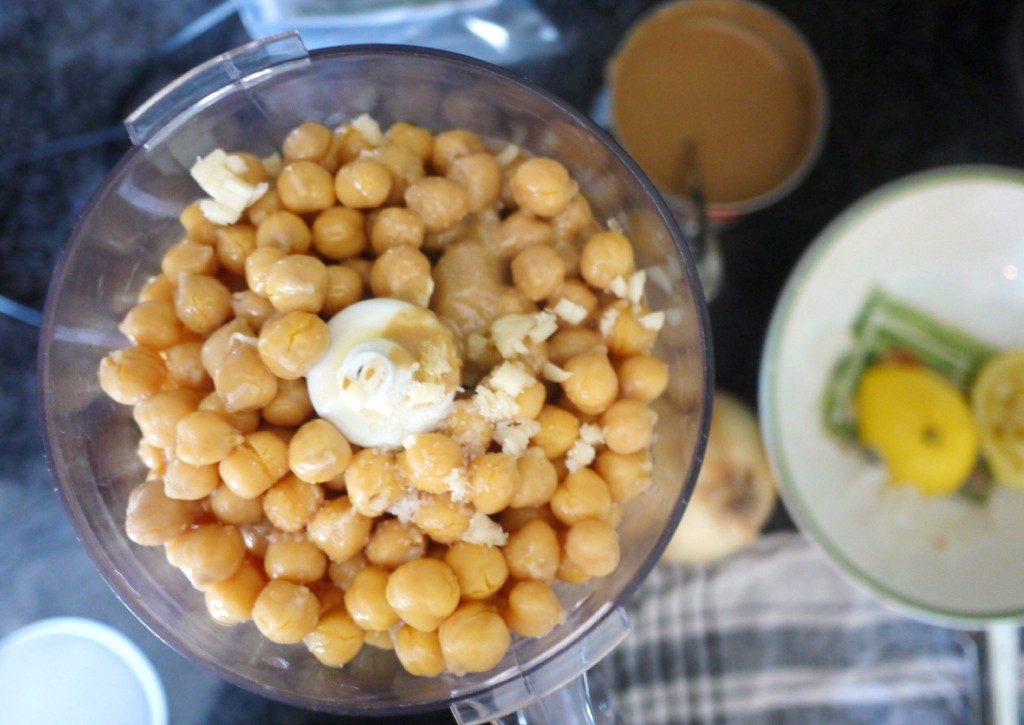 As with everything else in life, use moderation and do not eat an entire carton's worth in one sitting like I did. In my defense, I was on vacation…. 🙂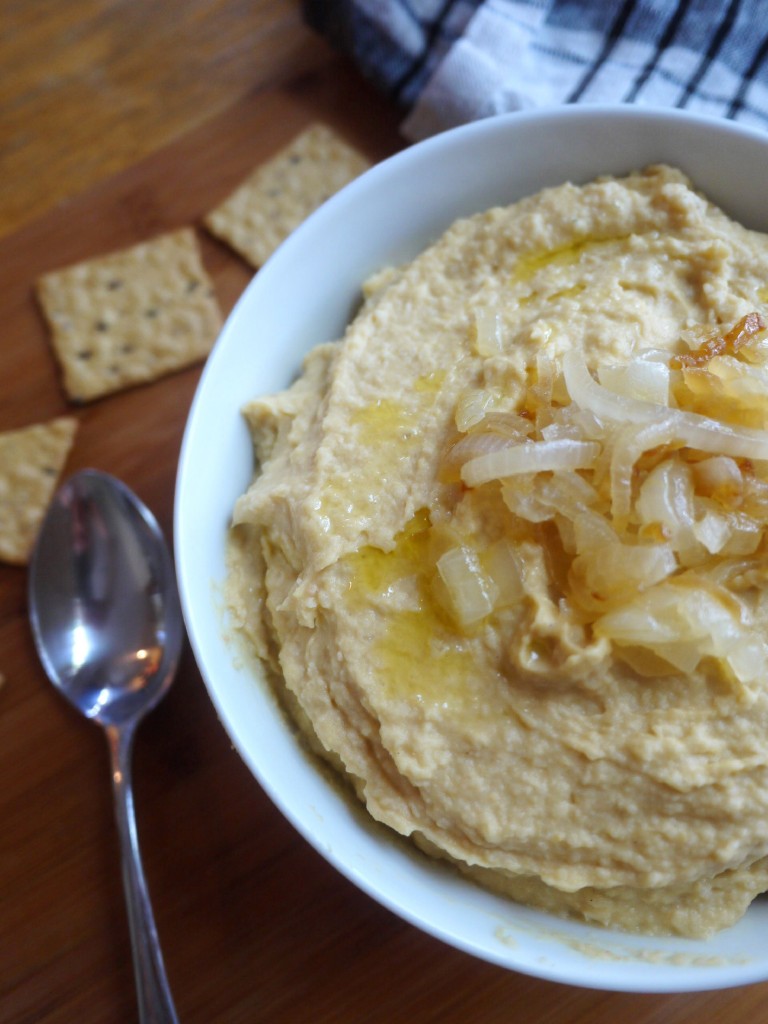 Caramelized Onion Hummus
Author:
Healthy Recipe Ecstasy
Recipe type:
Appetizer/Snack
Ingredients
2 large onions or 3 medium onions
2 tablespoons olive oil
1 generous pinch of kosher salt
2 15-ounce cans chickpeas, drained and rinsed
3 tablespoons lemon juice
¼ cup tahini (add 1-2 more tablespoons if you like the flavor)
1-2 garlic cloves, peeled and minced
½ cup olive oil (plus more if needed)
1 generous pinch of kosher salt
Instructions
Heat two tablespoons olive oil in a large skillet over medium high heat. Add onions and stir to coat in oil. Cook for 4-5 minutes over medium high heat until onions are softened and just starting to brown, stirring frequently. Add a generous pinch of kosher salt. Turn heat down to medium low and cook for another 30 minutes, stirring occasionally.
Let onions cool and then give them a rough chop so they are easier to puree, leaving a handful of onions for garnish.
Add all the remaining ingredients, including onions, into a food processer and puree until smooth. Work in batches if necessary. Add 1-2 more tablespoons of olive oil if desired to reach your desired consistency.
Top with leftover onions and a drizzle of olive oil.