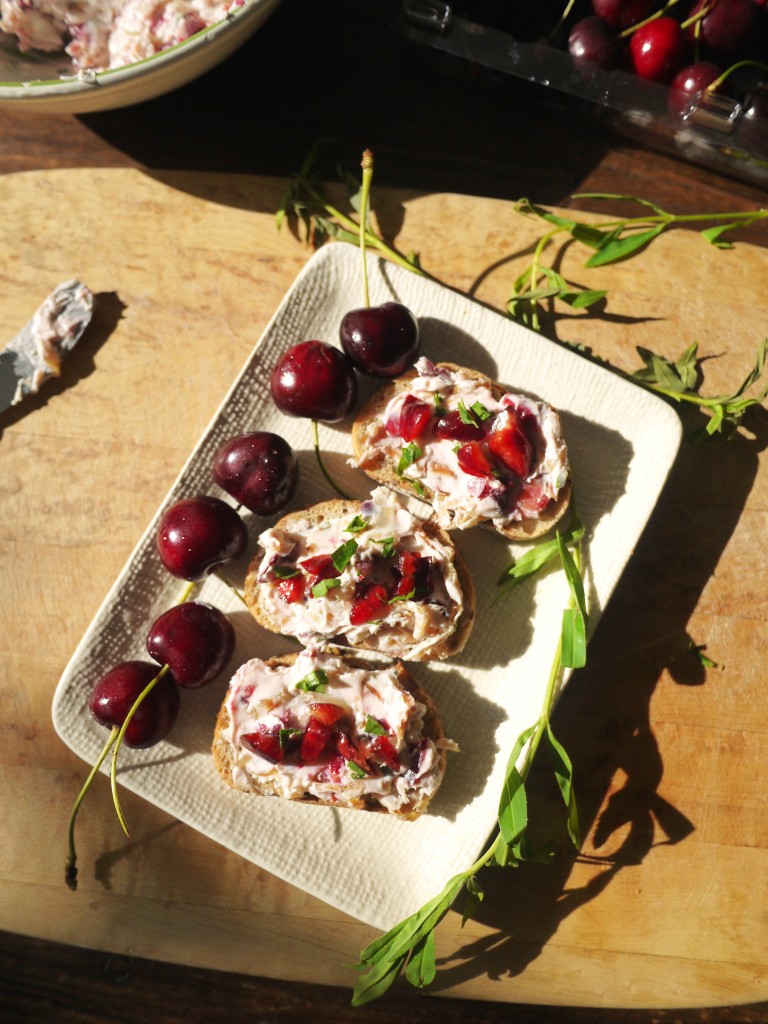 Last week, Alasdair wanted to go cherry-pickin'. Mind you, we live in the middle of the city – not on a farm – and cherry-pickin' is not something that usually jives with city living. But, we are fortunate enough to have a fruit-bearing tree growing at the end of our driveway. So, I put on my cherry-pickin' clothes and watched Alasdair climb the tree while rush hour traffic zoomed past on our city street. We collected a beautiful bowl of fruit and put it in the fridge to ripen.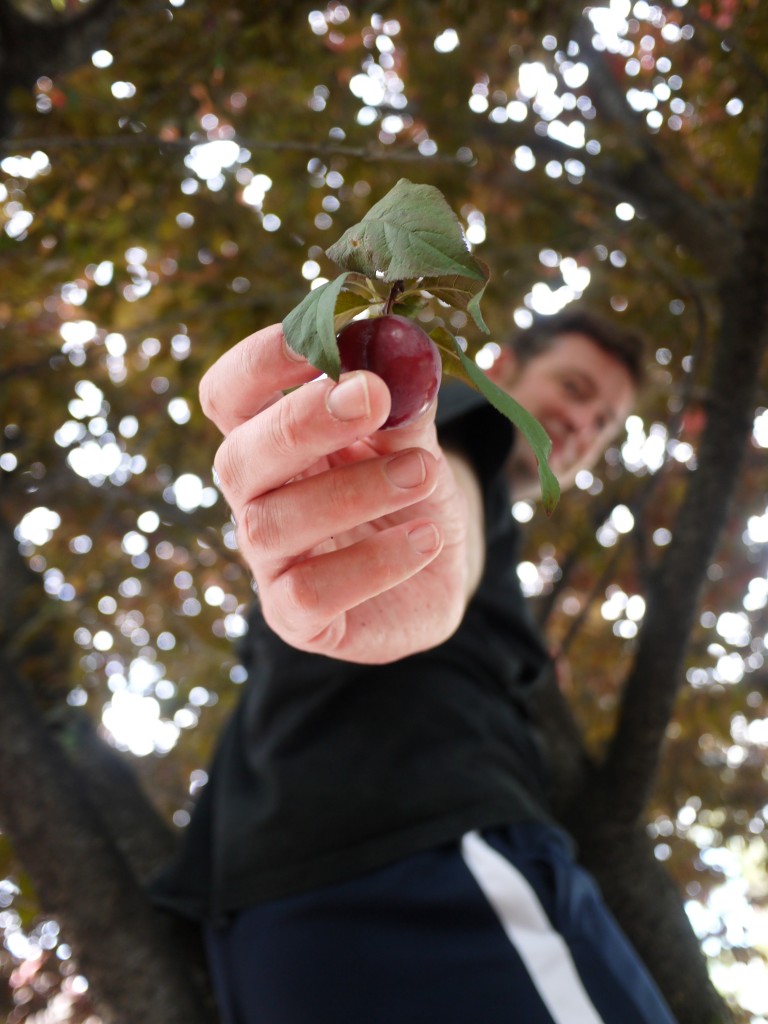 In the meantime, I couldn't wait to make a summer dish with our very own cherries (actually they belong to the city but let's not get to technical here…), and I immediately started scouring the internet for inspiration. I settled on a cherry and goat cheese crostini inspired by Annie's Eats. I messaged our next door neighbor whose driveway is also flanked by the tree to let her know that I'd be bringing by a dish made with our "cherries" for her to taste. This was her response: "I would love that, but they're plums!!! :)"
What??? This is what happens when a suburban-turned-city girl tries to pick fruit. Alasdair is often astounded at my lack of knowledge about flowers, trees, basically anything that grows out of the ground. When we take walks around our neighborhood as we're prone to do, he's usually the one pointing out different varieties of flowers blooming along the sidewalk. My knowledge goes about as far as "rose" and "sunflower." So, it's not surprising to me AT ALL that I mistook plums for cherries. Especially as they are small baby plums about the size of ready-to-eat cherries. But it is surprising to me that my botanically-inclined fiance made the same mistake.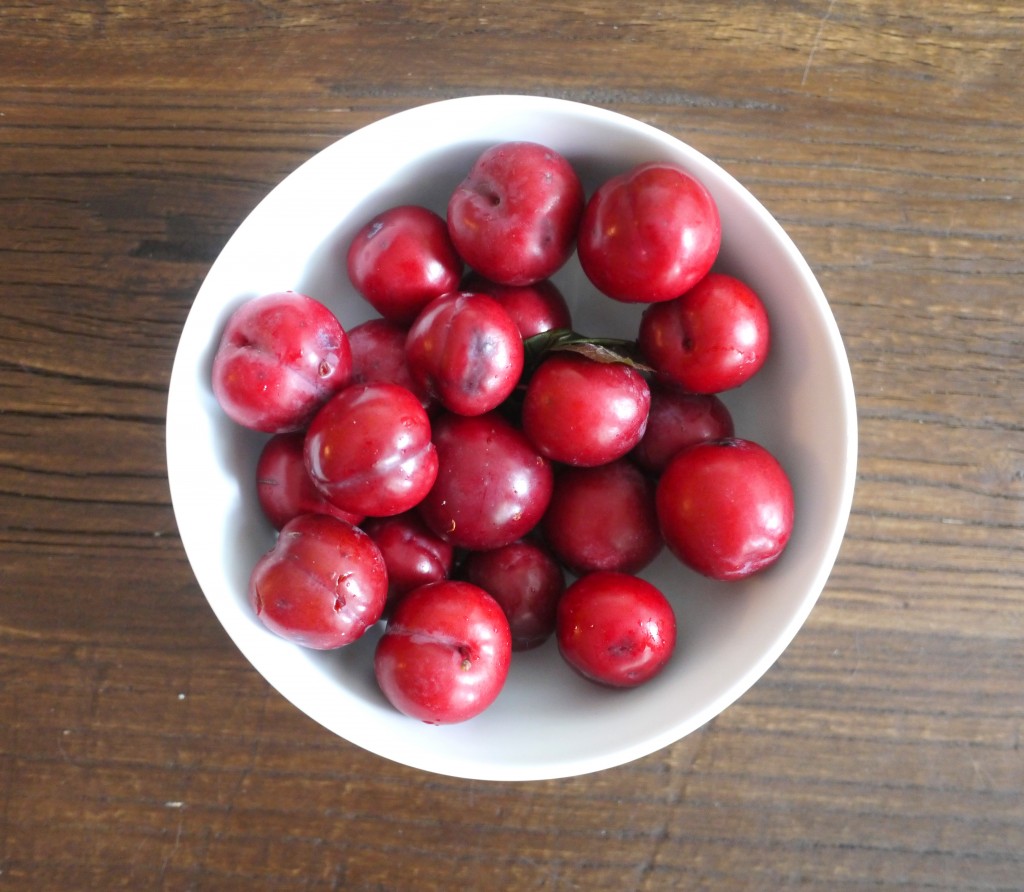 Of course, I had to confirm for myself that these were not in fact cherries. So I split one open and took a bite. ….And then promptly spit it out. Yep, definitely plums. And not ripe or edible plums, might I add.  At least not yet.
So I went back to the drawing board. The drawing board being Costco which was selling a huge case of cherries for a pretty decent price. I was so stuck on the idea of creamy goat cheese mixed with sweet fresh cherries that I didn't want to let my fruit-picking disappointment get in the way of a delicious crostini.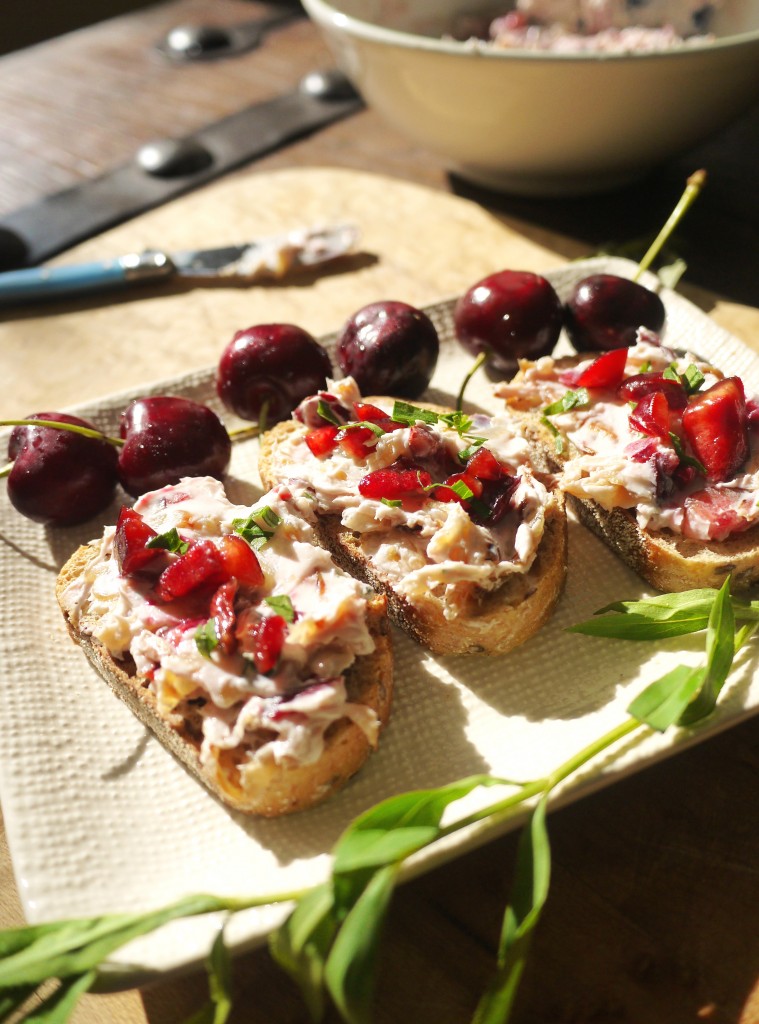 When I say delicious I mean DELICIOUS. Let me tell you about these flavors. First you have the tangy goat cheese. Then, you have the oh-so-fresh summer cherries.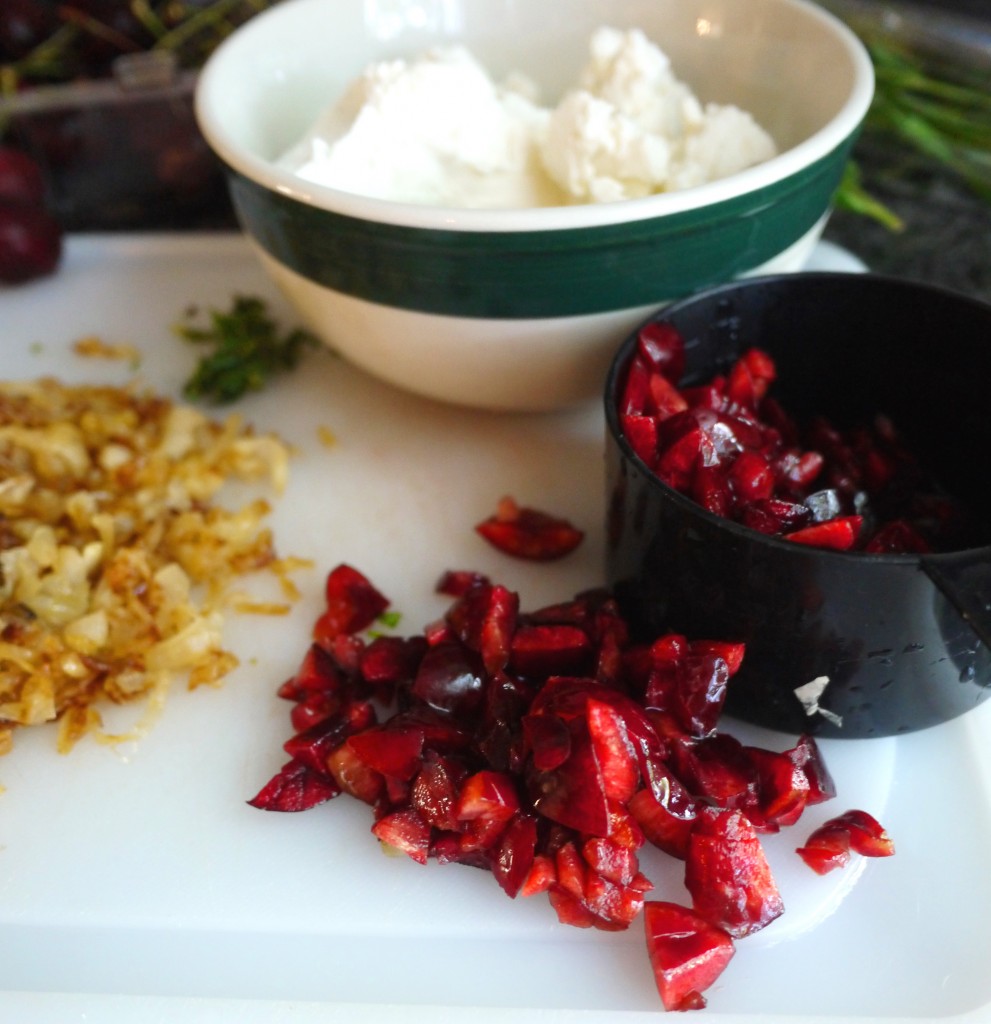 I know there are some sour cherries out there and sweet cherries but most of the cherries I've eaten are a mix of both. So I decided that this goat cheese mixture needed a little extra sweetness in the form of some deeply caramelized onions. Caramelized onions are an amazing way to get a sugary sweet flavor into your dish without actually using sugar. Sure, some people use sugar in the caramelization process but I think it's unnecessary.
Cherries, onions and goat cheese would have been amazing enough on their own. But I thought the crostini needed a little hit of brightness. So I added some bright green chopped tarragon which brought a beautiful color and a subtle licorice flavor to the dish.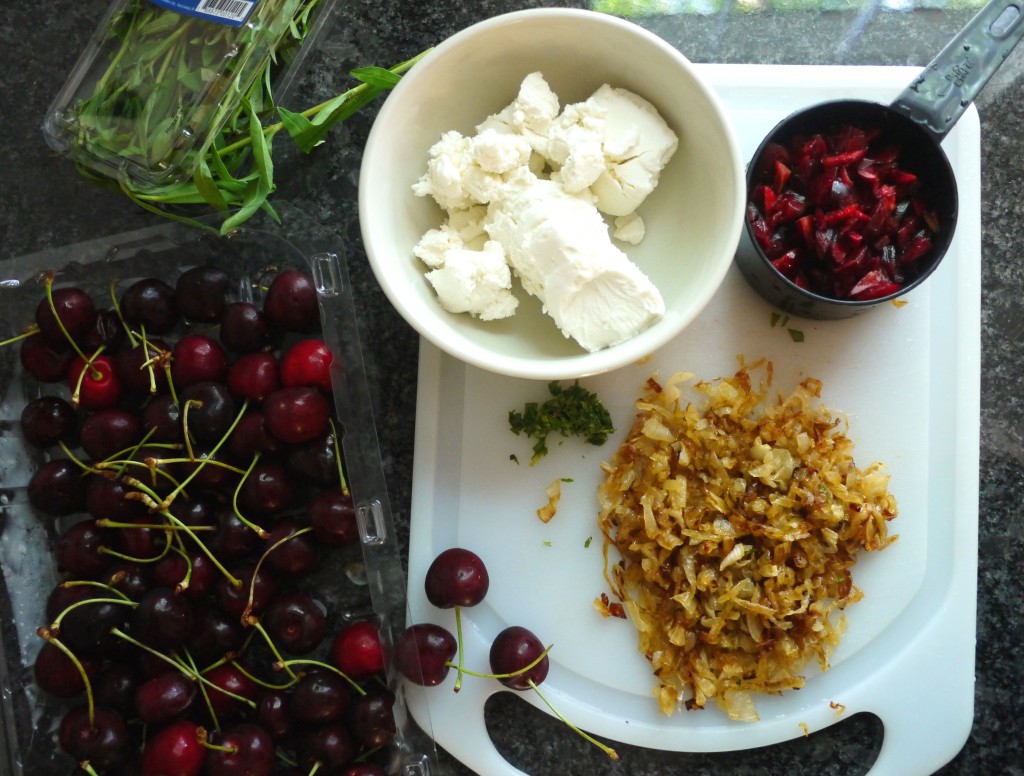 Healthy Recipe Ecstasy? Obviously cheese crostinis aren't gluten-free or dairy-free, but they can easily be made gluten-free by using gluten-free bread or you can spread the goat cheese mixture on a gluten-free cracker. I used a flax and bran bread which has more nutrients and leaves you feeling fuller longer than a slice of, say, french baguette. But, the cherries and goat cheese are really the star of the show and the bread or cracker is just a vehicle for shoveling it into your mouth. And you will shovel. So will your guests if you bring this as an appetizer to your next party. My neighbor and her two-year-old daughter gave it four thumbs up! I ate the crostini for dinner last night with some rotisserie chicken and my Cabbage and Arugula Salad. It was the perfect summer dinner. Light, fresh and tasty. The crostini is so beautiful in taste and color that you just want to savor it slowly. It feels indulgent without actually being indulgent. What's better than that?? 🙂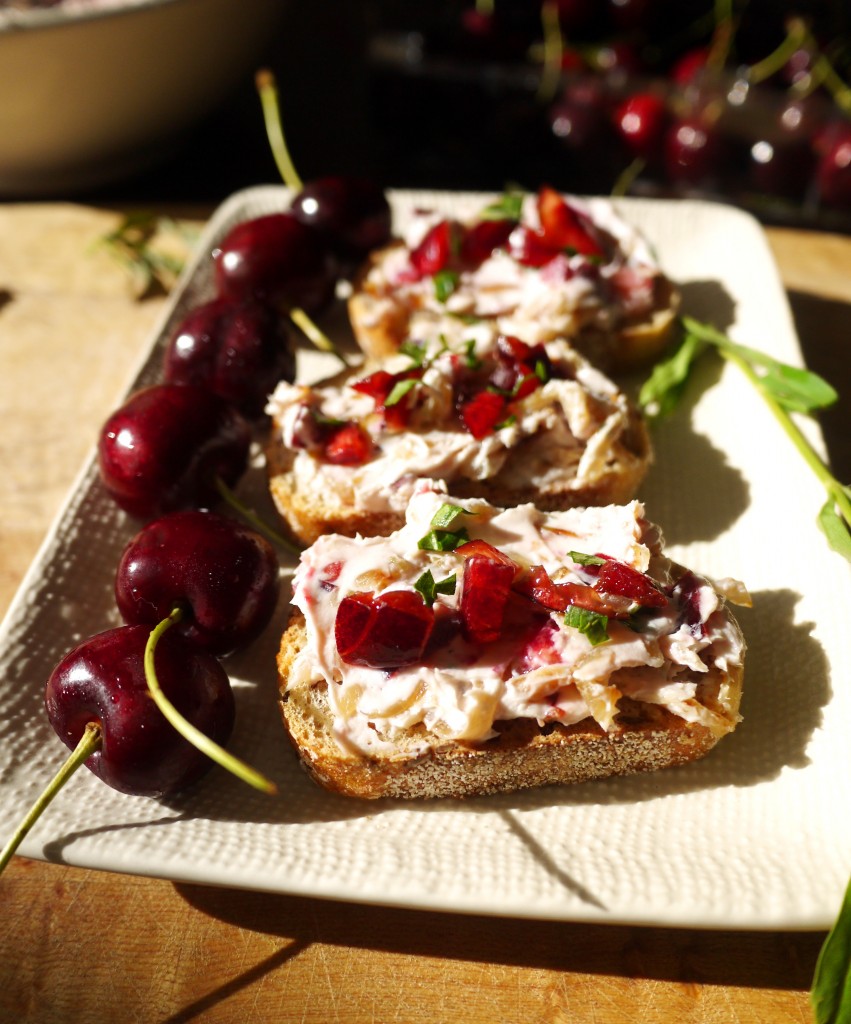 Crostini with Fresh Cherries, Caramelized Onions and Goat Cheese
Author:
Healthy Recipe Ecstasy (Inspired by Annie's Eats)
Recipe type:
Appetizer/Snack
Ingredients
2 onions (yields approximately ¾ cup once caramelized)
1 tablespoon olive oil
Pinch of Kosher salt
8 ounces fresh goat cheese, at room temperature
1 cup pitted and chopped cherries, divided (reserve ¼ cup chopped cherries for garnish)
1 teaspoon chopped fresh tarragon (plus more for garnish)
Sea salt and freshly-ground black pepper to taste
16-18½-inch thick baguette slices, lightly toasted (I used a flax and bran bread but you can use any kind of bread you want, including gluten-free)
Instructions
Heat olive oil in a large skillet over medium high heat. Slice the onions into thin rings.
Add the onions to the pan in a thin layer and stir to coat in the oil. Let the onions cook for a few minutes, just until they start to brown, and then add a pinch of Kosher salt and give them a stir. Turn the heat down to medium and cook for another 45 minutes, stirring every few minutes. Let them brown but not burn.
Once onions are done caramelizing, set them aside and let them cool. Once cool, roughly chop the onions.
In a medium bowl, mix together the goat cheese, chopped caramelized onions, ¾ cup chopped cherries, and chopped tarragon. Season with salt and pepper to taste.
Spread 1-2 tablespoons of the goat cheese mixture on each slice of toasted bread. Garnish with reserved cherries, extra tarragon and black pepper to taste.
NOTE: A serving is 2-3 crostini.
Read more…