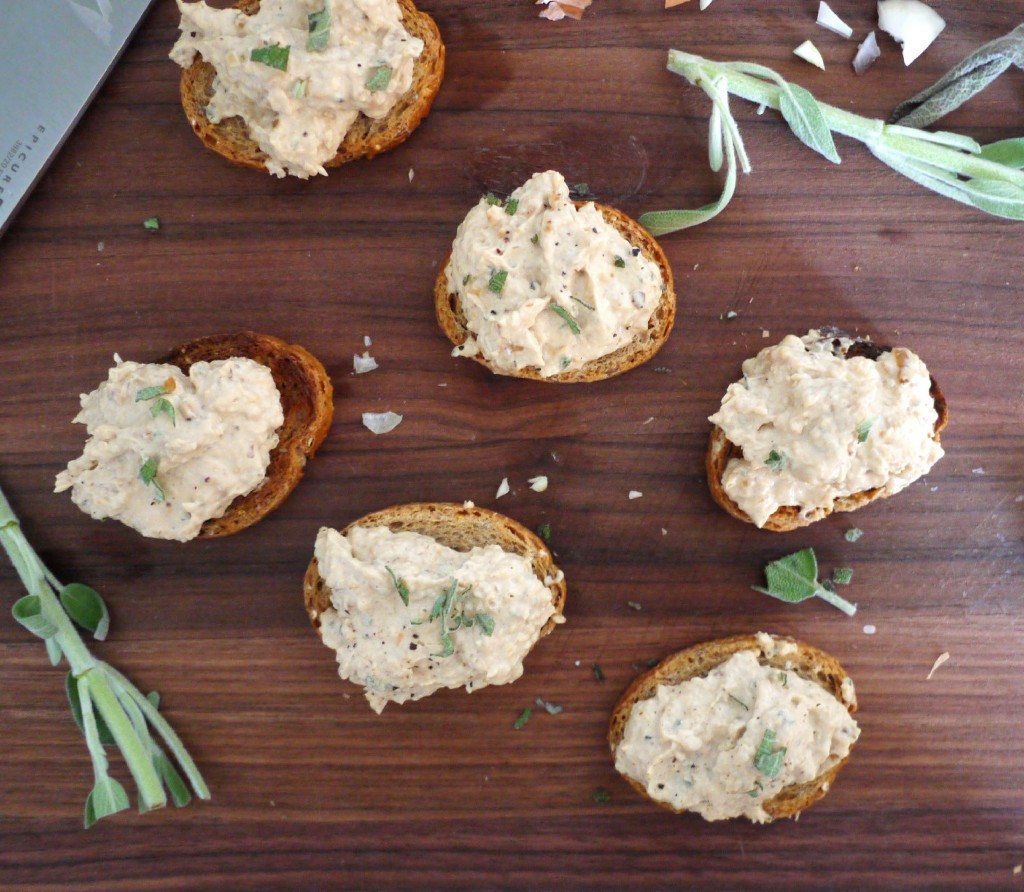 If I haven't gotten your attention with the first two bruschetta recipes, surely, this one will grab you – third times a charm and all. As a brief, slightly uninteresting backstory, this bruschetta recipe came about during one of those all-too frequent kitchen cleanouts. Too many onions, leftover goat cheese, and some sage leaves that fell into the "if we don't use it today, it's going in the bin" category.
In case you didn't know, though I'm sure you do, caramelized onions and goat cheese are my go to ingredients. Sage, on the other hand, was a bit of an unknown entity; previously included only in big roasts and stuffing recipes as more of a base flavor. I had never used sage as an up close and personal ingredient. But, I'm glad I did. It's a different flavor profile than I'm used to, but it was just what I needed to liven up the creamy goat cheese mixture.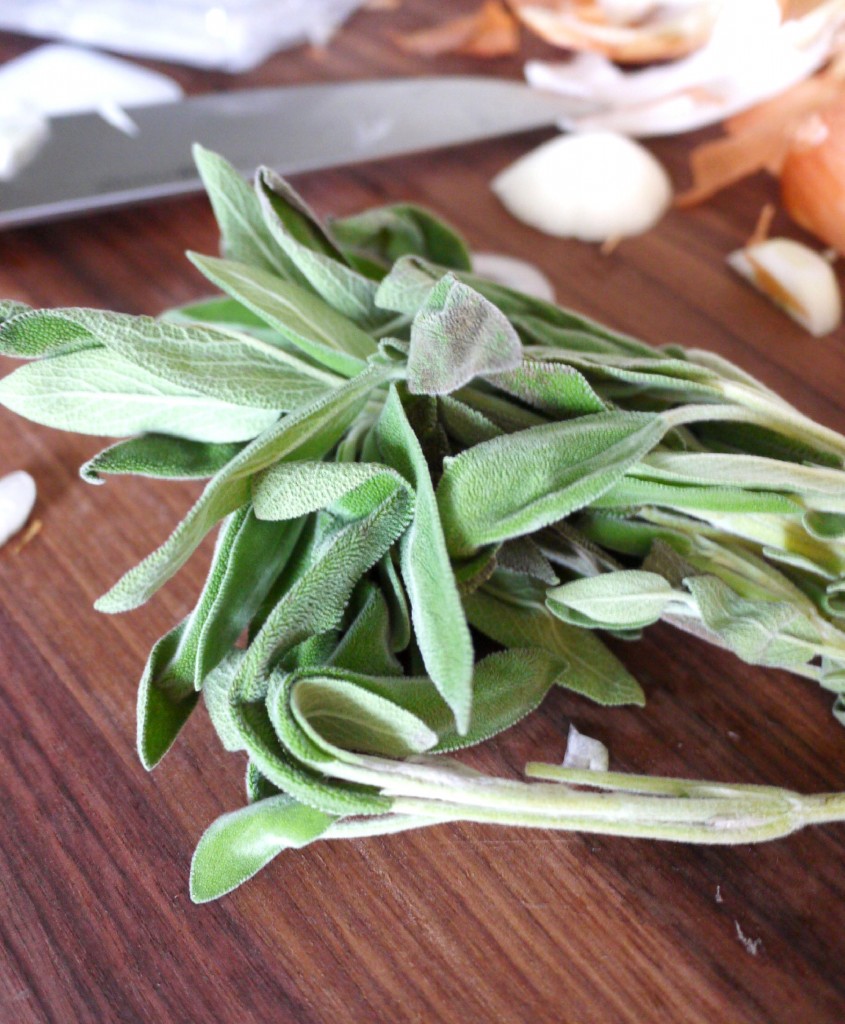 Sure, there's nothing wrong with caramelized onions and goat cheese on their own – and I mean NOTHING. But, for a party, the combo can look and taste a bit blah next to glistening baked brie smothered in cranberries and adorable little mini quiches. For a finger foods party, you want to pack as much aesthetic and culinary pleasure as possible into each and every little bite.
If you find yourself with only a few hours left before party time and you need a few extra ideas to round out your menu, check out my some of my quick and easy appetizers: Five-Minute Feta Bruschetta Dip, Prosciutto-Wrapped Mozzarella, and Prosciutto-Wrapped Asparagus.  If that's not enough, Cooking Light has 100 ideas for appetizers. However your menu ends up shaping up, I hope your New Year's Eve is filled with love, laughter, and amazing eats. 🙂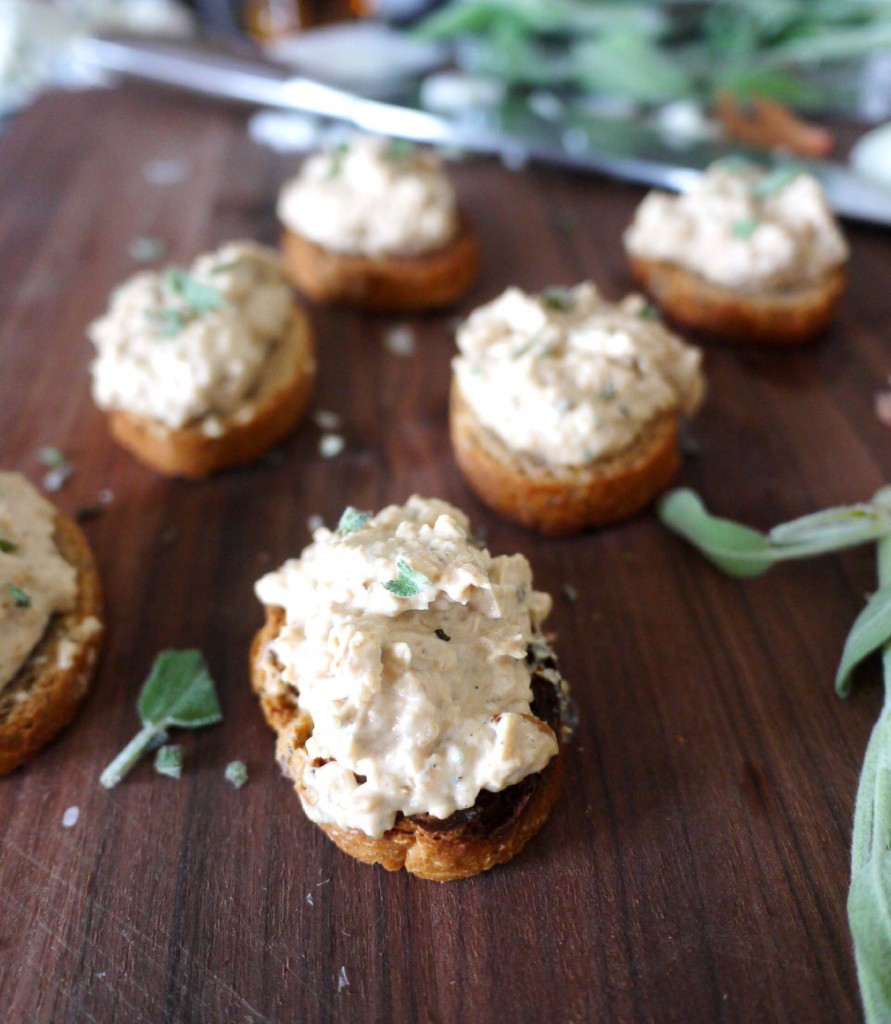 Caramelized Onion, Goat Cheese and Sage Bruschetta + Last Minute Party Apps
Author:
Healthy Recipe Ecstasy
Ingredients
1 tablespoon olive oil, plus more for garnish
2 medium onions, vertically sliced
Pinch of coarse salt
2 tablespoons fresh sage, chopped
10 ounces soft goat cheese (approx. 1.5 cups)
1 teaspoon honey
1 teaspoon apple cider vinegar
Black pepper to taste
1 whole-wheat baguette, sliced into 20 ½ inch slices
Instructions
Heat oil in a medium pan over medium-high heat. Add onions to pan and cook for 15 minutes, stirring frequently. If onions begin to burn, turn heat to medium.
Add chopped sage and cook for another 2 minutes. Take pan off the heat and let the onions cool for 5 minutes.
Add the goat cheese, honey, vinegar, and black pepper to the onions. Add the entire mixture to a food processor and pulse a few times until the onions are chopped and mixture is fully combined.
Heat the oven on broil. Broil the baguette slices for 2 minutes or until golden brown. Divide the goat cheese mixture evenly on each baguette slice.
Sprinkle with more black pepper and drizzle with olive oil.
NOTE: You can serve the bruschetta at room temperature or do an additional broil for 3-4 minutes to brown the goat cheese and serve hot.