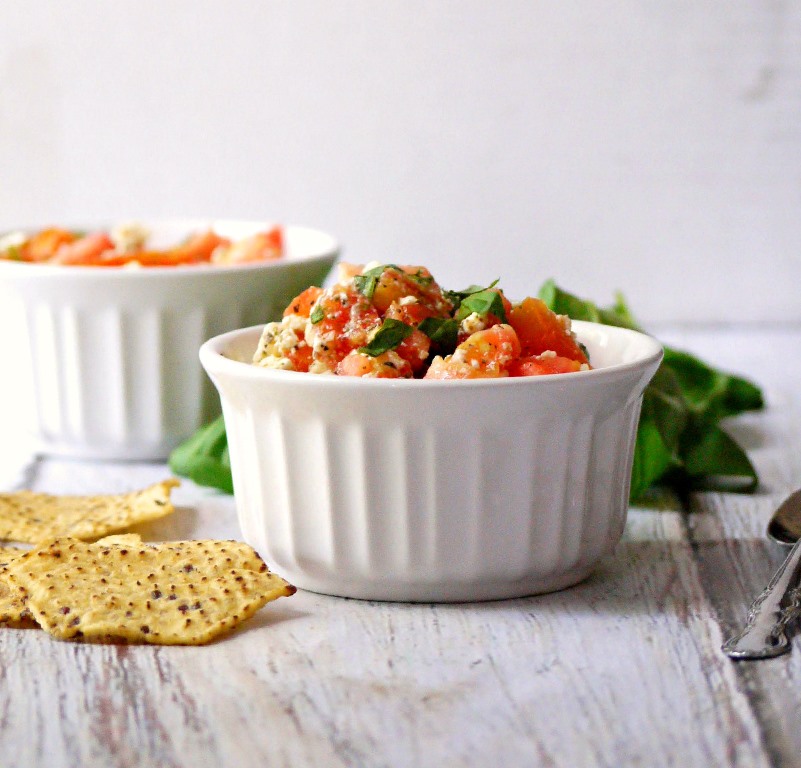 The first time I had feta bruschetta dip was at my friend Katie's house in Savannah, GA. It was Katie's birthday, and Alasdair and I had flown down to Georgia for the celebration along with a few other friends and Katie's mom who we like to call Ann K. One afternoon, during the birthday weekend, we were all dying for a snack so Ann K took a jar of bruschetta spread and some feta cheese and mixed them together in a bowl. I was skeptical. Feta doesn't go with bruschetta. Parmesan, yes. Pecorino, yes. Feta, no.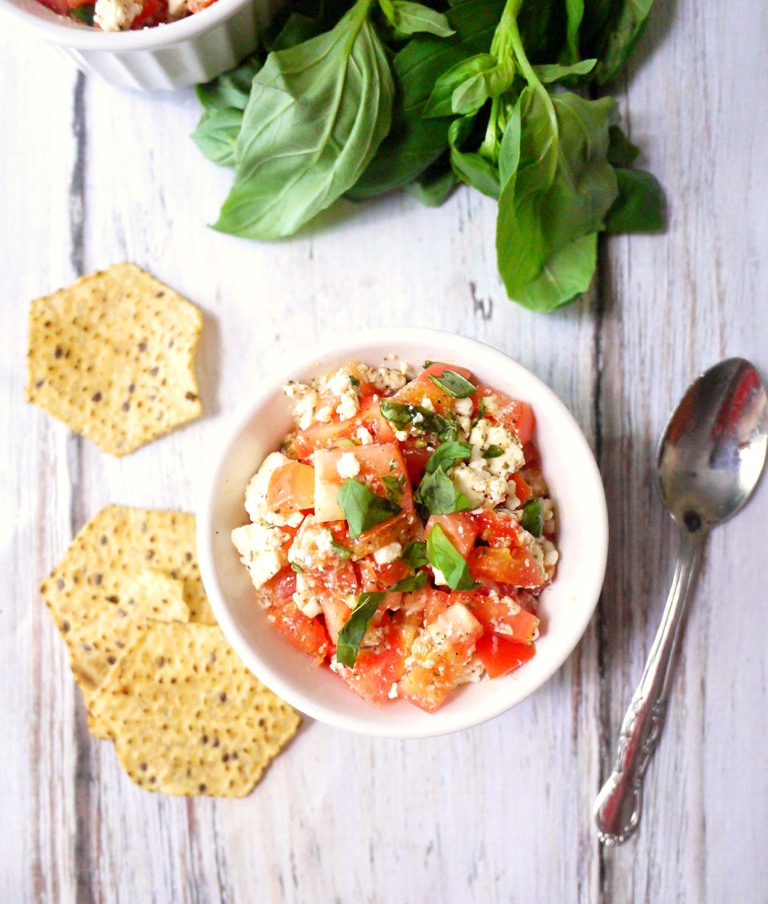 Boy was I wrong. I took one bite, and I was hooked. I ate my words and the dip. In fact, we devoured the dip in under five minutes. That was almost a year ago, and I haven't had the dip since then. Today, I decided that was unacceptable. I wanted, no, I needed, to eat that dip again. So, I came up with my own version of the dip this afternoon. It's called the Five-Minute Feta Bruschetta Dip – because you can make it in five minutes and it will be gone in five minutes! Oh and, it also has only five ingredients, not counting salt and pepper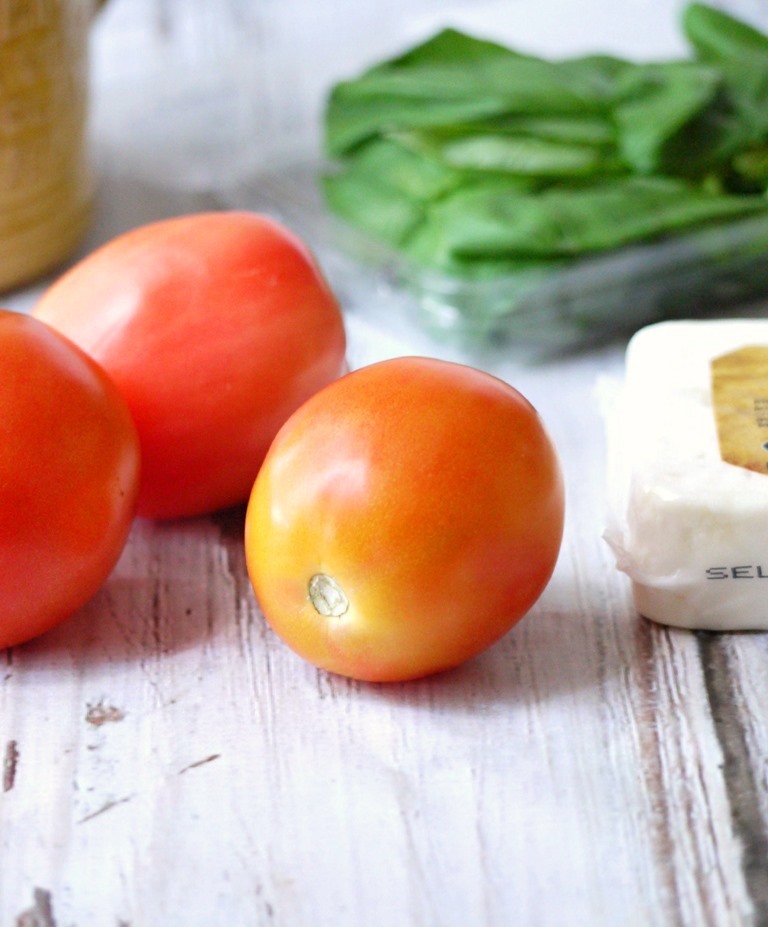 Katie and her mom are the biggest Virginia Tech Hokie fans I know, and I'm absolutely positive they would agree that this a fabulous dip for a college football tailgate! Or really, any party or festive celebration.
Healthy Recipe Ecstasy? YES! We all know that tomatoes are ridiculously good for you with all their cancer-fighting properties. This is a great way to get in your tomato serving without even realizing you're eating healthy. Add in some heart healthy olive oil and a little bit of dairy for calcium and it's like health in a bowl! It's obviously not dairy-free but I've used just a small amount of cheese and I find that I'm not sensitive to feta so it works for me. For those of you that are gluten-free or diabetic, this dip is perfect for you. Depending on your dietary constraints, you could eat the dip with corn chips, rice crackers, potato chips, french bread, vegetables. Or you could just eat it with a spoon. It's that good!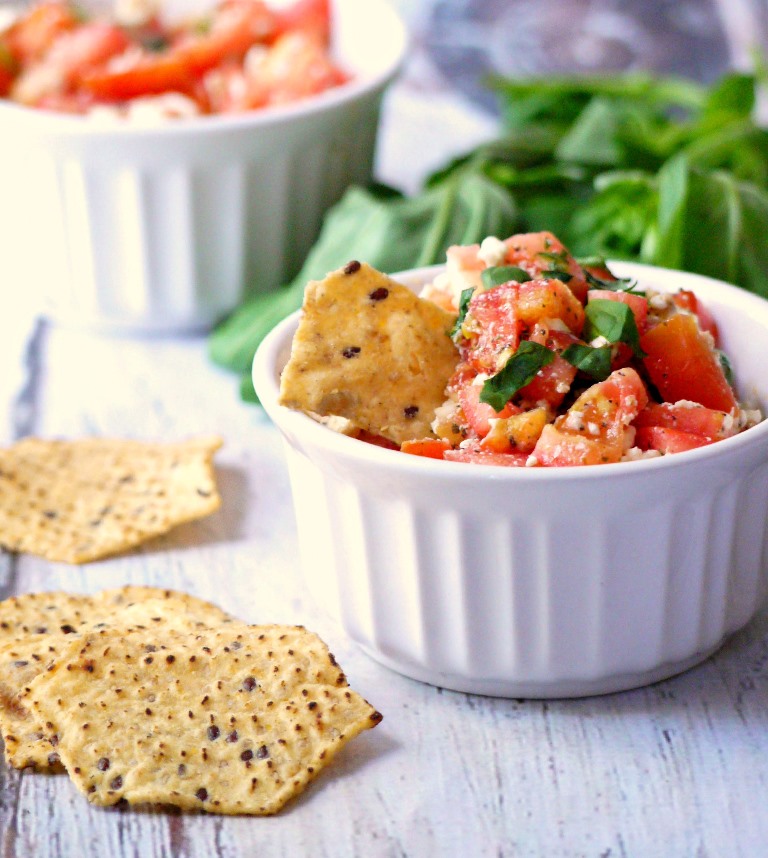 Five-Minute Feta Bruschetta Dip
Author:
Healthy Recipe Ecstasy
Recipe type:
Appetizer/Snack
Ingredients
3 ripe plum or roma tomatoes
1 large clove garlic
1 tablespoon extra virgin olive oil
⅛ teaspoon kosher salt
⅛ teaspoon freshly ground black pepper
½ teaspoon dried basil
½ cup feta cheese
1 tablespoon fresh chopped basil for garnish
Instructions
Dice the tomatoes and mince the garlic. Mix all the ingredients through the dried basil in a bowl together.
Add the feta cheese and microwave for one minute. If you're making a huge batch, you can bake it in the oven so the cheese browns a bit which would be delicious. But if you want to stick with the five-minute version, one minute in the microwave is just enough for the cheese to begin to melt and the flavors to meld together.
Top with fresh basil and more freshly-ground black pepper for garnish. Serve with your favorite tortilla chips or crackers.
NOTE: The dip is delicious served hot, warm or cold. It's the perfect dip to put out at a party because it can be enjoyed at room temperature.