Gooooeeeey cheeeeeeese.
I know what you're thinking. One of these days, I'm going to run out of foods to wrap up in prosciutto. Fortunately, that day has not arrived! And, believe me, you will thank me for that.
The first time I had mozzarella cheese wrapped in thinly-sliced prosciutto was at The Capital Grille in Tampa, Florida. It was a transformative moment for me (dramatic food blogger moment). The idea is so simple that I believe most people overlook it and go for the more obvious prosciutto-wrapped asparagus (also amazing). But the taste of the melted cheese wrapped in the salty meat is absolutely divine.
D-I-V-I-N-E.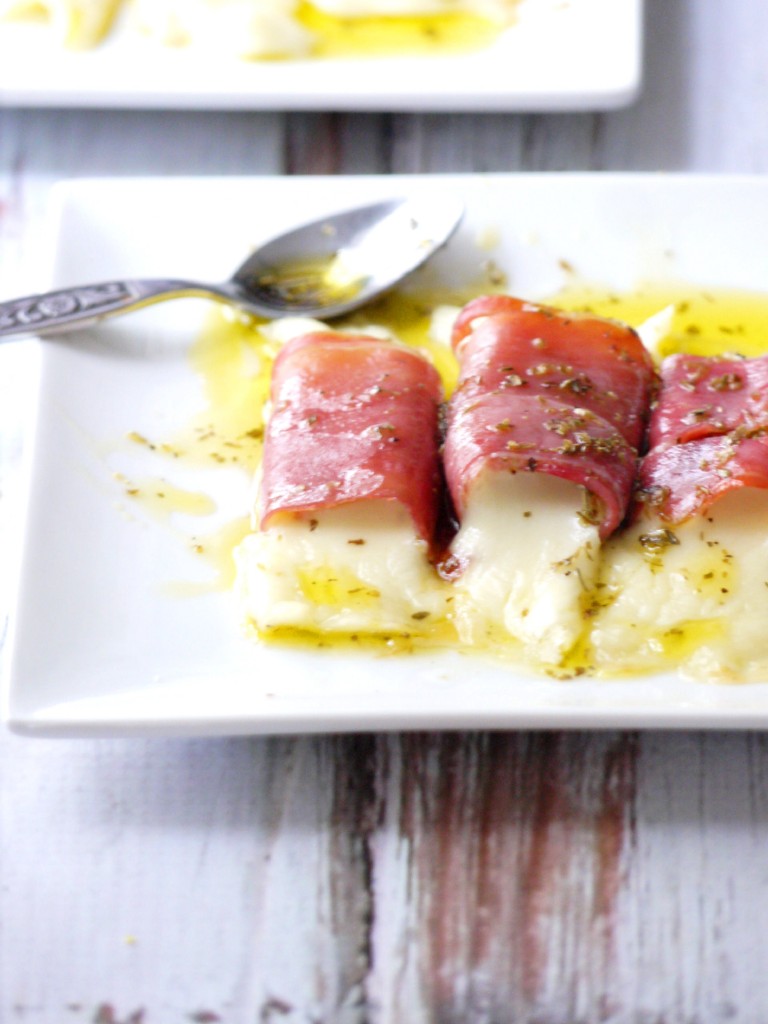 It's the perfect appetizer because it's a bit indulgent (can you say cheese?) but it doesn't fill you up before your main meal arrives. Hello low-carb! Also, these apps are delicious piping hot when they first come out of the oven but they're absolutely still tasty when they've cooled down to room temperature. And the cheese kind of congeals in that wonderful baked cheese kind of way so these little cheesy bundles are easy to devour.
That's what makes this appetizer perfect for tailgating. Plus the bundles are super fast to make – you can roll and heat in under 10 minutes. If you're using your oven at home, pop these babies in a baking dish and cover with foil to keep warm until you're at the tailgate.
If you're one of those lucky football go-ers that has a portable grill, wrap the bundles together in aluminum foil and start grilling. Add some toothpicks to make it easier for people to grab the bundles and keep their hands clean. You have two choices with the olive oil. For a fancy sit down app, drizzle it over the bundles. For a tailgate or finger foods party, go the toothpick route and keep the olive oil in a bowl so guests can dip their apps.
Healthy Recipe Ecstasy? I dare you to eat just one! With only three ingredients, these addictive treats are pretty healthy. They're gluten-free and carb-free. Good for Paleo dieters if you're a Paleo who eats a bit of dairy. Prosciutto is high in sodium but each bundle only contains a half slice so as long as you only eat a few you're good to go. You can use regular whole-milk mozzarella or cut from a  block of low-fat, part-skim mozzarella. I've used both and they're equally delicious.
D-E-L-I-C-I-O-U-S. Yeah, it's a type words out kind of day.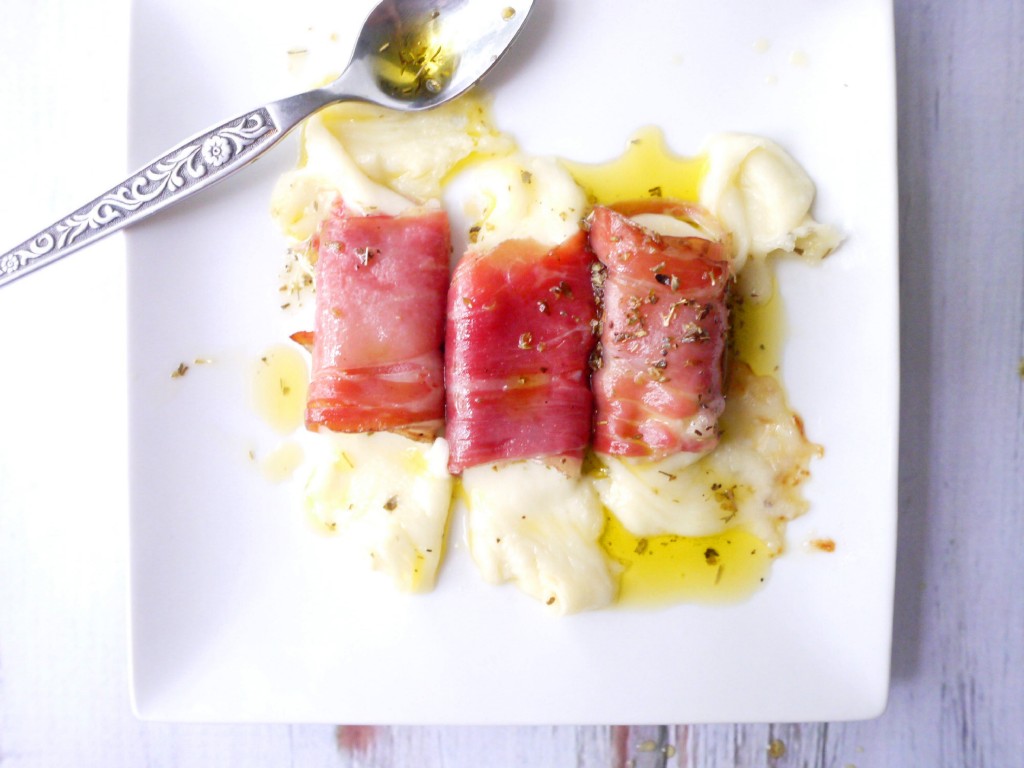 **Post updated 6-14-2014.

Prosciutto-Wrapped Mozzarella Bundles
Author:
Healthy Recipe Ecstasy
Recipe type:
Appetizer/Snack
Ingredients
4 ounces thinly-sliced prosciutto, torn in half vertically
8 ounces block of part-skim mozzarella cheese
⅓ cup olive oil
1 teaspoon dried oregano
Freshly-ground black pepper, to taste
Instructions
Preheat the oven to 400 degrees F.
Mix together the olive oil, oregano and black pepper in a small bowl.
Cut the mozzarella cheese into little logs. They should be about thumb-sized.
Dunk each cheese log into the olive oil mixture. Wrap each log of mozzarella in a half prosciutto slice. Repeat with the rest of the cheese, olive oil and prosciutto.
Place the prosciutto-wrapped cheese on a baking sheet coated with cooking spray (a baking dish would work as well).
Bake for 6-7 minutes or until the prosciutto is just starting to crisp and the mozzarella is just melted. Don't be alarmed when the cheese oozes out the sides. That's the good stuff.
If you want a cleaner appetizer, you can use a whole slice of prosciutto, and tuck in the sides when rolling the cheese to make a secure bundle. However, the cheese is going to escape at some point so you might as well embrace it!
Drizzle with more oregano olive oil and serve hot or at room temperature.