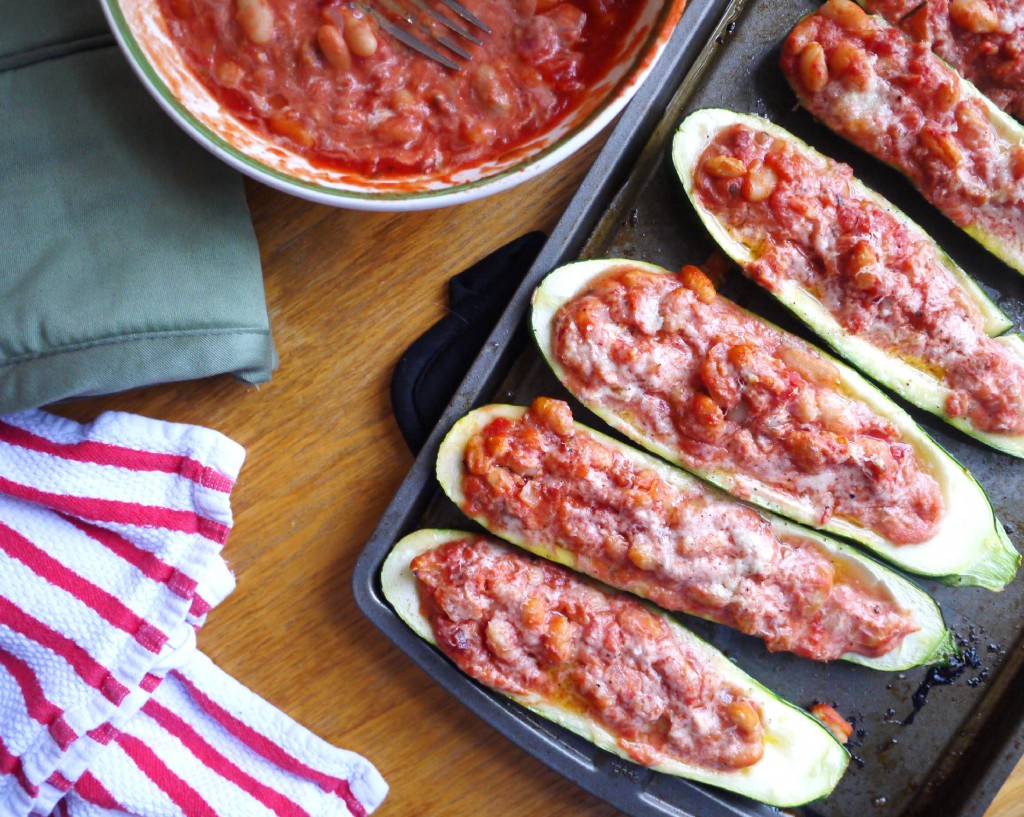 You know those days when you come home from work exhausted and you look at your fridge and all you see are the same leftovers you've been munching all week, unused produce that has about 1.5 good days left, and a half eaten carton of yogurt? You contemplate running out to pick up some Chipotle but it's dark and cold outside. You contemplate making a simple sandwich for dinner, but you're out of bread. You contemplate skipping dinner, but, hey, that's just crazy talk. Then, all of a sudden, genius strikes. And 20 minutes later your leftovers have been transformed into a new dish that makes you, your loved ones, and your tummies so happy that you get up and dance around the dining room table in joy. Well, folks, that scenario happened in my household just last week (minus the dancing around the dining room table thing….).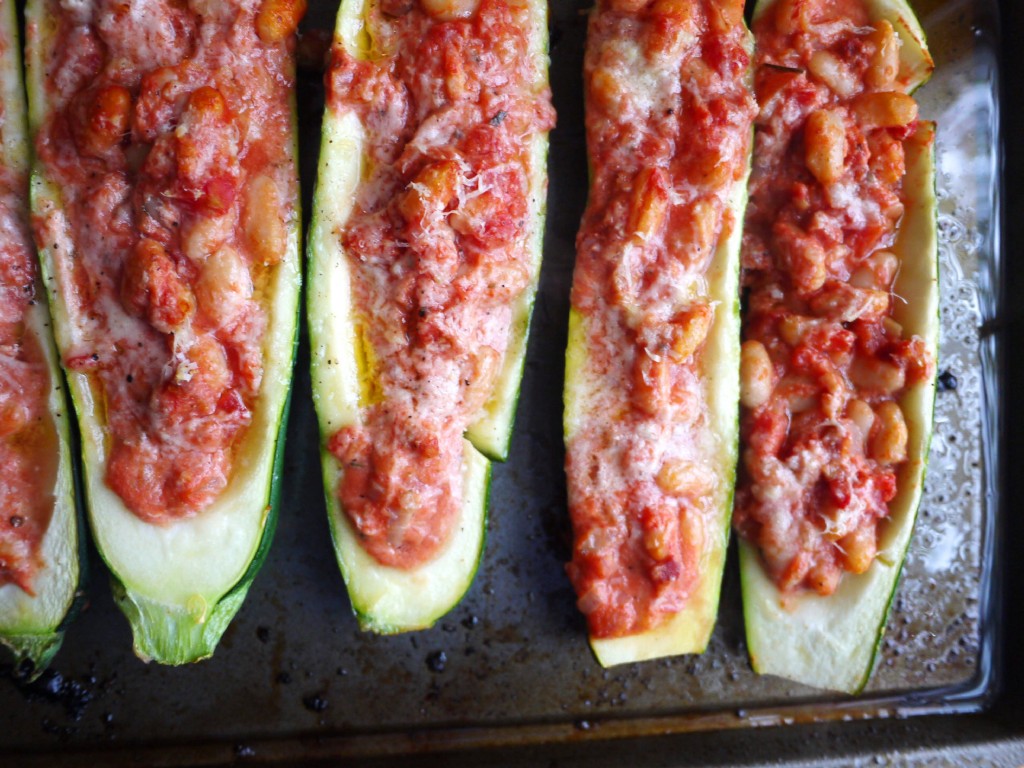 Earlier in the week, I made a huge batch of Stewed Cannellini Beans with Tomatoes and Pancetta, adapted from Food and Wine magazine's October 2013 issue. This side dish was a big hit with Alasdair despite the fact that I accidentally oversalted the beans (we're talking I was worried about my blood pressure every time I had a bite…whoops!) But, they were still tasty. Of course, even the tastiest of Monday night dishes becomes a little bleh by the time you reach Friday night.  Your taste buds need a change!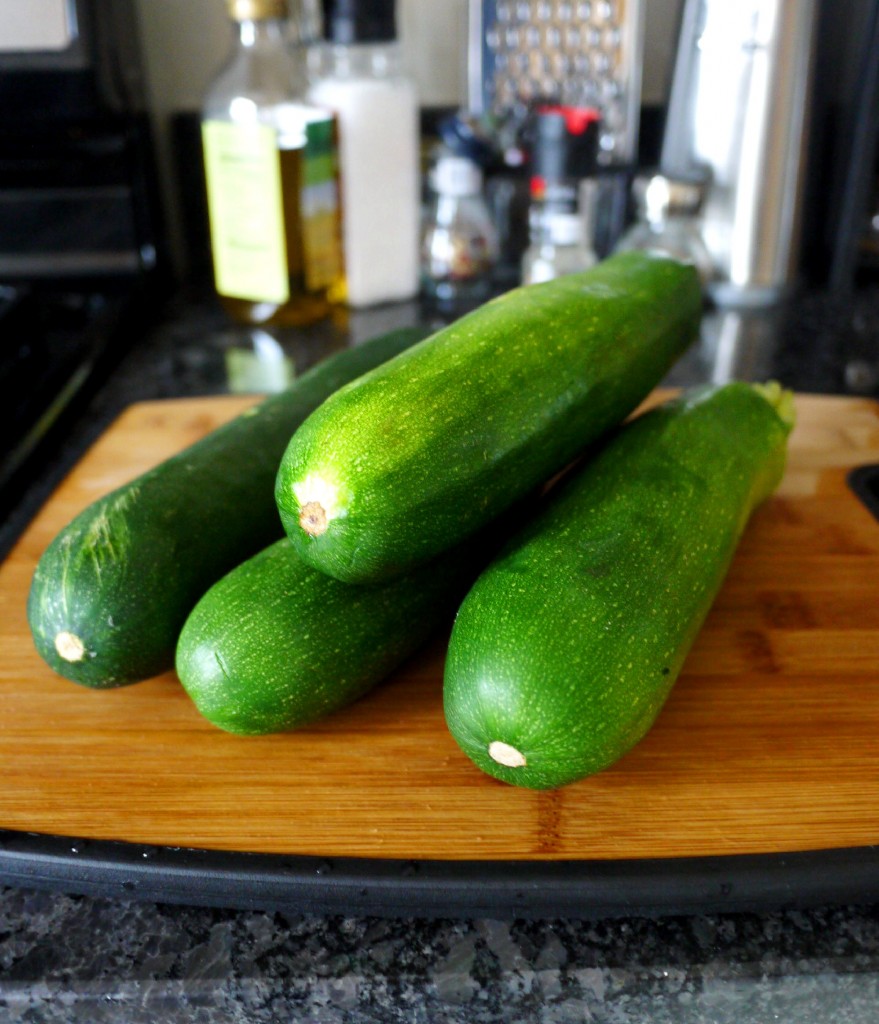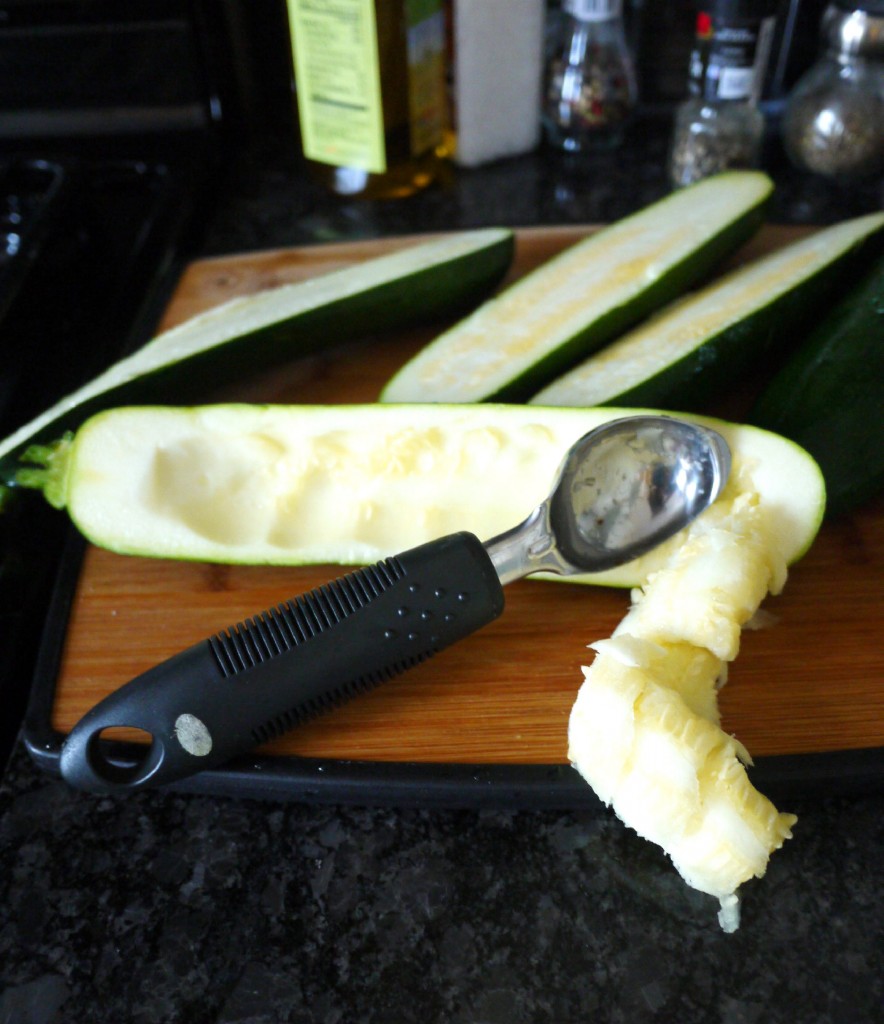 Fortunately, I spotted these beautiful zucchinis lounging in my produce drawer which I had bought at the grocery store solely for the reason that they looked pretty. Not because I had any plans for them, which is why, by the end of the week, they were still sitting pretty in the fridge. Anyways, that's when the genius struck – zucchini boats. Yes, zucchini boats filled with…wait for it…..the Italian-style cannellini beans and topped with freshly-grated Pecorino Romano cheese. After a quick 15-20 minutes in the oven, magic happens. Cue chorus of "yummmmmsssss."
You know what Alasdair said when I told him I was making the zucchini boats again this week to share with all my blog friends? He said, emphatically, "I love those! You're the best wife ever. And I will do all the dishes for the rest of our lives." Ok I made up that last part. But all you need to know is he was enthused – by a vegetable and bean side dish. And, in case you're wondering, I am feeling pretty smug about this new recipe. But not too smug that I refuse to share the deliciousness with you all – I would never be that smug. 🙂 <— smug smile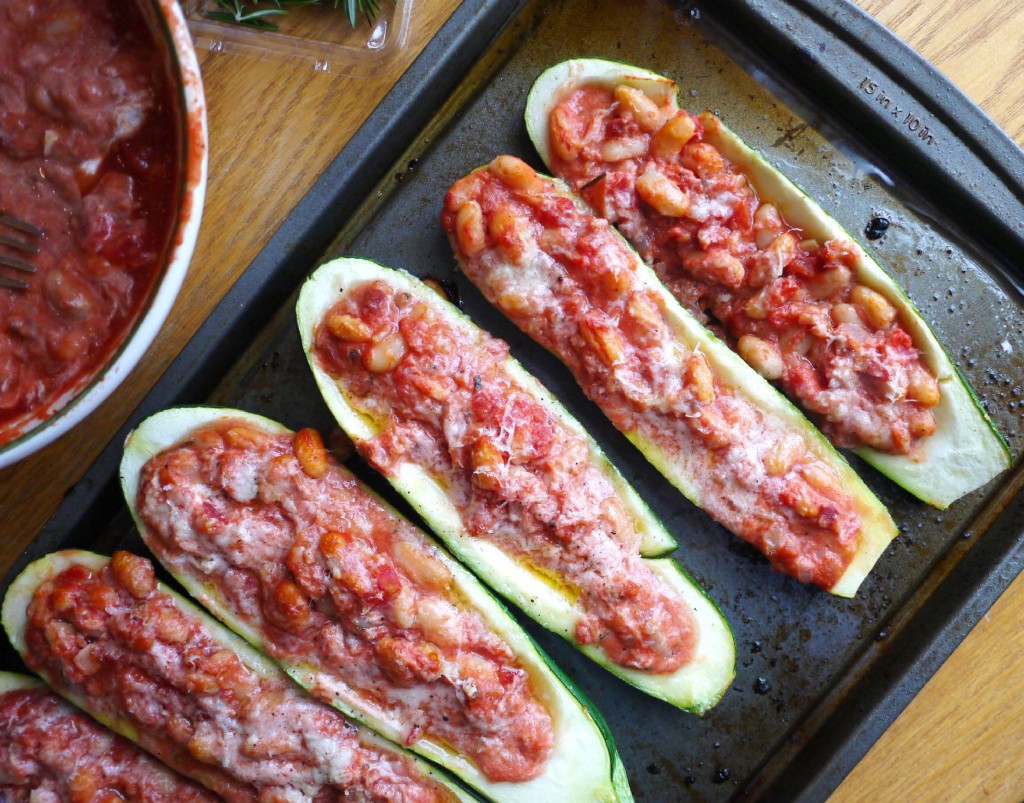 Healthy Recipe Ecstasy?  We're coming up on the most wonderful time of the year, at least according to these guys. Or as I like to call it, the most fattening time of the year. Sorry to be a Scrooge, but the November-December holiday season is resplendent with the gift of carbs, dairy, and fat, leaving most indulgers looking for a bigger pants size and desperately resolving to try to the newest fad diet in the New Year. Who needs the stress of having to buy bigger pants every year? Instead, why don't we leave our indulgences for Thanksgiving Day and practice moderation in the days leading up to the turkey and stuffing.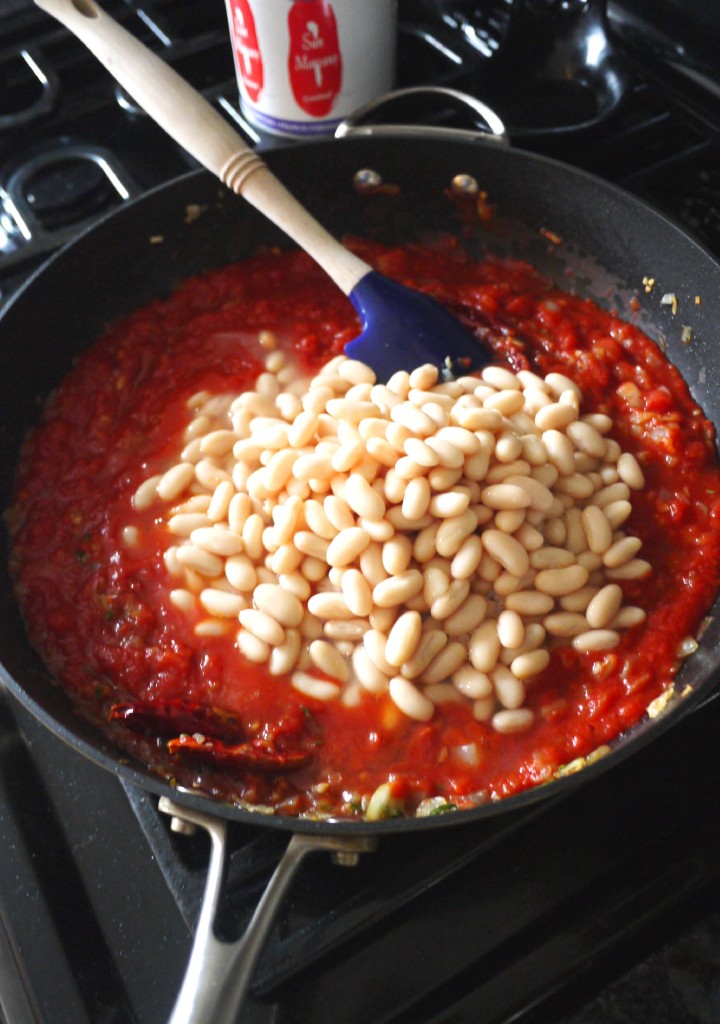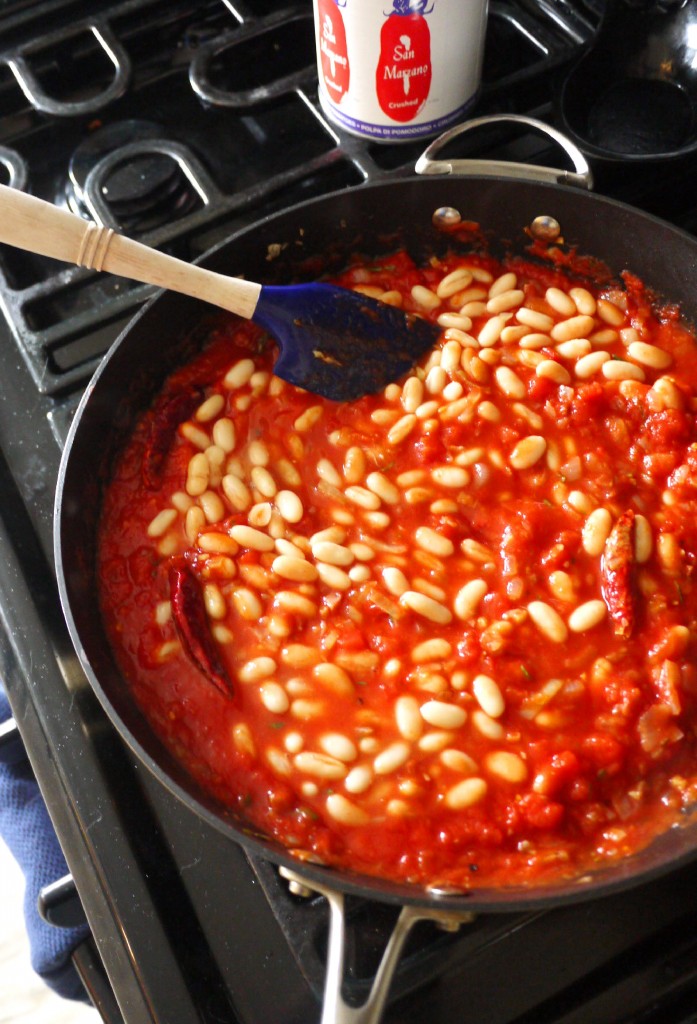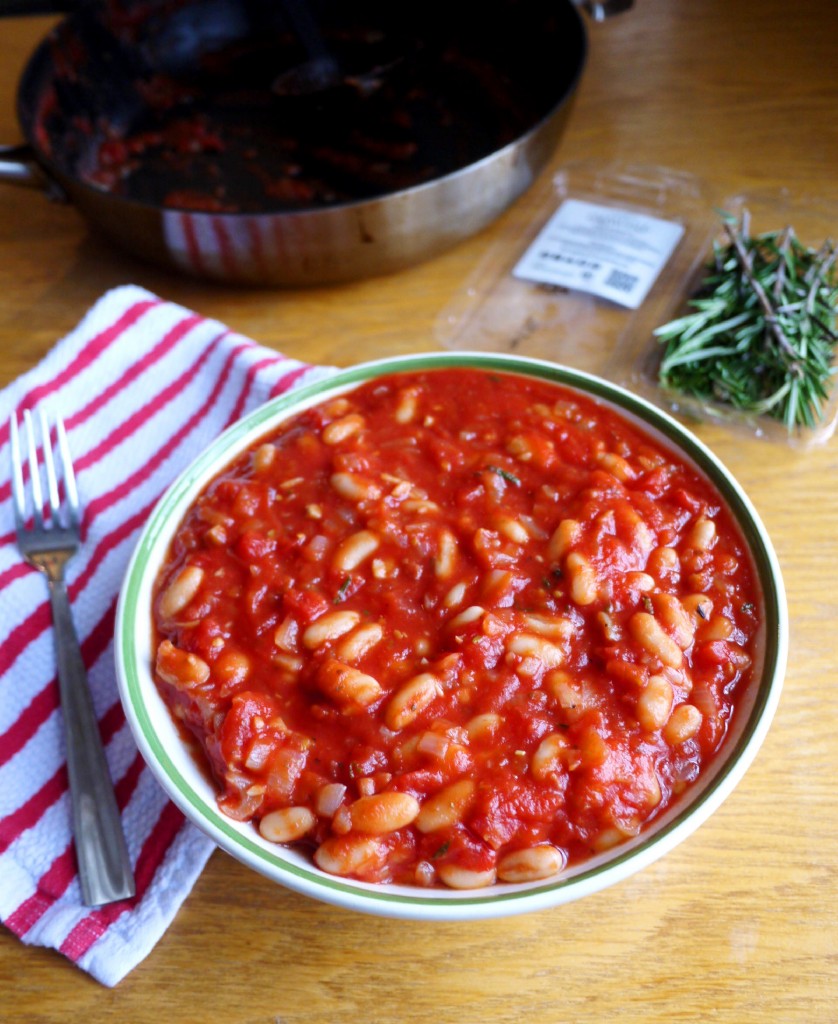 Here's my favorite thing about this recipe – it's actually two recipes in one (you're welcome). First, you have the stewed cannellini beans, which I've adapted from Food and Wine. The beans on their own are gluten-free and dairy-free and make a great side dish. But, when you add the beans to the zucchini boats, all of the sudden you have a meal. Especially if you get zucchini as big as mine – these are more zucchini yachts than boats…. With the zucchini dish, you get a huge dose of fiber from the white beans, some great health benefits from the veggies, and the small amount of fat (pancetta) and dairy (Pecorino and Greek yogurt) may just be enough to make you dance around your dinner table.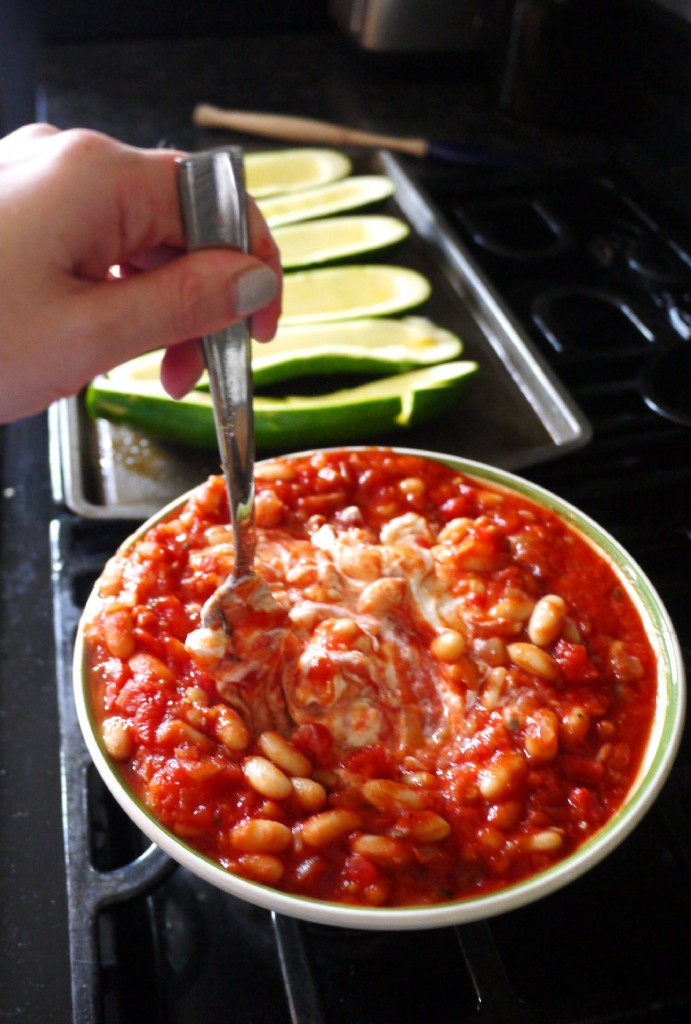 The zucchini dish is still gluten free, but no longer dairy free. So, if you have dairy issues, stick with the first part of the recipe (just the beans) or nix the yogurt and cheese. The only thing you need to watch out for is the salt factor. As I mentioned, the first time I made the beans, I was moving so fast that I added a generous pinch of salt at one point, forgetting the pancetta adds quite enough salt on its own. This time, I cut down on the amount of pancetta and cut out the added salt completely. Much better and no more blood pressure concerns!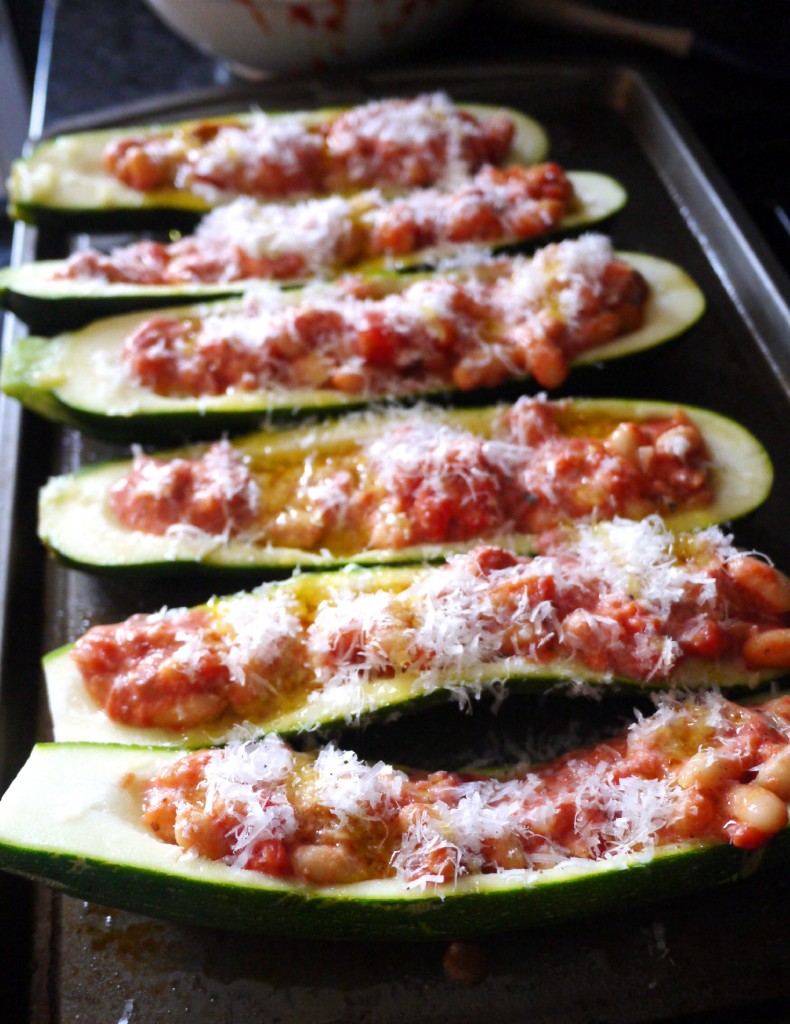 Cannellini Stuffed Zucchini with Tomatoes and Pecorino
Author:
Healthy Recipe Ecstasy
Recipe type:
Entree/Side Dish
Ingredients
Stewed Beans:
1 tablespoon extra-virgin olive oil
½ cup finely chopped pancetta
1 medium onion, diced
3 garlic cloves, minced
3 dried hot red chilies
1 teaspoon finely chopped rosemary
1 teaspoon finely chopped sage
1 28-ounce can crushed Italian tomatoes (I used San Marzano)
2 15.5-ounce cans of cannellini beans, rinsed and drained
1 teaspoon finely chopped marjoram
Freshly-ground black pepper
Zucchini Boats:
4 large zucchinis
½ cup non-fat Greek yogurt
⅓ cup freshly grated Pecorino Romano cheese
Freshly-ground black pepper
Extra-virgin olive oil for drizzling
Instructions
Stewed Beans:
Heat olive oil in a large skillet over medium high heat. Add pancetta and cook for 5 minutes, stirring frequently, until fat is rendered.
Turn heat to medium. Add the onion, garlic and chilies and cook, stirring frequently, until the onion is softened and just starting to brown, 8 minutes.
Stir in the rosemary and sage and cook until fragrant, 1 minute. Add the tomatoes with their juices and bring just to a simmer. Then, add the beans to the skillet and cook over medium heat, stirring occasionally, about 7 minutes. Remove the chilies unless you have someone in your household who likes to chomp on red hot chilies (I do).
Stir in the marjoram and freshly-ground black pepper to taste. At this point, you can serve the beans as a side dish. However, if you would like to make the zucchini boats, read on.
Zucchini Boats:
Preheat oven to 450 degrees.
Cut each zucchini in half, vertically. Then, use a small ice cream scooper or a melon baller to scoop out the seeds and insides of each zucchini.
Mix the Greek yogurt into the stewed beans. Next, fill each zucchini with ⅓ cup of the bean and yogurt mixture.
Sprinkle the Pecorino cheese evenly across each zucchini boat. Finally, top with freshly-ground black pepper to taste and a drizzle of olive oil.
Bake for 15-20 minutes or until zucchini is tender.
NOTE: You will use approximately half of the beans for the zucchini boats, which means you will have leftovers beans which you can eat as a side dish, make more boats or get creative like I did!