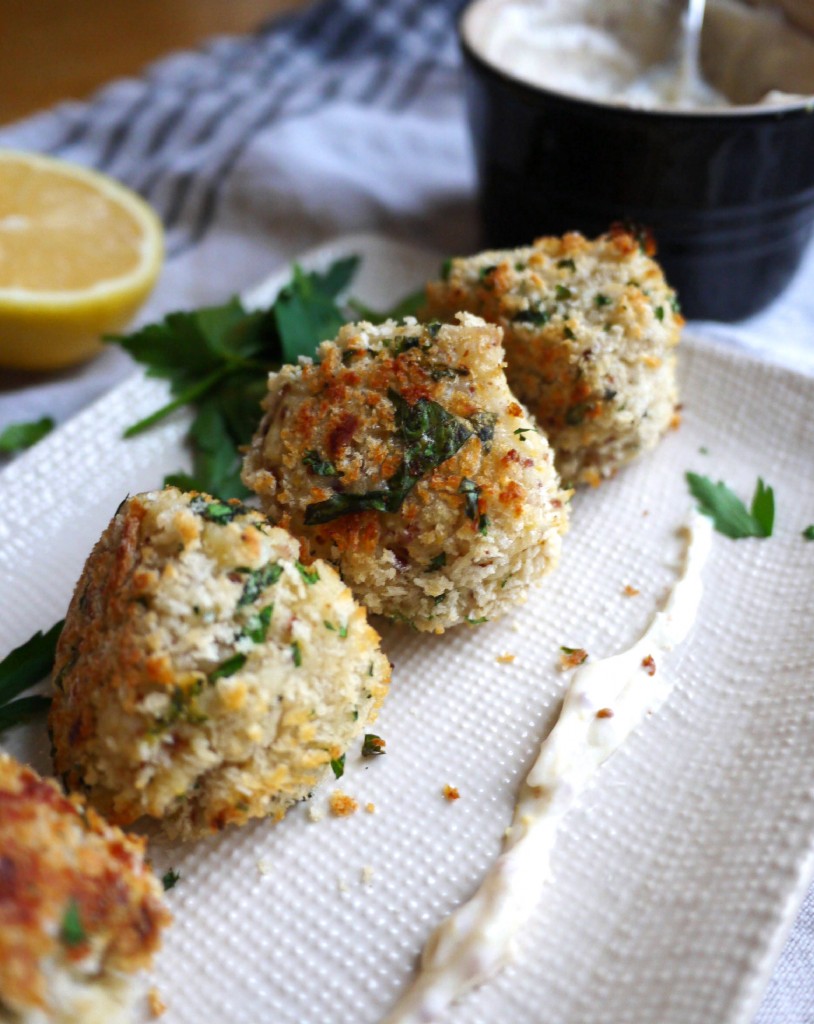 Were you by any chance left with a big pile of mashed potatoes after your Thanksgiving festivities ended? Were you still eating mash days later? Yeah, me too… And, as much as I love Thanksgiving leftovers (turkey and stuffing sandwich anyone?), you know how I feel about leftovers by day four or five. During the Thanksgiving holiday, I made multiple versions of the Dijon and Olive Oil Mashed Potatoes in addition to chowing down on other people's mashed potatoes at various festivities, and as much as I love me some mashed potatoes, I needed a break and couldn't stomach (literally) finishing off my leftovers without doctoring them up. Also, I may STILL be hung up on Spanish cuisine (seriously, guys, all I want to do is eat anchovies, Manchego and Serrano ham). So, when thinking about how to doctor up the leftovers, my mind immediately transformed the bowl of mashed potatoes into some yummy light bite potato croquettes.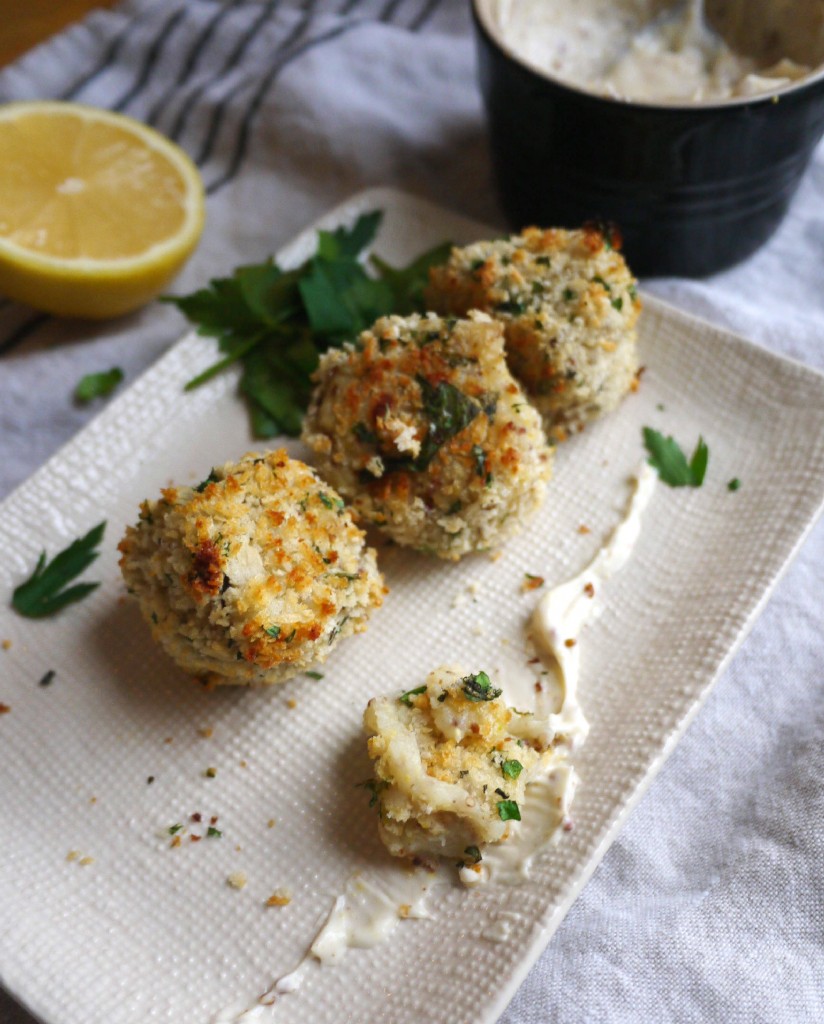 I know what you're thinking. I can hear your skepticism burning through the screen. Light bites? That is not a description generally used in conjunction with deep fried, cheese and béchamel filled croquettes. But, have a little holiday faith. I'm not talking about the deep fried variety. Sure, I considered throwing caution, calories, and dairy intake to the wind and making a traditional croquette, but there's enough indulgence to be had in the next month that I figured my belly could do with a more health-conscious croquette. That's why, when I got out of my head and into the kitchen, I left out the cheese, the béchamel, and the big vat of bubbling oil and opted for a simple baked croquette, rolled in Panko bread crumbs and herbs, and sauced up with a side of low-fat Dijon aioli.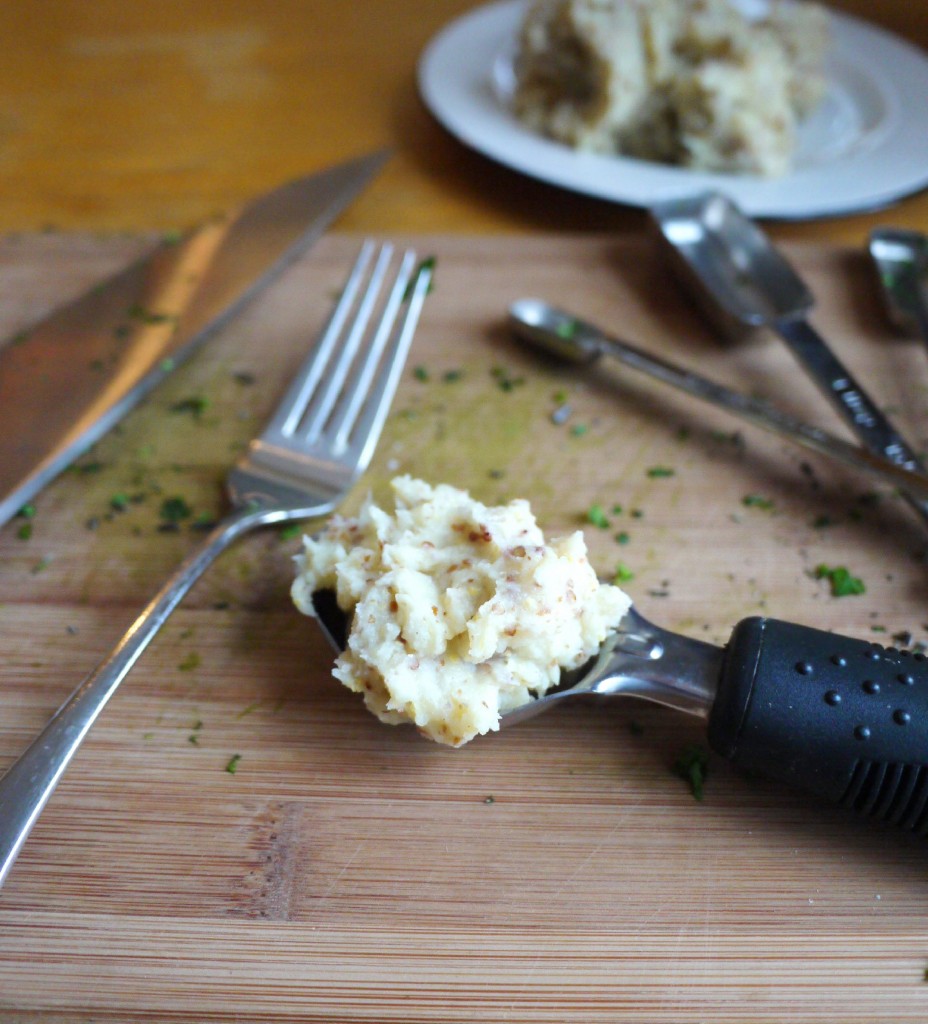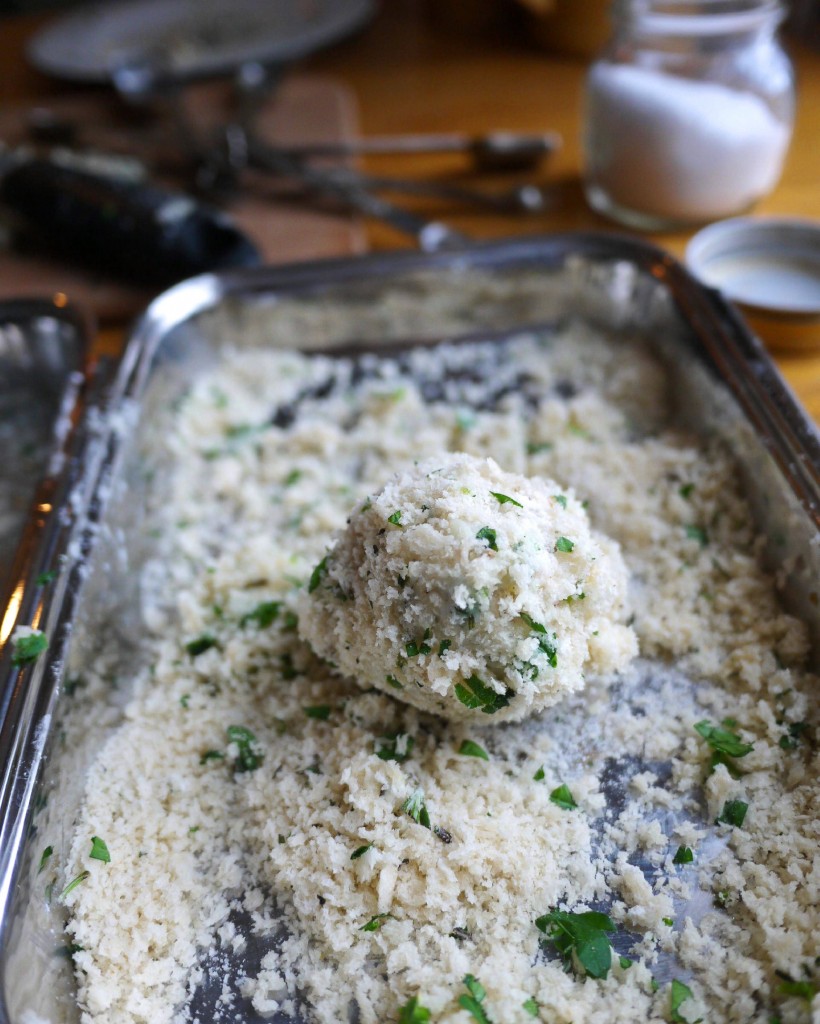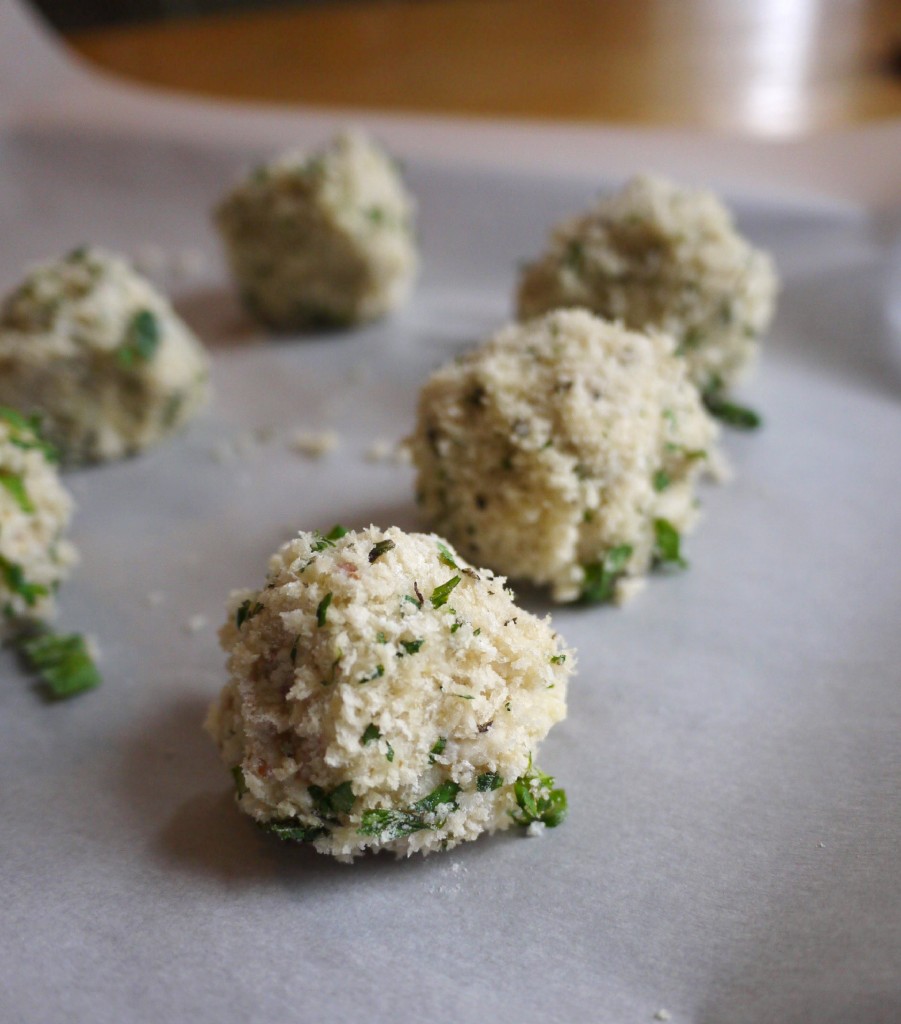 Healthy Recipe Ecstasy? These dairy-free baked croquettes are the perfect appetizer, snack, side dish, or finger food to bring to a tapas party. Of course, you can substitute your own mashed potato recipe, but I highly recommend using my Dijon and Olive Oil Mashed Potatoes. First of all, they go a long way in making this dish dairy-free and, secondly, the Dijon mustard imparts a tangy flavor to what would otherwise be a nice but perhaps bland herb croquette. The aioli isn't a must but it deepens the flavor of the croquettes by adding a second layer of Dijon and garlic. I used low-fat mayonnaise to keep the fat content down but full-fat mayonnaise would work if that's all you have on hand.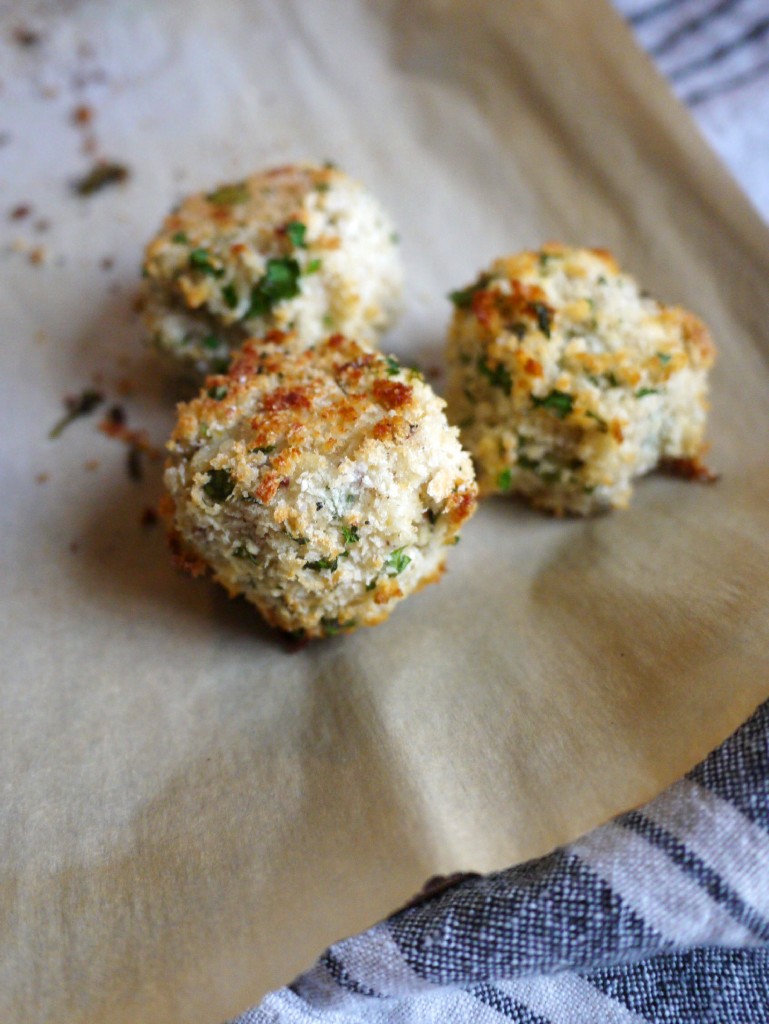 What is it about little balls of food that just seem so festive and fun? Especially ones that deceptively look like they've been fried when they've really been baked and have a cute name like "croquette" or "croquetta" as some people say. I think it's being able to just grab, go, and pop them in your mouth while you balance your drink and make your way around that holiday party for some festive mingling. Although, I predict that if you make these potato croquettes for your next holiday party, you probably won't need to run around the room doing the mingle jingle because everyone will be rushing over to you to ask for the recipe once they realize this dish is the perfect balance of health, comfort and fun! 🙂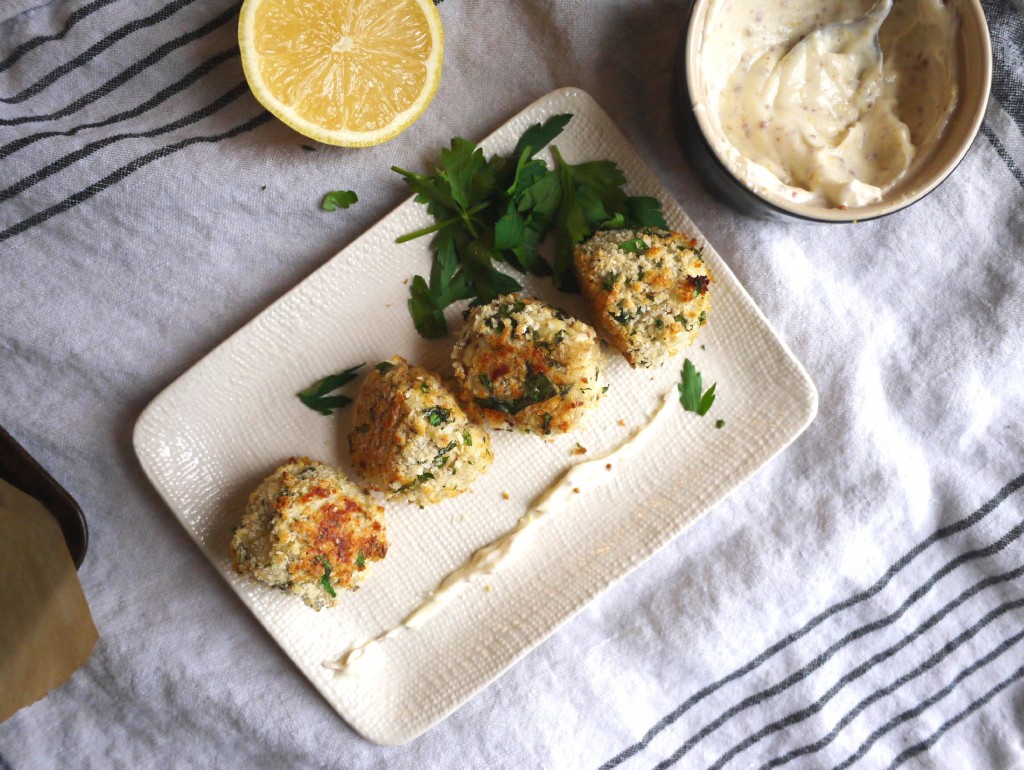 Dijon and Herb Potato Croquettes
Author:
Healthy Recipe Ecstasy
Ingredients
CROQUETTES:
1 tablespoon finely chopped fresh parsley, plus more for garnish
1 and ½ teaspoons finely chopped fresh basil
1 teaspoon finely chopped fresh rosemary
¼ teaspoon coarse salt
⅛ teaspoon freshly ground black pepper
1 cup panko bread crumbs
½ cup all purpose flour
2 eggs whites, lightly beaten
1 and ½ cups leftover Dijon and Olive Oil Mashed Potatoes (find the recipe on HRx or you can use your own leftover mashed potato recipe)
Cooking spray
DIJON AIOLI:
½ cup low-fat mayonnaise
1 teaspoon whole-grain Dijon mustard
½ teaspoon lemon juice
¼ teaspoon garlic powder
Instructions
Preheat oven to 450 degrees.
Mix the first six ingredients (parlsey through bread crumbs) in a small bowl.
Add the flour, egg whites and bread crumb mixture to three separate shallow dishes.
Take the potatoes and form rounds a little bigger than golf balls. You can use your hands or a melon baller. You should be able to form about 10 croquette balls.
Take each ball and dredge it in the flour, then the egg whites and then the bread crumb mixture. Continue until each ball is dredged.
Set the balls on a parchment lined baking sheet. Spray the top of each ball with cooking spray.
Bake for 15-16 minutes, turning each croquette over halfway through cooking.
While the croquettes are cooking, combine the aioli ingredients in a small bowl and mix together until combined.
Serve the croquettes warm with the Dijon aioli and fresh parsley for garnish.