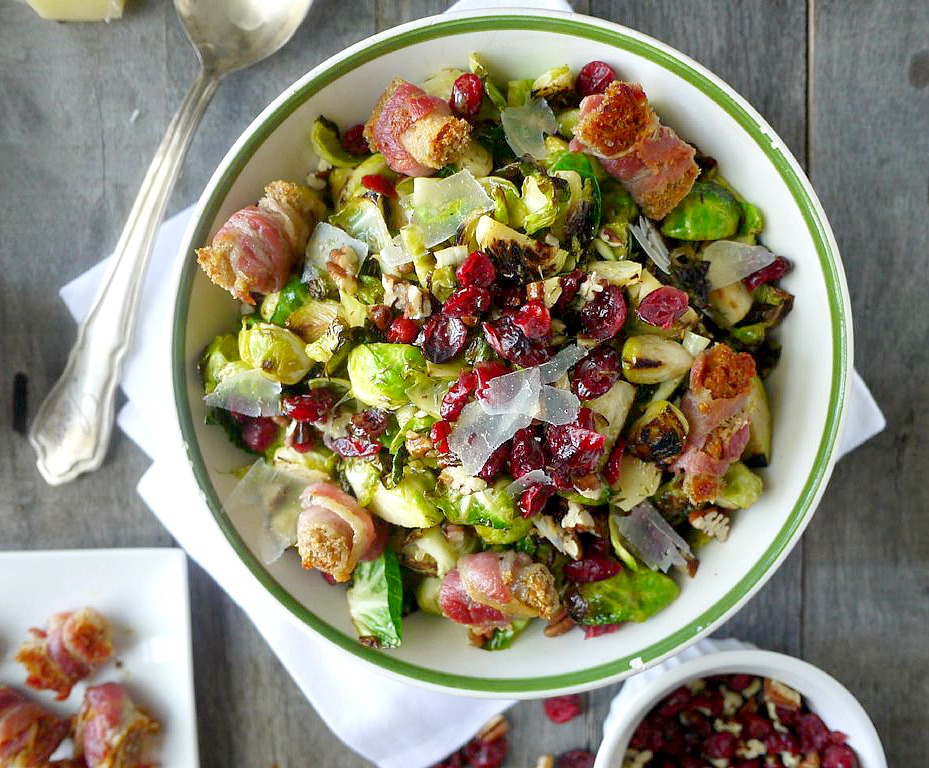 They're baaaaaack. The pancetta croutons were such a big hit (duh, why wouldn't they be??) that I had to throw them into another dish. Tossing them on top of a Brussels sprouts salad just makes sense. You all might remember awhile back that I shared another Brussels sprouts and pancetta dish. Well, this is like a souped up fall version of that side dish.
If Brussels sprouts and pancetta were a show-stopper then this Brussels sprouts salad with pancetta croutons is the Super Bowl half-time show with Lady Gaga, Beyonce AND the Rolling Stones.
Yeah, it's that good.
You've got the added fall flavors of cranberries, toasted pecans and apple cider vinaigrette. Who can argue with those? And, then, instead of pancetta pieces, you've got the crispy, salty pancetta croutons. OH YEAH.
Wipe your drool! Or don't. Just keep on droolin.'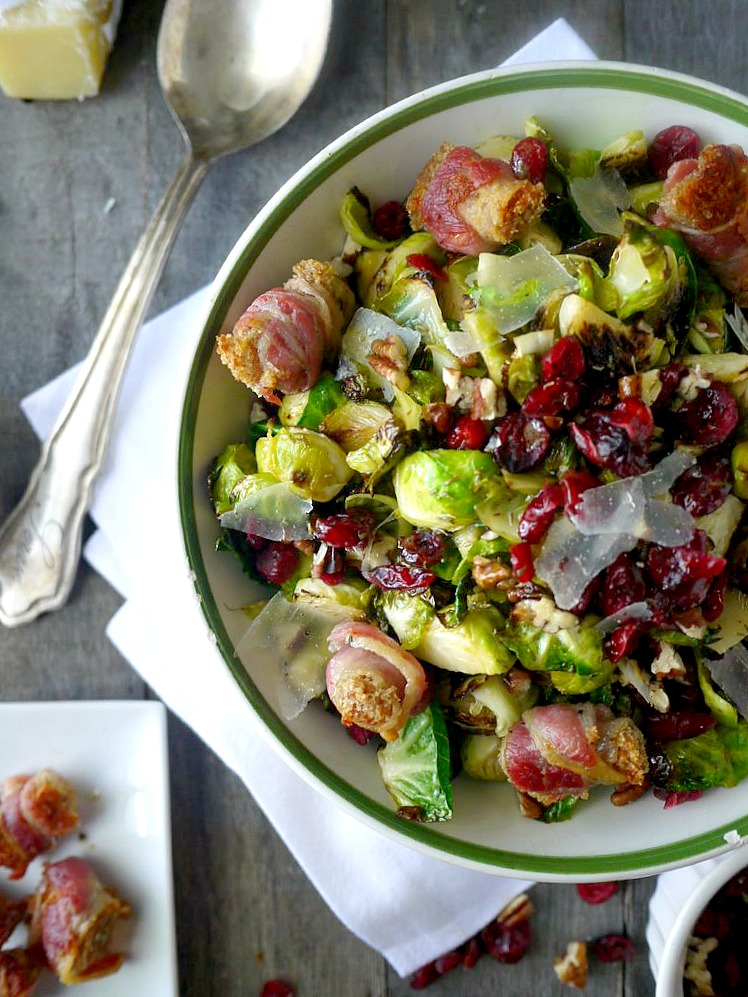 If you want to make this dish dairy-free, feel free to leave out the pecorino cheese shavings. They're a nice added bonus but totally not necessary. Or, if you're serving this dish to a crowd, say at Thanksgiving, you can keep the cheese shavings on the side. If you want to make this dish gluten-free, use a gluten-free bread to make the croutons. I've made the croutons using sprouted grain bread, whole-wheat bread, french baguette and regular white bread. The baguette works the best because it gets really hard and crunchy but they're all good. I mean, what's not good wrapped in crispy pancetta?
That's right. NOTHING.
Let's get back to drooling…..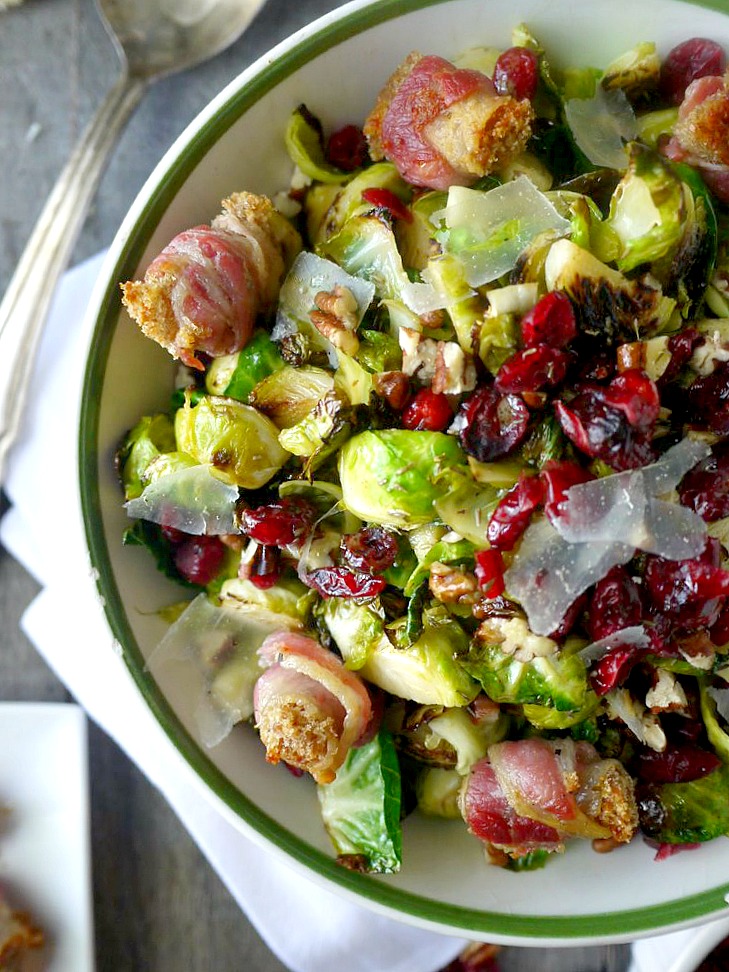 Brussels Sprouts Salad with Cranberries, Pecans and Pancetta Croutons
Author:
Healthy Recipe Ecstasy
Ingredients
Brussels Sprouts Salad:
3 tablespoons olive oil
6 cups Brussels sprouts, quartered
⅔ cup dried cranberries
½ cup chopped pecans
Pecorino-romano cheese shavings, for garnish
Pancetta Croutons:
6 thin slices of pancetta, cut into thick strips
2 slices bread of your choice, crusts removed and cut into cubes (the sturdier the bread, the better)
Extra-virgin olive oil, for drizzling
Freshly-ground black pepper, to taste
Apple Cider Vinaigrette:
2 tablespoons apple cider vinegar
1 tablespoon Dijon mustard
1 tablespoon raw honey
½ teaspoon dried thyme
Coarse salt and freshly-ground black pepper, to taste
⅓ cup extra-virgin olive oil
Instructions
Brussels Sprouts Salad:
Heat the olive oil in a large skillet over medium high. Add the sprouts and cook for 4 minutes without stirring. This will allow the sprouts to brown and char a bit. Cook for an additional 6 minutes, stirring occasionally, or until sprouts are browned and crispy.
While the sprouts are cooking, add the pecans to a small skillet and cook over medium heat for 2-3 minutes or until fragrant. Make sure they don't burn.
Add the sprouts, pecans and cranberries to a large bowl. Garnish with pecorino cheese shavings.
Pancetta Croutons:
Heat oven to 400 degrees F. Wrap the pancetta strips around the bread cubes, leaving the ends of the bread exposed. Put the croutons on a baking tray, drizzle with a little olive oil and sprinkle with black pepper. Bake for 10 minutes until the pancetta and bread edges are crisp. Drain on a paper towel-lined plate.
Apple Cider Vinaigrette:
Add the apple cider vinegar, mustard, honey, thyme salt and pepper to a small bowl. Mix to combine. Slowly whisk in the olive oil.
Pour the dressing over the sprouts salad and garnish with pancetta croutons.