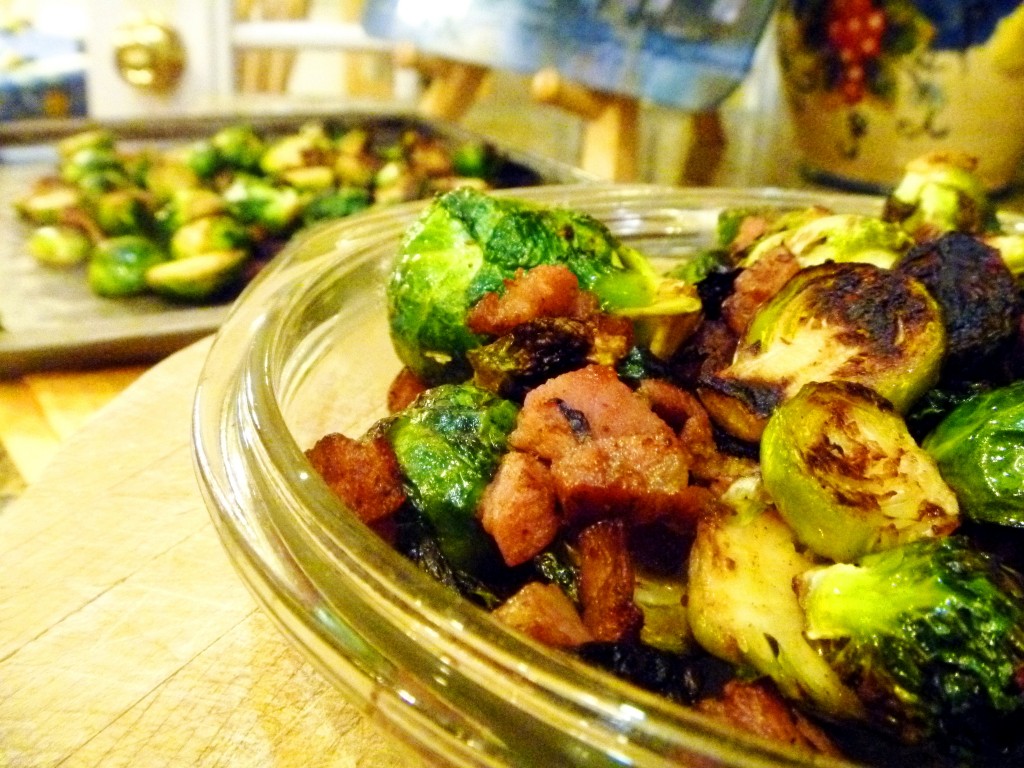 Brussels sprouts are gross, right? WRONG! We all have that traumatizing childhood memory of eating plain boiled Brussels sprouts. I still shudder at the thought. When I suggested Brussels sprouts as part of a dinner menu, I was prepared for Alasdair's response: worst vegetable ever. What I wasn't prepared for was my mother's response. Even my own mother said she would not eat Brussels sprouts. But I wouldn't take no for an answer because today's brussel sprouts are nothing to shudder at. Brussels Sprouts have evolved. Well, they haven't evolved but the methods of cooking brussels sprouts have evolved. Gone are the days of bitter boiled sprouts. Sprouts are now roasted, fried in pork fat, tossed in yummy dressing or a combination of all three. Pancetta can transform just about anything but it pairs particularly well with America's most hated vegetable.
Not hated for long though. With my new sprout recipe, I have three new converts and counting. Brussels sprouts may never be as beloved as asparagus or butternut squash, but they are slowly working their way up the vegetable hits chart.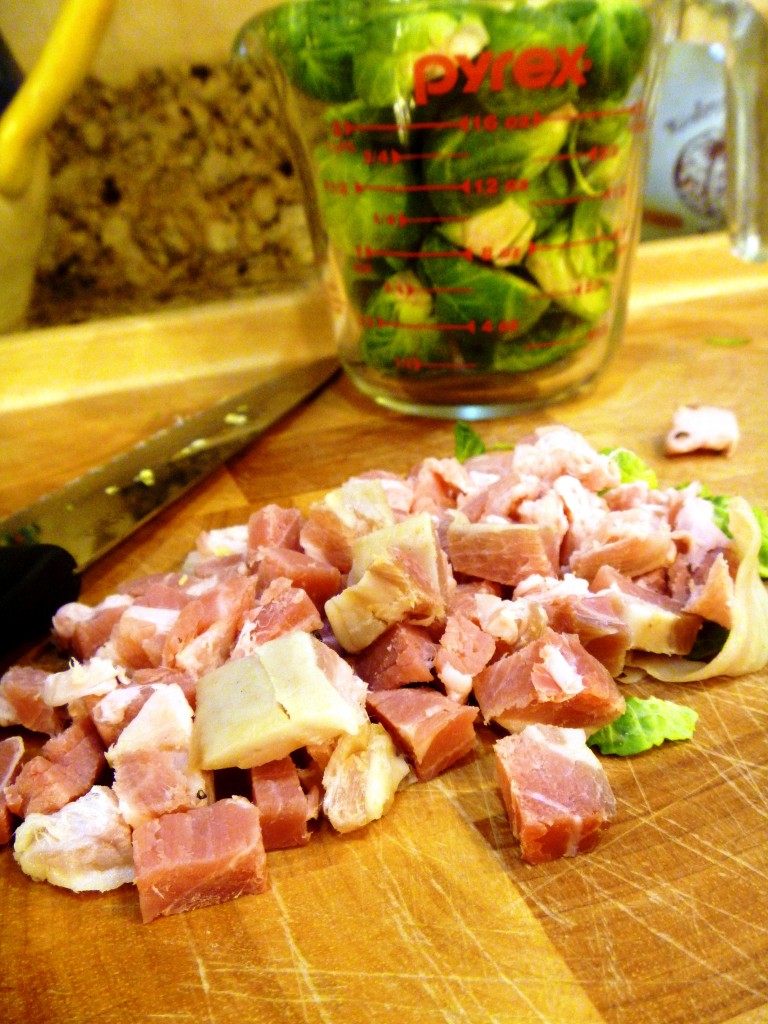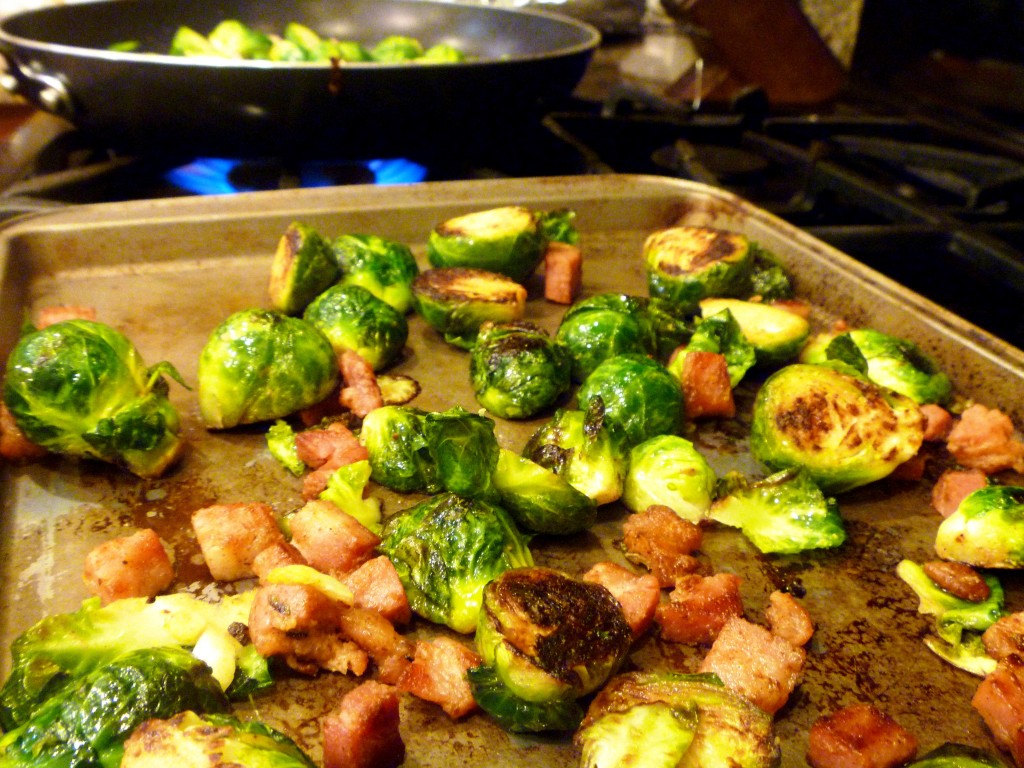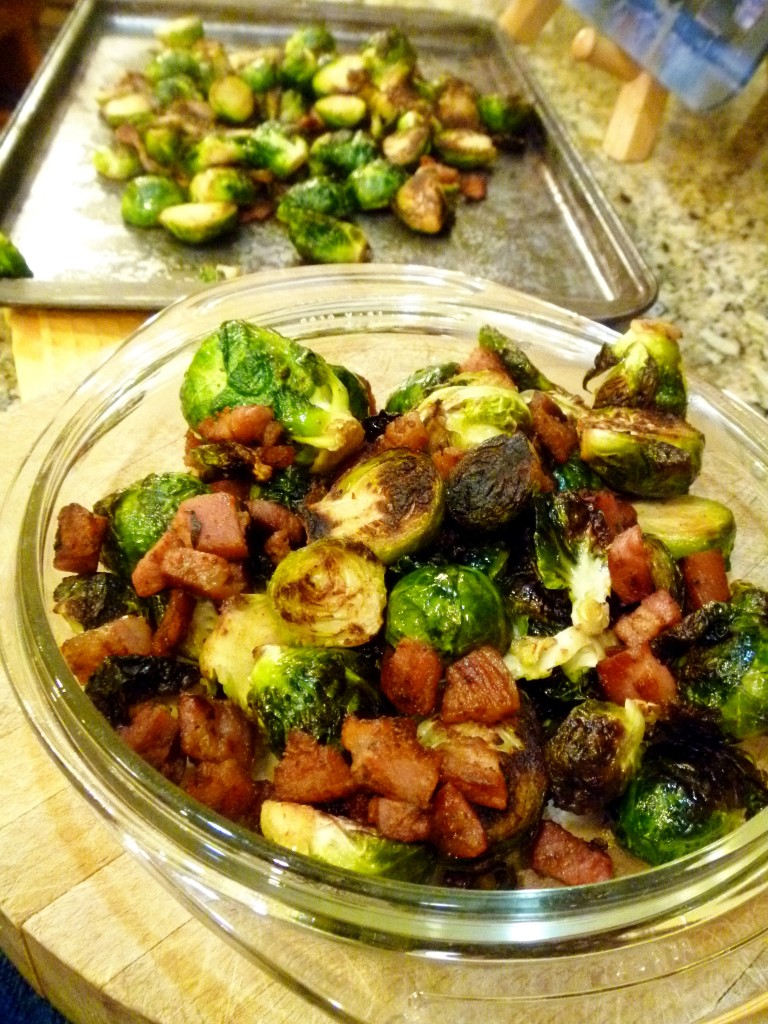 Healthy Recipe Ecstasy?  I know this recipe is a hit because now Alasdair will actually eat Brussels sprouts without complaining. What a lot of people don't realize is not only can sprouts be tasty but they are rich  in protein, dietary fiber, vitamins (particularly Vitamin C!), minerals, and antioxidants and low in saturated fat and cholesterol. Of course, pancetta is just a fancy word for salty, fatty bacon so adding pancetta to the sprouts ups the fat/cholesterol factor. BUT, you only have to use a little bit of pancetta to get the flavor. Being healthy is all about moderation and making sure you get your daily servings of fruits and veggies. I've also had roasted sprouts with just salt and pepper that are fantastic so if you're worried about sodium or fat, you don't have to cook them in pork fat.  This recipe is great for the gluten-free, dairy-free, Paleo crowd!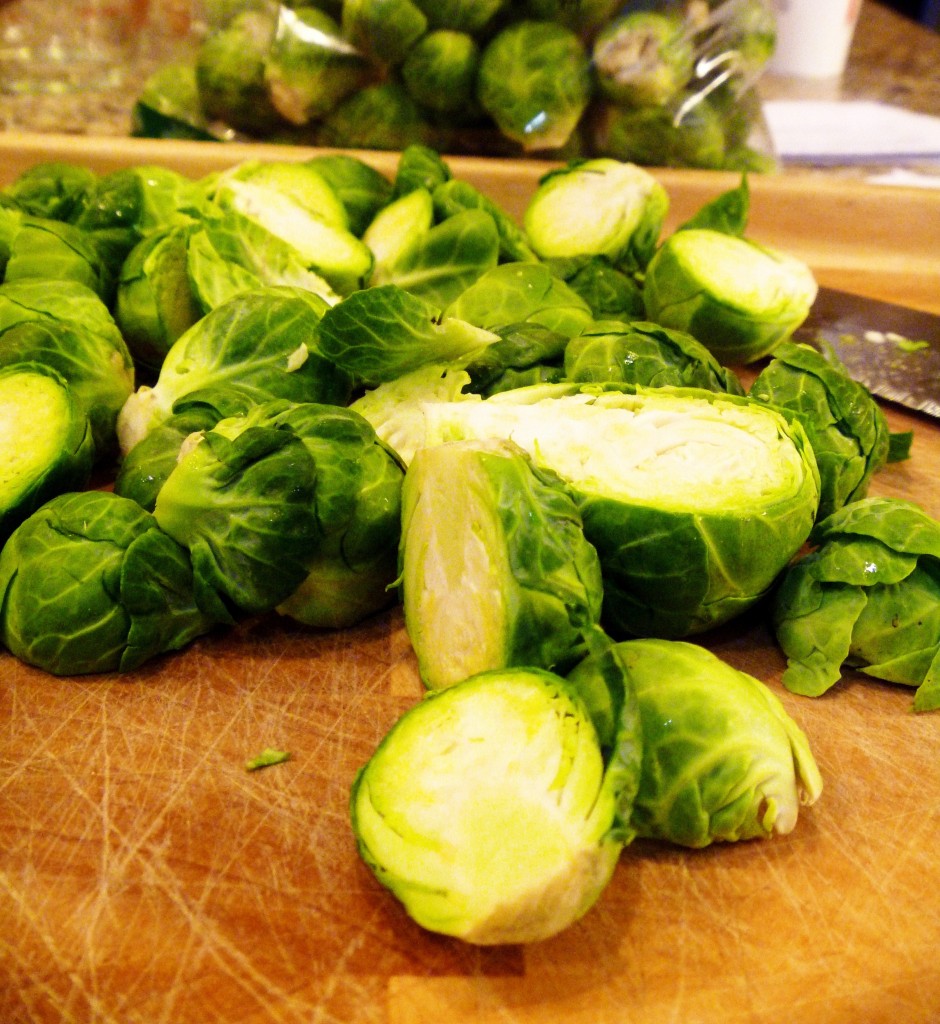 Crispy Brussels Sprouts and Pancetta
Author:
Healthy Recipe Ecstasy
Ingredients
1 tablespoon olive oil
2 cups Brussels sprouts
¼ pound pancetta
1 tablespoon Dijon mustard or spicy brown mustard
½ teaspoon garlic powder
Kosher salt
Freshly-ground black pepper
Instructions
Slice each Brussels sprout vertically in half and dice the pancetta into small cubes.
Heat the olive oil in a large saute pan over medium-high heat. Add the pancetta and let cook 2-3 minutes until pancetta starts to darken in color and release some of its fat into the pan.
Add the Brussels sprouts and stir a few times to coat them in the oil and pancetta fat. Season liberally with coarse salt and pepper. Next, add in the garlic powder.
Cook over medium-high heat for 5-7 minutes or until the sprouts start to brown and the pancetta is crisp. Add the tablespoon of mustard and stir so it coats the sprouts. Cook another 2 minutes.
Heat the broiler and add the sprouts to a baking sheet. Broil the sprouts and pancetta for 2-3 minutes until they are charred and crispy.
Season with more freshly-ground black pepper.