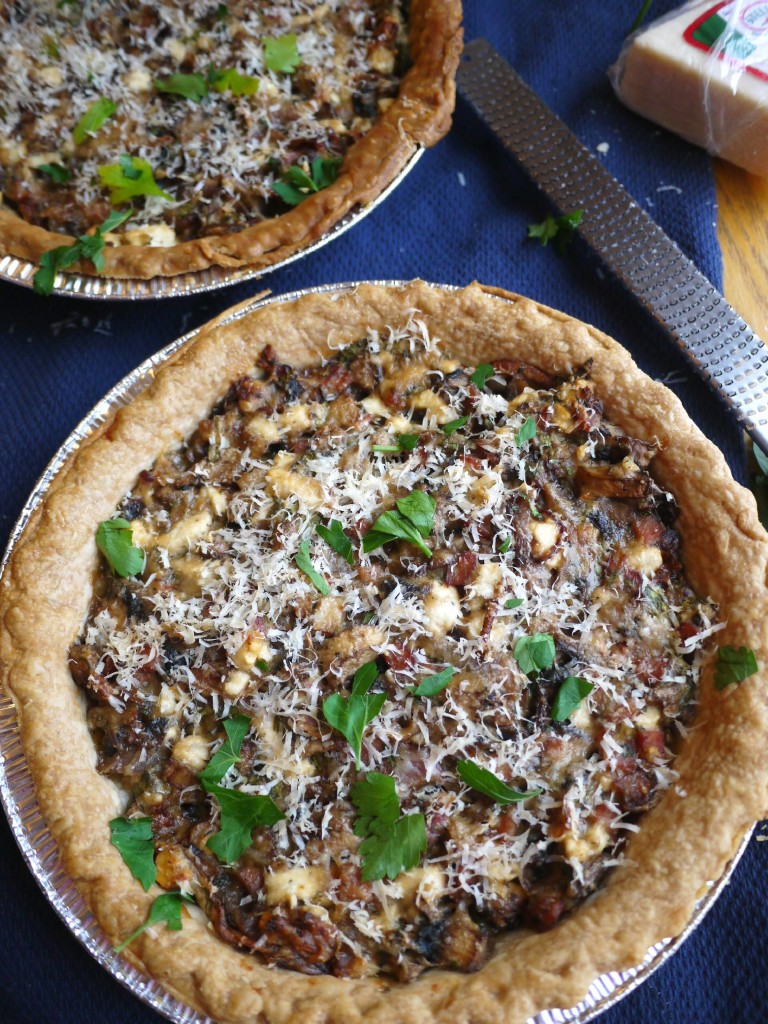 Remember how I said last week that I've recently become obsessed with savory pies and tarts? Well, it all started with this amazing pie. It was one of those nights where I realized that we hadn't been to the grocery store all week and our fridge was growing bare. We had been eating out a lot that week, and I didn't want to spend any more money on takeout. So, I raided the kitchen and gathered all the scraps and leftovers. I had some frozen pie crusts in the freezer, a pack of mushrooms, shallots, a few slices of Canadian bacon and some feta cheese leftover from a mini quiche experiment gone awry. I considered making another quiche, but, for once in my life, I wasn't in the mood for eggs, so I decided on a béchamel sauce to bind all the ingredients.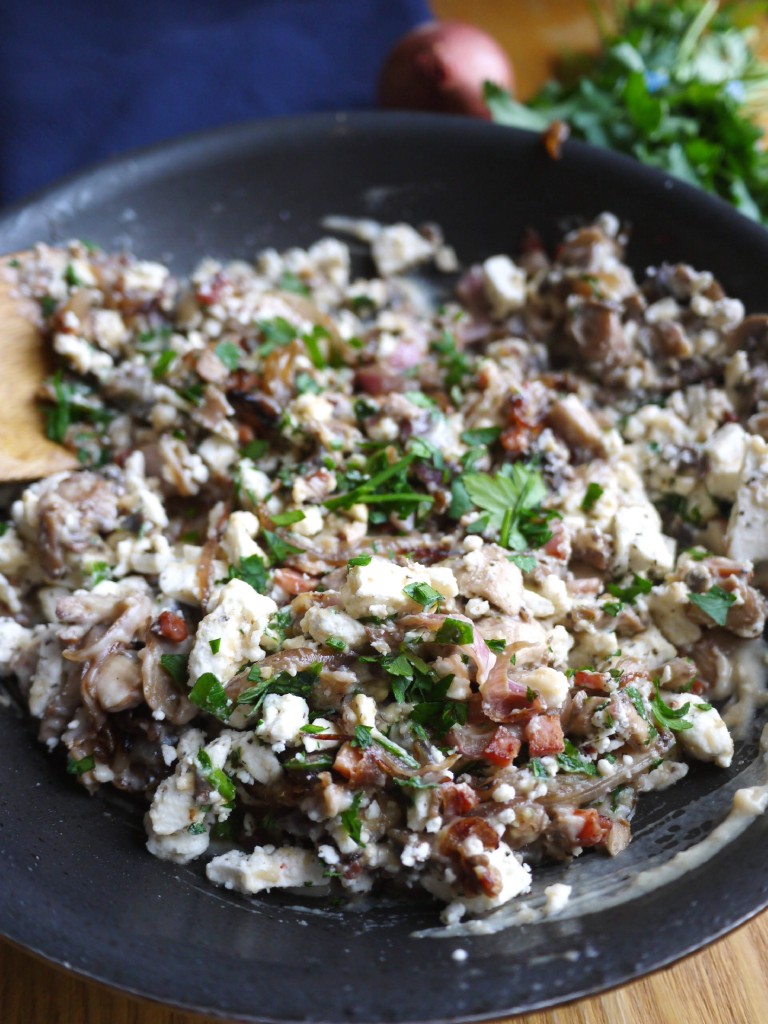 I knew the pie would taste good because anything with caramelized shallots and béchamel is going to be delicious. But, I did not know it would be so good that Alasdair and I nearly devoured the entire pie in one sitting. It was so hearty and comforting and the deeply-browned shallots gave the pie a rich sweetness.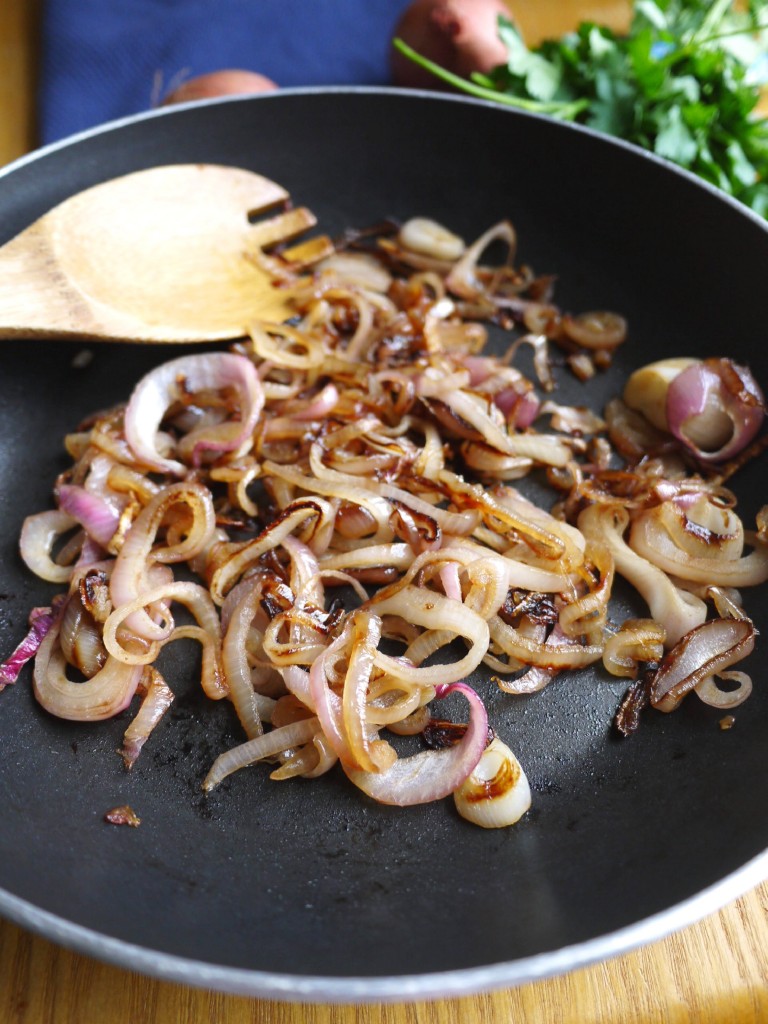 I've been dreaming about the pie since I made it the first time, but, being  a little dairy sensitive, béchamel sauce is not something I enjoy on a regular basis. I knew that if I was going to put this pie on my regular dinner rotation, I had to decrease the amount of dairy. So, I gave it a little HRX makeover.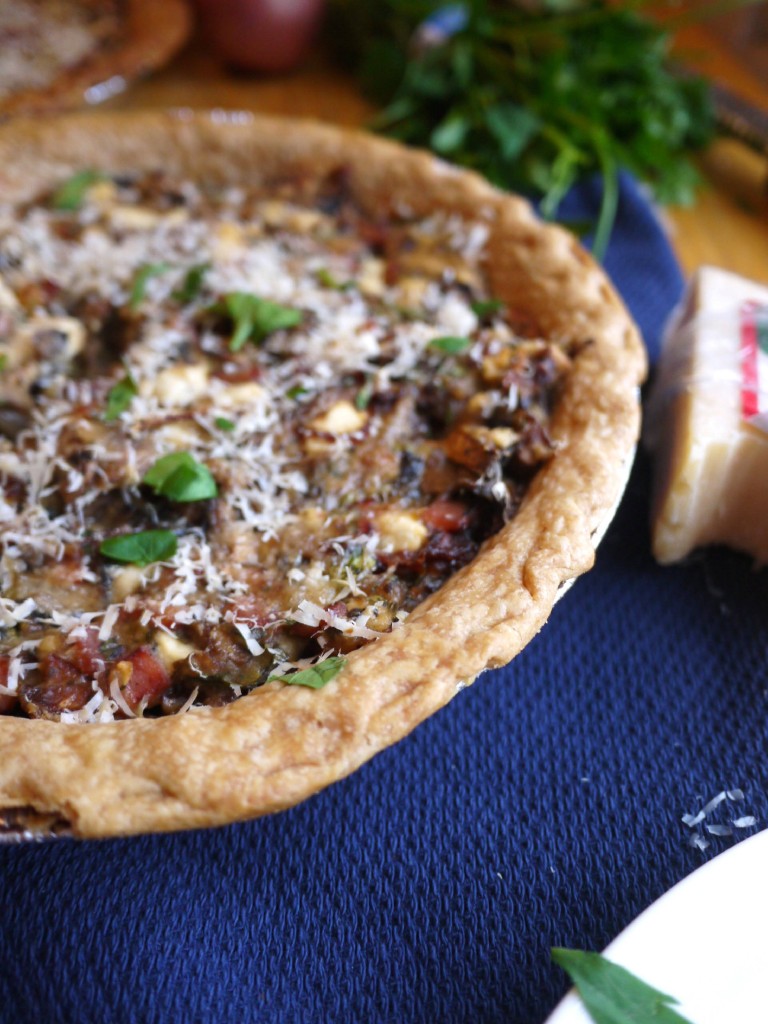 Healthy Recipe Ecstasy? Yes! Ordinarily, béchamel is made with butter, flour, and milk. I made a dairy-free version using olive oil, flour, and soy milk. I was worried that the soy milk would change the flavor of the pie but it still tastes amazing. The pie does still contain feta cheese and a little bit of Pecorino Romano – both sheep's milk cheese which are easier for me to digest – but it's no longer chock full of dairy. If you're vegetarian, you can forgo the Canadian bacon and you'll still have the meatiness of the mushrooms. Either way, it will be delish!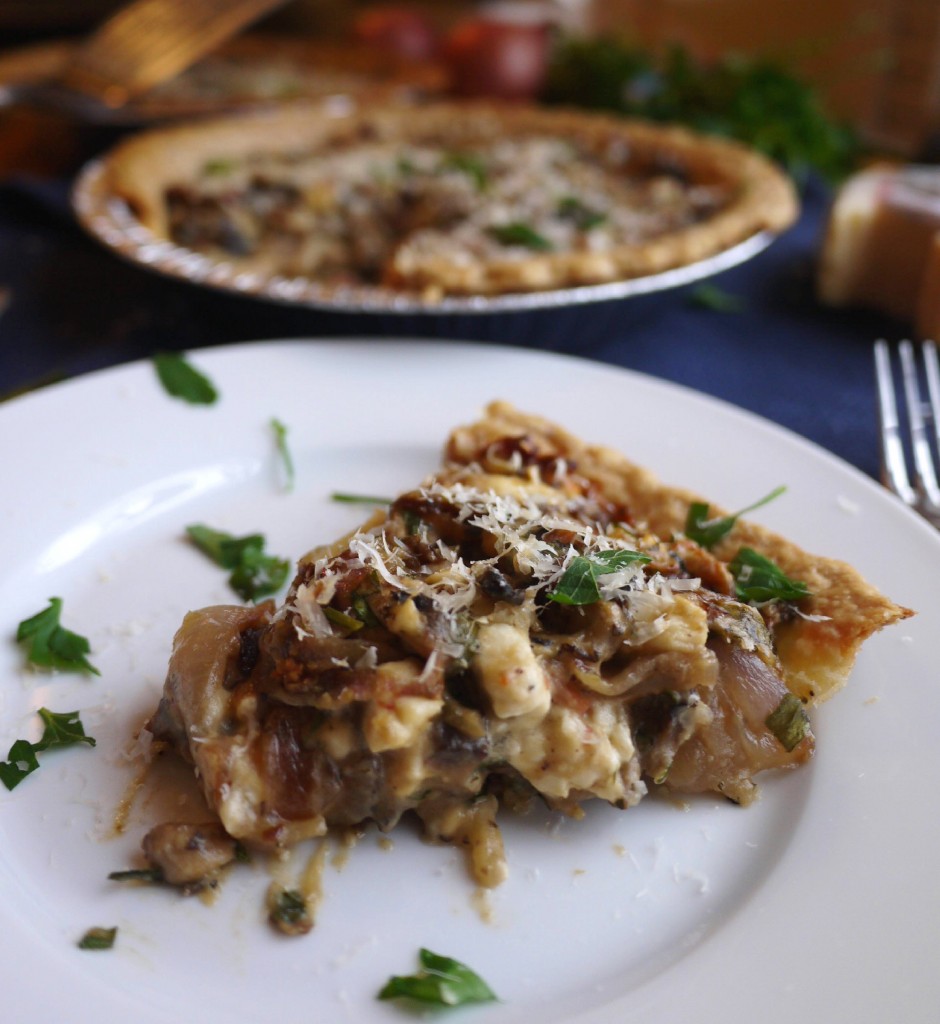 Caramelized Shallot, Mushroom, and Bacon Pie (with a Dairy-Free Béchamel Sauce)
Author:
Healthy Recipe Ecstasy
Ingredients
Pie:
1 deep-dish pie crust (I used a frozen pie from the grocery store but you can make your own crust if you have the time)
2 tablespoons olive oil, divided
3 large shallots, thinly sliced
1 (8-ounce) package mushrooms, coarsely chopped
5 slices Canadian bacon, diced
4 ounces (1/2 cup) feta cheese with tomato and basil
½ cup Pecorino Romano cheese
2 tablespoons fresh parsley, chopped
Kosher salt
Coarsely-ground black pepper
Béchamel Sauce:
2 tablespoons olive oil
2 tablespoons flour
1 cup soy milk
Instructions
Heat one tablespoon olive oil in a saute pan over medium high heat. Add the shallots to the pan and cook for three minutes, stirring frequently. Add a pinch of salt, turn the heat down to medium low and cook the shallots for 20 minutes or until they start to caramelize, stirring occasionally. Set aside.
Preheat the oven to 375 degree F. Next, add another tablespoon of olive oil to the saute pan. Add mushrooms and cook over medium high heat about five minutes or until tender. Drain the mushrooms on a paper towel-lined plate. Next, add the Canadian bacon to the pan, cooking for about 3-4 minutes or until browned and crispy.
Then, make the béchamel sauce. Add two tablespoons olive oil to a small sauce pan over medium heat. Add the flour and whisk together until smooth. Cook for about five minutes or until the mixture resembles sand. Add the soy milk and bring to a boil. Cook for another five minutes or until the mixture thickens, stirring constantly.
Once the béchamel sauce is done, combine it with the shallots, mushrooms, and bacon in a large skillet. Add the parsley, the feta cheese, a pinch of salt, and pepper to taste. Mix all the ingredients together until combined.
Finally, pour the ingredients into the pie crust. If you bought a frozen pie crust like I did, make sure it's partially thawed. Top with the Pecorino Romano cheese and cook for 30 minutes or until the cheese begins to brown. Garnish with more fresh parsley.