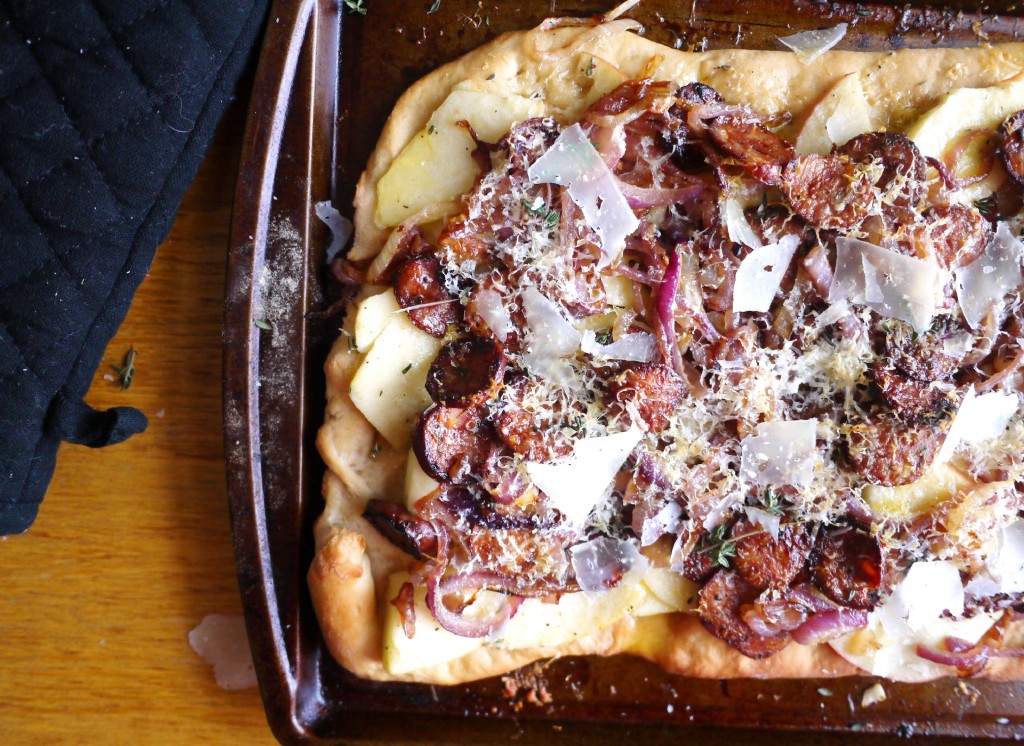 After a year and a half of wedding planning and celebrations, Alasdair and I finally (finally, finally, finally – did I say finally?) experienced our first weekend of quiet, wedded bliss. No more parties, no more logistics, no more wedding menus or seating charts. We had three full days and nights (thank you government holiday) to do nothing. BIG. FAT. NOTHING. So, you know what I did? I watched TV. I hung out in my pajamas all day. I cooked. I organized. And I sat around pondering life's big questions. Why is the sky blue? Do aliens exist? What's the difference between flatbread and pizza? Well, unfortunately, my pondering didn't lead to any hard and fast answers. But the answers off the top of my head would be: because it's pretty; probably; and semantics.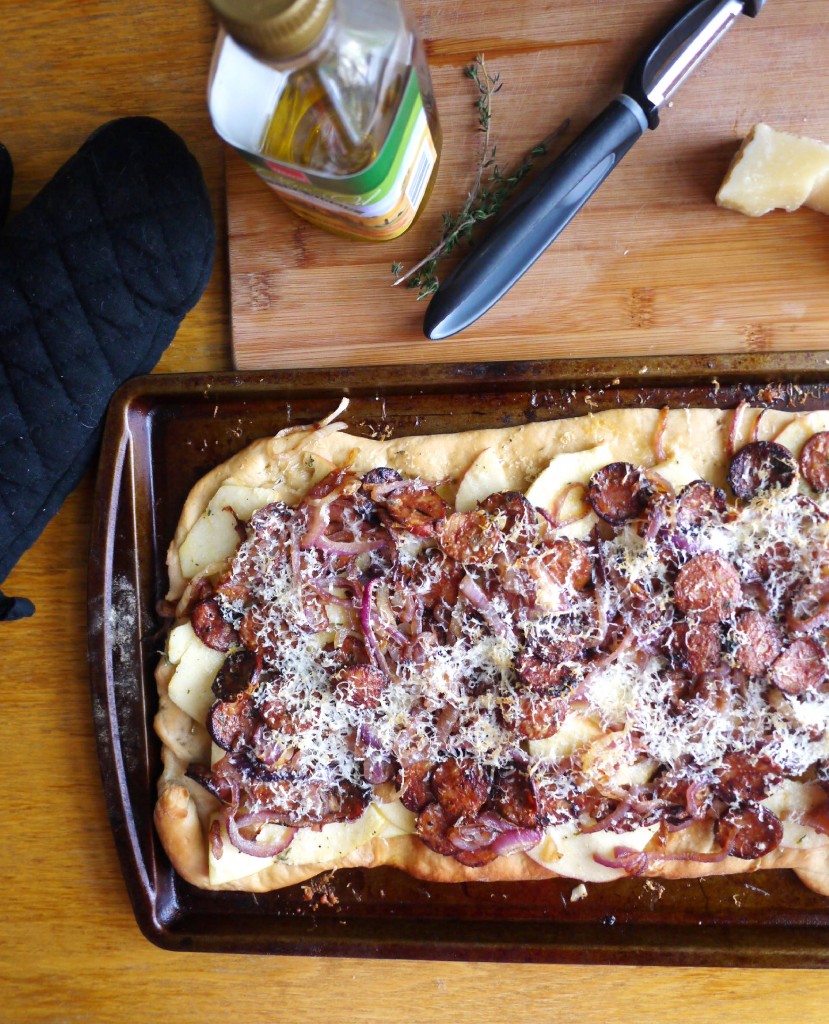 Let's face it. Flatbread and pizza are technically the same thing nowadays. Sure, flatbread might be flatter, less saucier, and it a little less cheesy. But it's basically just dough with toppings (just like…what's it called….oh yeah, pizza…). And classic pizza has evolved way past a round pie drenched in tomato sauce and topped with mozzarella and a-spicy a-pepperoni (did you catch my Italian accent there?). Nowadays, pizza too comes cheeseless, sauceless, square, on cauliflower. Pizza has basically evolved into flatbread. So, what's to separate the two?
Well, I say, at this point, nothing more than personal preference. Nothing more than me wanting to call my dish flatbread because it sounds fancy. Anyone can eat a pizza – pizza is practically passé (I'm sorry pizza, I don't mean that). But, flatbread sounds like it's for a special occasion or maybe it's just the word restaurants use to justify a ridiculous upcharge. In the end, does it really matter? All that matters is this flatbread/pizza/whatever you call it combines Spanish flavors and hearty fall produce in a way that is both interesting to my taste buds and comfortingly delicious.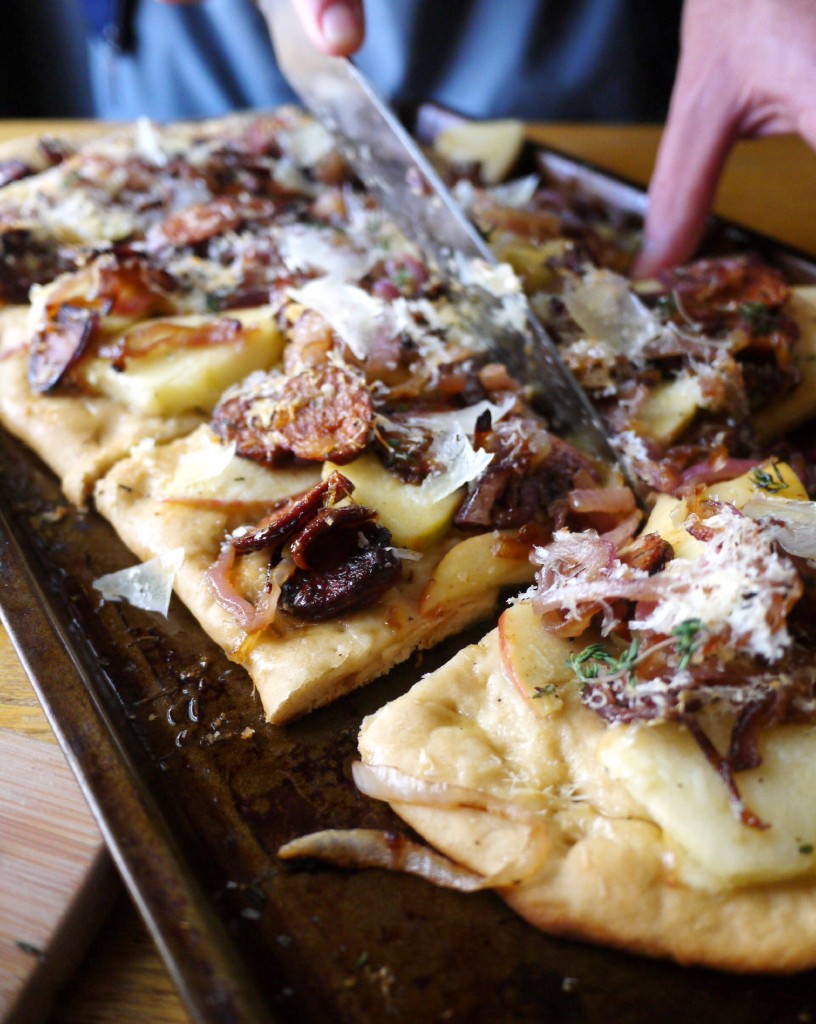 Healthy Recipe Ecstasy?  I got the idea for this dish from a Tasting Table recipe for a Sausage, Apple and Manchego Sandwich. I wasn't really in the mood for a sandwich, but the ingredient combination sounded spectacular, especially coming off a trip to Spain where I couldn't get enough sausage and Manchego cheese.  Knowing my grocery store has this fresh whole-wheat pizza dough at the deli counter, I decided to nix the bread, add the dough and make a few other clutch changes that turned a fancy sandwich into a fancy, even more delish flatbread. The combination of spicy chorizo chicken sausage and nutty Manchego cheese paired with sweet caramelized red onions and even sweeter keep-the-doctor-away apples results in a dish that will waken up your weeknight dinner rotation.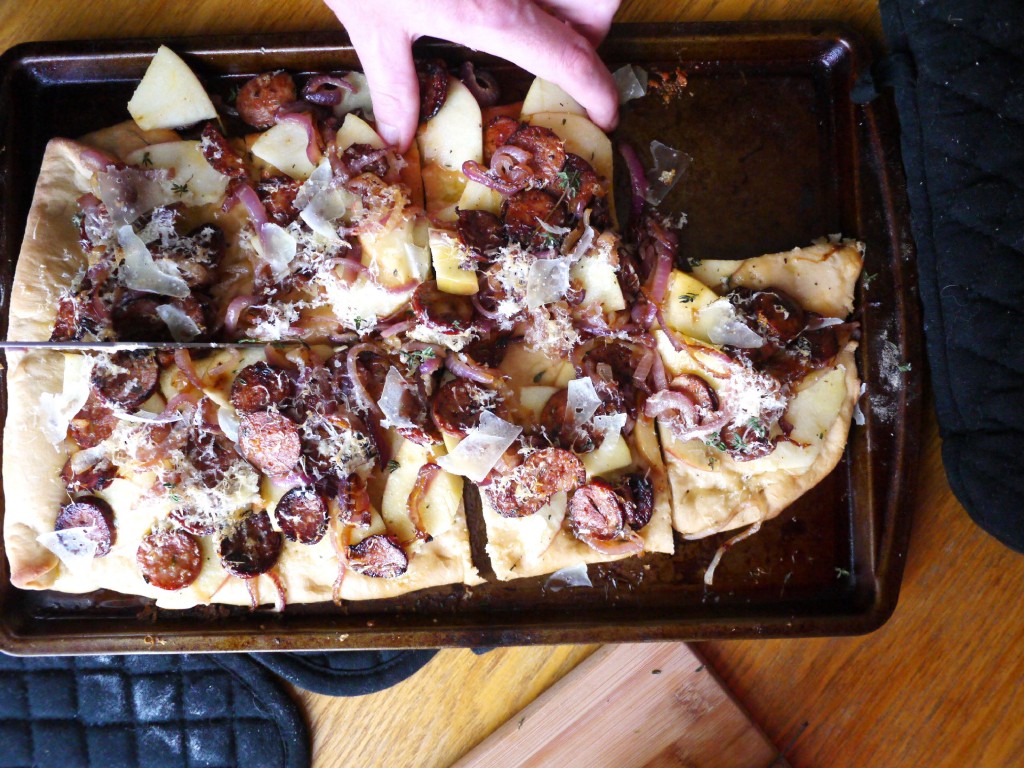 Whole-Wheat Flatbread with Chorizo Sausage, Apples and Manchego
Author:
Healthy Recipe Ecstasy
Ingredients
APPLES
1 tablespoon apple cider vinegar
1.5 teaspoon finely chopped fresh thyme leaves, plus more for garnish
1.5 teaspoons whole-grain mustard
¾ teaspoon kosher salt
¼ teaspoon freshly ground black pepper
3 tablespoons extra-virgin olive oil
1 medium Honeycrisp apple, cored and thinly sliced
FLATBREAD
1 large red onion, halved and thinly sliced
3 all-natural smoked chicken chorizo sausage links, thinly sliced (you can substitute pork chorizo if you can't find chicken)
4 teaspoons oil, divided
Whole-wheat pizza dough
3 tablespoons olive oil for brushing, plus extra for drizzling over the finished flatbread
½ cup grated Manchego cheese, plus extra cheese shavings for garnish
Freshly ground black pepper
Instructions
Preheat oven to 450 degrees.
Heat two teaspoons olive oil in a large skillet over medium-high heat. Add the sliced red onions. Cook, stirring occasionally, until onions are soft and just starting to brown, about 5-6 minutes. Turn the heat down to medium low and cook for an additional 25-30 minutes or until onions begin to caramelize, stirring more frequently.
While the onions are cooking, roll out the whole-wheat pizza dough on a prepared baking sheet and stick the dough with a fork to prevent air bubbles. Cook the pizza dough in the oven for 10 minutes or until golden.
In a medium bowl, whisk together the apple cider vinegar, thyme, mustard, salt and pepper. Whisk in the olive oil until the vinaigrette is emulsified. Add the apple slices and toss to combine.
Heat the remaining two teaspoons oil in a medium skillet set over medium-high heat. Add the sausage slices to the pan. Pan-sear the sausages until both sides are browned, about 8 minutes.
Once all the ingredients are ready, brush the pizza dough with three tablespoons olive oil. Then, divide the sausage pieces, caramelized red onions and apple mixture evenly over the pizza dough. Top with grated Manchego cheese.
Cook the flatbread for another 5 min or until cheese melts.
Garnish flatbread with a drizzle of olive oil, freshly ground black pepper,fresh thyme and cheese shavings. Enjoy!