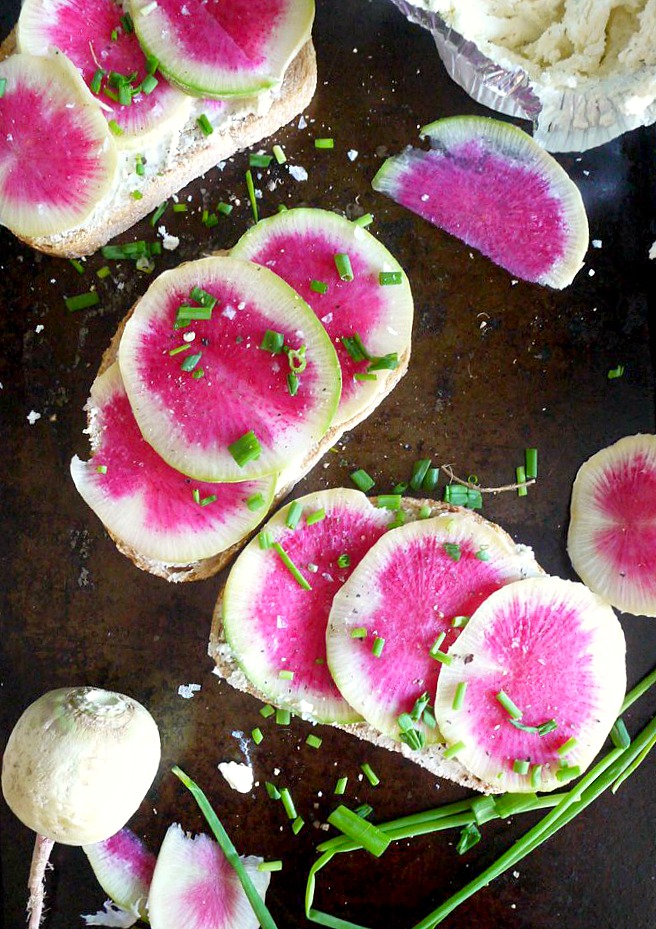 Remember me? I used to blog here. It's been a minute (or whatever the kids are saying these days).
I didn't mean to ghost out on you all but I needed a breather. Between the baby and the new business, I was straight up stressed out and the blog was starting to feel like a chore which I HATED. I mean, I started this blog for FUN because I love to cook and try new recipes. But, before I knew it, the powers that be (i.e., my overachiever personality) decided that I should make this blog my job which in the blogging world means making the blog my life. That was all well and good when I was a laid-back, childless federal government employee with free nights and weekends galore.
Learn how to use WordPress? Sure. Master food photography? I'll give it a go. Keep up on any and all social media accounts at all times? Absolutely. It wasn't easy with a full-time job but it was definitely doable and the stress of creating, photographing, posting and sharing two recipes a week was manageable-ish.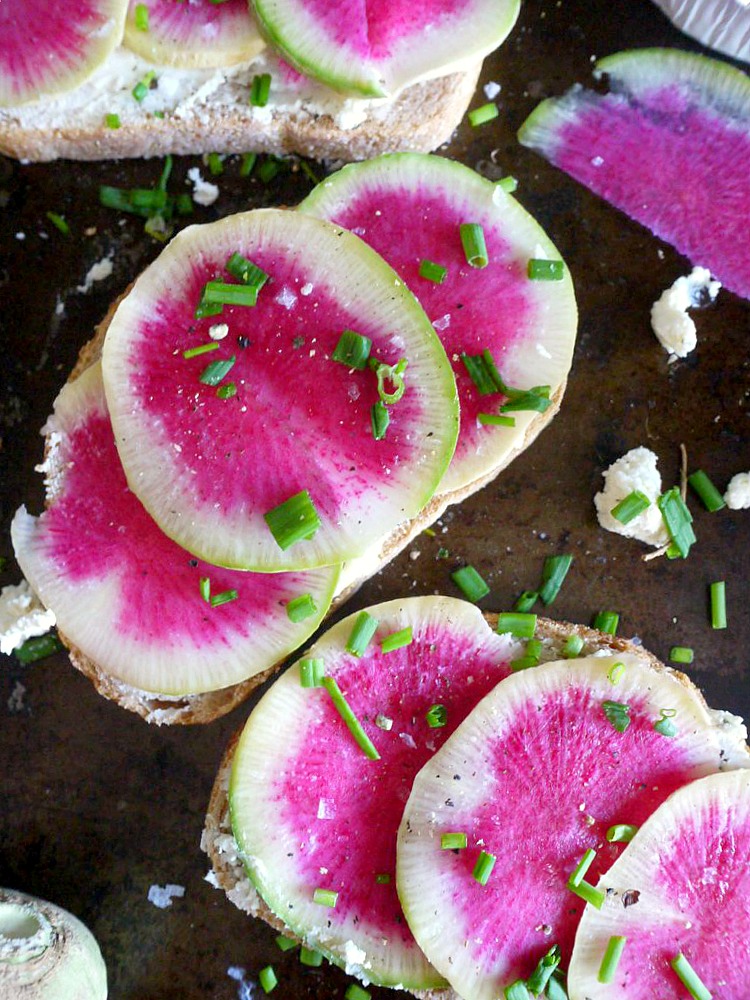 Fast forward three years later with a part-time government job, a full-time baby and a new business that falls somewhere in between. Something had to fall through the cracks and it wasn't going to be the paycheck we live on, my child or the franchise for which I have a contract and a teeny tiny bit of starter cost debt to earn back. It had to be the blog. As much as I tried to make it my "real" job it was still just a hobby that brought in occasional income. I never had enough time to compete with the big guns and I certainly don't have the time now. I had to accept that, for the time being, my blog, as much as I love it, is an expendable in my life.
At first, I was sad. All that time and energy – what was the point? Then, I was relieved. And, then, I was inspired and excited. Stripping myself of the mindset that my blog had to produce income meant that I no longer need to play by anyone's rules. I no longer need to troll for sponsored posts or spend hours on social media or feel a ridiculous amount of guilt if I don't meet my monthly blog post quota. So what if I don't come up with the newest, coolest, most delicious quinoa recipe? So what if I'm not inspired by anything but PB&Js this week?  So what if my photos sucks (yes, I said it). IT DOESN'T MATTER.
If I'm going to continue this blog in the precious, precious little time I have, all that matters is that I ENJOY it.
So, I'm taking my blog back.
I'm going to post what I want, when I want. I might not post for a month. I might post five times in a month. But I'm not going to kill myself over something that's supposed to be fun. Because what fun is that?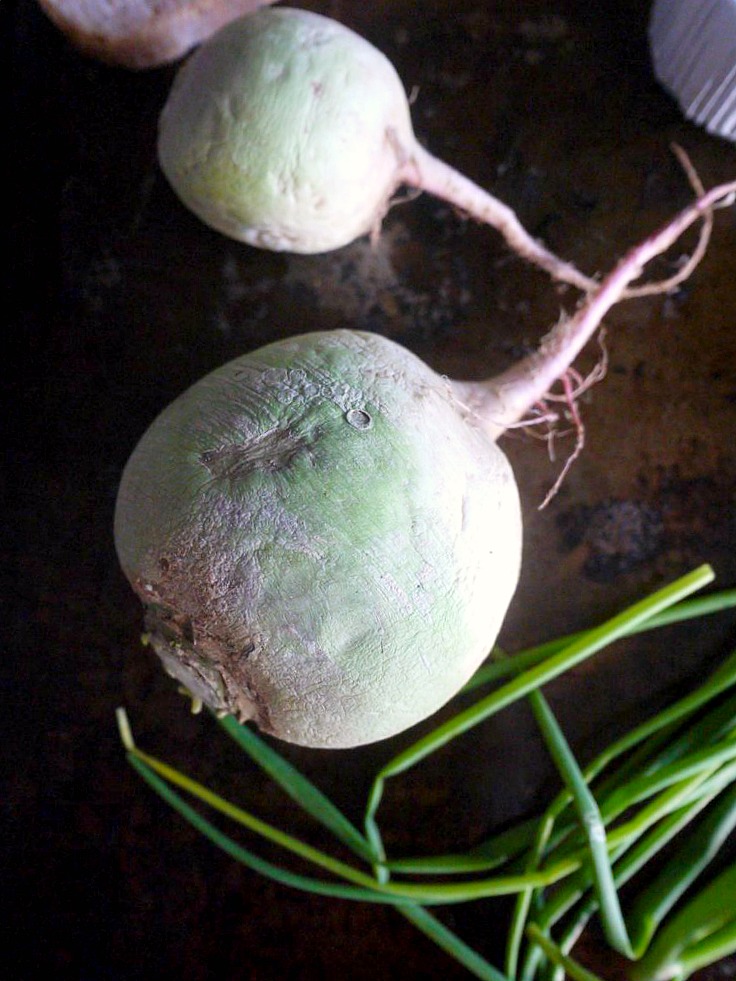 That brings me to today and these watermelon radish tartines. They're not fancy (though they look it). They're not original (you can find the recipe I barely adapted the tartines from here and a similar recipe here). They weren't inspired – we got watermelon radishes in our produce delivery box and I was desperate to find something to do with them. The photos are simple (no crazy backdrops – just a cookie sheet) but beautiful (IMHO).
They were exactly what I needed exactly when I needed them – a quick, easy, fresh, healthy lunch featuring amazing local produce that my picky son actually ate (I guess we can add watermelon radish tartines to his limited repertoire of cheese, yogurt, chicken and tunafish – go figure).
I couldn't wait to share them with you. THAT'S what this blog should be about.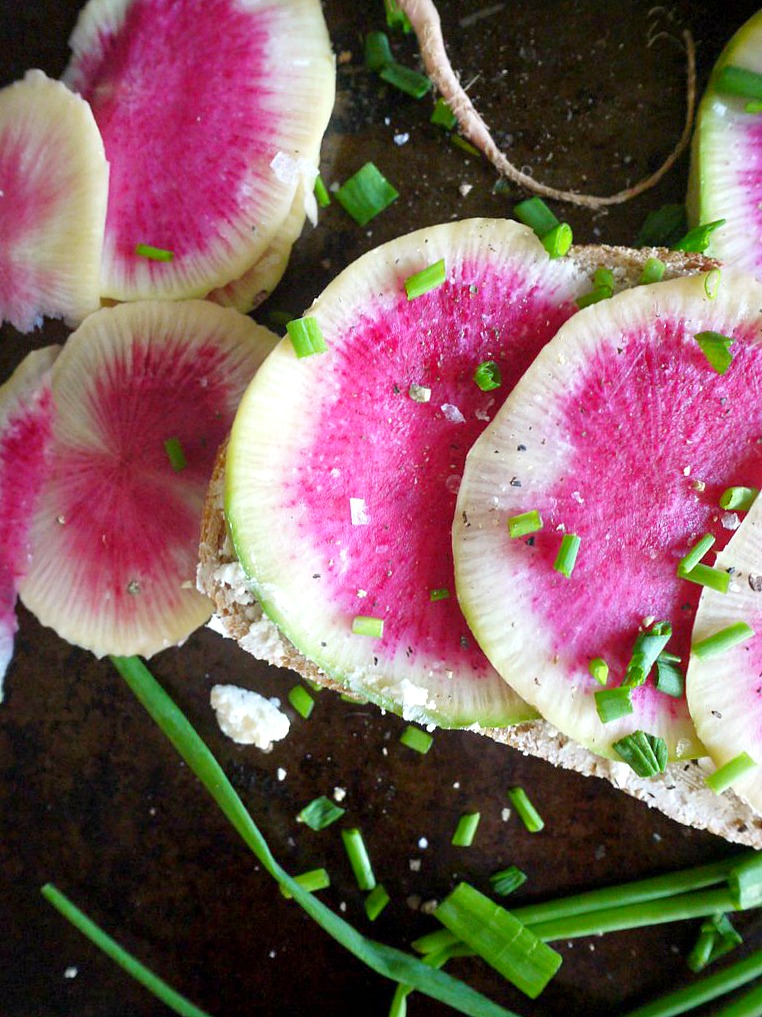 Watermelon Radish and Boursin Cheese Tartines
Serving size is two tartines.
Author:
Healthy Recipe Ecstasy
Ingredients
8 slices of whole-grain bread, toasted or untoasted (delicious either way)
4 ounces of boursin cheese, garlic and herb flavor
1 large watermelon radish (or two medium)
Chives or parsley, for garnish
Flaked sea salt, for garnish
Cracked black pepper, for garnish
Olive oil, for drizzling (optional)
Instructions
Using a mandoline or a knife if you have a steady hand, cut the watermelon radish into thin slices. I used a knife so my slices were a little uneven in their thickness but it was FINE. You do not need to peel the radish. I repeat, you do not need to peel the radish. I know the skin looks a little rough and elephant-like but it's totally edible.
Spread a tablespoon (or more) of the boursin cheese on each slice of toast. Top with three slices of watermelon radish.
Garnish with fresh chopped herbs, salt and pepper. I used chives but I think parsley would work just as well. Finally, drizzle with olive oil...or don't. Seriously, I could go either way on the olive oil. It adds that little something that olive oil always adds but you won't miss it if it's not there.