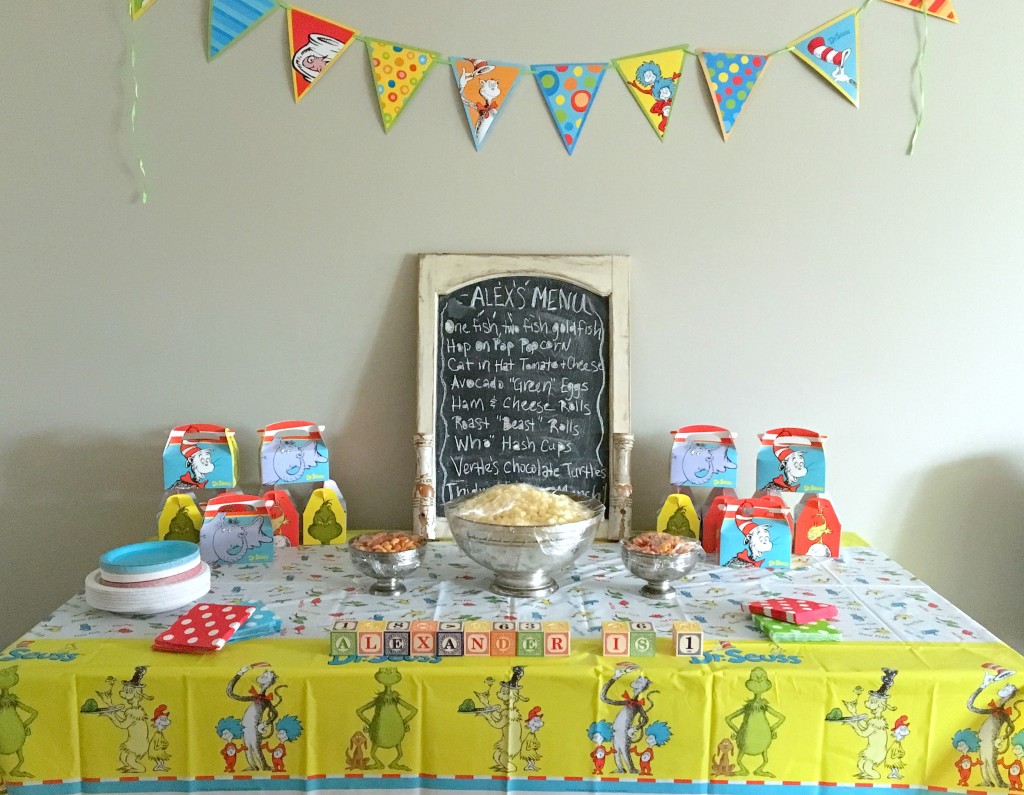 When you have a kid, one year seems like a lifetime and a week all wrapped up into one big space-time continuum jumble. I feel like Alex has been in our lives for approximately….FOREVER….but at the same time, I cannot believe how fast this past year has flown by. We're talking blurred vision warp speed, people.
Despite my new-found life simplification policy, I felt a burning need to go just a teeny, tiny bit over-the-top with my baby's first birthday party. I had visions in my head and they could not be stopped. Visions of cats in hats, places to go, fishes jumping out of bowls, and the party boy in cute clothes…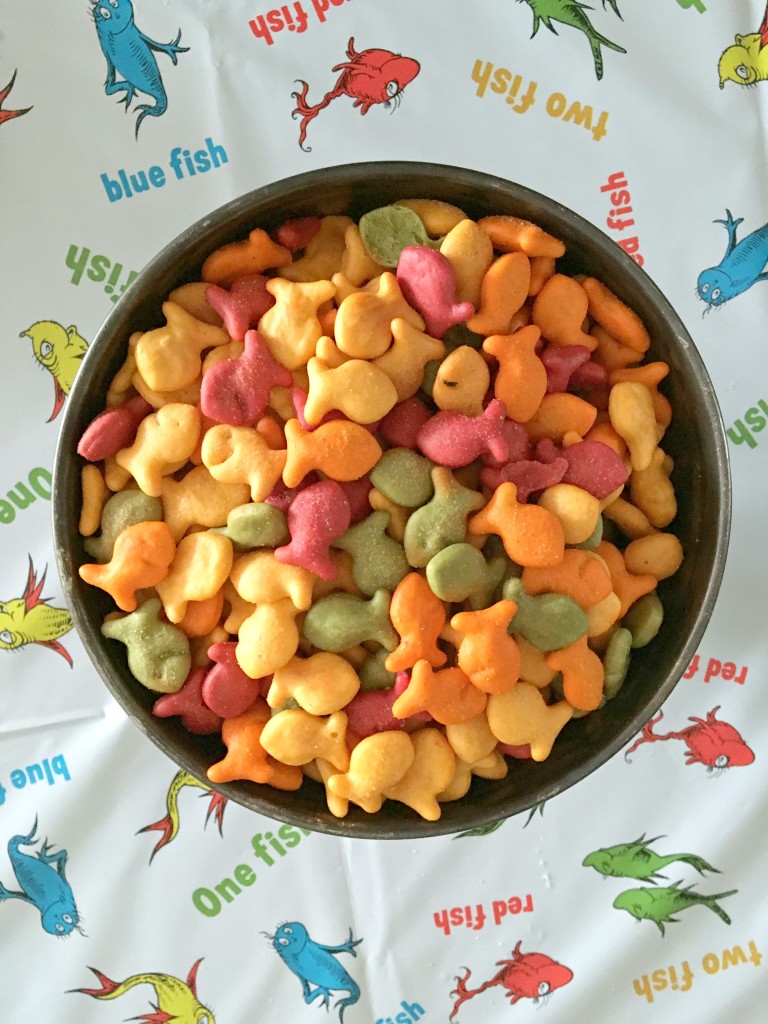 Obviously, we're talking Dr. Seuss. If you know us #IRL then you might know that Alex's nursery has a subtle "Oh the Places You'll Go" theme. Well, this party takes it a step further, okay, about a million steps further with a completely in-your-face-Dr-Seuss-everywhere theme. From the decor to the drinks to the food, it all tied together into a neat little bow that makes this theme-loving, slightly OCD mama beyond happy.
Let's talk decorations. You can purchase the banner, table cover
, plates, napkin, cups, etc from Amazon and Party City. Easy peasy. I found the favor boxes on a party website (filled them with goldfish) and we supplemented with the ridiculous amount of Dr. Seuss books already in Alex's library and the adorable Dr. Seuss photo prints that my friend made for the nursery. Decoration = done and done.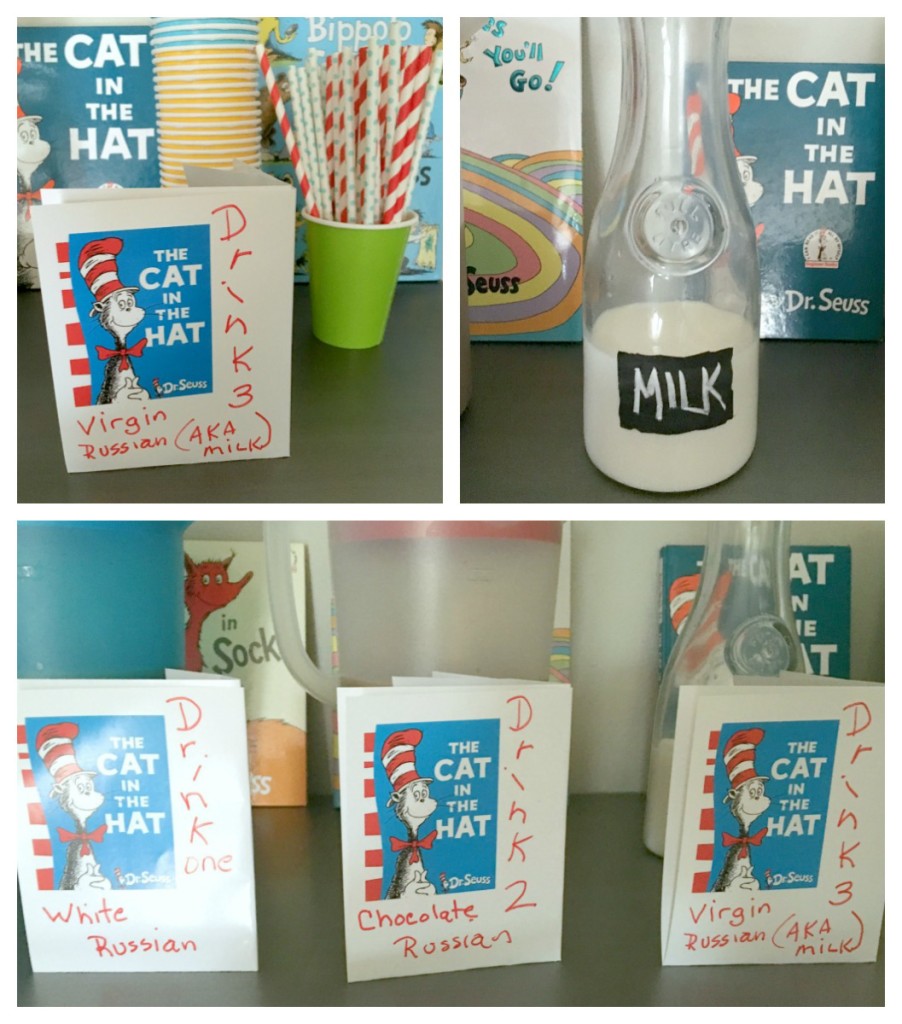 For the drinks, we decided to have a signature cocktail, completely unrelated to Dr. Seuss but easy to make for a crowd: White Russians. We brought it back around to the theme by having "Drink 1" (White Russian) and "Drink 2" (Chocolate Russian) and "Drink 3" for the mini Seusses (aka milk).
Now, the menu. The core of any party (IMHO). I wanted every element of the menu to correspond to a different Dr. Seuss book…..because (a) I'm a little crazy and (b) because I just knew it would be adorable. AND. IT. WAS.
In addition to the "One Fish, Two Fish, Red Fish, Blue Fish" Goldfish and the "Hop on Pop" Popcorn munchies, we had these "Cat in the Hat" Cheese and Tomato Stacks which I found on Anders Ruff and my stepmom's Avocado "Green" Eggs (Cooking Light also has a good "green eggs and ham" deviled egg recipe). I didn't have time to cut perfect tomato and cheese circles like Anders Ruff so my stacks had a bit of a Leaning Tower of Pisa vibe, but that just added to the Seuss-ness of it all.
The heart of the meal was the baked Ham and Cheese Mini Sandwiches (to complete the "Green Eggs & Ham) in addition to the baked Roast "Beast" Mini Sandwiches and "Who" Hash Cups, both inspired by the Grinch's feast. I doctored up the sandwich recipes I found online by using everything bagel spice instead of poppy seeds. HIGHLY RECOMMEND. It takes them to another level.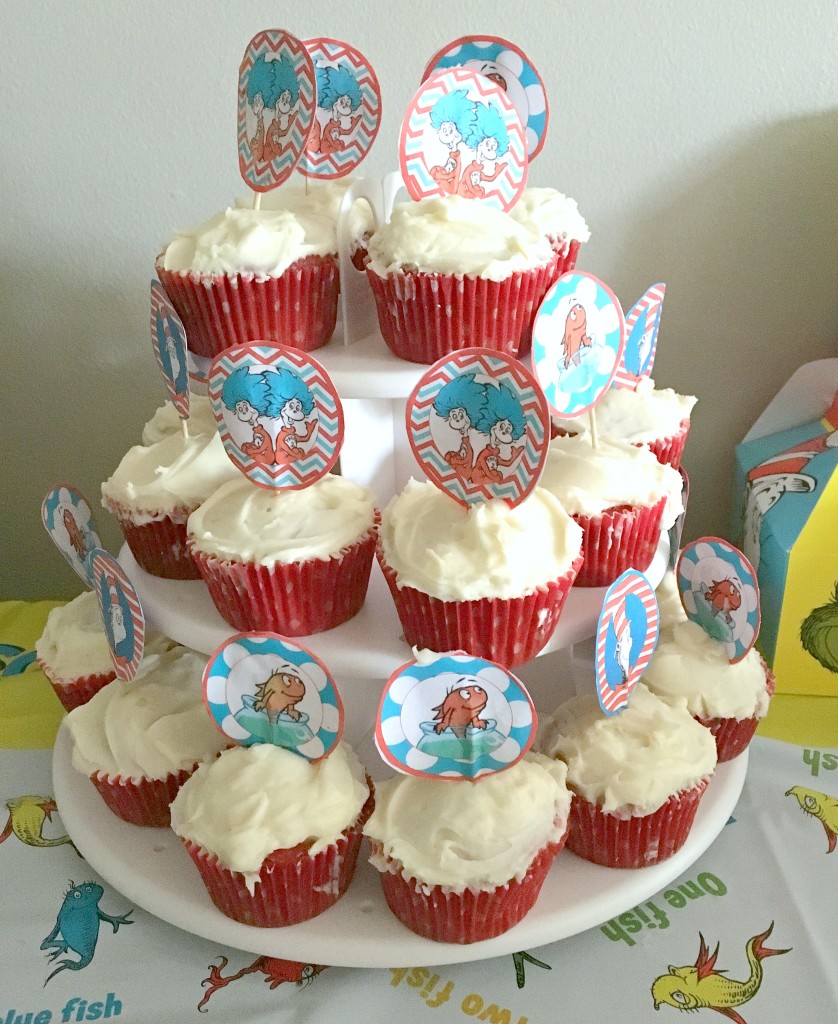 For dessert, we had my mom's Yertle the Turtle's Chocolate-Covered Turtles, Moose Munch inspired by Thidwick the Big-Hearted Moose and, of course, birthday cupcakes!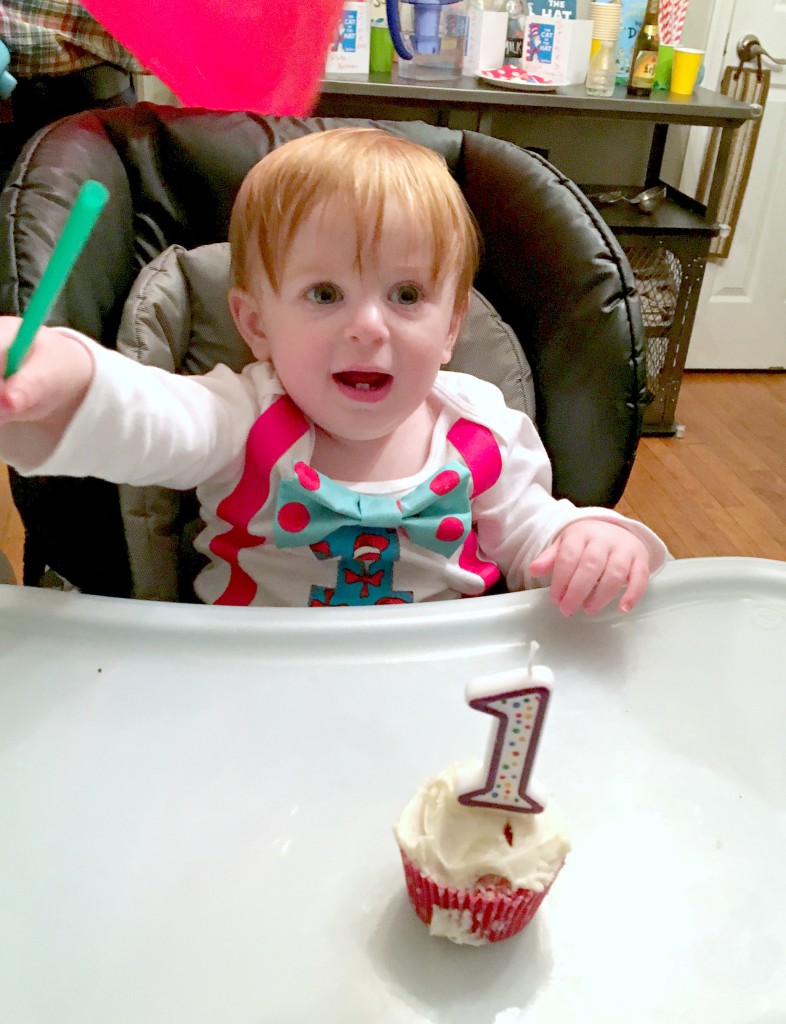 That face says it all: enough talk, time to eat!