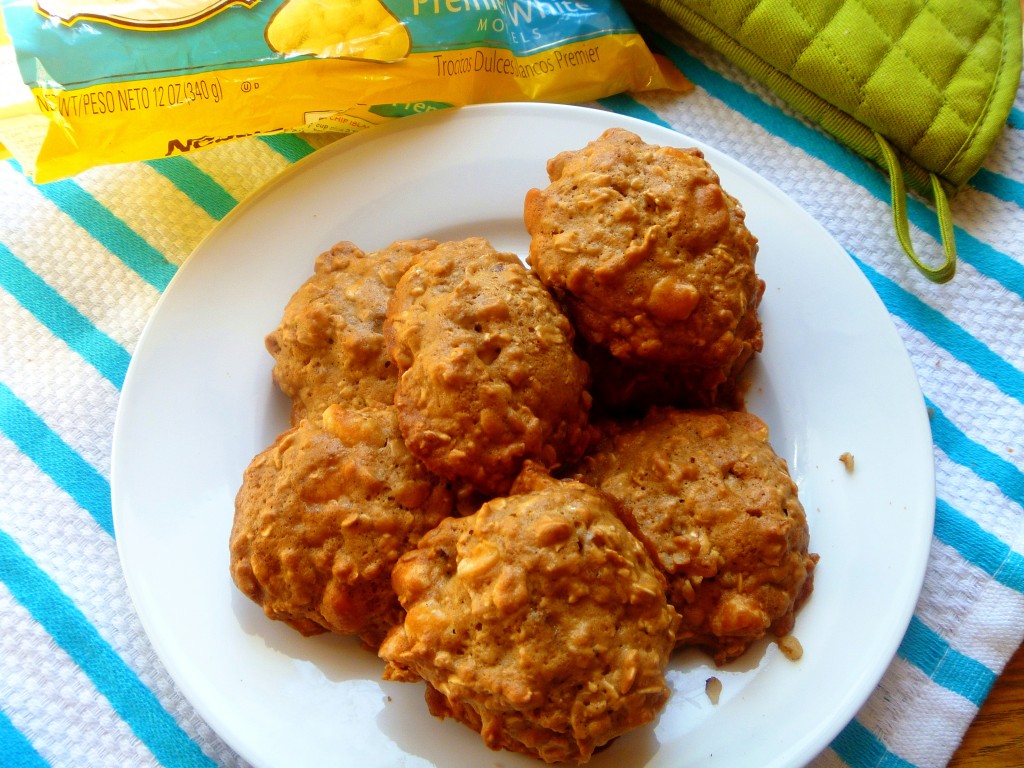 I decided that tailgating week was so much fun, I just have to continue with the tailgating recipes! When I think of tailgate foods, my mind immediately jumps to barbeque and grills and salty dips. But even I need a sweet ending to balance out all that salt.
These cookies are inspired by Cooking Light's White Chocolate, Strawberry and Oatmeal Cookies. I've been making these cookies for years; however, I can never find dried strawberries so I've always substitued dried cranberries. Seriously delicious. One time, at a party, one of the attendees said these were the best cookies she's ever tasted.
Anyways, my plan was to make the white chocolate and cranberry version of these cookies for you today. BUT, I was astonished to find that my trusty dried cranberries had gone bad. I didn't even know dried fruit could go bad! I didn't have time to run to the store so I was forced to improvise. I decided that if I couldn't have fruit, then I would add nuts. Plus, Alasdair is always nagging me to use up the various nuts I've been hoarding in our pantry. Thus, the walnut and white chocolate version of these cookies was born. The flavor is a bit milder without the sweet brightness of the cranberry but the nuttiness of the walnut mixes perfectly with the oatmeal for a nice treat.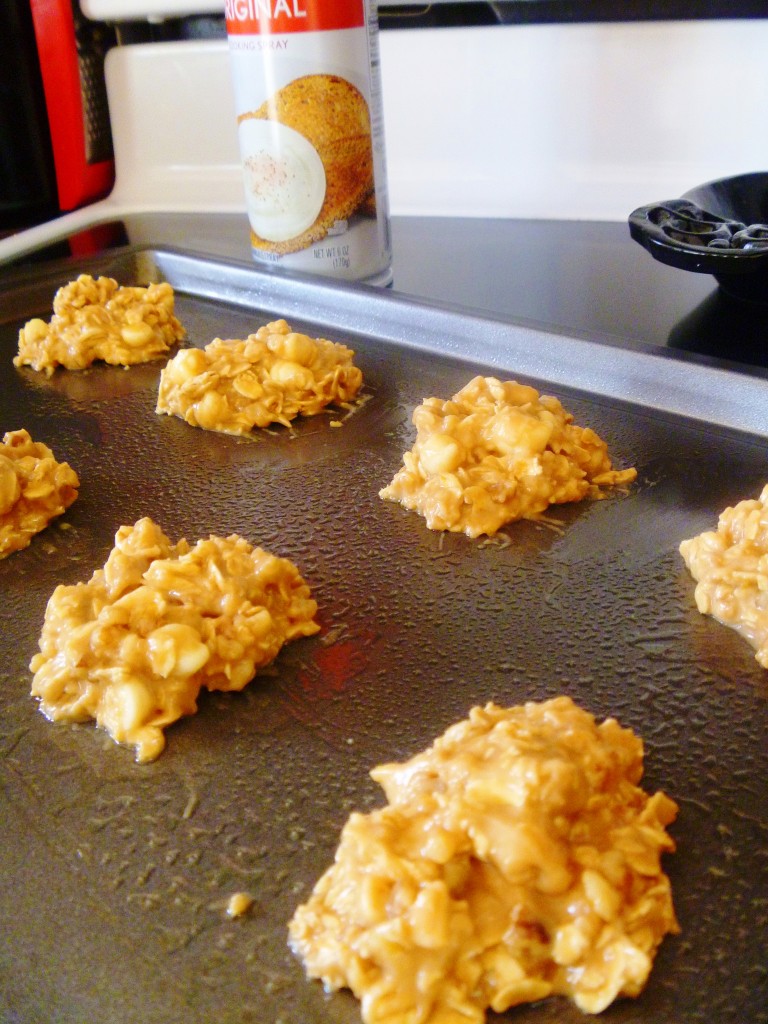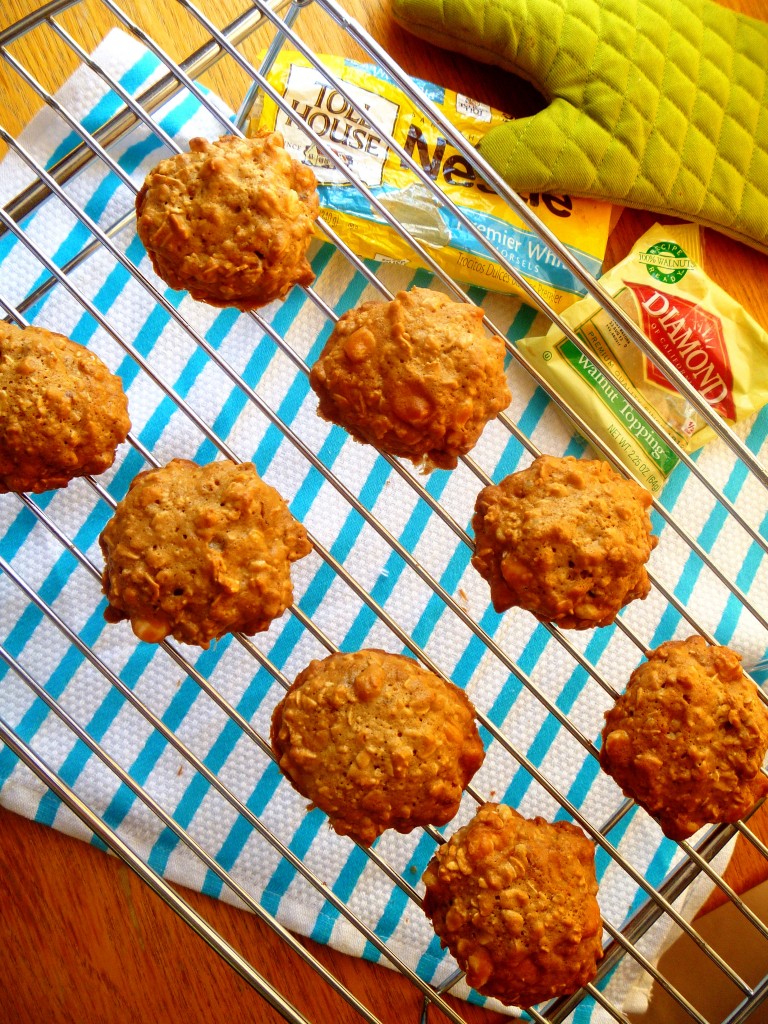 Healthy Recipe Ecstasy? These are awesome cookies for a tailgate because they're full of healthy fiber from the oatmeal and they're not overly sugary,  but they're still super yummy, especially when you get that hit of white chocolate.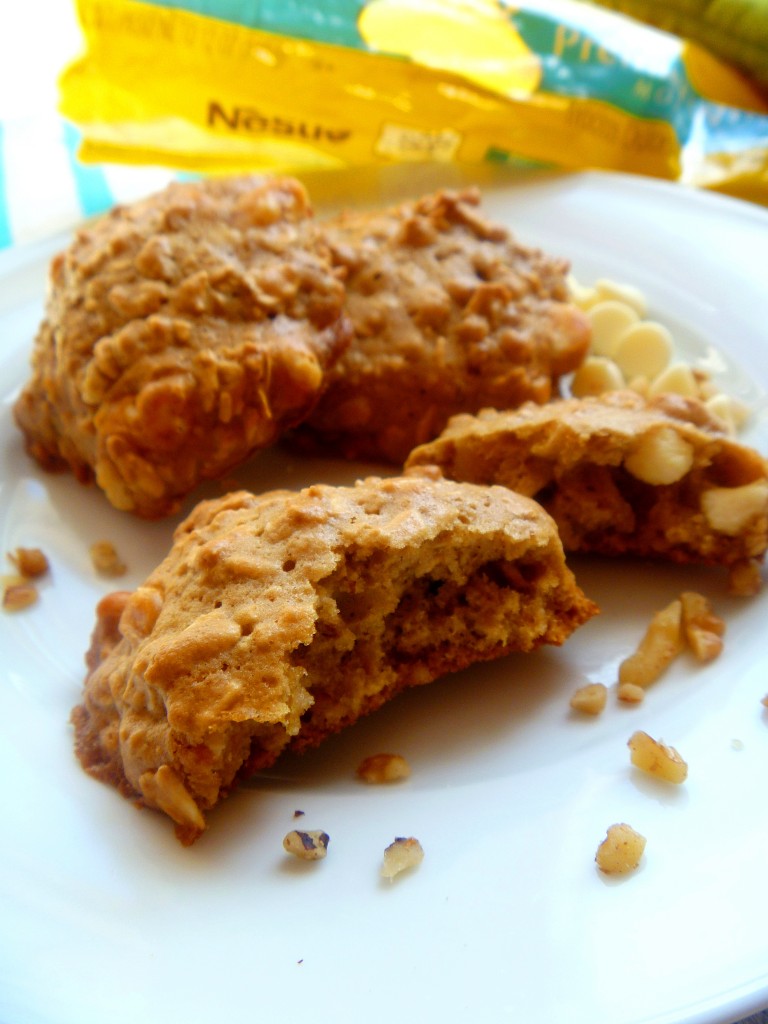 Walnut and White Chocolate Oatmeal Cookies
Author:
Healthy Recipe Ecstasy (Inspired by Cooking Light)
Ingredients
¾ cup all-purpose flour
1 cup regular oats
½ teaspoon baking soda
¼ teaspoon salt
¾ cup packed brown sugar
¼ cup butter, softened
1 teaspoon vanilla extract
1 large egg
½ cup chopped walnuts
½ cup white chocolate chips
Instructions
Preheat oven to 350 degrees. Spoon flour into a measuring cup. Recipes always say to level with a knife. I know this direction is to ensure the flour is the exact amount but I rarely take the time to actually level the flour and everything turns out fine (usually!). Combine flour, oats, baking soda and salt. Stir with a whisk until just combined.
Place sugar and butter in a bowl and mix. You can use an electric mixer and beat at medium speed until well blended or you can mix by hand which is what I did. Beat in vanilla and egg. Then, gradually add the flour mixture, beating until blended.
Finally, add the walnuts and white chocolate chips. Beat at low speed until combined. Drop dough by the tablespoon on a baking sheet coated with cooking spray.
Bake for 12 minutes or until lightly browned. When they're finished cooking, let the cookies cool for a minute on the pan then transfer to a wire rack to cool completely. The recipe makes approximately 16 cookies, depending on the size of your baking sheet you may need to use two baking sheets or do two rounds in the oven.