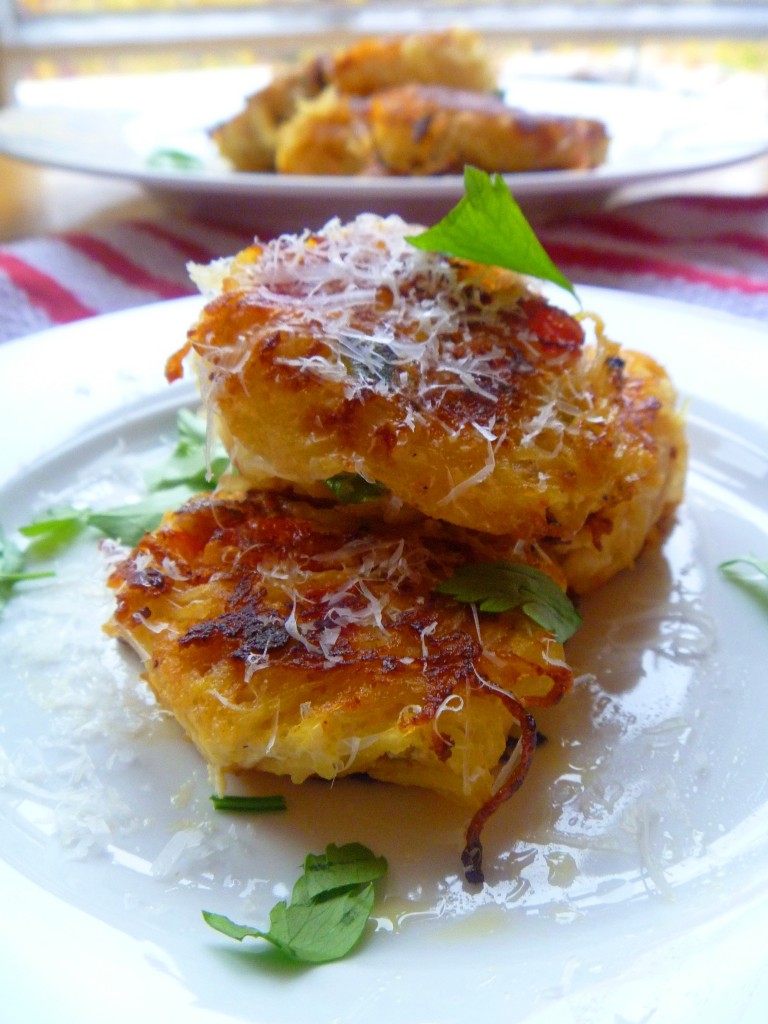 I made these fritters awhile back with leftover spaghetti squash from my Spaghetti Squash Puttanesca. The idea came out of nowhere, and the pictures turned out well which is a big feat for me because my food photography is nowhere near where I want it to be. I thought the fritters tasted good but the spaghetti squash texture inside was kind of weird so I was on the fence about whether to post the recipe. Then we bought a house and I forgot all about the fritters. Until yesterday. Yesterday, I was watching The Chew, and the cast was talking about Michael Symon's new recipe for, wait for it, SPAGHETTI SQUASH FRITTERS!!! I immediately yelled for Alasdair. "Do you remember those spicy spaghetti squash fritters I made weeks ago???"  He did. "Michael Symon made spaghetti squash fritters for The Chew!!!!" Not my exact recipe of course, but the same idea. Check out Michael Symon's fritters.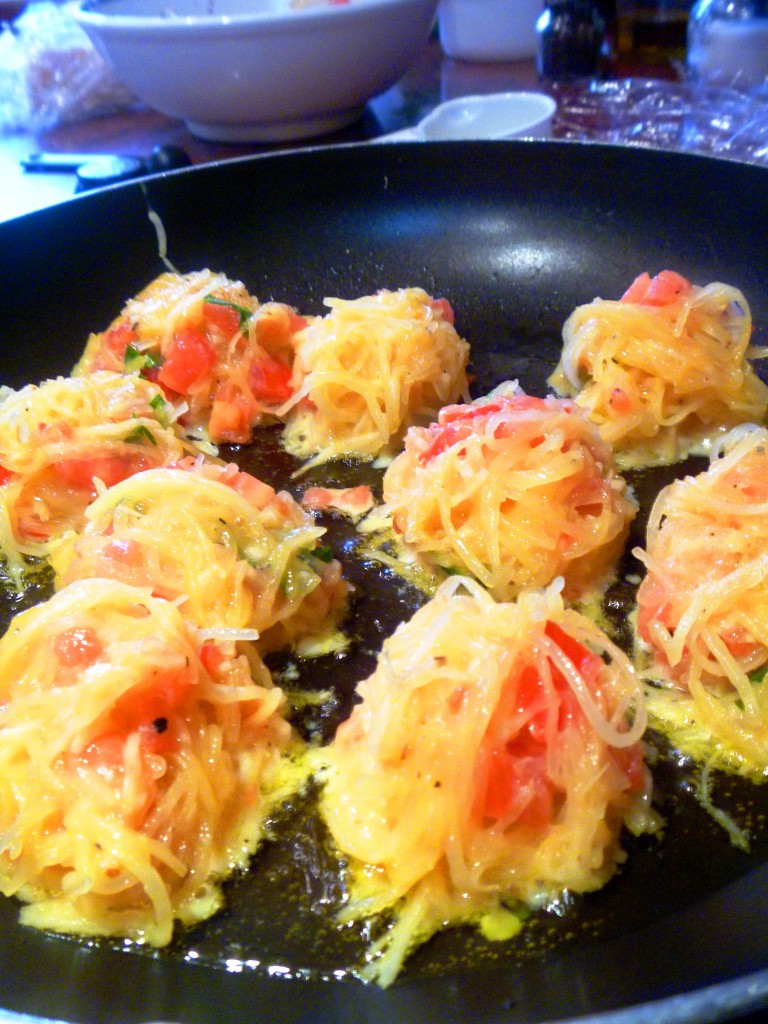 I swear on the life of my two precious cats (and my fiance) that I created this idea out of thin air and Michael Symon stole it from me! Ok, he didn't steal it from me. He's probably been making spaghetti squash fritters before I even picked up a spatula. But, I am obviously ridiculously excited that we thought of the same idea. Great minds think alike, eh Michael Symon??
Healthy Recipe Ecstasy? Like I said, these fritters tasted good. They had a crispy shell, a great flavor and just enough kick from the red pepper. My only hesitation was the weird spaghetti squash texture inside the fritter. I thought I might puree the spaghetti squash and try again, but if its good enough for Michael Symon, its good enough for me. Plus, these are a great gluten-free appetizer for parties and a fabulous way to use your leftover spaghetti squash this fall. I'm sure Michael Symon's fritters are delicious but mine are definitely healthier!

Spicy Spaghetti Squash Fritters
Author:
Healthy Recipe Ecstasy
Recipe type:
Appetizer/Side Dish
Ingredients
2 cups spaghetti squash
2 garlic cloves, minced
1 egg
½ cup plum tomatoes, diced
¼ cup Parmesan cheese
¼ teaspoon salt
¼ teaspoon red pepper flakes
⅛ teaspoon black pepper
1 tablespoon chopped fresh parsely
¼ cup olive oil
Instructions
Mix all the ingredients in a bowl. I'm assuming you're using leftover spaghetti squash, meaning you've already baked the squash, cut it open, and scraped out the spaghetti-like insides.
Heat olive oil in a large sauté pan. Take the spaghetti squash mixture and form little balls about two tablespoons in size.
Lightly fry for about 7-8 minutes over medium-high heat, then flip and fry for another four minutes. Make sure these fritters are really golden brown. You need to fry them extra long since there is no flour to coat and bind the ingredients.
Garnish the fritters with more Parmesan cheese and parsley.