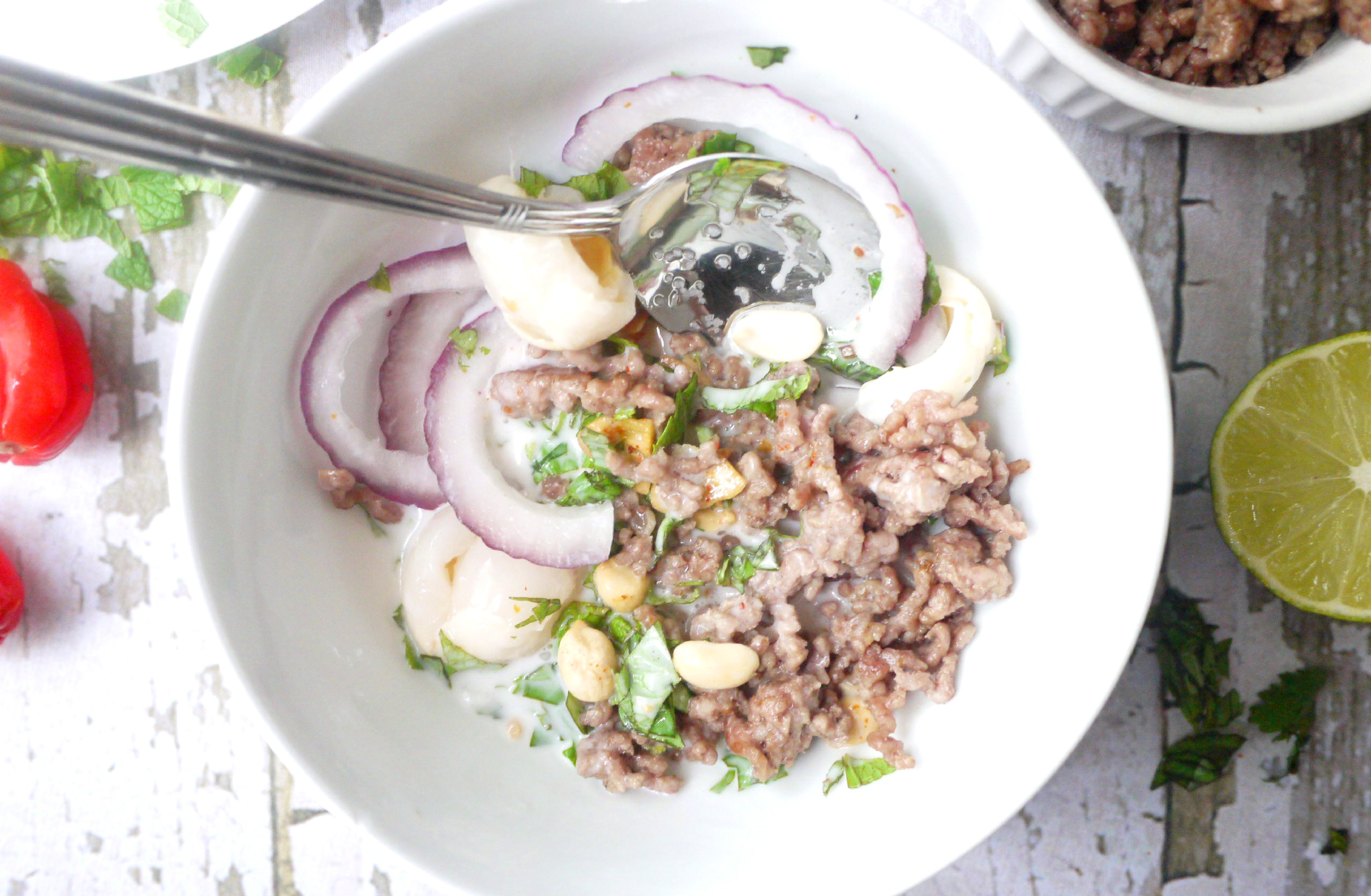 You may have noticed a new feature on my blog these past few weeks. If you have, thanks for paying attention. Gold stars all around! If not, no gold star for you! Just kidding. Look to your left. See what I'm talking about? That bright red "TalkToChef" button? There ya go. You can have your gold star now.
Anyways, the "TalkToChef" widget is an educational platform where people can get their everyday cooking questions answered in real time by a professional chef or cooking instructors via video chat. Want to know how to decorate a cake or make your dinner healthier? Just click on the button. When the "TalktoChef" folks contacted me about adding the widget to my site, I jumped at the chance, hoping it will be useful to my followers and readers. I know there have been a million times where I got stuck in the kitchen and wished Ina Garten was there to tell me how to fix my too thin caramel sauce. If you use the "TalkToChef" widget let me know what you think!
Speaking of amazing cooks and chefs, my hometown of Washington, D.C., and, actually, the whole country is currently obsessed with chef Aaron Silverman of Rose's Luxury. Never heard of it? It was only ranked the number one new restaurant in America by Bon Appetit magazine this year.
If you've lived in D.C. for a long time you probably remember the days where food choices ranged from high-end steakhouses to fast food with little in between. Those days are long gone. In the past few years, D.C. has seen a lightning quick food revolution. Look out San Francisco, NYC, and Portland – D.C. is a foodie town.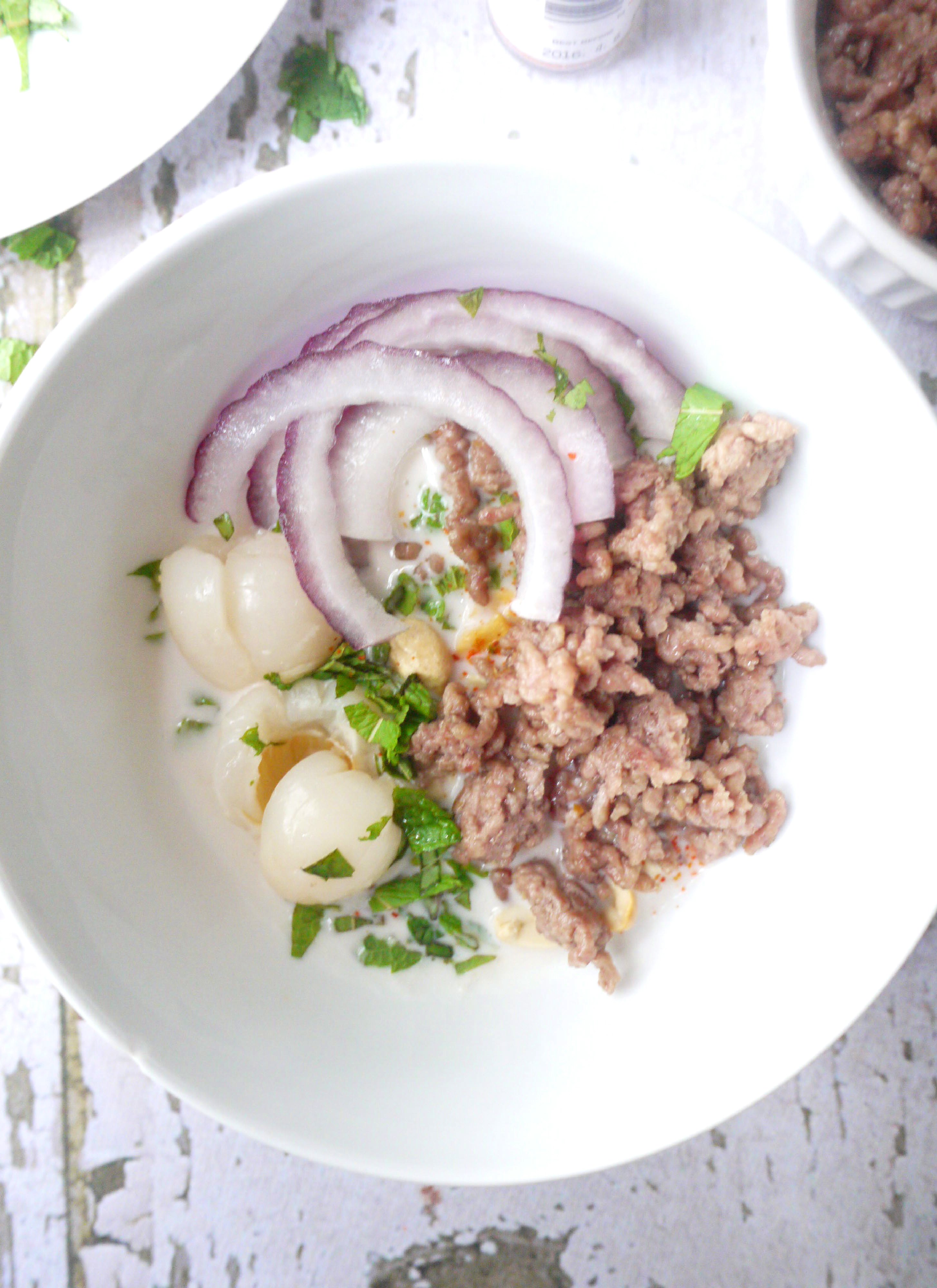 We may not have cronuts, but we have Rose's Luxury, Little Serow, Jose Andres and the Pornburger guy.
Of course, if you want to sample Aaron Silverman's treats, you may have to wait in line for about 2-3 hours…on a Monday night. Or not. Aaron changes the menu at Rose's pretty often to the delight or horror of his customers (I'm still mad that they took the potato bread off the menu but I guess the buttermilk biscuits make up for it) so, unlike some chefs who guard recipes with their lives, he has no qualms with sharing his recipes online for hardcore fans.
You may remember awhile back I made a strawberry pasta dish? Yes? Gold stars again! Well, that was the first dish I ever had at Rose's – back when Alasdair and I could dine at Rose's on a whim and before the press, the accolades, and the lines. I would be angry that I can no longer casually walk into one of my favorite restaurants except that Rose's deserves each and every award and accolade for food, service, atmosphere, you name it.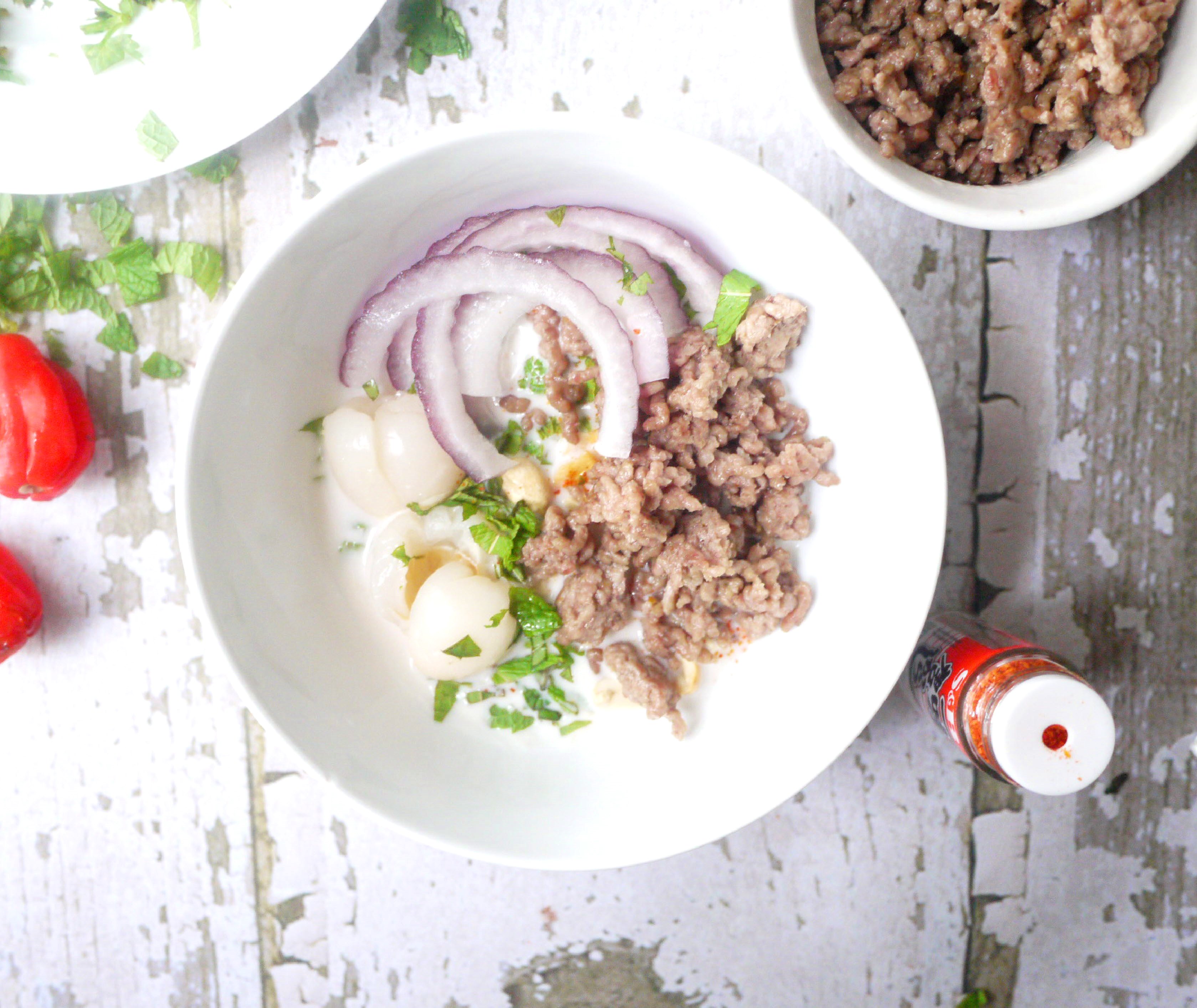 One of Rose's most famous dishes is the pork lychee salad. Even though Rose's is not a Thai, Indian or BBQ restaurant (Alasdair's three go-tos), he fell in love with this restaurant as much as I did for the pork lychee salad alone. You can imagine my surprise and delight when I found the recipe for Rose's flagship dish online. I was all, "guess what we're eating tonight? Rose's Luxury." And Alasdair was all, "hilarious, I'm not standing in line." And I was all, "you don't have to."
You can guess what came next.
Of course, one of the things about being a famous chef is that you have access to all sorts of ingredients us commoners do not. My grocery store pretty much laughed at me when I asked where the canned lychees and shichimi togarashi could be found. Fortunately, in addition to its amazing restaurant scene, D.C. has some pretty cool markets. And my favorite produce stall at Eastern Market always has the random ingredients I need despite being 1/50 the size of the grocery store.
Canned lychees? Sure. Shichimi togarashi? But of course.
Once the ingredients were located, I got down to business and got slightly nervous about the energy it would take to recreate a masterpiece. But, you know what? Everything worked out and the recipe is actually pretty darn quick and easy. The flavorful ingredients do all the work.
Of course, we were missing the amazing service and ambiance of the restaurant and the special touch a chef like Aaron Silverman brings to everything he creates.
But, if you don't feel like braving the lines, this is the next best thing.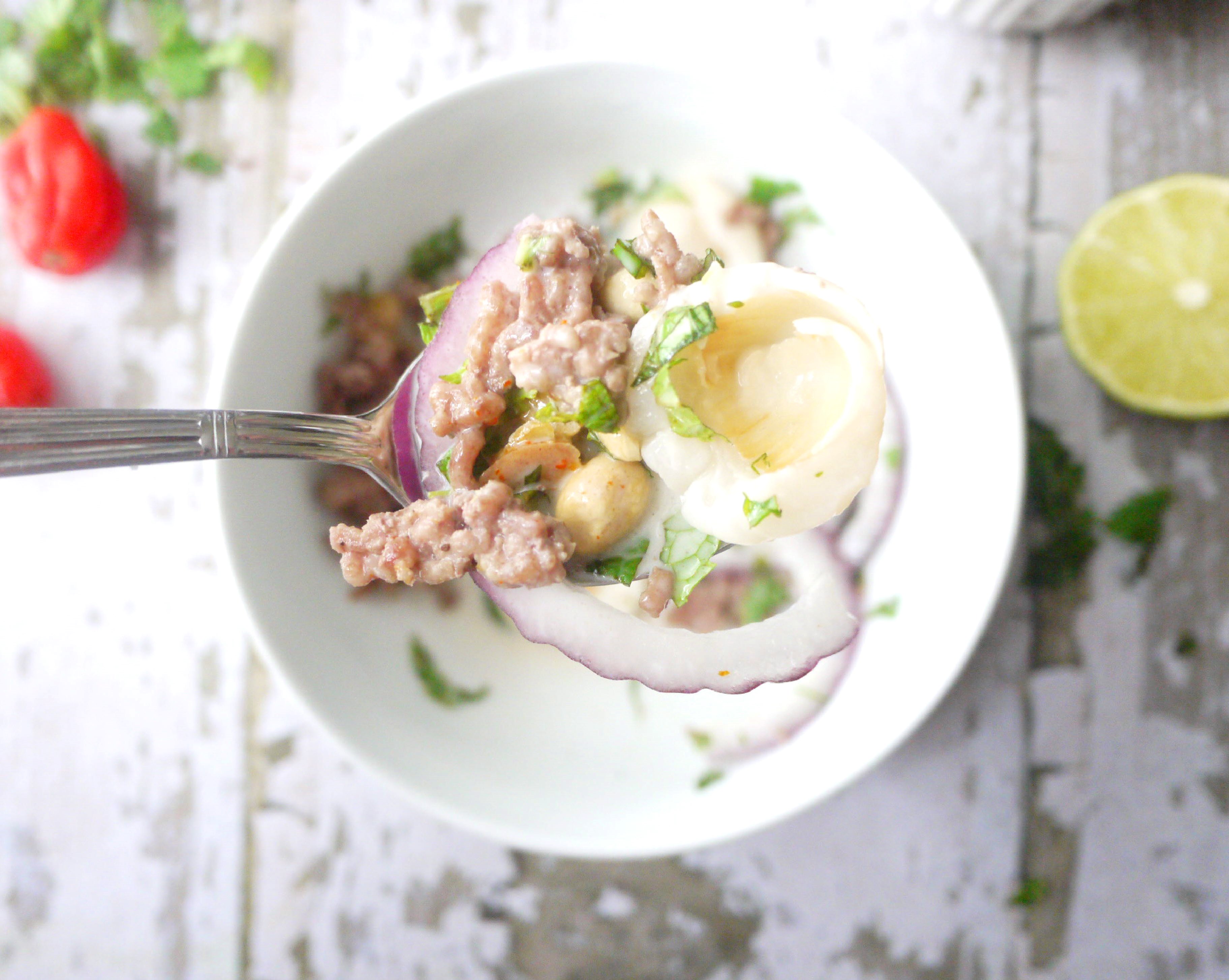 Rose's Luxury's Pork Lychee Salad
This dish is served in appetizer portion at Rose's -- it's pretty intense and spicy so that makes sense. But, if you're up for the challenge, you can certainly double the portion size and treat yourself to a pork salad entree. FYI on health: This recipe is gluten-free and dairy-free and can be made Paleo with a few minor adjustments.
Author:
Healthy Recipe Ecstasy (Barely Adapted from Chef Aaron Silverman & Bon Appetit)
Recipe type:
Appetizer or Entree
Ingredients
Coconut-Chile Sauce:
½ habanero chile, seeds removed
1 13.5-oz. can coconut milk
1 tablespoon Champagne vinegar or white wine vinegar (I used apple cider vinegar because I was out of white wine vinegar and it worked fine)
1 teaspoon sugar
1 pinch kosher salt
Sausage and Garlic:
6 garlic cloves, thinly sliced
½ cup vegetable oil
12 oz. ground pork, preferably shoulder
¾ teaspoon crushed red pepper flakes
Freshly ground black pepper
Kosher salt
Assembly:
⅓ cup fresh basil leaves, roughly chopped
⅓ cup fresh cilantro leaves, roughly chopped
⅓ cup fresh mint leaves, roughly chopped
⅓ cup salted, roasted peanuts
¾ teaspoon shichimi togarashi (this is a spice mix that can be found at Asian grocery stores or very cool markets!)
1 20-oz. can lychees, drained, halved
½ small red onion, thinly sliced
3 tablespoons fresh lime juice
Instructions
Coconut-Chile Sauce:
Bring chile and coconut milk to a simmer in a large saucepan over medium heat and cook, stirring occasionally, until reduced by half, 10–15 minutes. Remove from heat; discard chile. Add vinegar and sugar, stirring until sugar dissolves; season with salt. Let cool.
Sausage and Garlic:
Cook garlic and oil in a medium skillet over medium heat, stirring often, until garlic is golden brown, about 5 minutes. Using a slotted spoon, transfer garlic to paper towels to drain; season with salt.
Increase heat to medium-high. Add pork and red pepper flakes to skillet; season with salt and pepper. Cook, breaking up pork and pressing firmly to help brown, until cooked through and crisped in spots, 6–8 minutes.
Assembly:
Spoon sauce into bowls and top with garlic, basil, cilantro, mint, peanuts, and shichimi togarashi. Spoon pork along with some pan drippings into the sauce. Top with lychees and onion. Drizzle everything with lime juice.
To Eat:
Mix all the ingredients together so you get all the flavors in every bite!