I'm getting crazy with strawberries this week. First, I put strawberries on toast along with some avocado and chocolate, and, now, I'm putting strawberries in pasta. Tomato sauce pasta. That's right. Crazy up in here.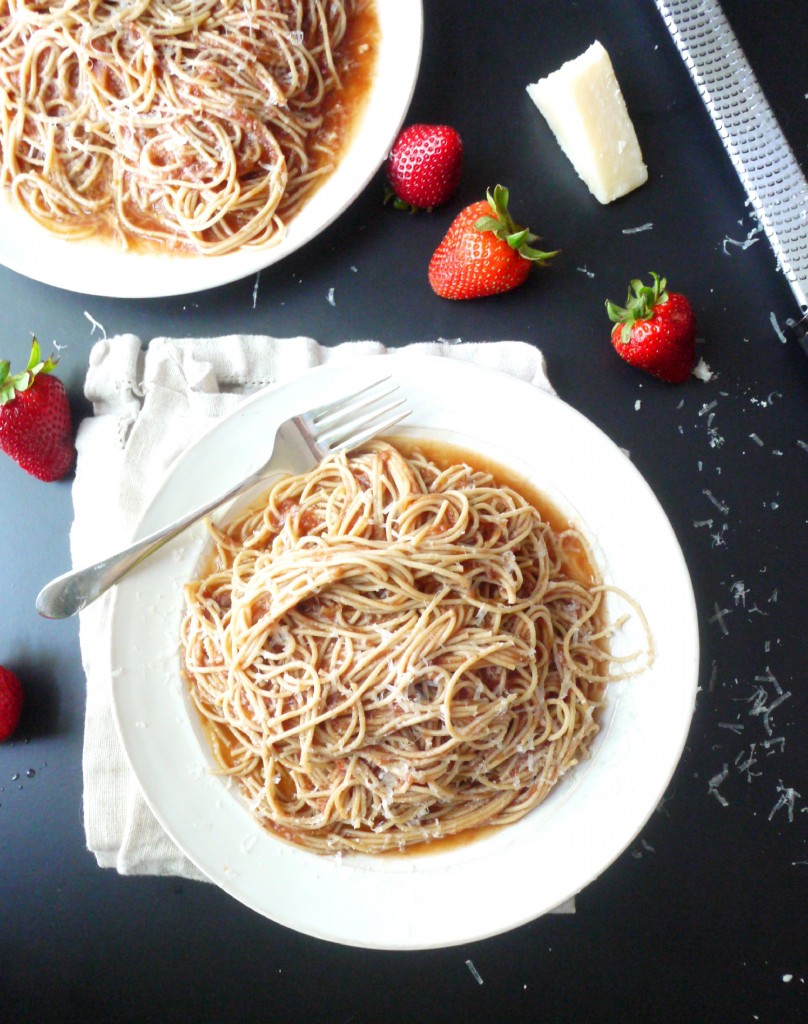 If you live in D.C., you may have heard of a little restaurant called Rose's Luxury. And you may know that Rose's Luxury was recently nominated for a James Beard award and now has a line of people forming an hour before doors open. Well deserved, I should add. Alasdair and I are Rose's fans from way back in the beginning – before all the hype and the crazy lines and the rave reviews. We went to Rose's on a whim after work one night. One of those "I don't want to cook so let's try that new restaurant in our hood because apparently they serve lobster popcorn soup and that sounds amazing" nights. In a moment of pure spontaneity, we fell in love – with the restaurant.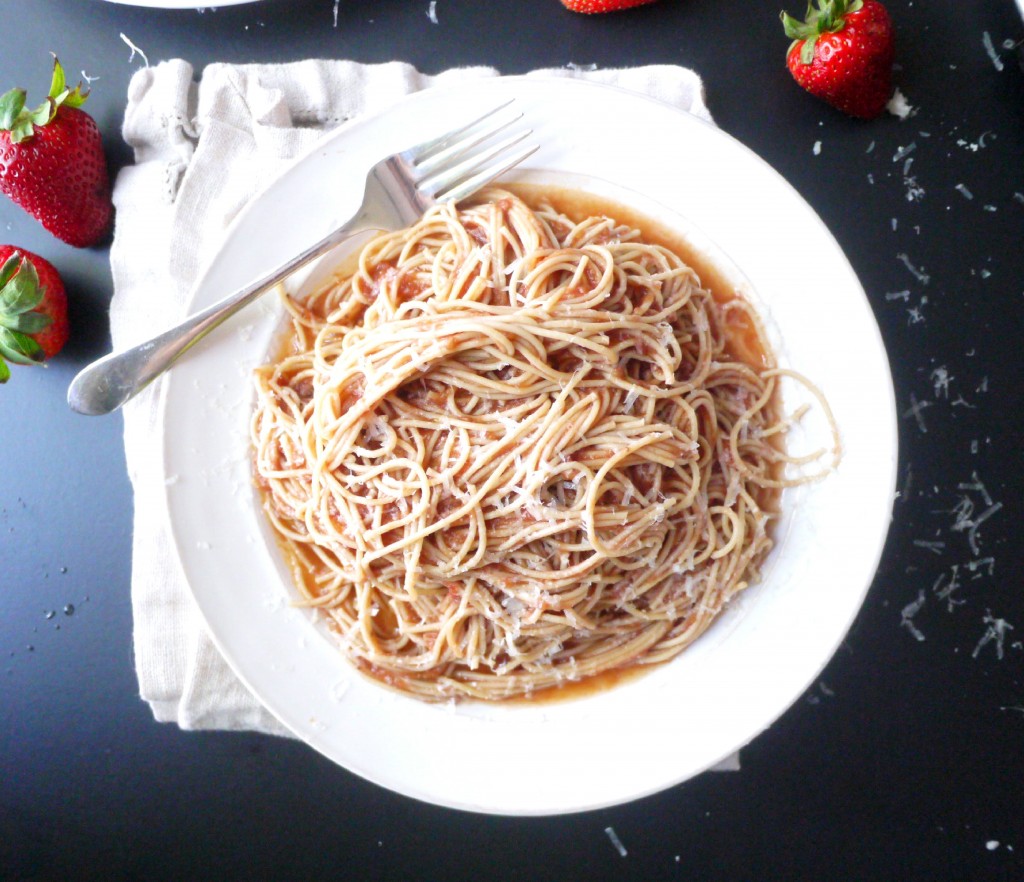 We came for the lobster popcorn soup and we kept going back because of the amazing potato bread, the ridiculously knowledgeable and friendly staff, and the strawberry pasta. If the lobster popcorn soup is the attention whore of the menu, the strawberry pasta is the wallflower. It's quiet and simple, easily overlooked as a bit strange, but once you coax it off the wall menu, it starts dancing a jig with the best of them. That's right. It danced a jig in my mouth to a song of sweetness and spiciness and you're-eating-simple-spaghetti-with-tomato-sauce-but-something-is different-in-a-good-way-ness.
Now, Rose's is the place we take visitors to impress them with our D.C. foodie-ness. Unfortunately, Rose's has become too good for its own good (well, actually, our own good) because it's so much harder to get a table. What's a girl to do when she needs some strawberry pasta but doesn't want to wait in line for hours?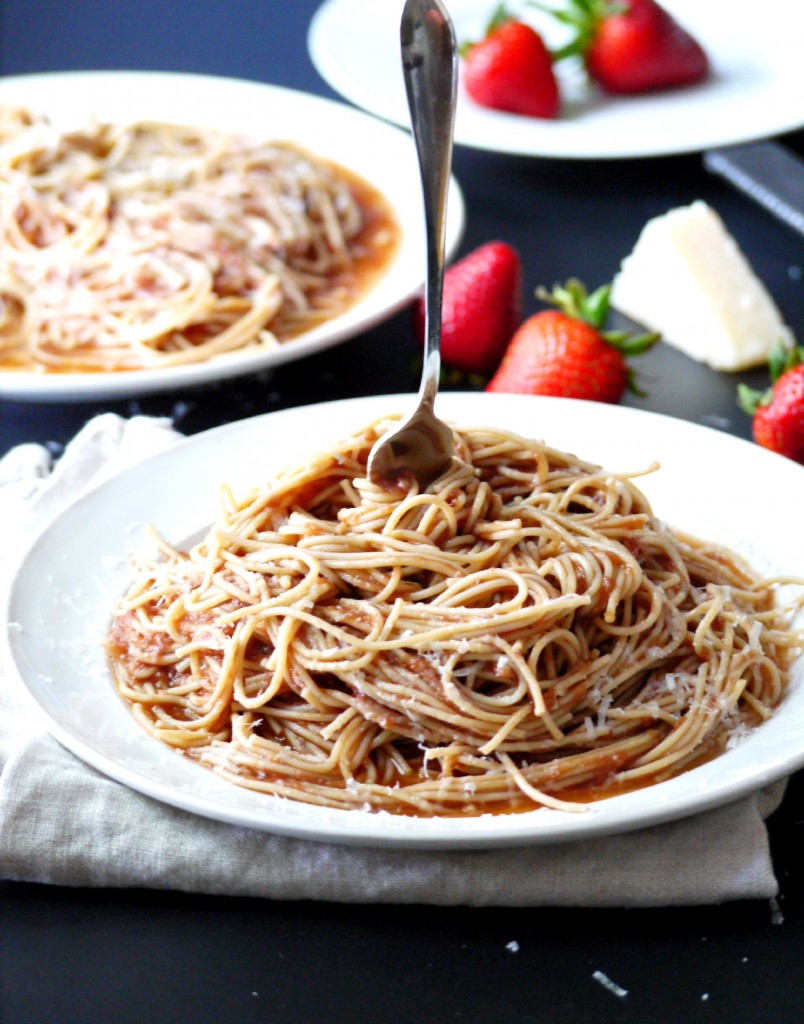 Well, Rose's must have sensed my need for this crazy good pasta because they graciously shared their recipe with the Washington Post. Hallelujah! And, now, in full-on pay-it-forward mode, I'm sharing it with you. You're welcome. Of course the home pasta is never going to be quite as good as it is at the restaurant – they're magicians there, I swear. But, for a home kitchen version, it rocks my world. Now, if I could just get their potato bread recipe my life would be complete. 🙂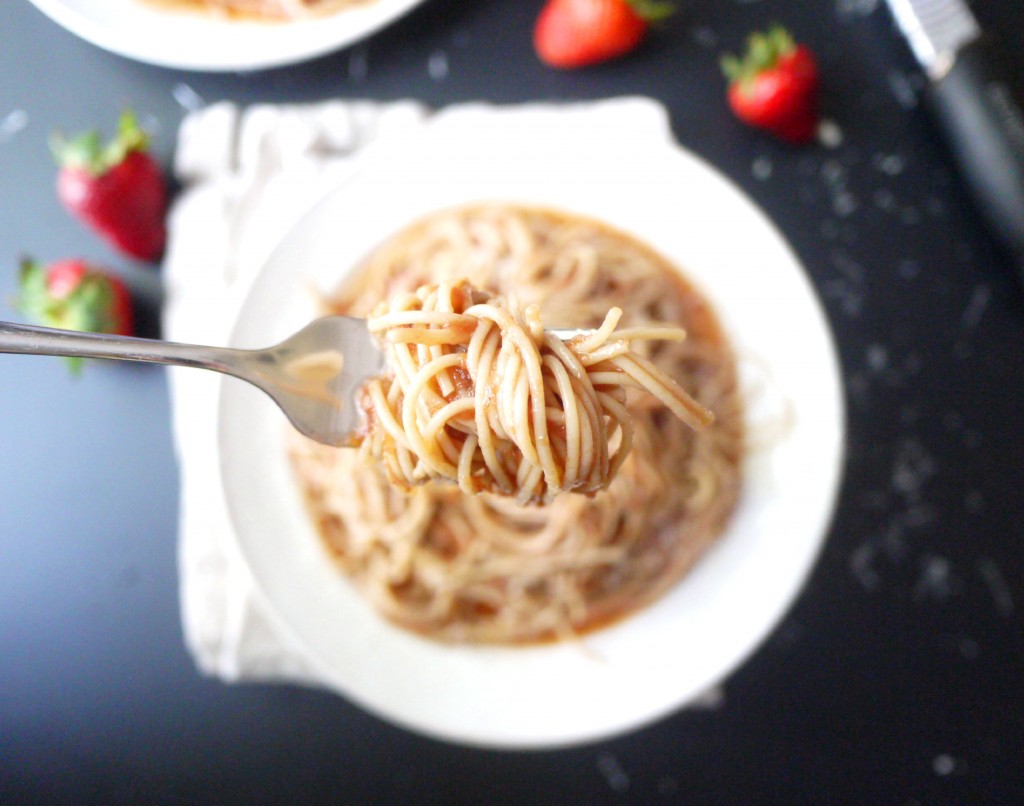 Strawberry Pasta with Pecorino
This recipe is slightly adapted from Rose's Luxury.
Author:
Healthy Recipe Ecstasy
Ingredients
1 28-ounce can San Marzano crushed tomatoes
2 cups sliced strawberries
1 tablespoon extra-virgin olive oil
1 teaspoon raw sugar
¾ teaspoon coarse salt
½ teaspoon crushed red chili flake
Pecorino romano cheese and freshly-ground black pepper, for garnish
Instructions
Stew together tomatoes and strawberries for about 30 minutes in a large pot on medium-low, until reduced a little, stirring occasionally.
Stir in olive oil, sugar, salt, and chili flake.
Using a food processor or immersion blender, puree the tomato strawberry mixture. You can puree until smooth or leave the sauce slightly chunky. Just depends on your texture preference. I had the sauce slightly chunky at the restaurant so I pureed it smooth at home. Set aside.
Cook pasta according to the package. Drain and reserve a tablespoon of pasta water.
Toss together the pasta and the sauce, adding the pasta water, if necessary to loosen up the sauce.
Finish with fresh cracked pepper and pecorino cheese.