You know what I love most about baby showers? The food. Are you surprised? Yeah, didn't think so. I think we can all agree that the games and the hours of unwrapping tiny little outfits and weird breastfeeding-related gadgets get a little, well, boring. But never the food. I mean who can bore of tiny hors d'oeuvres, yummy salads and the inevitable sweet pastry treat? Not this girl.
That's what I love so much about throwing these virtual showers for my awesome blog friends. There's no dressing up, making small talk or creating who knows what out of diapers. It's all about what's important – celebrating mamma and baby and talking about some delectable party eats.  Oh and amazing giveaways – hello $100 worth of seafood! The only drawback is that we don't actually get to eat all this food because, well, virtual and all. But no system is perfect!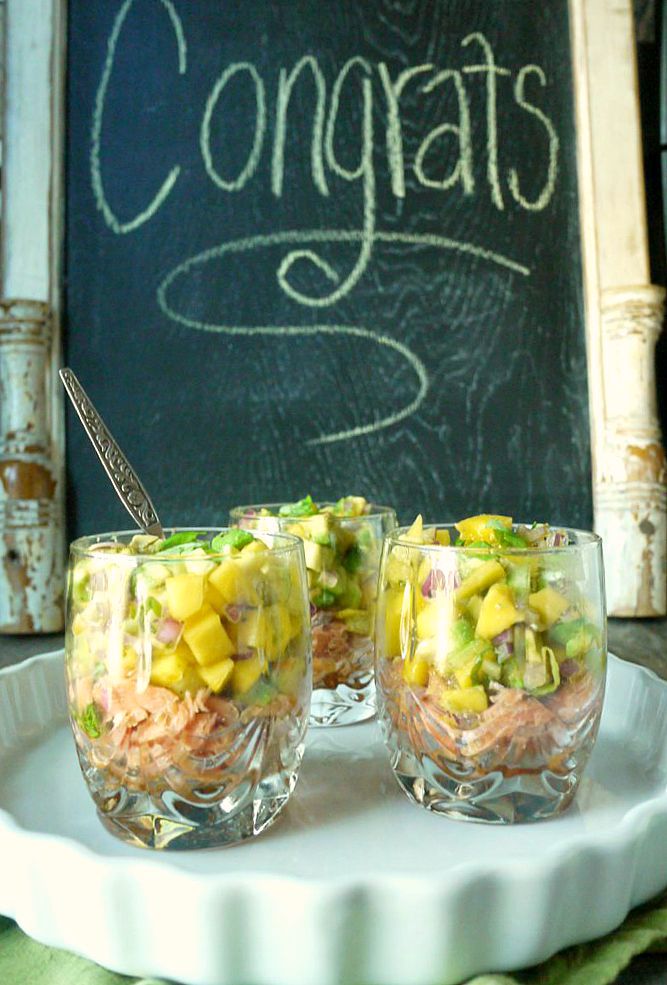 Speaking of mamma and baby, I am especially excited about this little one's arrival. Not only do Michelle from Vitamin Sunshine and I share the same name, but her husband's name is Alexander and her son's name is Xander and my husband's name is Alasdair (the Scottish Gaelic version of Alexander) and our son's name is Alexander. Oh, and we both decorated our nurseries with big world maps on the wall!  Can you say twinsies? Seriously, it's like we're blog/baby soul mates!
Michelle has some really great light and fresh recipes on her blog and I just know she will love these Roast Smoked Salmon and Mango-Avocado Salsa Cups (recipe below)! And don't get me started on the rest of the shower menu. My mouth is watering just looking at it!!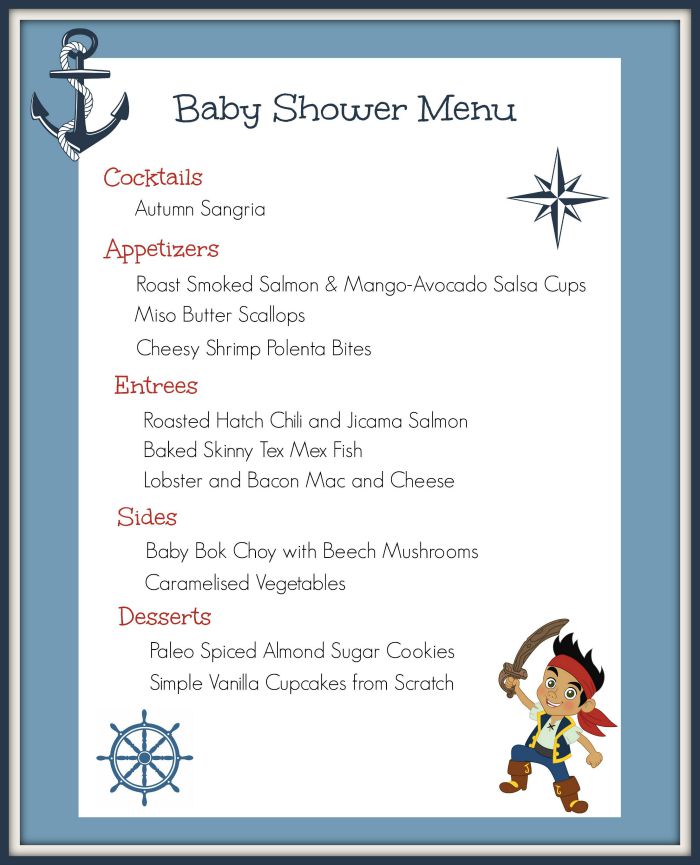 Appetizer


Roast Smoked Salmon and Mango-Avocado Salsa Cups | Healthy Recipe Ecstasy
Cheesy Shrimp Polenta Bites | Healthy Nibbles and Bits
Miso Butter Scallop | Omnivore's Cookbook
Main

Lobster and Bacon Mac & Cheese | Wok and Skillet
Baked Skinny TEX MEX Fish | Bam's Kitchen
Roasted Hatch Chili & Jicima Salmon | Strength and Sunshine
Sides

Baby Bok Choy with Beech Mushrooms | Nogojis No Glory
One Pan Caramelised Vegetables | The Big Man's World
Dessert & Drink


Paleo Spiced Almond Sugar Cookies | Cotter Crunch
Simple Vanilla Cupcakes from Scratch | Natural Chow
Autumn Sangria | Simply Fresh Dinners
The giveaway will be open from September 30 to October 14, 2015 (13 days). It ends on October 14 at 11:59pm EST (New York Time). This giveaway is open to the worldwide audience. If you're based outside the US, you will receive a $100 Amazon gift card instead.
A big thanks to Sizzlefish.com for donating the fabulous prize for our Giveaway!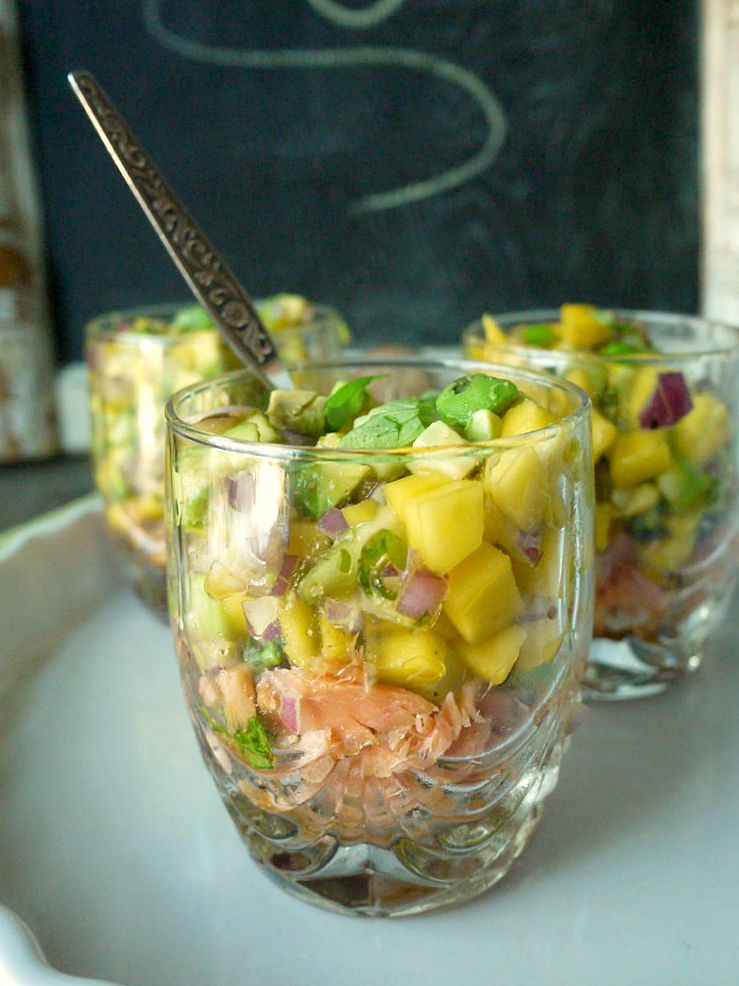 Roast Smoked Salmon and Mango-Avocado Salsa Cups
Author:
Healthy Recipe Ecstasy
Ingredients
14 ounces roast smoked salmon
2 tablespoons soy sauce
2 tablespoons honey
2 tablespoons olive oil
Juice of 1 lime
Pinch of dried chili flakes
2 tablespoons fresh basil, roughly chopped or torn, plus more for garnish
Mango-Avocado Salsa:
1 mango, peeled, stone removed and cut into small chunks
2 avocados, chopped into small chunks
½ of a cucumber, peeled and chopped into small chunks
½ of a red onion, very finely chopped
Sea salt and freshly-ground black pepper, to taste
Instructions
Remove skin from salmon and break into bite-sized flakes. Set aside.
Whisk soy sauce, honey, olive oil, lime juice and dried chili flakes together. Stir in the basil. Set aside.
Gently mix the mango, avocado, cucumber, and onion together. Pour half the dressing over the mango-avocado salsa and toss well to coat. Season to taste with salt and pepper.
Add the remaining dressing to the salmon and toss well to coat.
Spoon the salmon into six mini glasses and top with a layer of mango-avocado salsa. Garnish with fresh basil.