I'm late, I'm late, I'm late for an important date! The date being my usual Thursday morning blog deadline. I know that at this point in my blogging career, I'm probably the only person who notices when I miss a self-imposed blogging deadline, but I still feel guilty about it. In my defense though, we've had four visitors staying at our house for the past two weeks and two of those visitors are under the age of 4.
Let's just say that Alasdair and I got a very real glimpse into life with kids, and, from what I can see, it's fun, exhausting, rewarding, exhausting, frustrating, rewarding, exhausting. Do I have that right, moms? But, really, even though I'm looking forward to sleeping pretty much the entire weekend, we had a fantastic time with Alasdair's nieces. I'm extremely lucky that I love and enjoy being around my husband's family. How could I not love those adorable, chocolate-y faces?? Don't even get me started on their little British accents. No words for the cuteness.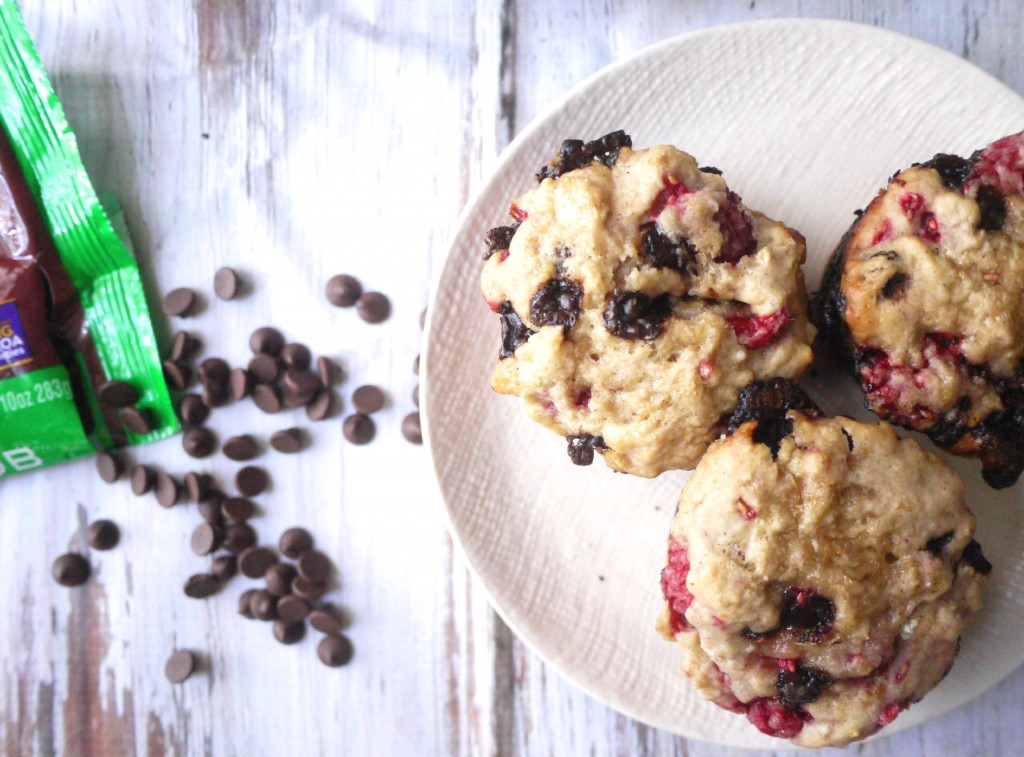 While they were visiting, I tried to tap down my Susie Homemaker desires so I didn't stress myself out. I made big pots of spaghetti and slow-cooker pork and said "yes" to takeout. However, I couldn't stop myself from doing just a little baking (thanks for the muffin recipe, Sally!). Is it just me or is there something about having kids in the house that just makes you want to bake cookies? Especially cookies topped with flaked sea salt.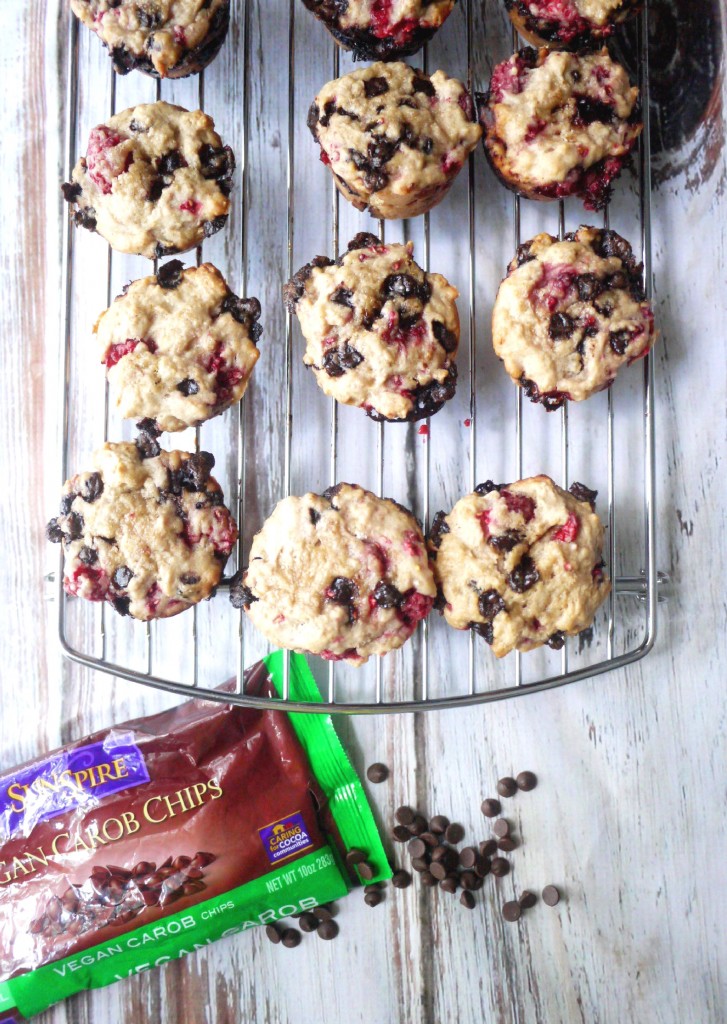 After I made the muffins, my sister-in-law told me about these yummy-sounding raspberry and white chocolate muffins she makes at home. P.S. Apparently your husband's brother's wife is not actually your sister-in-law but "brother-in-law's wife" is too much of a mouthful and I don't have any sisters so I'm adopting the "brother-in-law's wife" = "sister-in-law" mantra. Anyways, back to the muffins. I kept making promises to bake raspberry and white chocolate muffins during their visit but it never happened. On my one free day I pretty much crashed out on the couch for a full eight hours. And, now, I can't get these muffins out of my head.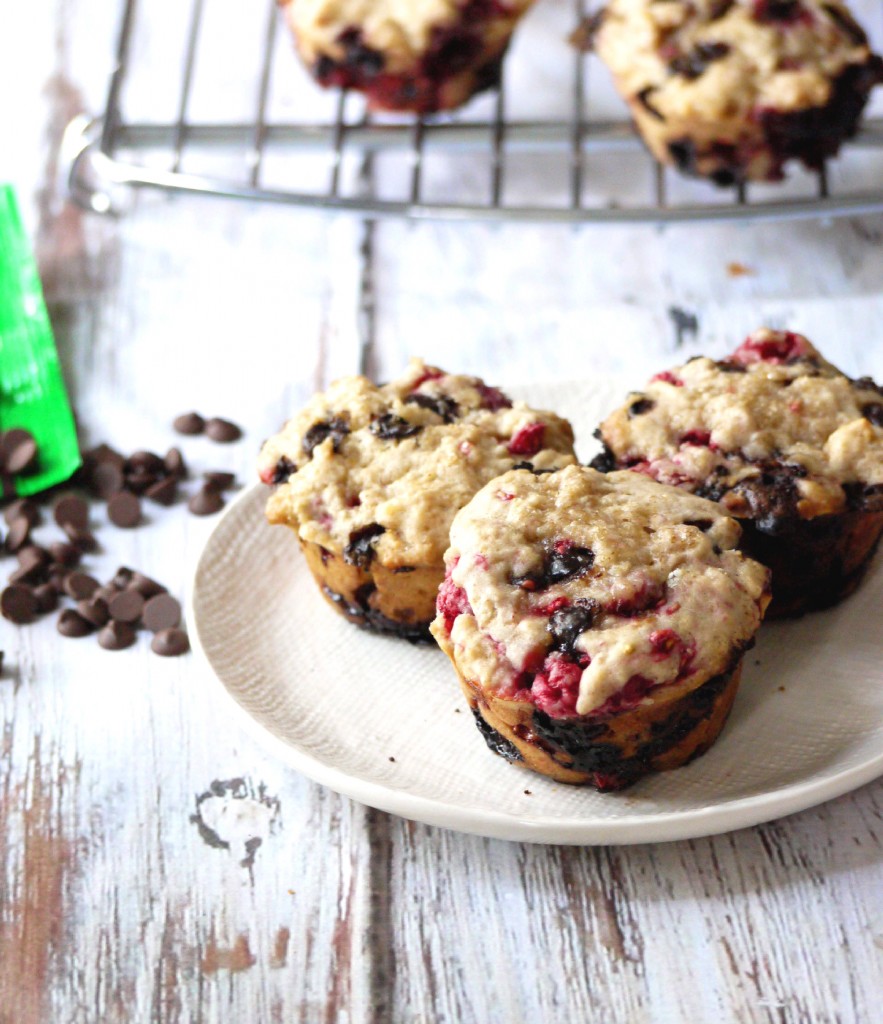 So, I'm making them for you all. Kind of. Sort of. As I spent the last two visitor-filled weeks stuffing my face full of pasta, takeout, leftover cookout food and "crisps," I really cannot justify making muffins unless they are like the world's healthiest muffins. Are these the world's healthiest muffins? Probably not. But I tried. Real hard. You know, applesauce and coconut oil instead of butter and eggs, almond milk instead of buttermilk, vegan white chocolate, tons and tons of fresh raspberries. Except my organic market didn't have vegan white chocolate (first world problems, I know). So, I made the executive decision to switch from white chocolate to vegan carob chips.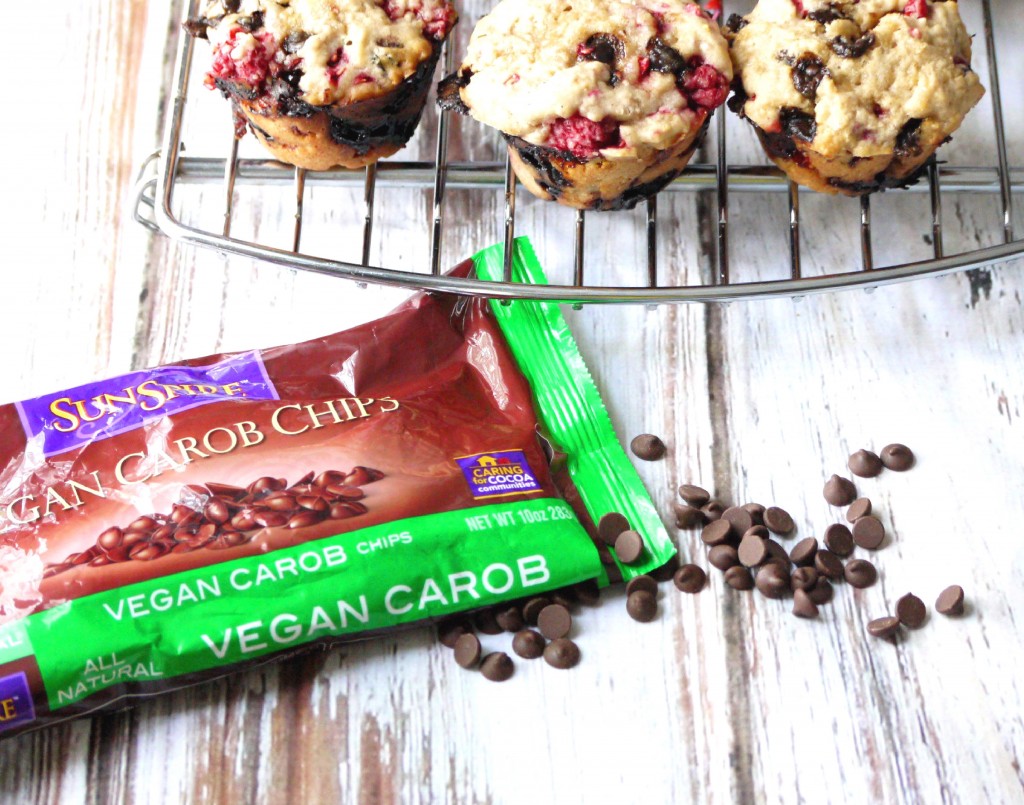 That's right. I'm going carob. I've actually never eaten carob before. Verdict? Not bad. Not chocolate, but not bad. And, once they're all baked into the muffins, you can't taste much of a difference. Verdict on the muffins? They look a little funny but they taste pretty good. They're extremely tart – maybe because they are just chock full of raspberries. I mean CHOCK FULL. They've got a nice crunchy top and moist insides. They're light and fluffy and not overly sweet, which I like. If I want a sweet muffin, I might as well just make cupcakes, amiright?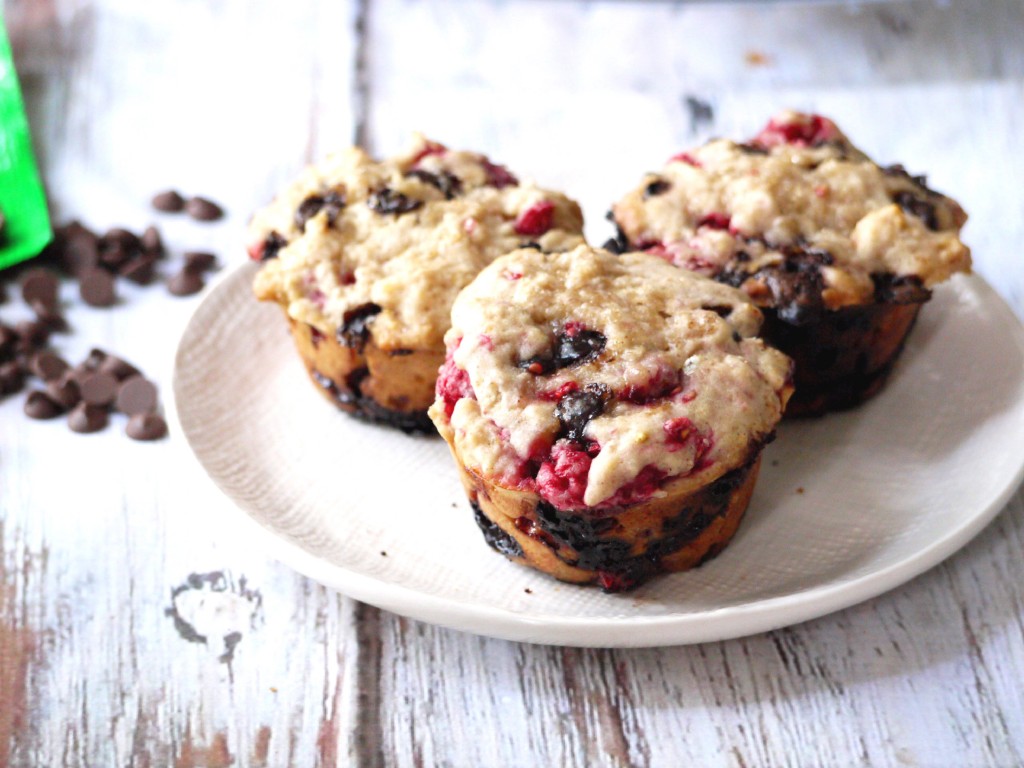 Can you mail muffins across the pond? I'm dying to see our little nieces with melted raspberries and carob all over their faces. 🙂

Vegan Raspberry and Carob Chip Muffins
Author:
Healthy Recipe Ecstasy
Recipe type:
Breakfast/Brunch
Ingredients
3 cups all-purpose flour
1 tablespoon baking powder
1 teaspoon kosher salt
2 teaspoons ground cinnamon
⅔ cup unsweetened applesauce
1 cup raw cane sugar, plus more for sprinkling on top
1 cup almond milk, room temperature
½ cup coconut oil, melted
2 teaspoons vanilla extract
2 cups fresh or frozen raspberries
1 cup vegan carob chips
Instructions
Preheat oven to 400 degrees.
In a large bowl, gently toss together flour, baking powder, salt, and cinnamon. Mix until all dry ingredients are combined.
In a medium bowl, whisk together applesauce and sugar until the sugar dissolves. Whisk in almond milk, coconut oil, and vanilla extract.
Fold wet ingredients into dry ingredients and gently mix everything together with a wooden spoon or spatula until the flour is just incorporated. Don't over-mix. The batter will be extremely thick and somewhat lumpy.
Gently fold in the raspberries and carob chocolate, taking care not to smoosh the raspberries.
Spoon batter into muffin tins coated with cooking spray, filling all the way to the top. Sprinkle with coarse sugar.
Bake for 25-28 minutes. A toothpick inserted in the center should come out clean. Allow the cupcakes to cool in the pans for 2 minutes and then cool on a wire rack for 10 minutes.
link