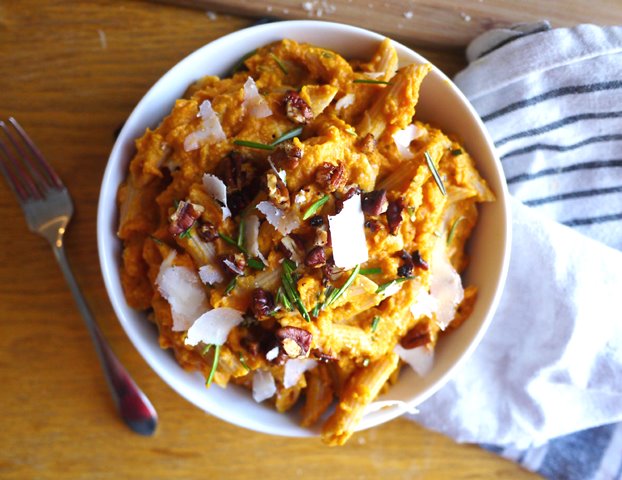 Ahhh fall. That time of year when the air gets brisk, the leaves change colors, and Starbucks starts serving pumpkin lattes, pumpkin muffins, pumpkin tea, basically anything of the pumpkin variety. Social media is filled with folks espousing all the various qualities of pumpkin pie in anticipation of the holidays. And the grocery store has been hawking cans of pumpkin puree at constantly decreasing prices for the past few weeks. My point is, that at this time of year, most of America goes a little coo-coo for pumpkin-flavored eats (and drinks). Except me, that is. I don't drink lattes. I like my tea green, not orange. I think pecan pie beats pumpkin pie any day of the week. And, though I won't kick a pumpkin muffin off my plate, it doesn't excite me like it seems to excite the pumpkin-eyed masses.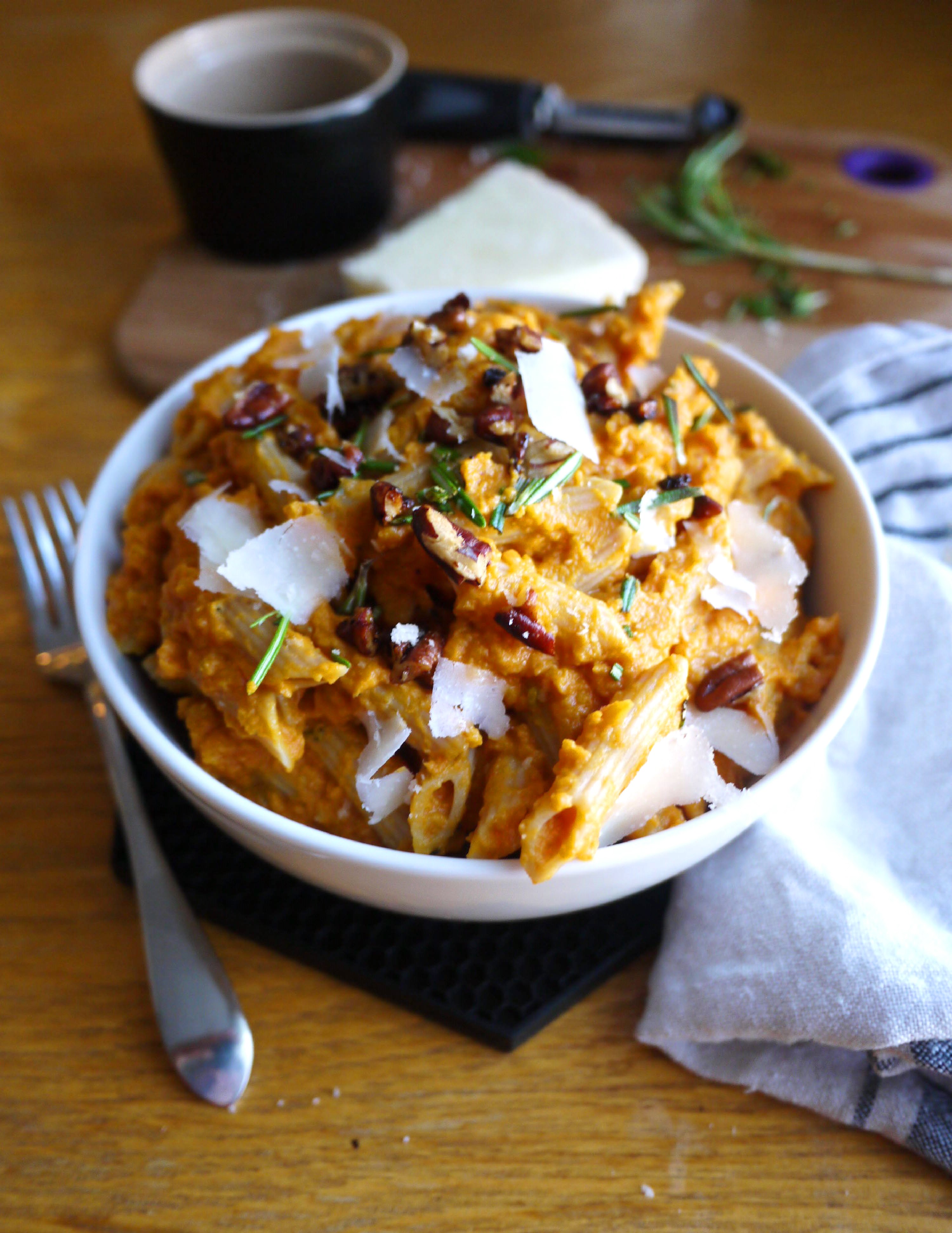 This year, however, I felt like I couldn't turn my back on pumpkin season. As a healthy-ish food blogger, I felt obligated, make that mandated, to embrace this in-season produce which actually has a myriad of health benefits when it's not mixed with cream and sugar and dumped into a buttery pie crust. But, I decided, if I was going to do pumpkin, I was going to do it my way. No trendy lattes or baked goods. Instead, during Halloween, I roasted some pumpkin seeds in a moderate amount of yogurt butter and sea salt. Amazing snack, by the way. As an aside, I fully acknowledge that there was complete radio silence on this blog during the Halloween holiday — my favorite holiday. That's because Halloween fell on the day before our D.C. wedding reception weekend began. So, like last year, when we closed on our new house on Oct. 31, I was a little too preoccupied to celebrate Halloween. And, if I can't do it right, then I refuse to do it at all. Next year, though, watch out Halloween. I'm waiting for you.
Anyways, regardless of the craziness that was our lives on the 31st, I did manage to roast some pumpkin seeds while handing out Halloween candy. Then, I got to work on a fall appropriate pasta dish, complete with pumpkin, rosemary and these amazing spiced pecans I had at Tupelo Honey Café in Asheville, NC. Doesn't that combination make your mouth water instantly? Just me? Ok, I'll admit – at first, I was hesitant, because dumping a whole can of pumpkin puree on some penne pasta had the distinct possibility of turning out, how shall I say this politely? Disgusting. But I needn't have worried. The combination of nutty, sweet, savory and cheesy pasta is so unexpected but so right that I think I may be a pumpkin convert from here on out.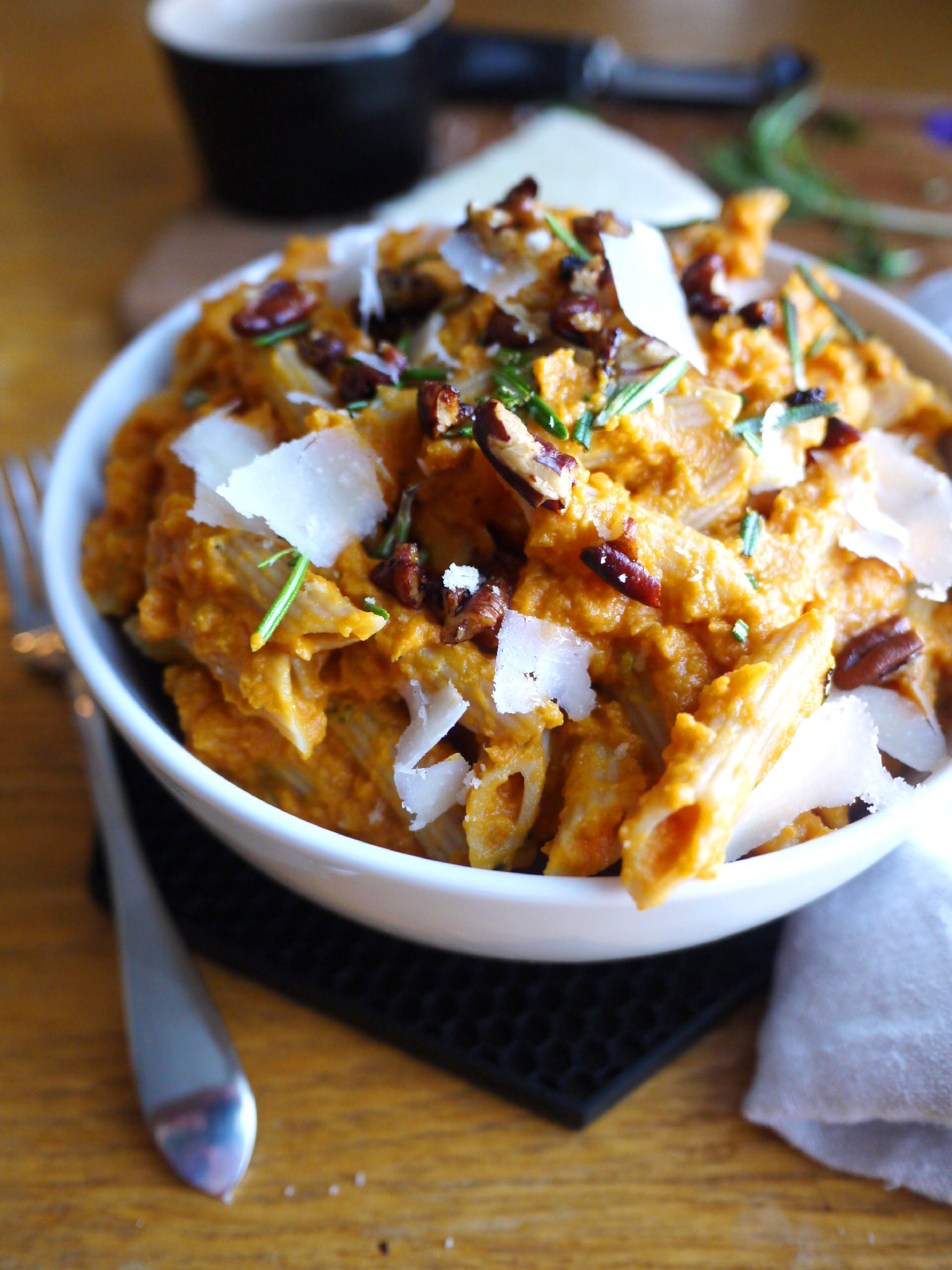 Healthy Recipe Ecstasy? I mentioned that pumpkin has a few health benefits. Well, like its orange cousins the squash, sweet potato and carrot, pumpkin has plenty of the antioxidant beta-carotene, which may play a role in cancer prevention. Pumpkins also have a ton of potassium, vitamin C and fiber. You know what else contains a whole ton of fiber? Whole-wheat pasta. The combination of the fibrous pumpkin and pasta means that you can eat less and feel full way longer than other pasta dishes. Top it off with some healthy fats from the nuts and this vegetarian pasta delight is like a bowl full of healthful fall treats!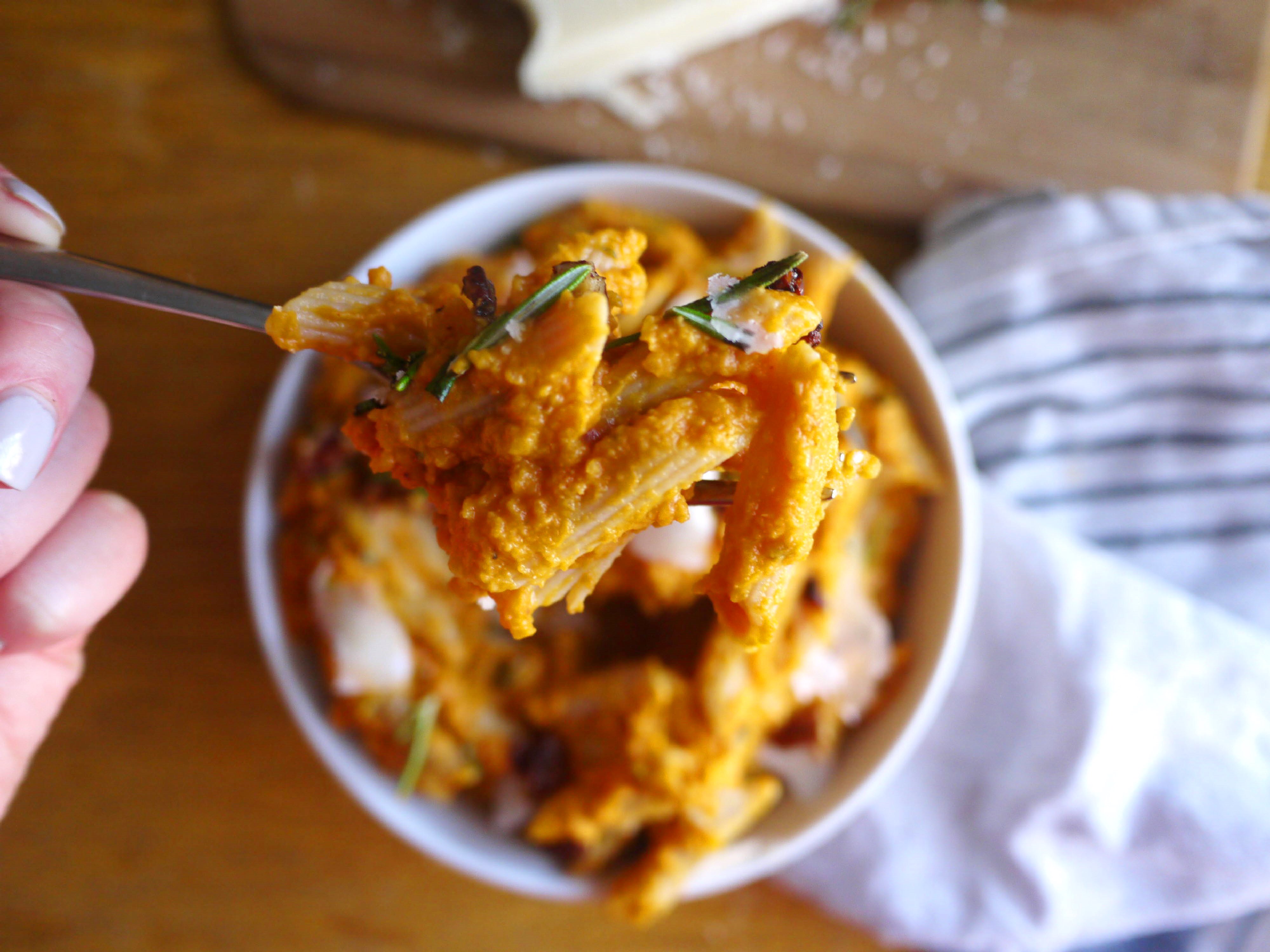 Pumpkin Pasta with Spiced Pecans and Pecorino
Author:
Healthy Recipe Ecstasy
Ingredients
SPICED PECANS
1 cup chopped pecans
1 and ½ teaspoons honey
¼ teaspoon cayenne pepper
¼ teaspoon sea salt
1 and ½ teaspoons unsalted butter
PUMPKIN PASTA
1 pound whole-wheat penne pasta (approximately 2 cups)
2 tablespoons unsalted butter
1 medium red onion, finely diced
2 garlic cloves, minced
2 teaspoons minced fresh rosemary, plus more for garnish
One 15-ounce can pumpkin puree
Kosher salt and freshly ground pepper
¼ cup non-fat Greek yogurt
¼ cup freshly grated Pecorino-Romano cheese, plus more for garnish
Instructions
SPICED PECANS: In a small bowl, mix the honey, cayenne, and salt. Melt the butter in a medium skillet over medium heat. Add the honey mixture and the pecans and cook for 7-8 minutes, until lightly browned and caramelized. Remove from heat and set aside.
PUMPKIN PASTA: In a large pot of boiling salted water, cook the pasta until al dente. Drain the pasta, reserving ¼ cup of the cooking water.
Meanwhile, in a medium saucepan, melt the butter. Add the onion, garlic and rosemary and cook over medium-low heat until the onion is softened, about 5-6 minutes. Transfer the mixture to a food processor. Add the pumpkin puree and process until smooth about 45-60 seconds. Season with salt and pepper to taste.
Wipe out the pasta pot. Scrape the pumpkin puree into the pot and cook over medium-low heat until hot. Mix in the yogurt and grated cheese. Add the pasta and the reserved cooking water to the pot and toss to coat thoroughly.
Transfer the pasta to bowls and garnish with spiced pecans, rosemary and Pecorino cheese shavings. Serve right away.