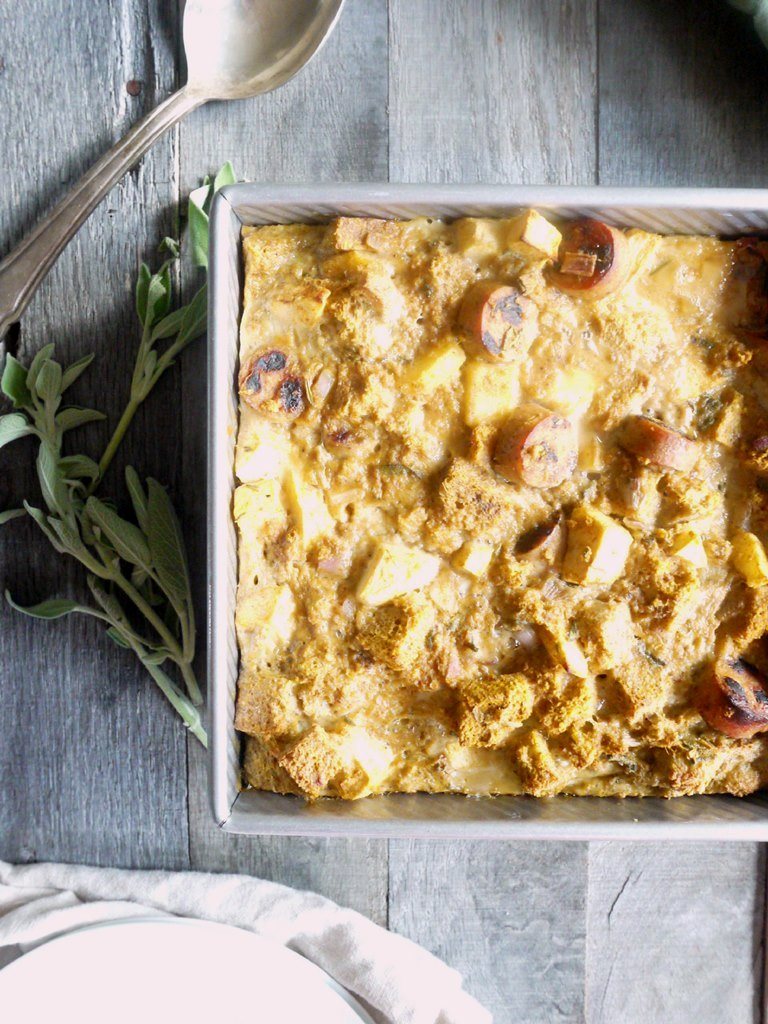 I give in. I was going to wait till October to share pumpkin recipes but I give in. Pumpkin is everywhere! Obviously the whole world has gone pumpkin crazy, and, OK, I'm swept up in the craze.
I mentioned last year that I've never been a huge pumpkin fan. But here's the thing about blogging. You try enough recipes and ingredients and things change.  I'm still not standing in line for pumpkin lattes at Starbucks, but I've been kind of obsessing over pumpkin pastas, pumpkin muffins, and, most recently, pumpkin bread pudding.
Bread pudding was also something I didn't used to like very much. It was no fault of the bread pudding. I just refused to try it as a child. I mean how can bread be a pudding?? But, then, one day, I let my guard down, and I made a huge, life-changing discovery. Bread pudding is AMAZING. It's carby, creamy, eggy, everything I like in a dish. It can be sweet or savory, and it's super easy to customize.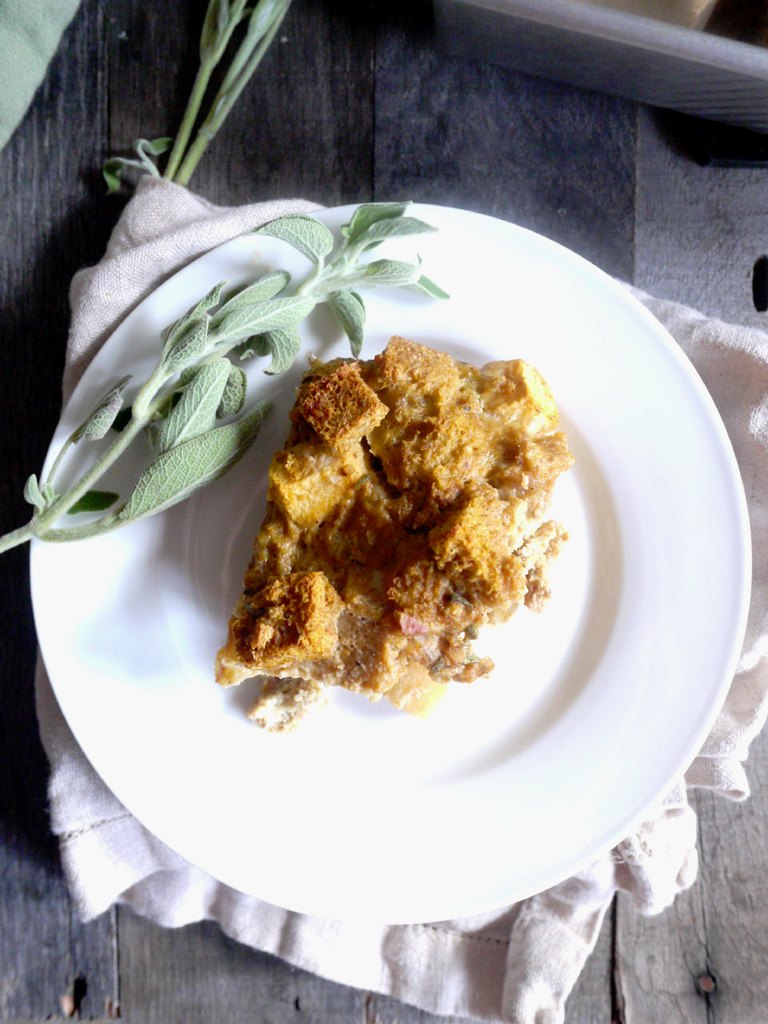 It only made sense that I take the two foods that I've only recently come to appreciate, and throw them together into one killer dish with an HRx twist. This perfect-for-the-fall dish (pumpkin? check. apples? check. sausage? check.) is completely dairy-free. I used soymilk instead of regular milk and nixed the cheese that usually accompanies a savory bread pudding in favor of a some super flavorful herbs and spices. I also used my favorite healthy sprouted grain bread instead of the usual white bread called for in a bread pudding. Healthy, grainy bread tends to be drier than white bread but there's enough soymilk and egg in this dish to keep the bread soft and creamy.
Sounds good, right?
Well, I haven't gotten to the best part. Savory bread pudding can be your dinner friend AND your breakfast friend. I kid you not. Just throw maple syrup or an egg on top (or both!!!!) and you have pretty much the best fall brunch dish EVER.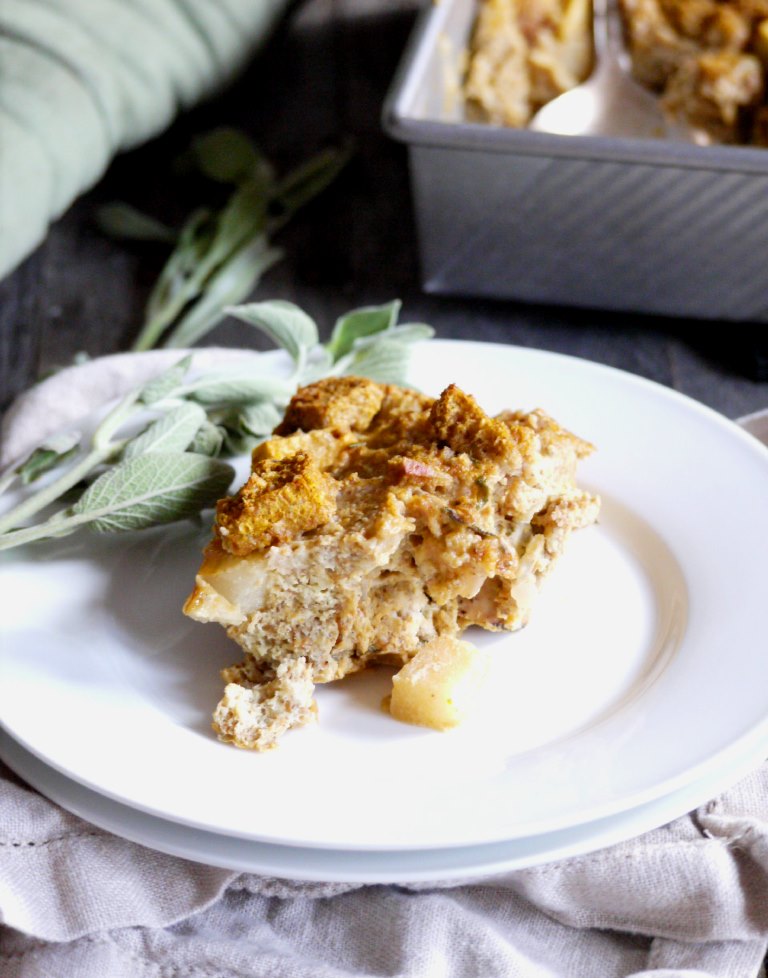 It's always good to have more friends, right? Especially when they taste all fall and pumpkin-y. 🙂

Healthy Pumpkin and Sausage Bread Pudding
Author:
Healthy Recipe Ecstasy
Ingredients
Olive oil, for baking dish
4 large eggs
4 egg whites
6 cups 1-inch cubes of your favorite healthy bread, crusts removed (I used sprouted grain bread but you could also use whole-wheat or gluten-free)
3 chicken and apple sausage links, sliced
2 medium Braeburn-type apples, peeled, cored, and chopped
½ cup chopped shallots
2 tablespoons chopped fresh sage
2 teaspoons chopped fresh rosemary
1 teaspoon coarse salt
½ teaspoon freshly ground black pepper
2 cups warm almond milk or soymilk
½ cup pumpkin puree
1 teaspoon pumpkin pie spice
Instructions
Preheat oven to 325 degrees. Prepare a deep baking dish (8x8) with olive oil; set aside.
Whisk eggs in a large bowl until well blended. Add bread cubes and toss until fully coated. Set aside.
Add sausage slices to a large skillet and cook over medium high heat until they begin to brown, 2 minutes each side. Turn heat down and add chopped apple, onion, sage, and rosemary; season with salt and pepper. Cook, stirring, for 2-3 minutes or until fragrant.
Transfer sausage mixture to the bowl with the bread. Slowly add milk, pumpkin puree and pumpkin pie spice, gently folding so that bread maintains its shape. Transfer bread mixture to prepared baking dish.
Bake until golden and bubbly, about 1 hour and 15 minutes. Remove from oven and let stand 30 to 45 minutes before serving. Garnish with more fresh herbs, if desired.
For breakfast, add maple syrup or a fried egg.