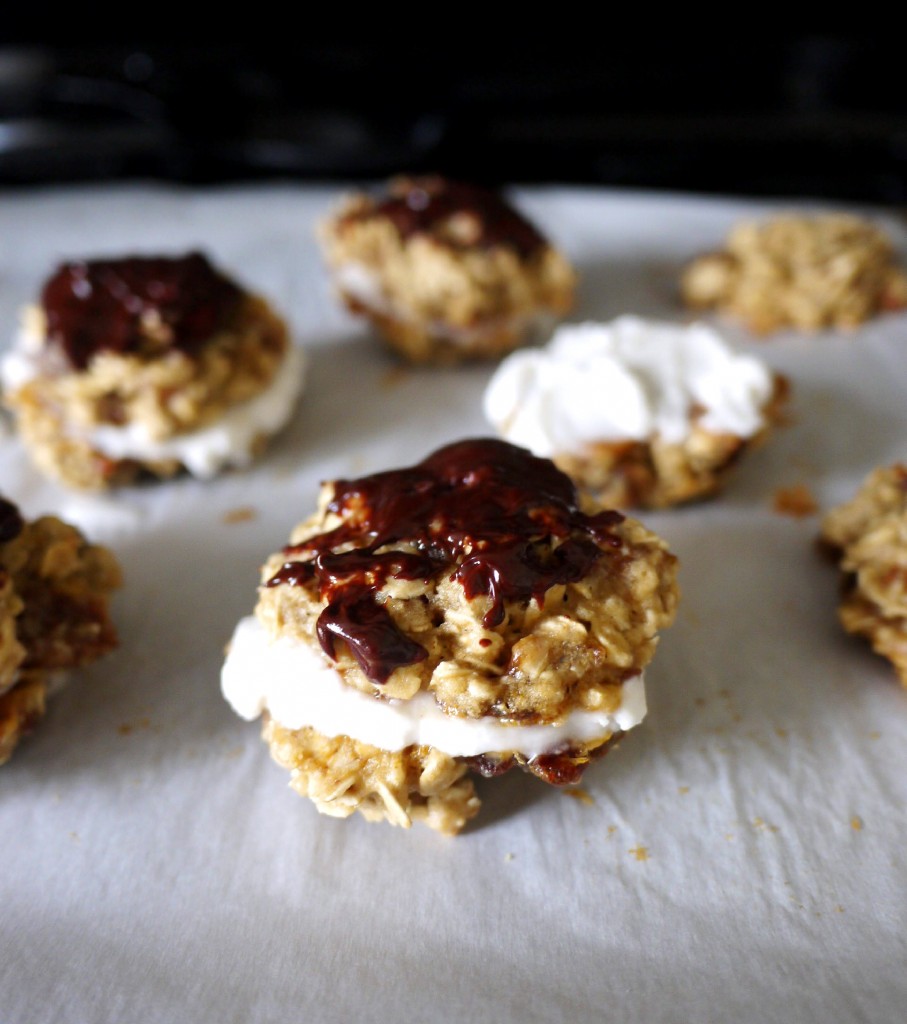 I know I say this a lot, but this oatmeal coconut moon pie may be the best dessert I've ever made. Is it a dairy-free oatmeal coconut moon pie or dessert crack? Jury is still out, but I'm going with crack. This cookie sandwich is A-D-D-I-C-T-I-V-E, and that's coming from someone who doesn't even like moon pies.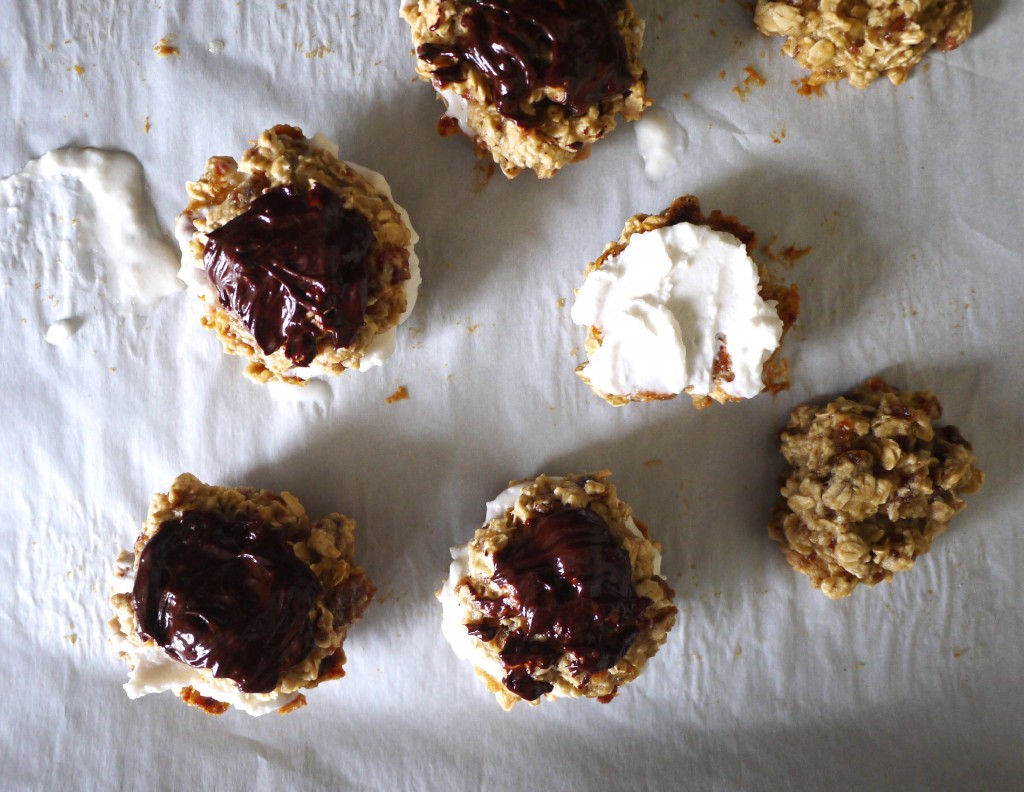 I know what you're thinking. What kind of crazy person sets about making a dessert she doesn't even like? Well, friends, let me explain. Alasdair and I have a tradition – every year, we watch the Oscars, and, every year, we realize we have not seen one movie nominated for best picture. Not one. Then, we spend the next month or two racking up our cable bill by ordering all the Oscar movies we can from On Demand. This year, we continued that tradition – with a twist. Foodiecrush posted what may now be my favorite food blog post of all time: "30 Oscar Worthy Recipes and an Academy Awards Party Hosting Guide." The post includes full menus for each movie nominated for best picture.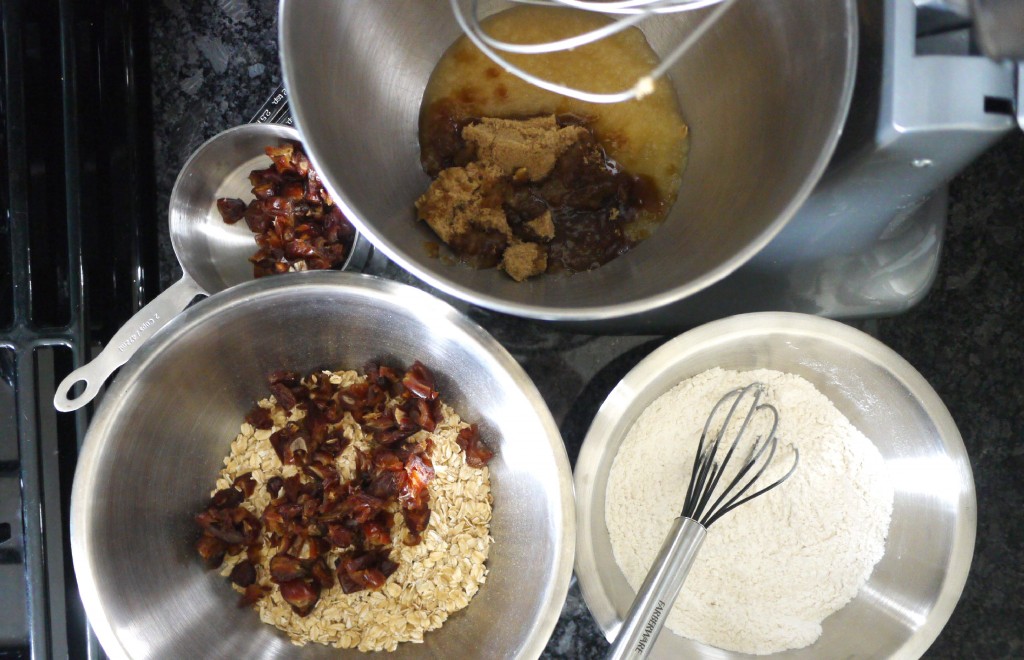 I was on board immediately. Alasdair took a little more convincing. He was all, "do you really have time to do this? You're already so overbooked. Won't this just be more stress?" And I was all, "OSCAR MOVIE-THEMED MENUS." He hesitatingly relented before I went into a full-on foodie temper tantrum. But all it took was one bite of the Texas T-Bone Steak (Dallas Buyer's Club), and he was all "this was such a good idea. I'm glad I thought of it." Men, amiright?
Anyways, back to my point. After months of planning catering menus, blog menus, dinner party menus, etc, I was jazzed to have Foodiecrush-certified menus and recipes at my disposal, and I was determined to stick to those menus and recipes as much as possible to keep my thought process to a minimum. In addition to the low-stress factor, I figured it would be a great way to check out some of my fellow food bloggers' recipes (all amazing so far). However, some of the desserts are just a little too much for me and my hubby. I mean, we don't really need an entire Texas Sheet Cake or a huge plate of Moon Pie Pie (Gravity). So, I made a deal with myself. I would swap out recipes or make healthy adaptations only when absolutely necessary.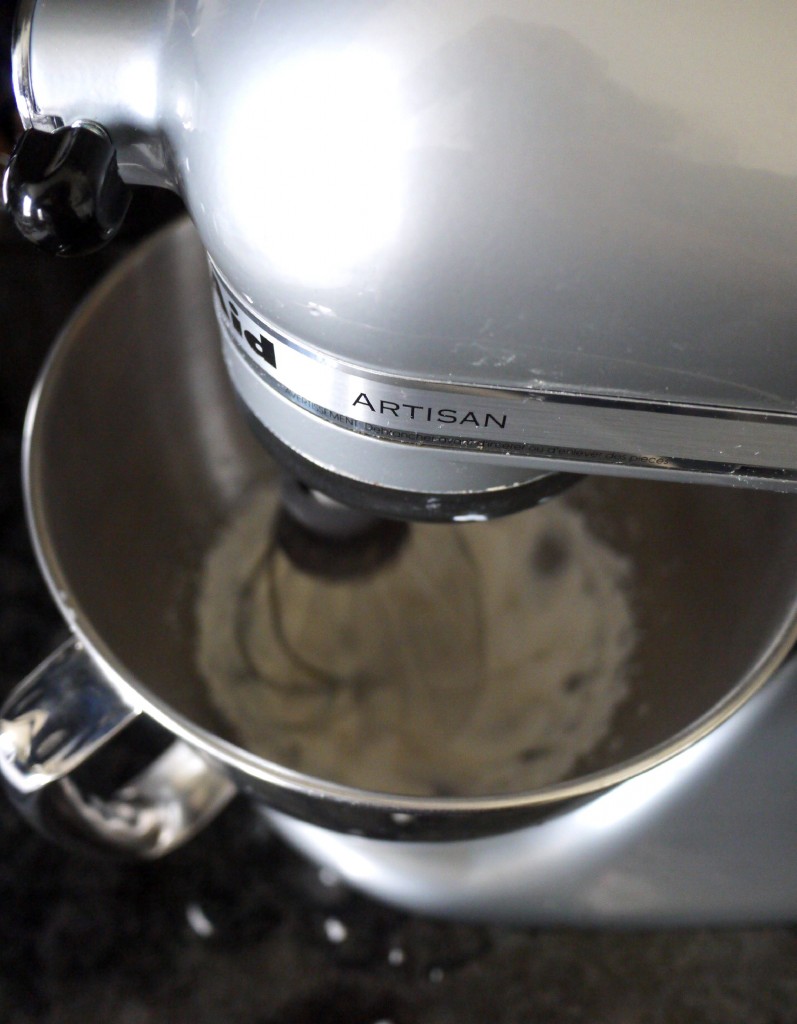 That's how Moon Pie Pie became dairy-free Oatmeal Coconut Moon Pie with Dark Chocolate Drizzle (inspired by Bon Appetit's Chocolate-Oatmeal Moon Pies). It had to be done, and it might just be one of the best culinary decisions I've ever made because this moon pie, my friends, is to die for. Not only is it head and shoulders above a regular moon pie in terms of health but it tastes SO MUCH BETTER. Adding applesauce and dates to the oatmeal cookie negate the need for butter AND make a cookie that is so sweet and moist it makes me want to swoon – much better than a dry graham cracker. The coconut cream is so much more flavorful than regular marshmallow, and it has the added benefit of being dairy-free and vegan. And the dark chocolate drizzle speaks for itself. Just make sure you use a high percent dark chocolate that does not contain milkfat or other dairy ingredients. Oh and feel free to delicately drizzle that chocolate over the cookies or just heaping spoon it over them. I did a little of both. 🙂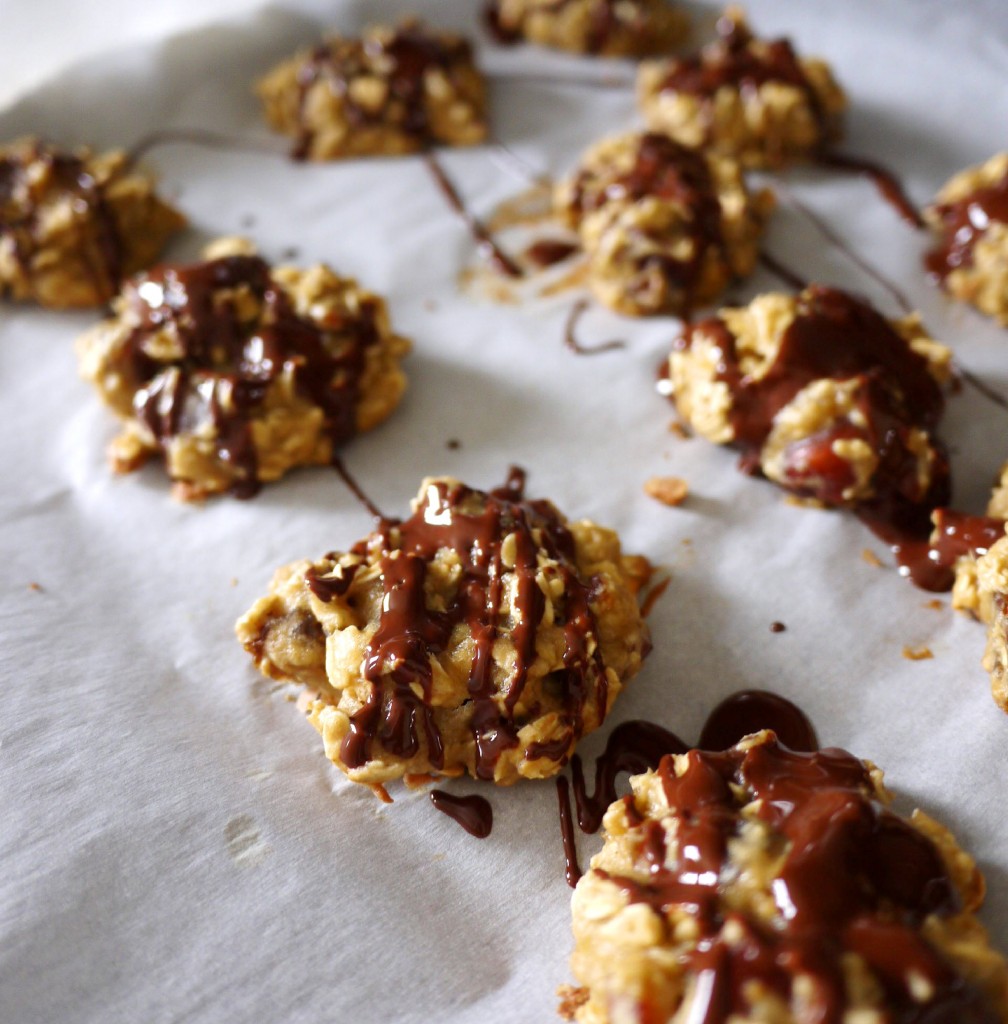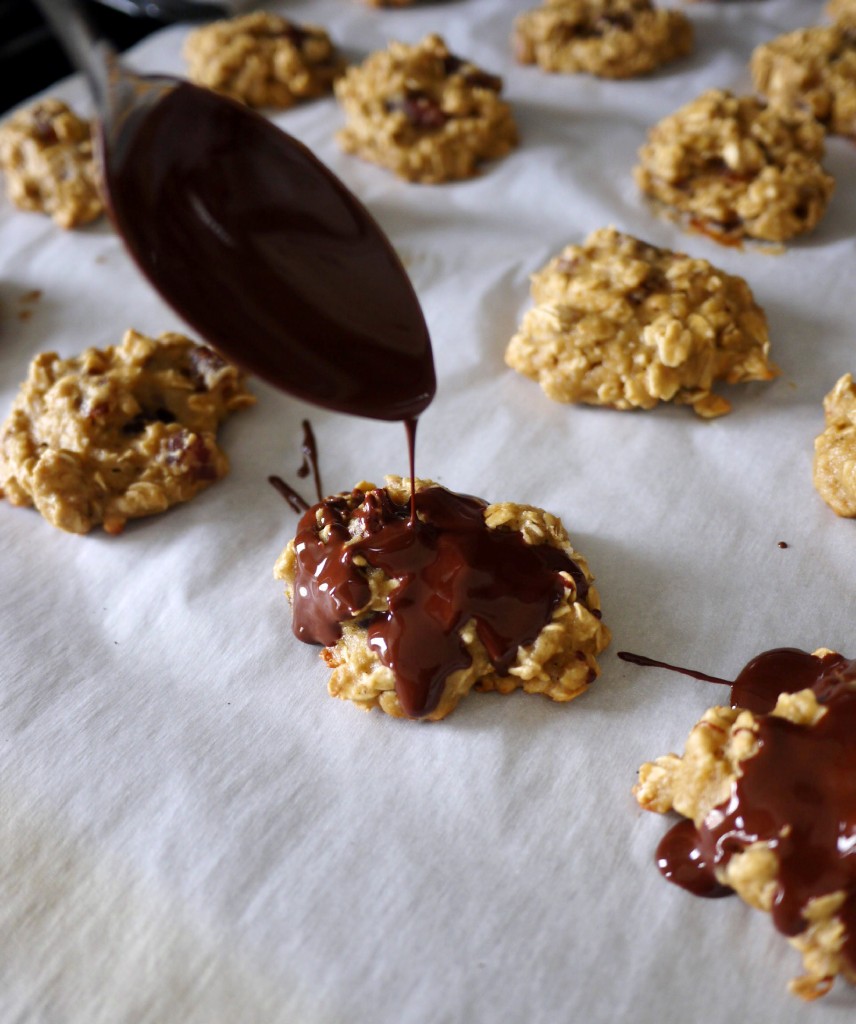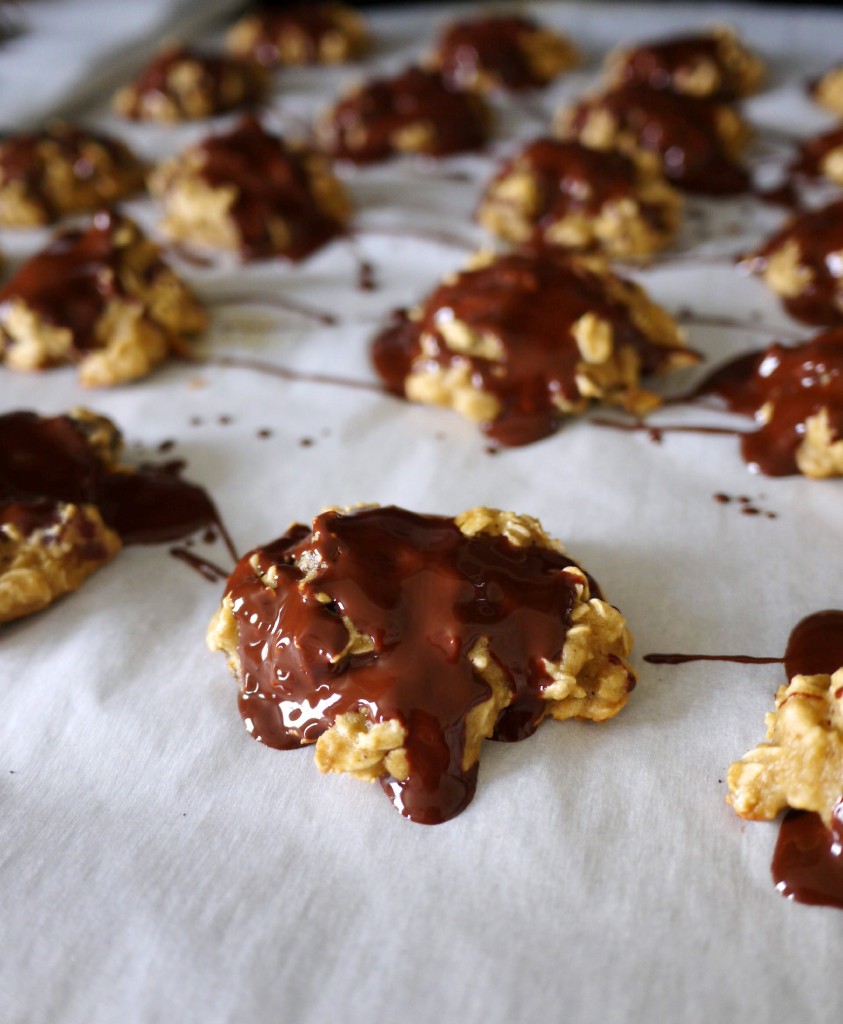 Even Alasdair, who is not really a dessert person, was diving headfirst into the plate of moon pies. You know that saying, "everything in moderation including moderation?" Well, I think I might invoke moderating my moderation right now so that I can have another 5 moon pies…! I mean, I've been sipping on smoothies and eating almond butter tortillas all week. I think I deserve a treat. And, I think you guys deserve a treat as well. So, go on now. You know you can't resist. 🙂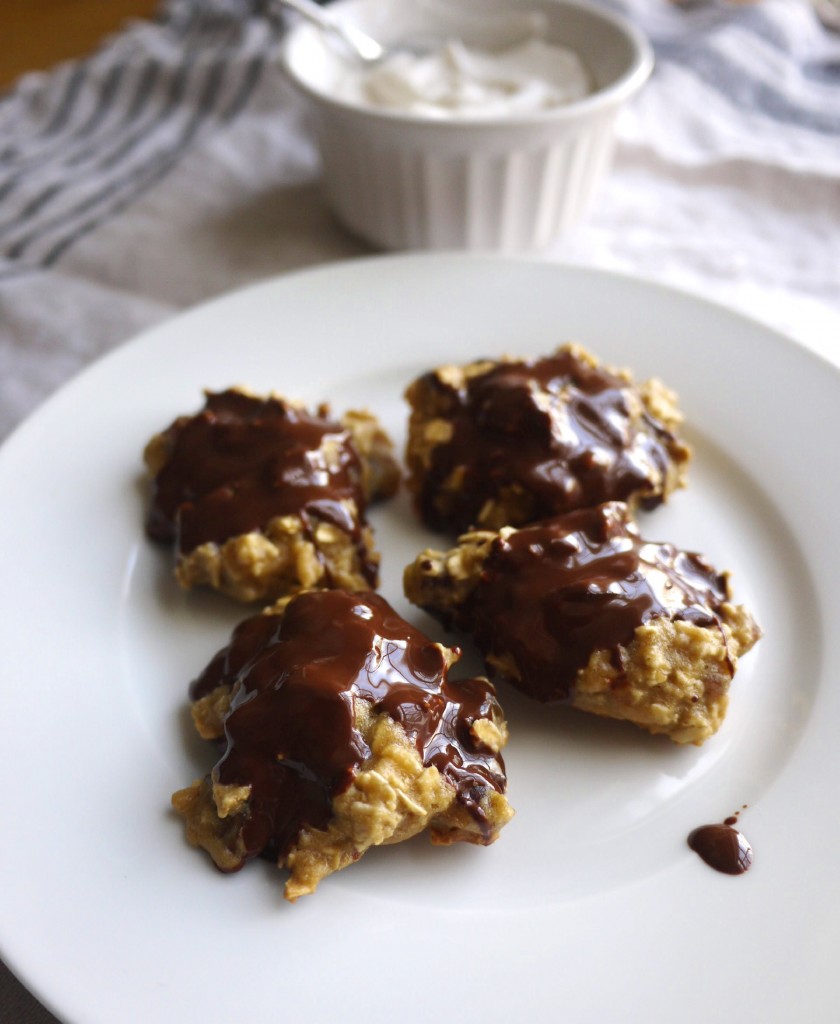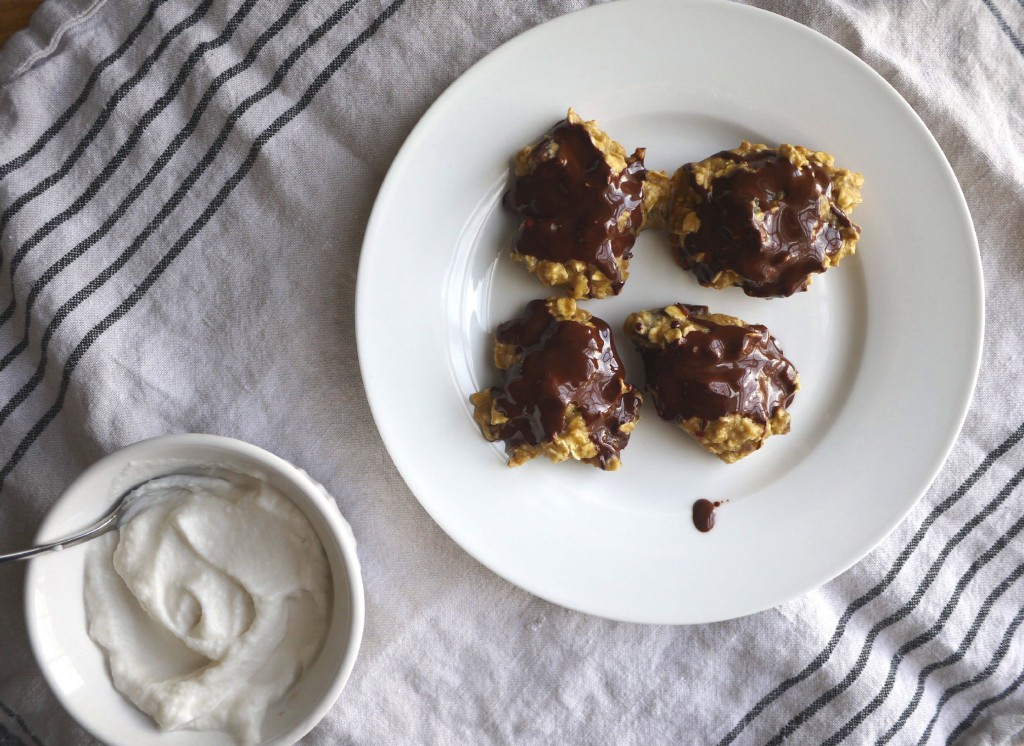 Oatmeal Coconut Moon Pie with Dark Chocolate Drizzle (Inspired by Bon Appetit)
Author:
Healthy Recipe Ecstasy
Ingredients
Oatmeal Cookie:
1 and ¼ cups unbleached all-purpose flour
¾ teaspoon baking powder
½ teaspoon baking soda
½ teaspoon kosher salt
2 and ¼ cups old-fashioned oats
2 cups finely chopped dates
1 cup applesauce
1 and ½ cup (packed) dark brown sugar
2 tablespoons coconut oil
1 teaspoon vanilla extract
Coconut Cream:
¾ cup coconut cream from one can of full-fat coconut milk (refrigerate to help separation)
2 tablespoons granulated sugar
½ teaspoon vanilla extract
Small pinch of salt
Chocolate Drizzle:
7 ounces dark chocolate (I used 2 bars of Lindt 70% cocoa dark chocolate)
Instructions
Oatmeal Cookies:
Preheat oven to 350 degrees. Line 3 baking sheets with parchment paper.
Whisk flour, baking powder, baking soda, and salt in a medium bowl. Combine oats and dates in a medium bowl.
Using an electric mixer, beat sugar and applesauce in another large bowl, occasionally scraping down sides of bowl, until smooth, about 2 minutes. Add coconut oil and vanilla and beat to blend. With machine running at low speed, gradually add flour mixture; beat just to blend. Stir in oat mixture with a wooden spoon just to blend.
Measure dough into 36 portions (use approximately 2 tablespoonfuls of dough for each cookie). Divide among baking sheets. Using your hands, gently press down on each dough ball until it's flat and ½ inch thick.
Bake cookies for 12 minutes. Rotate sheets front to back and top to bottom; continue baking until cookies are golden brown and edges have begun to set but centers are still soft (cookies will appear underdone and shiny in centers), 5-6 minutes longer. Do not overbake. Let cookies cool completely on baking sheets.
Coconut Cream:
Using a spoon, skim the top layer of cream from one can of full-fat coconut milk (about ¾ cup of cream) and place it in a chilled mixing bowl with sugar, vanilla, and a pinch of salt. Beat on low speed until small bubbles form, about 30 seconds. Increase the speed to high and continue beating until the cream thickens and light peaks form, about two minutes. Chill the cream until it's time to add it to the cookies.
Once cookies are completely cool, spread 1 tablespoon coconut cream on the bottom of 18 cookies. Sandwich with the remaining cookies.
Chocolate Drizzle:
Break the chocolate into pieces if using a chocolate bar. Place the chocolate in a microwave-safe bowl. Melt in the microwave, taking it out at 30 second intervals to stir. Drizzle or spoon the chocolate over the cookies.
NOTE: Store the cookies in the refrigerator for up to a week.