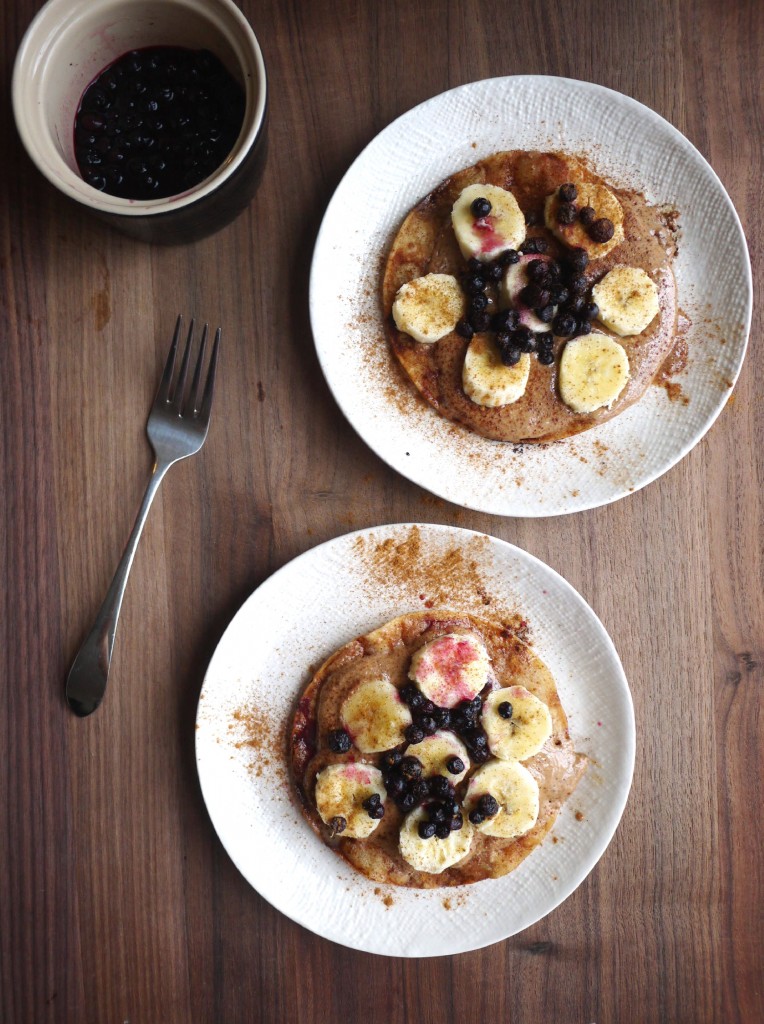 Yes. That is all I have to say about this breakfast. Just, YES.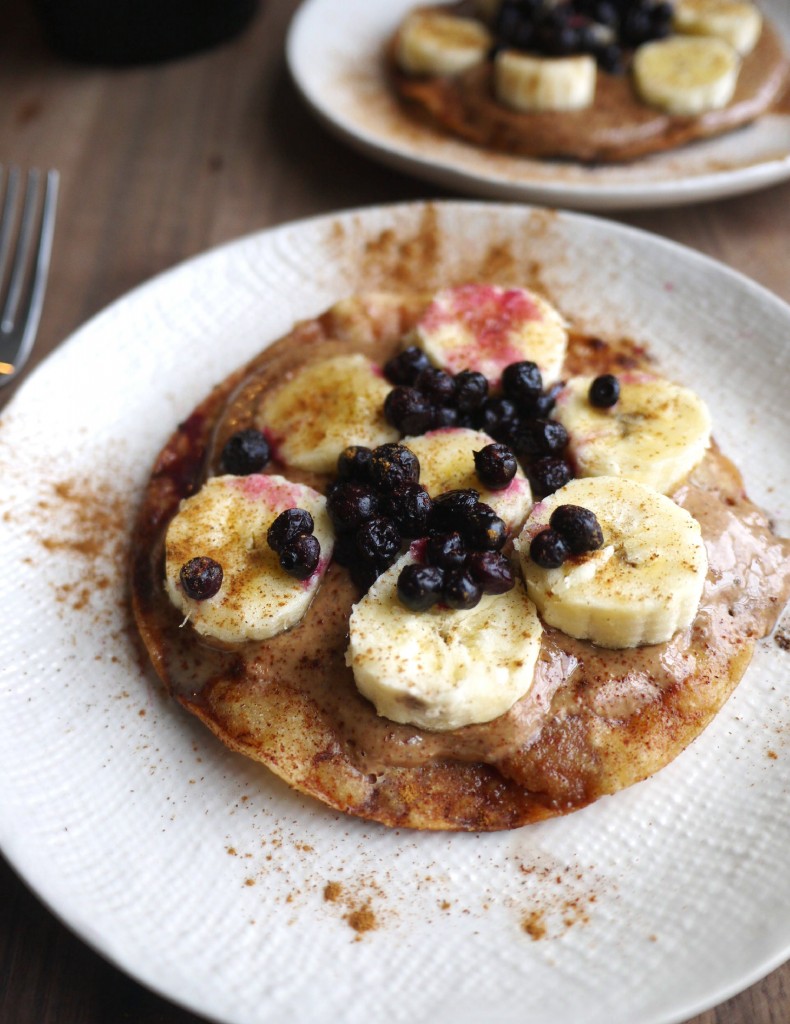 How can this possibly be on the day 4 menu of a detox? I don't believe it. This is more like, "Hey, girlfriends, let's go out for a hip, healthy breakfast in LA or Portland. Then, let's go shopping and buy some fabulous shoes."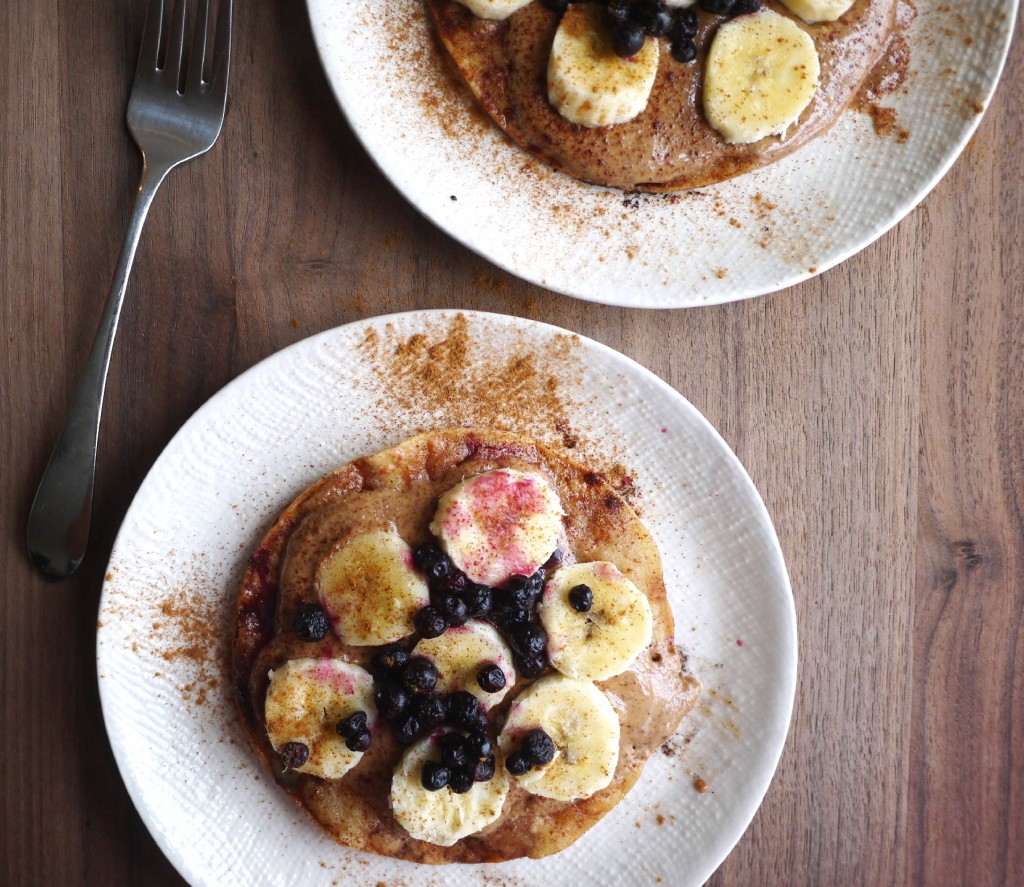 I thought the smoothies were good, but this takes the tortilla cake. Maybe it's just me but I am head over heels for almond butter. Head. Over. Heels. And almond butter and bananas are just yum together (especially with a little melted dark chocolate thrown in but that's neither here nor there. Another time, another place). Now that I'm thinking about it, this recipe is almost like the even healthier cousin of my healthy Elvis sandwich except with tortilla instead of bread, almond butter instead of peanut butter, and fruit instead of bacon. Yeah…almost.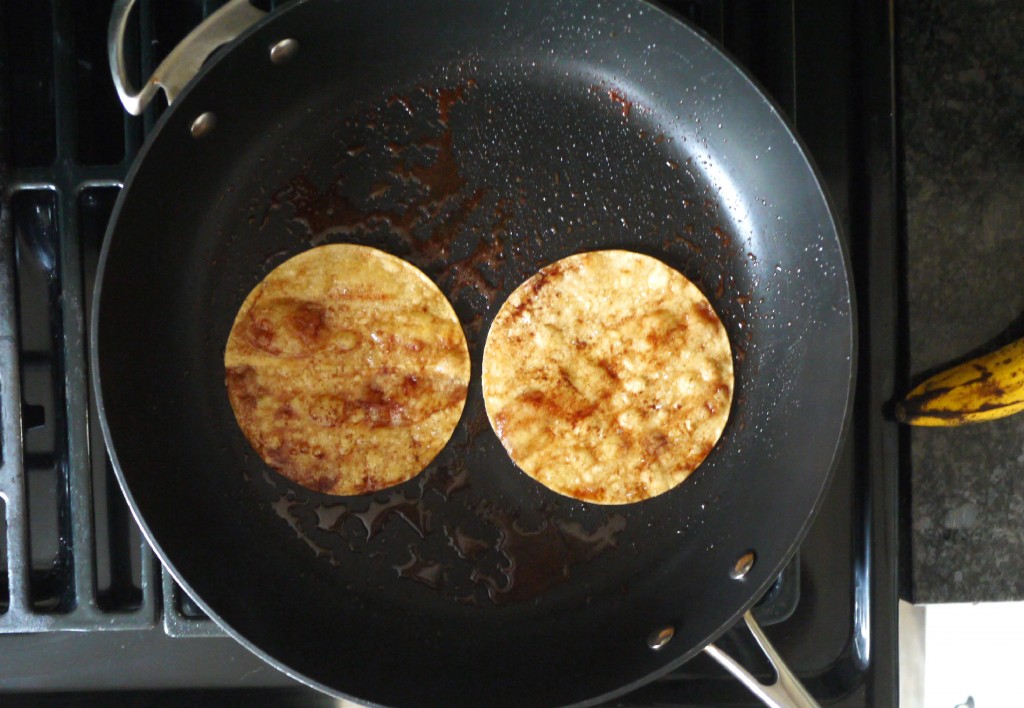 According to "The Detox Prescription," the morning tortilla suppresses your appetite so you feel satisfied, and it has the perfect combination of good carbs and good fats to give you plenty of energy to get through the morning. It's also loaded with vitamins. But, all I know, is this breakfast has my three favorite Cs: crispy, crunchy, creamy. The tortilla is fried up in some cinnamon-spiked coconut oil until it's crispy crunchy. Then, you spread the almond butter on the tortilla and let it melt – that's your creamy. Then, you top it off with banana slices and berries – just the icing on the tortilla cake.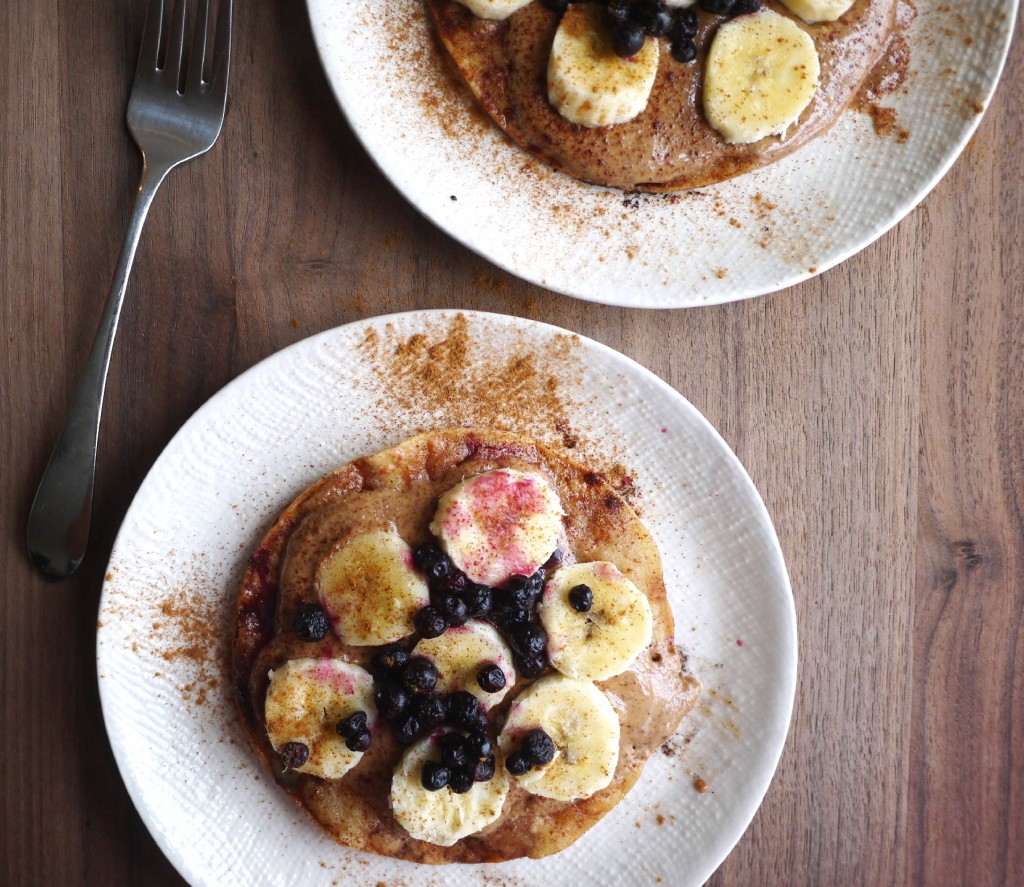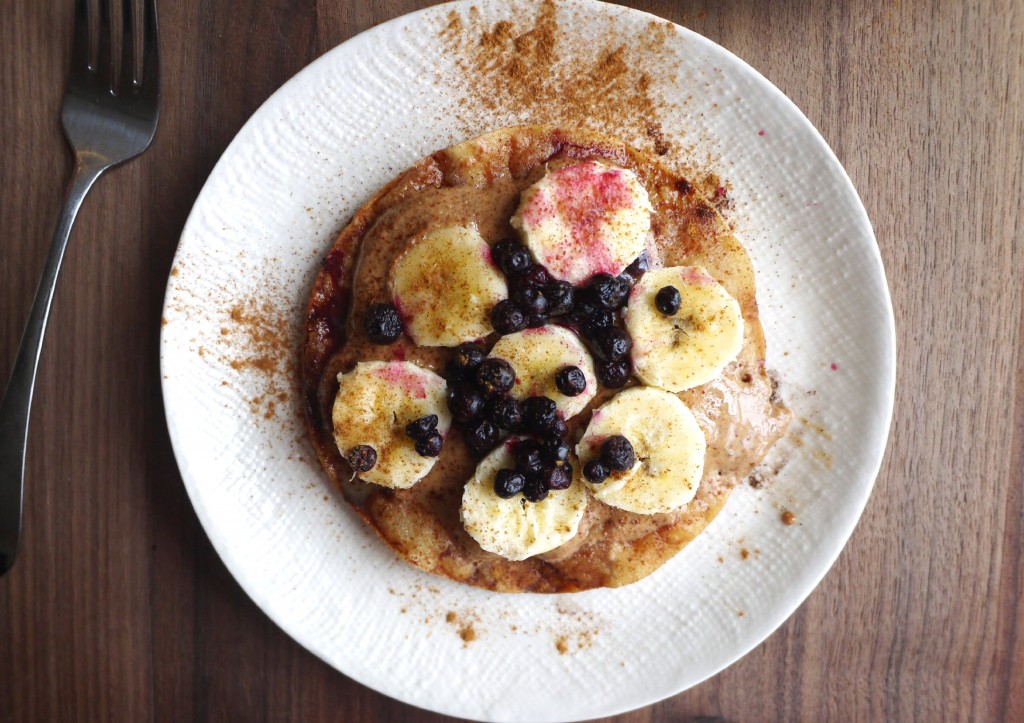 I was literally grinning as I ate this masterpiece. I mean, it's healthy squared, it's a detox recipe, BUT IT'S SO GOOD. Like I would detox every day if this was on the menu. Oh wait, it is on the menu. Oh yeah, and don't get me started on the curried butternut squash and apple soup… Is this a detox or my birthday present?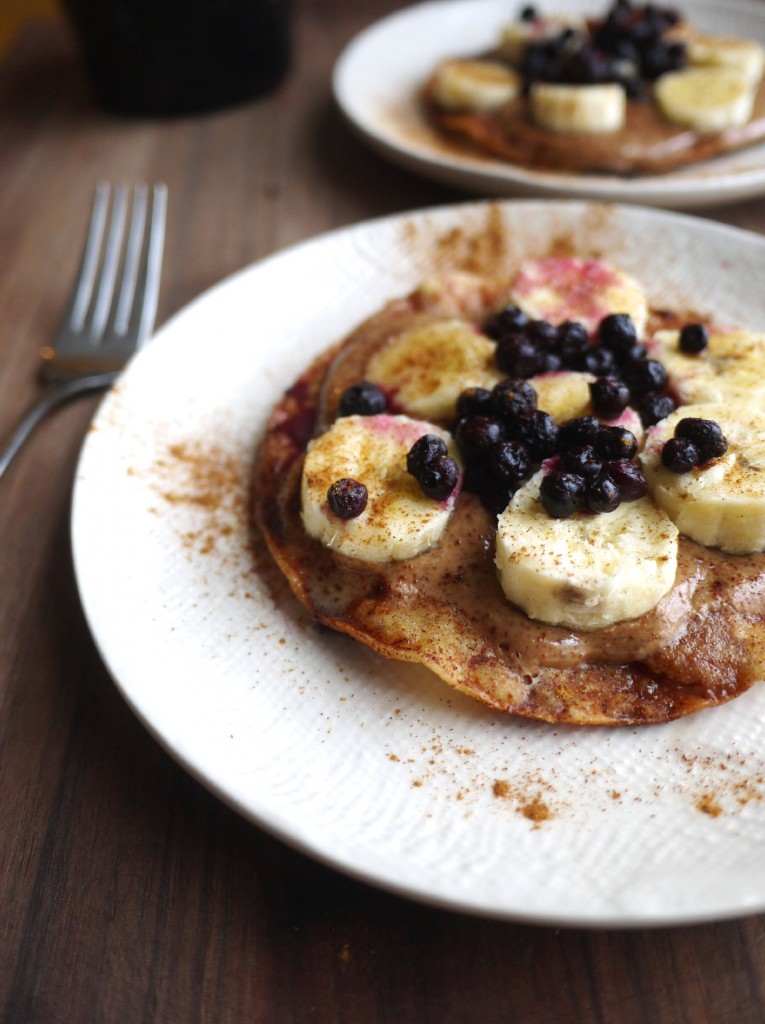 Definitely my birthday present. Hubby, take note. No need for jewels or designer bags, next birthday just make me crispy almond butter tortillas and savory soups. <— cheap date 🙂

Detox Part 2: Almond Butter Banana-Blueberry Tortilla
Author:
Healthy Recipe Ecstasy (Slightly Adapted from "The Detox Prescription"
Ingredients
1 teaspoon ground cinnamon, plus more for garnish
2 teaspoons coconut oil or extra-virgin olive oil
2 corn tortillas
4 tablespoons all-natural almond butter
1 large banana, sliced
½ cup blueberries, fresh or thawed from frozen (I used frozen wild blueberries)
Instructions
Mix the cinnamon into the coconut or olive oil. In a medium skillet, heat the oil on medium-high heat.
Add the tortillas to the pan and sauté each side for 2-3 minutes or until golden.
Reduce the heat to medium low, and spread 2 tablespoons almond butter on each tortilla. Allow to warm for 1-2 minutes or until the almond butter is creamy.
Remove from the heat, and divide the banana slices and blueberries evenly among the two tortillas. Sprinkle with extra cinnamon, if desired.
NOTE: The original recipe called for raspberries, but I prefer blueberries and I had them on hand. Feel free to use whatever berries you prefer.