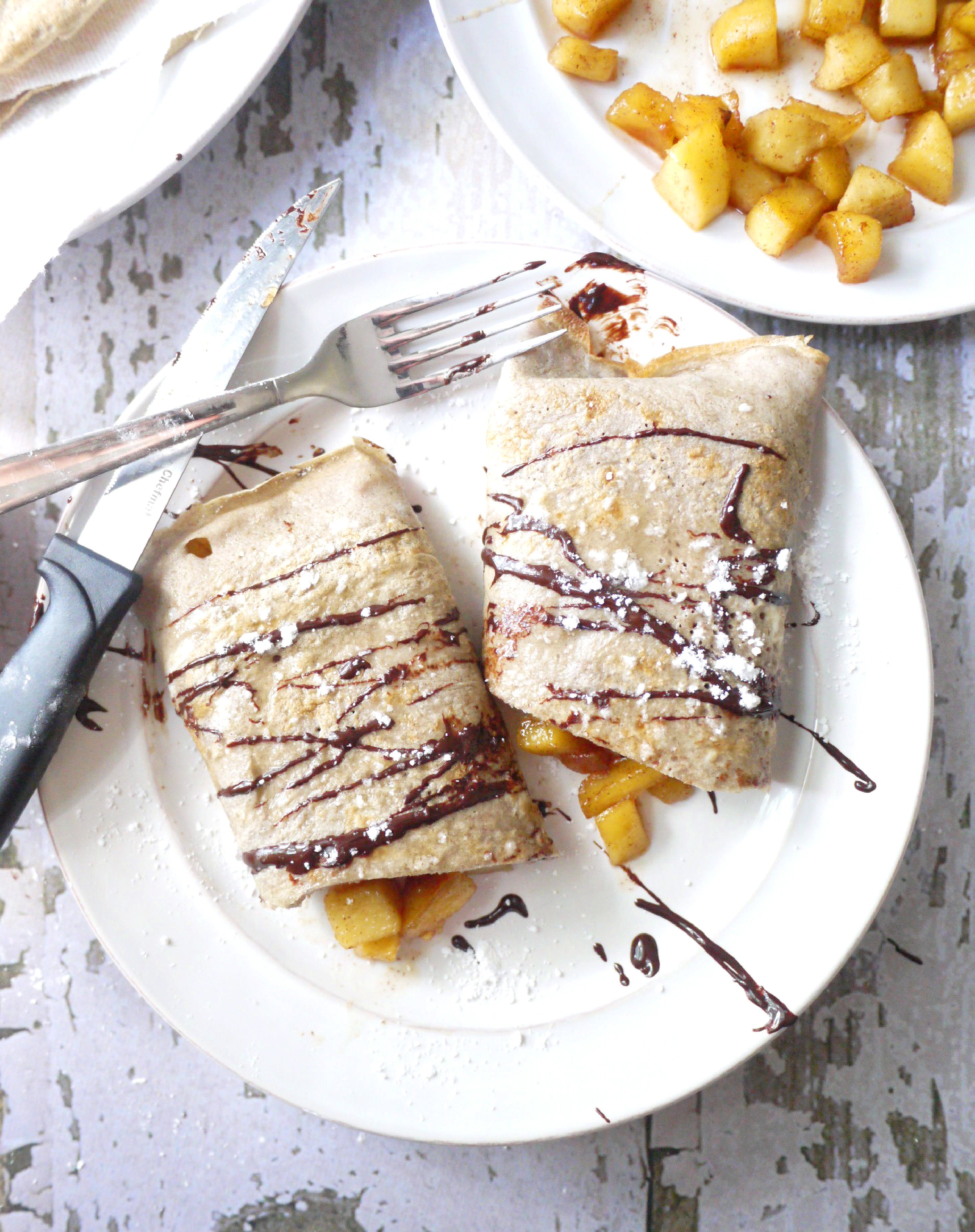 I know. That's a long blog title. But, originally, it was ridiculously longer (Mexican Dessert Crepes with Cinnamon-Sugar Caramelized Apples, Caramel Sauce and Mexican Chocolate Drizzle. You're welcome for that not happening.) And, in my defense, there's a lot going on today. Aside from today being, you know, Labor Day, I'm celebrating the start of September with a dinner party. A virtual dinner party, that is.
That's right, a few of my blogger friends and I have joined forces for a virtual Mexican-themed, gluten-free dinner party. See? Lots happening. And, it's ALL GOOD.
I'm bringing dessert. And it rocks. It rocks so much I considered giving it the world's longest recipe name. It rocks so much it needs to be shared with friends. It rocks so much I'm kinda glad the dinner party is virtual so I can eat it all myself. Shhh…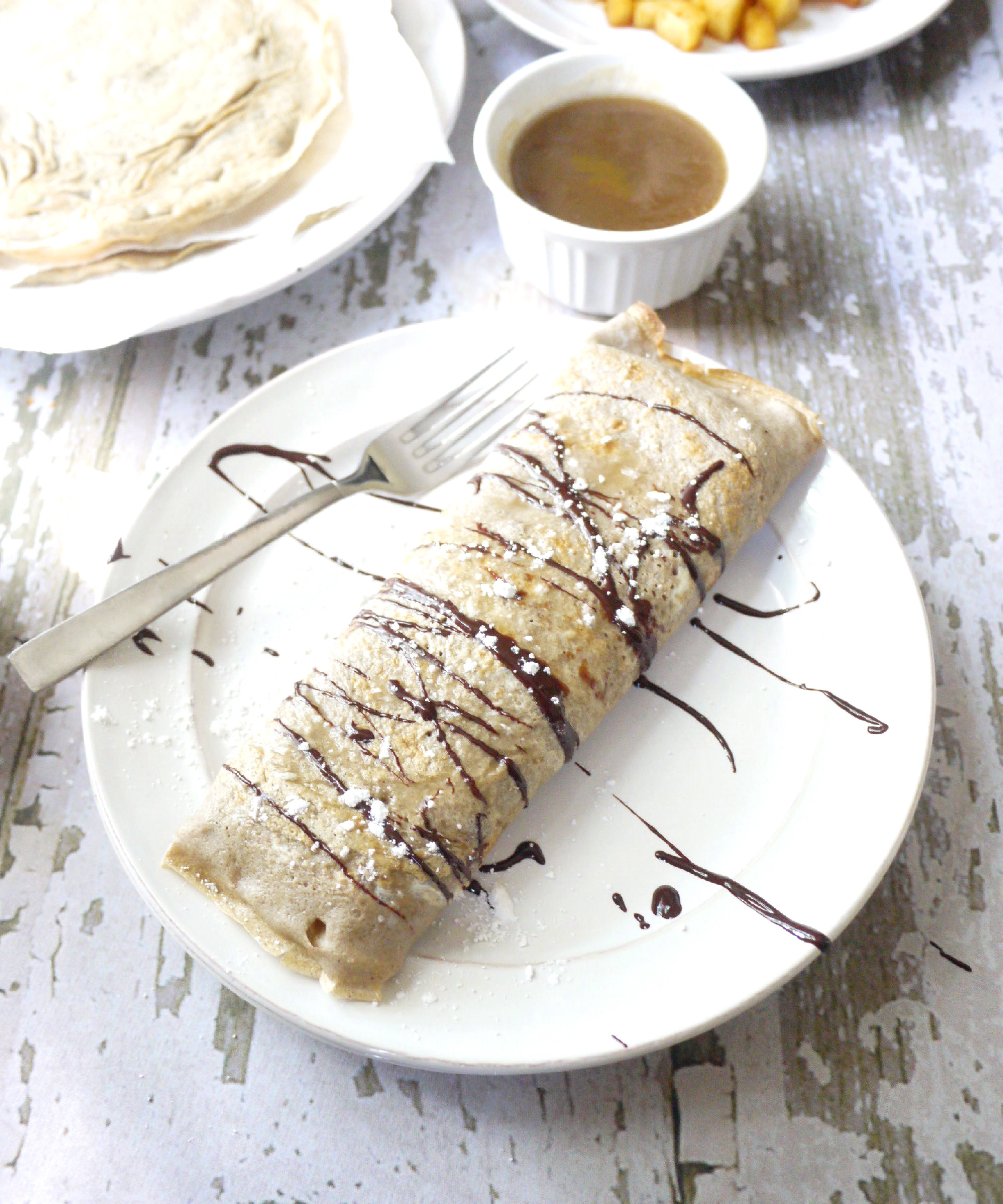 Before we get to dessert though, we have to start at the beginning. We've got 4 courses here, and they're all gluten-free. So invite your foodie friends over for a night of healthy fun, food and drinks starting with a cocktail. Because every dinner party needs a cocktail like this Spicy Cosmo drink from Debbie at FamiGami.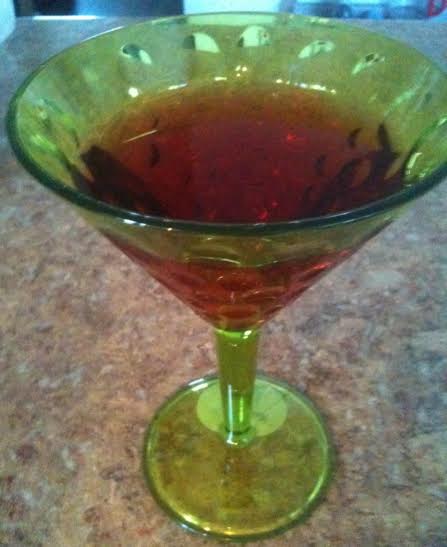 Then we dive into the eats. And I will dive face first into these amazing Sweet Pork Mini-Tostadas with Plum Salsa from Michelle over at The Complete Savorist. You know I love a good tostada!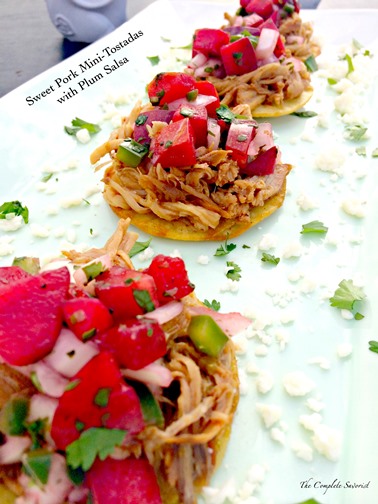 After apps, we're filling our tummies with Yellow Tomato and Tomatillo Gazpacho with Goat Cheese and Bacon from Sandi at Fearless Dining. How did she know I love goat cheese?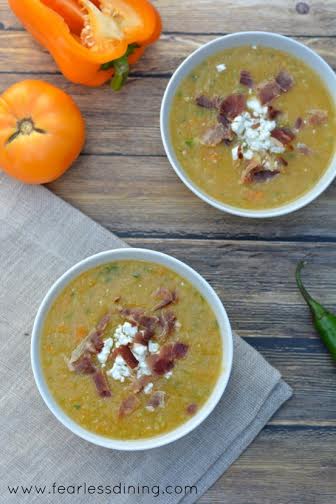 Then, Rini over at Healing Tomato is making us Mexican Crepe Tacos. Umm, she tied her crepe with a bow. HOW ADORABLE IS THAT?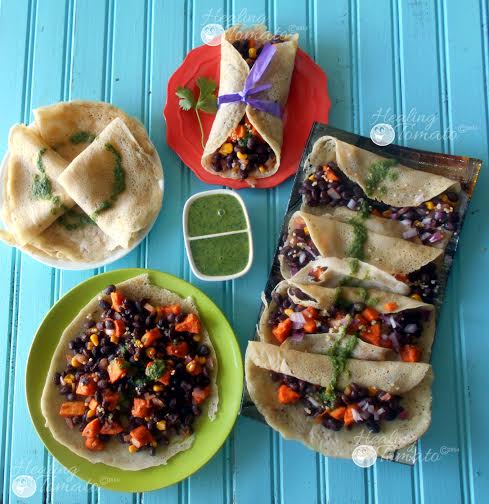 Still hungry? Let's talk about my dessert. Would you believe me if I told you that it's gluten-free AND dairy-free? Shocking, right? Alls you need is a little buckwheat flour and some soy milk and coconut milk and you're good to go. #notcomplicated. I know a dessert with like 15 gazillion elements might seem complicated but, really, it's not.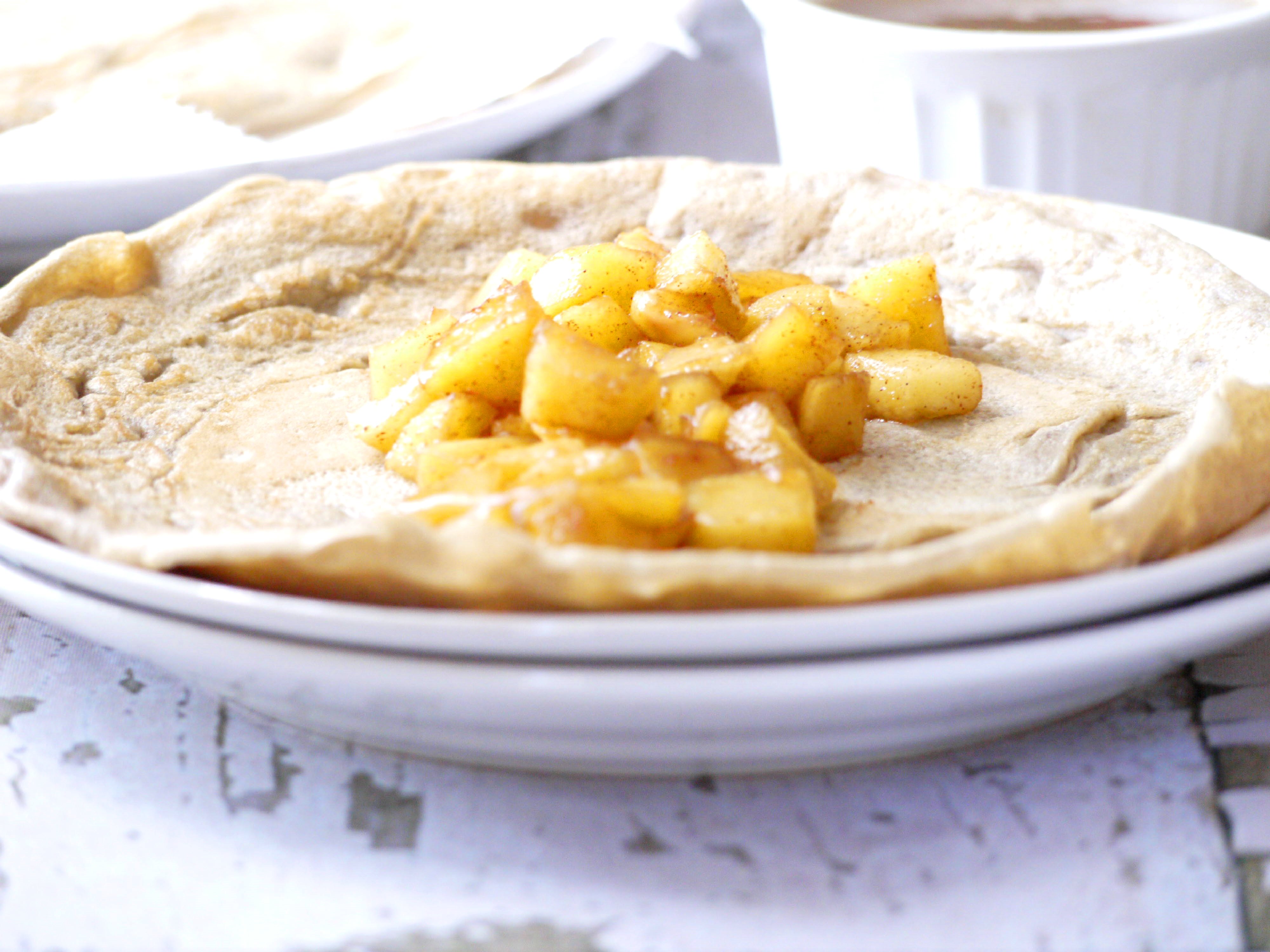 As previously discussed in my ode to French crepe blogs, crepes are pretty easy to make. Caramelized apples are ridiculously low maintenance. You left them on the stove a little too long? Great! They probably taste even better. I borrowed the caramel sauce (minus the maple) from my Maple Caramel French Toast recipe because that was super easy to make. And the chocolate? Melt it in the microwave.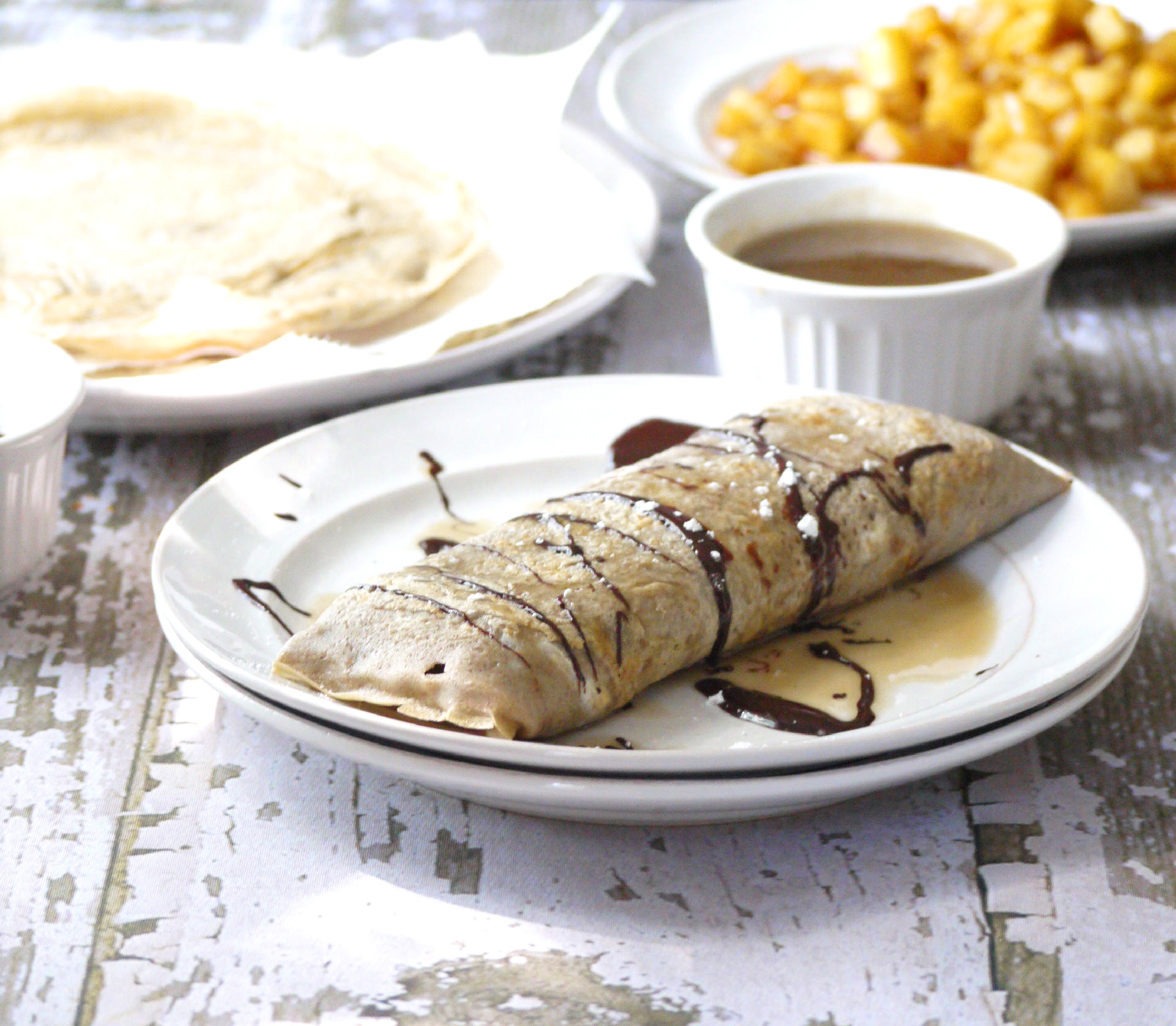 Done.
Talk to your guests.
Bask in the praise they give you when you serve this.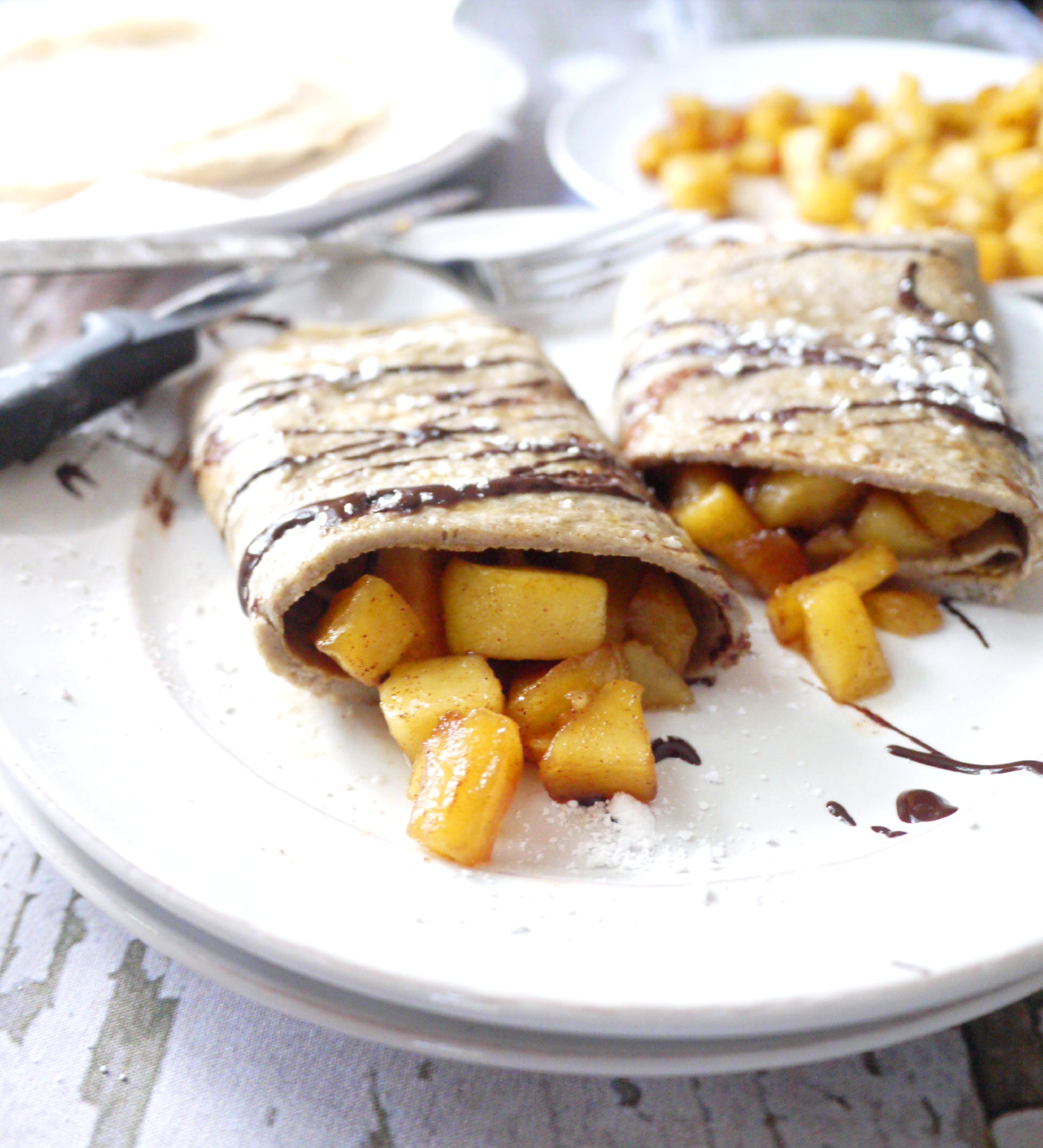 Mexican Dessert Crepes with Cinnamon-Sugar Caramelized Apples
Author:
Healthy Recipe Ecstasy
Ingredients
Buckwheat Crepe:
4 large eggs
1 cup unsweetened soy milk
½ cup buckwheat flour
Generous pinch of kosher salt
5 teaspoons olive oil
Cinnamon-Sugar Caramelized Apples:
1 tablespoon olive oil
3 medium-sized sweet apples, peeled, cored and chopped into cubes
¼ cup raw cane sugar
½ teaspoon ground cinnamon
¼ teaspoon kosher salt
Caramel Sauce:
1 and ½ cups coconut milk fat
1 cup brown sugar
1 tablespoon vanilla extract
1 pinch kosher salt
Mexican Chocolate:
1 extra dark chocolate bar (3.5 ounces)
¼ teaspoon ground cinnamon
⅛ teaspoon cayenne pepper
Powdered sugar, for garnish
Instructions
Buckwheat Crepes:
Whisk the soy milk and eggs together in a medium bowl. Add the salt. Gradually whisk in the flour until combined.
Slowly heat a medium skillet with low sides until it's on medium high heat. Add one teaspoon olive oil and swirl it around to cover the bottom of the skillet. Once the oil is hot, lift the skillet up off the heat and slowly pour in ½ cup of the crepe batter. Depending on the size of your skillet, you may need a little more or a little less batter. Turn the skillet from side to side as you pour in the batter to spread it out until it covers the entire bottom surface in a thin layer.
Once the batter covers the entire bottom of the skillet in a nice round circle, let it cook for 30 seconds to a minute, until the edges start to curl up. Run a metal spatula under all the edges of the crepe. Flip the crepe. Cook for 30 more seconds then turn the crepe out onto plate. Repeat with the rest of batter and olive oil. Set aside and keep warm.
Cinnamon-Sugar Caramelized Apples:
Heat one tablespoon olive oil in medium skillet over medium-high heat. Add the apple pieces and cook for 5 minutes, stirring frequently, until apples begin to soften. Add the sugar, cinnamon and salt. Turn the heat to medium low and cook for another 15 minutes, stirring occasionally, until apples are soft and caramelized. Set aside and keep warm.
Caramel Sauce:
In a small saucepan, bring the coconut milk fat and brown sugar to a boil over medium-high. Cook, stirring, until the fat melts and mixture is smooth.
Reduce the heat to a simmer, stirring occasionally, for 5 minutes. Stir in vanilla and salt and let simmer for another 5 minutes. Set aside to thicken.
Mexican Chocolate:
Melt the chocolate in the microwave until smooth. Stir in the cinnamon and cayenne pepper.
To Assemble: Divide the apples evenly among the crepes. Roll each crepe into the shape of a burrito and turn over. Drizzle each crepe with caramel sauce and Mexican chocolate. Garnish powdered sugar.