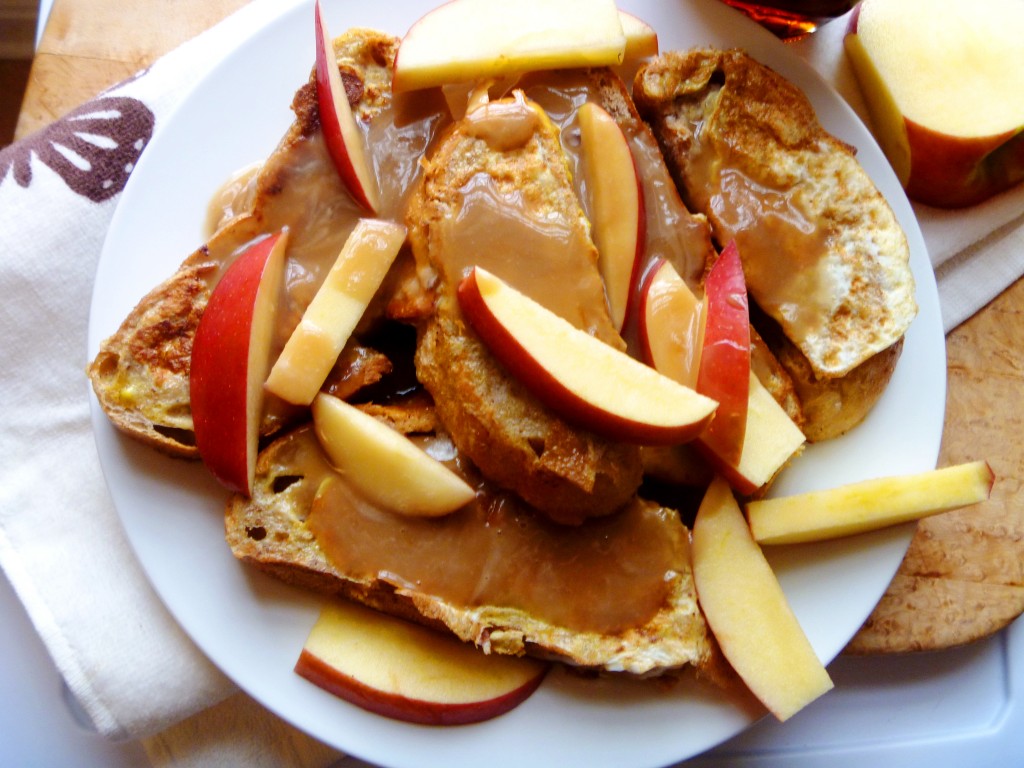 In case you haven't noticed (but I'm sure you have), I love eggs. I eat eggs for breakfast almost every day. It's not that I don't like pancakes or waffles or oatmeal. I do. I love most breakfast foods. It's just that I love eggs more. If have a choice between an omelet with a side of bacon or sweet pancakes, I will choose the savory option 95% of the time.
So, it was a surprise to me when I woke up one morning craving French toast and maple syrup and caramel sauce. Why caramel sauce? Because Alasdair and I had recently taste-tested a scrumptious sticky toffee dessert with caramel sauce as part of our wedding menu. Anyways, every once in a while I will dream about a new recipe or wake up thinking about a certain dish. That morning, the cravings melded together in my mind, and I woke up dying to make Maple Caramel French Toast.
Let me just say that the French toast was so good I didn't miss my omelet for one second. Best craving ever!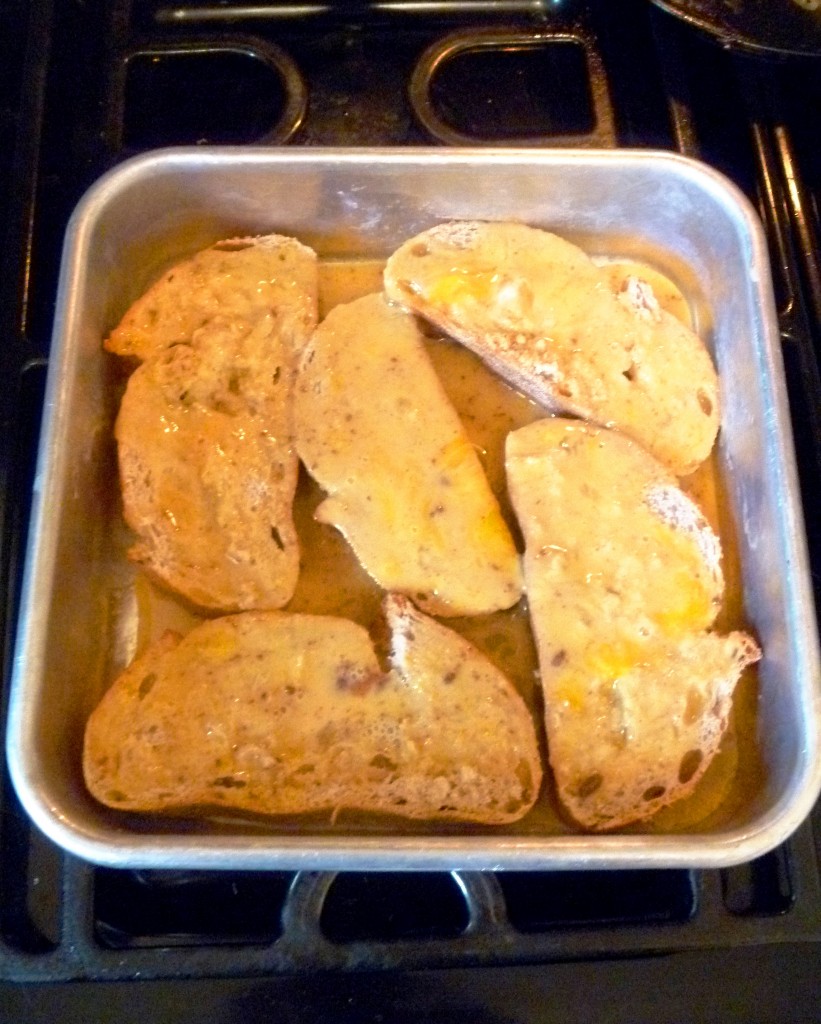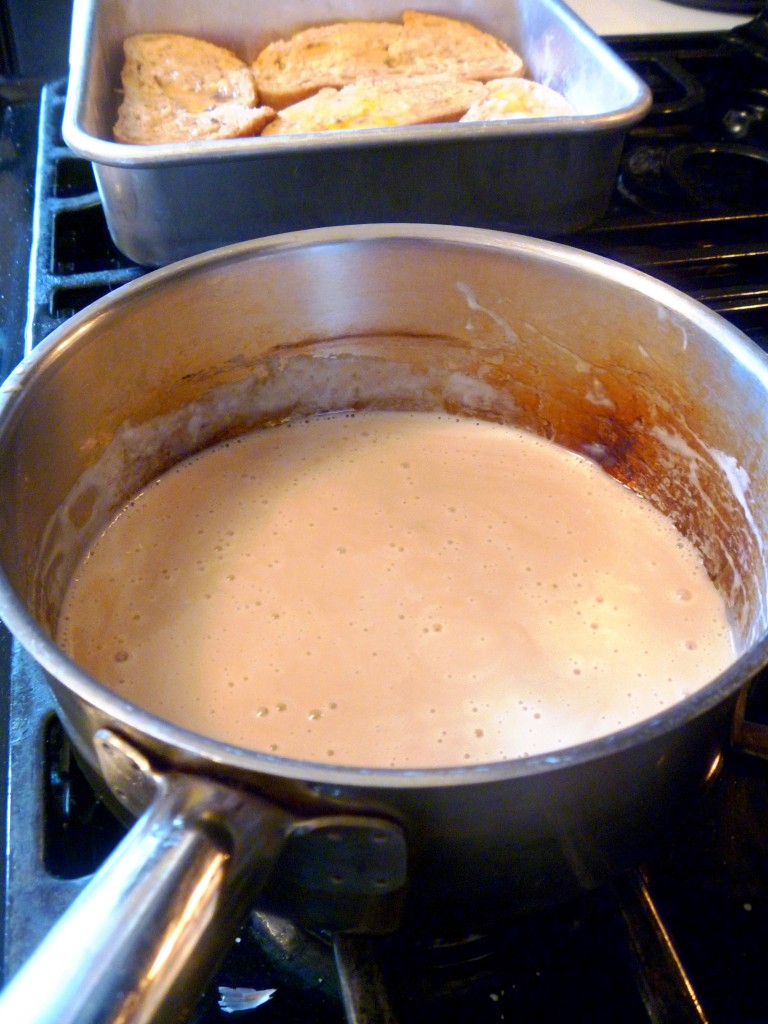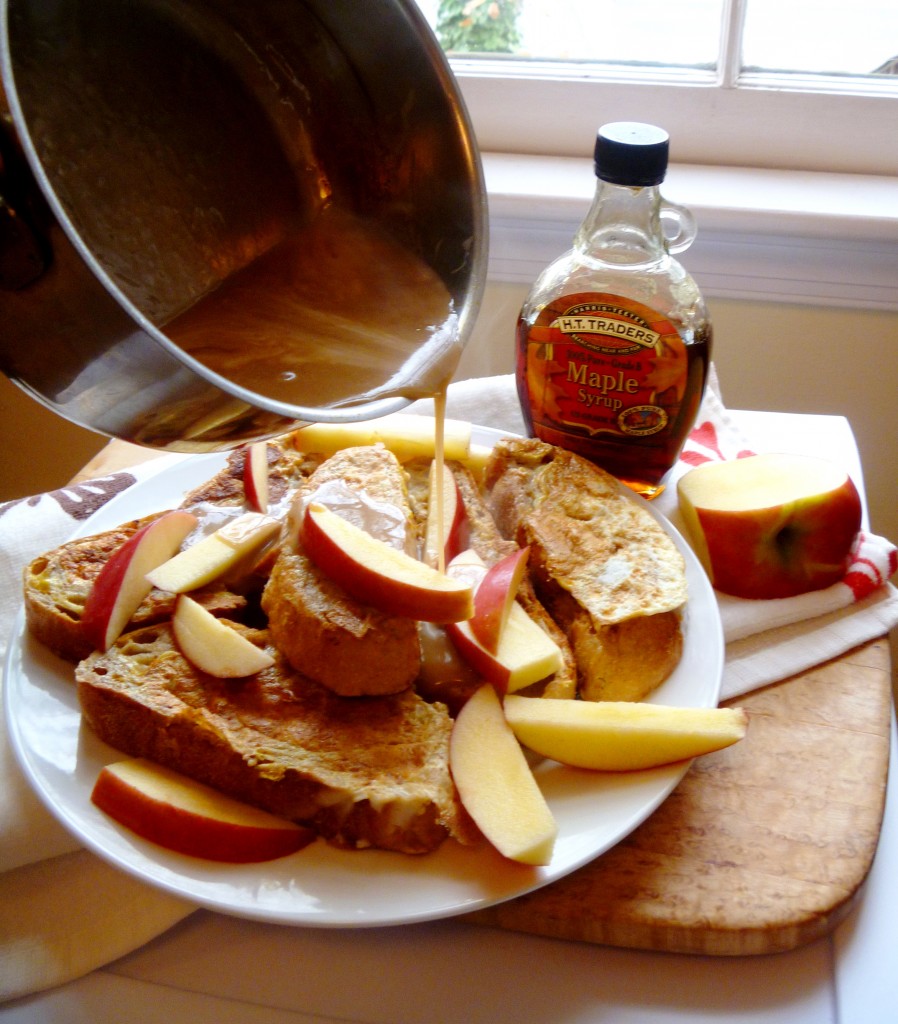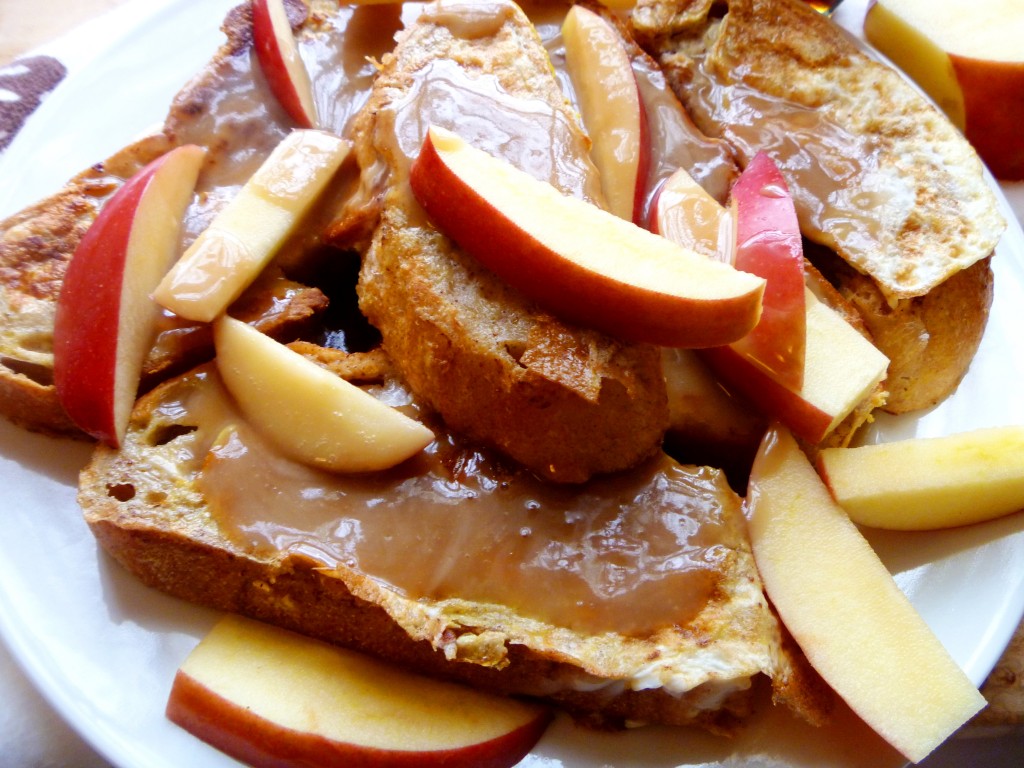 Healthy Recipe Ecstasy? YESSSSSSSS!!!!! Ok, this is obviously not gluten-free because, duh, there's bread involved in French toast. BUT, it is dairy-free. Usually, caramel sauce is made using milk or heavy cream. Not mine – I used coconut milk. And, French toast is usually dipped in regular milk, but I substituted soy milk. Because of the soy and coconut, the dish has a slightly nutty tang, but that only makes it better. Finally, I topped it off with apple slices to get in a serving of fruit. Seriously, make this. It's AMAZING. The only bad part is I ate all the French toast over the weekend and I don't have any leftover…!

Maple Caramel French Toast (Dairy Free!)
Author:
Healthy Recipe Ecstasy
Recipe type:
Breakfast/Brunch
Ingredients
For French Toast:
6 large eggs
½ cup soy milk
½ teaspoon ground cinnamon
¼ teaspoon salt
4-6 slices of thick bread (I used an organic wheat loaf but you can use brioche or sourdough)
Cooking spray, preferably canola oil
For Maple Caramel Sauce:
1-1/2 cups coconut milk fat
1 cup brown sugar
1 tablespoon vanilla extract
1 pinch Kosher salt
¼ cup Maple syrup
Optional:
Sliced apples
Chopped walnuts
Instructions
In a small mixing bowl, whisk together the eggs, soy milk, cinnamon and salt. Place the slices of bread in a single layer in a shallow casserole dish, and pour the egg mixture evenly over the slices. Let the slices soak for 10 minutes, flipping half-way through.
Lightly coat a large skillet with cooking spray over medium heat. Cook the toast until golden brown, flipping half-way through, until golden brown on both sides, about 3-4 minutes per side.
In a small saucepan, bring coconut milk fat and brown sugar to a boil over medium-high.
Cook, stirring, until the fat melts and mixture is smooth.
Reduce to a simmer, stirring occasionally, 5 minutes. Stir in vanilla and salt and maple syrup. Let simmer for another 5 minutes.
Pour the sauce over the French toast.
Garnish with apple slices and nuts, if you desire. I garnished with apple slices which was really yummy. Then, when I was almost done, I thought the only thing that could make this dish better would be to add chopped walnuts on top. I will definitely add those next time!