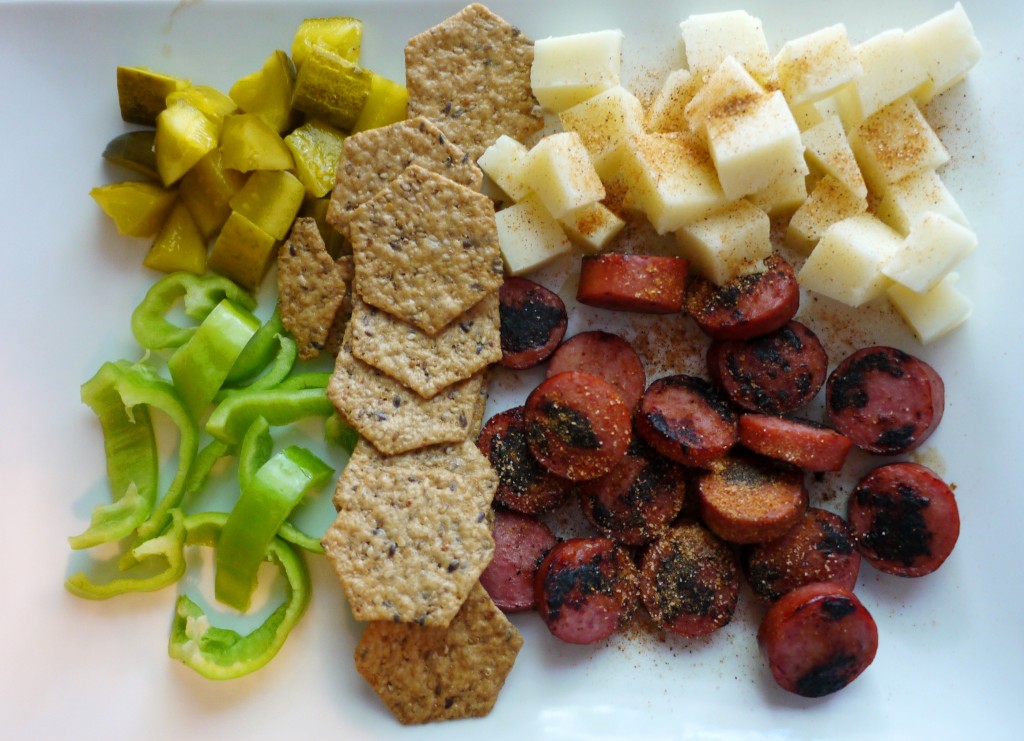 I had hoped to give you guys the first installment of my Memphis Makeover last weekend, but between dinner parties, a friend's birthday brunch, band practice, and Father's Day, the weekend got away from me. Fortunately, I have a relatively quiet week (except for tomorrow night's knife skills class!) so I plan to provide as many Memphis tales and eats as possible!
Let me start by saying, we hit just about every famous Memphis restaurant we could get to during our four-day stay.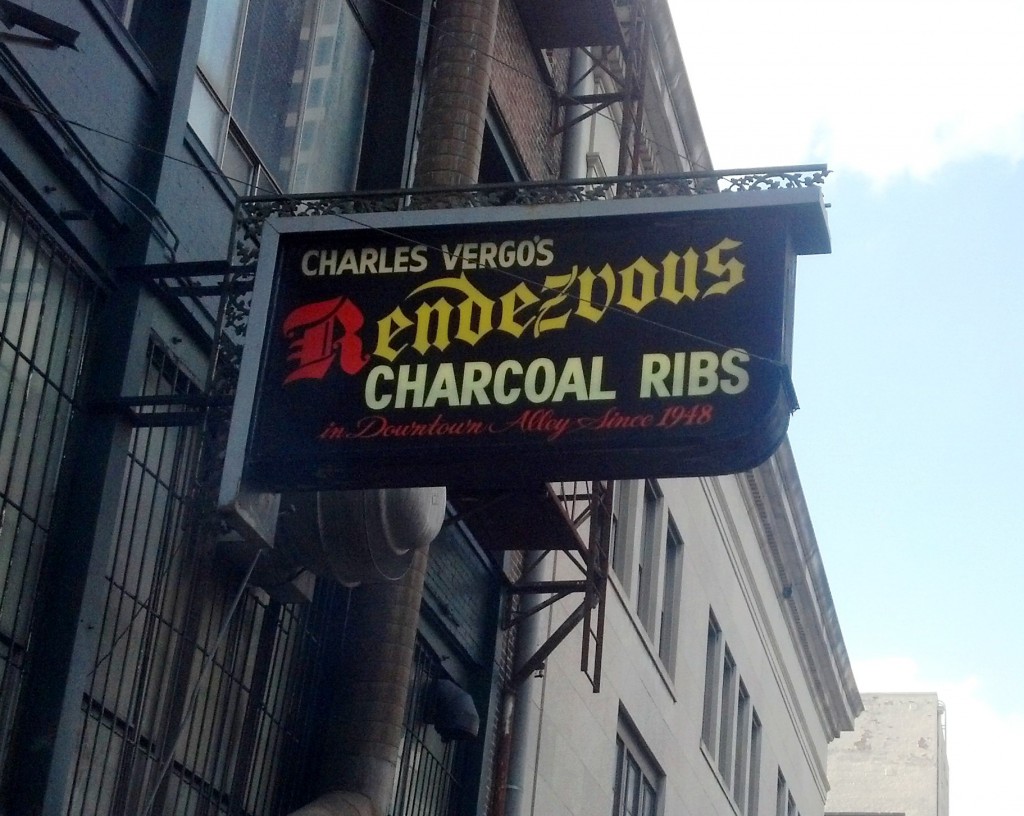 We ate ribs at Rendezvous, BBQ nachos at Central, fried chicken at Gus's World Famous Hot & Spicy Chicken, Elvis sandwiches at The Arcade, and a hefty southern breakfast at Blue Plate Café. You would think with all that eating we would have come back home stuffed to the brim with our bellies satiated. Not quite… Well, the stuffed to the brim part is accurate but our bellies were a little underwhelmed. In fact, Alasdair and I were pretty disappointed with the Memphis eats.
As you may have realized, Alasdair is a BBQ connoisseur. It's one of his three favorite cuisines (the others being Thai curry and Indian curry). His verdict? Famous Dave's is better than Rendezvous (didn't stop him from polishing off his entire plate, though..). My verdict? My Crock Pot BBQ Ribs blow the smoke off the Rendezvous ribs. I get BBQ is all about preference, but we found the Rendezvous ribs to be dry and tough and over seasoned. Central's BBQ nachos came highly recommended but were uninspiring, and, while the Elvis sandwich at Arcade was good, the rest of the food was blah. However, I have to give a shout out to Gus's and Blue Plate. Best fried chicken (Gus's)  and breakfast (Blue Plate) I've had in a long time. Seriously, Gus's chicken is definitely hot and spicy and crispy and crunchy and juicy and moist and all the great adjectives that fried chicken should be.
Aside from the BBQ disappointment, we were disappointed that we never made it to Leonard's for pulled pork sandwiches or the Neely's Interstate Barbecue for BBQ spaghetti. That's ok though — I plan to give you a heaping helping of BBQ spaghetti later this week.
Before that, we have to start off with the dish that almost every Memphis restaurant starts off with: the sausage and cheese plate. What's so special about a sausage and cheese plate, you ask? Well, nothing really. Except the sausage is rubbed with BBQ sauce, sautéed until it's black and then coated in BBQ dry rub or seasoning. It's incredibly simple – saltines, some cheese cubes or strips, yummy sausage, a few pickles and banana peppers – and you have a Memphis-style appetizer.
It may seem like a weird combination – pickles and peppers and cheese? But it's surprisingly good. Especially when you take things up a notch like I did. By making this appetizer a little healthier, I actually made it a little more delicious. Doesn't my plate below look even better than the Rendezvous plate?? And not just because I took the Rendezvous picture with my crappy phone camera versus a real camera… 🙂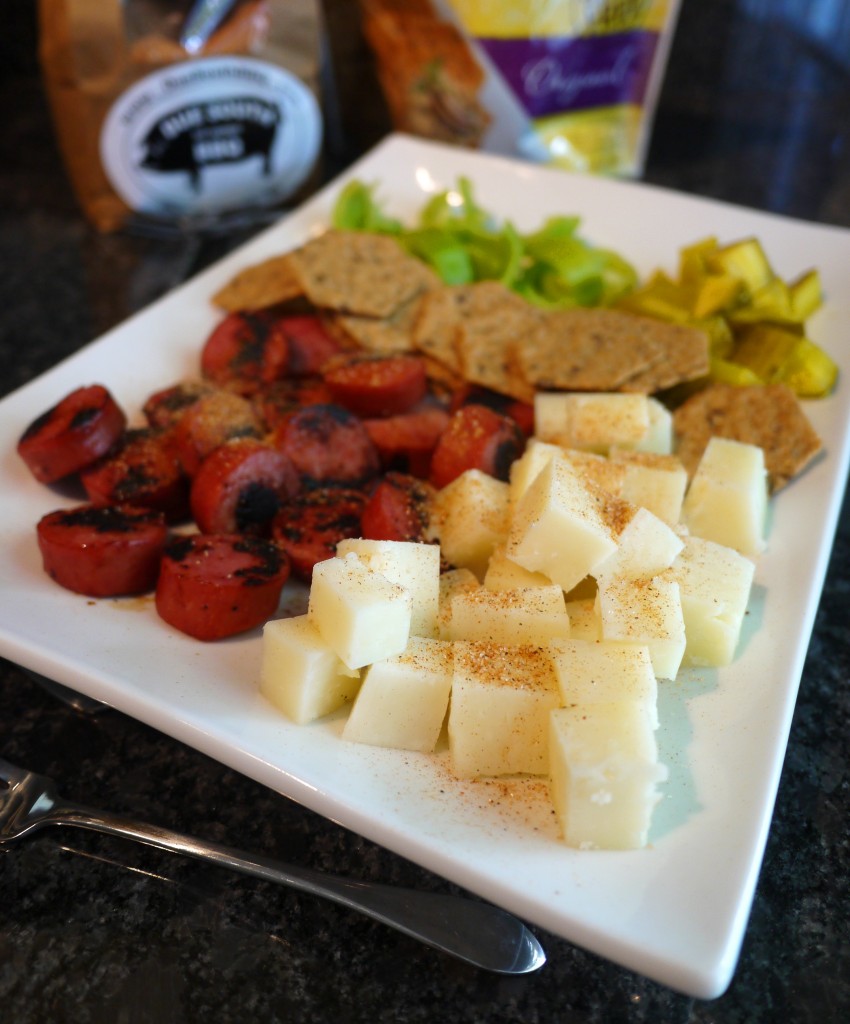 Healthy Recipe Ecstasy? Oh yeah. First, I swapped in lower-fat turkey sausage for the regular sausage. Honestly, once you brush the sausage with the BBQ sauce, sauté it up and top it with the dry rub, you can't tell the difference.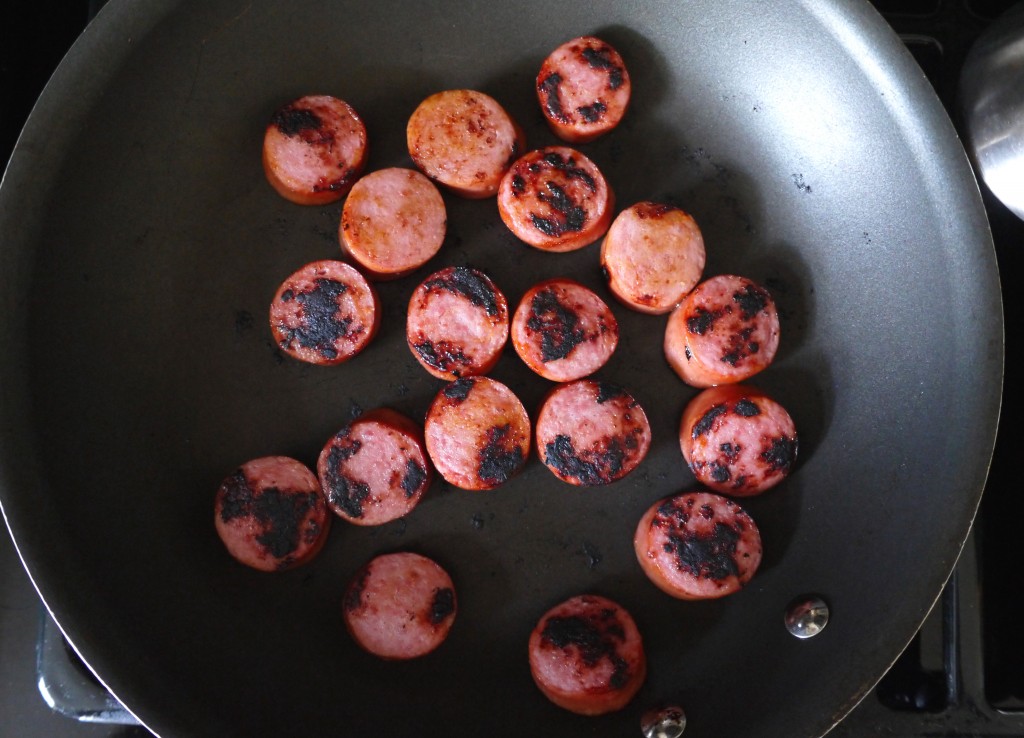 I swapped out the long strips of mystery yellow cheese for smaller cubes of sheep's milk Manchego cheese. I used Manchego for a couple of reasons. First, sheep's milk cheese is easier for my digestive system than cow's milk cheese. Second, Manchego has enough of a punch to stand up to the sausage. And, third, it's just a delicious cheese.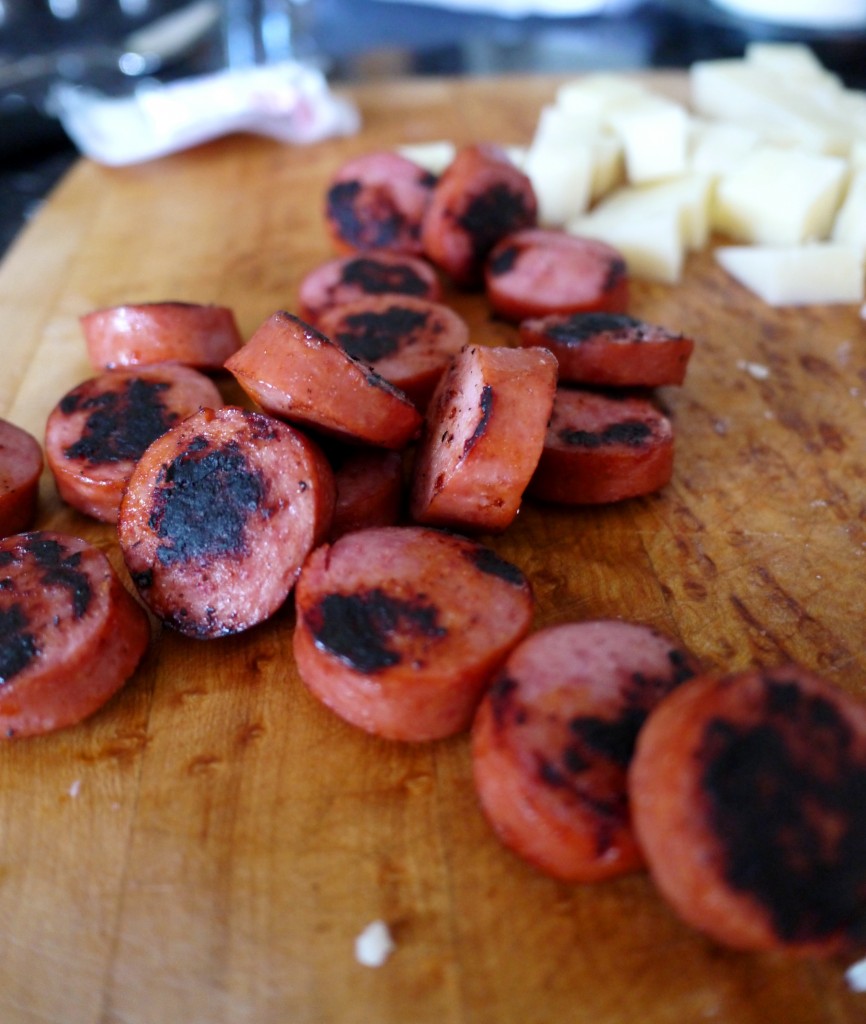 I swapped out the saltines for gluten-free rice crackers. Finally, I used low-sodium pickles and fresh spicy Cubanelle peppers to give the plate even more of a kick. It's the perfect summer appetizer or snack. Just stack all the goodies together on a cracker as high as they will go, open your mouth as wide as it will go, and enjoy!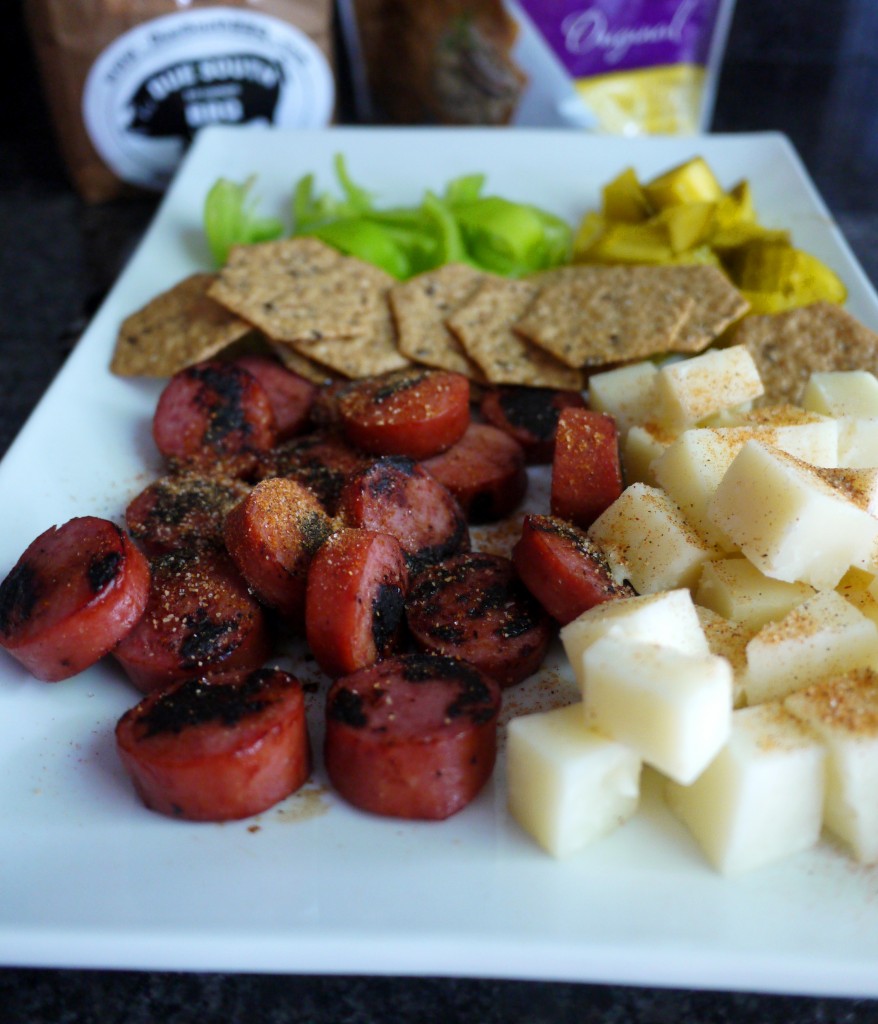 Memphis Makeover: Sausage and Cheese Plate
Author:
Healthy Recipe Ecstasy
Ingredients
8 ounces turkey sausage (yields 1 and ½ cups sliced)
6 ounces Manchego cheese (yields ⅔ cup cubed)
1 large cubanelle pepper or fresh banana pepper
3 low-sodium dill pickles
1 tablespoon of your favorite BBQ sauce
1 teaspoon of your favorite dry rub or BBQ seasoning
Rice crackers for serving
Instructions
Cut the sausage into ½ inch thick slices. Cube the cheese, coarsely chop the pickles and slice the peppers into little strips.
Lightly blot the sausage slices with barbeque sauce.
Heat a non-stick pan over medium-high heat. Add the sausage slices and cook until they start to blacken, about 5-7 minutes. Turn the sausages and cook for another 3-5 minutes or until they start to blacken on the other side. Burnt is good here!
Arrange the sausage slices, cheese cubes, peppers, pickles and crackers on a plate. Spoon the dry rub or seasoning over the sausage and cheese. I used about a teaspoon but the restaurants use much more. Use as much or as little as you like!
Note: The sausage is best served warm or at room temperature, but it tastes fine cold as well. I really liked my combination of cheese, pickles and peppers but experiment with whatever types you like.