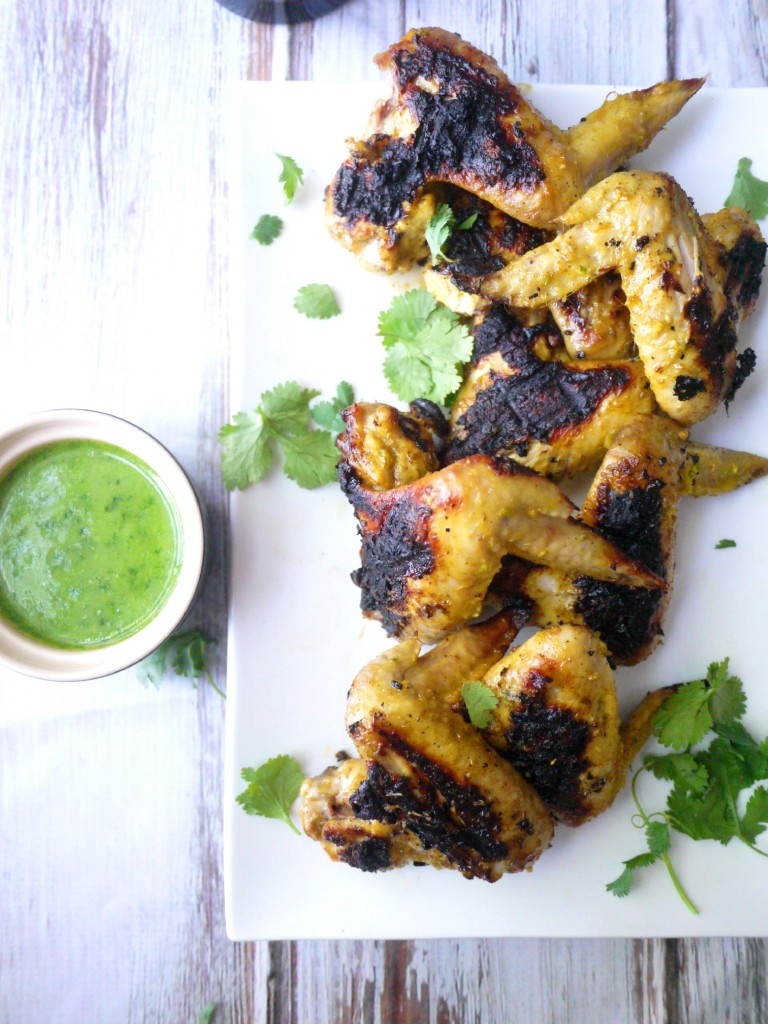 I know I spent Monday extolling the virtues of NOT grilling, and I've only ever really grilled once in my life, but I made an exception for these wings. Plus, Alasdair and I bought an indoor grill/griddle over the winter that has not seen enough use (probably because it sets off our fire alarm way too much thanks to lack of ventilation in our kitchen). So indoor grill = no charcoal and lighter fluid necessary = no excuse for me not to use it. I'll leave the outdoor grilling to our Memorial Day party guests. 🙂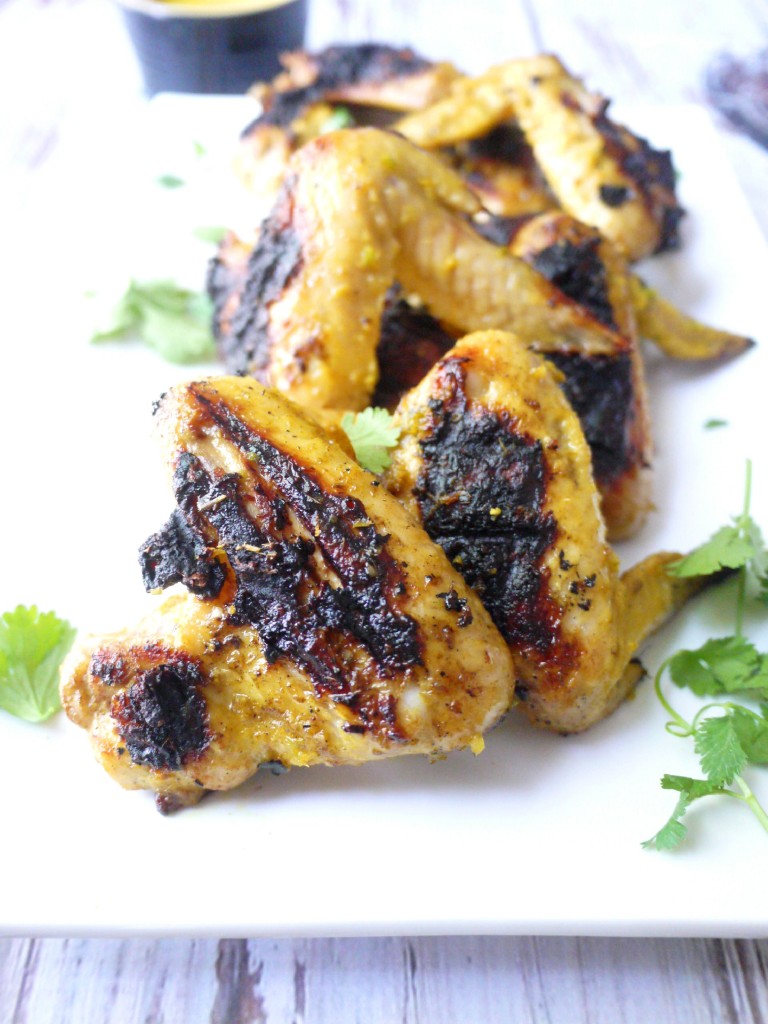 Let's talk about wings. When I was younger and more robust, I used to down buffalo wings like a champ. The spicier the better. In college, I was the girl at B-Dubs ordering the wings that come with a warning note from the chef. Oh, blazing wings, how I miss you. Over the years, I've downgraded my spicy wing status from blazing to hot to medium to things like garlic butter wings or honey BBQ wings. I still do spice occasionally but I'm likely popping Zantacs for days afterwards. <—wings wimp.
Enter these wings. The perfect mixture of flavor and heat and crispy char-grilled goodness. The inspiration came from the menu at Doi Moi – a D.C. restaurant that Alasdair and I have overeaten at quite a few times (it's delish!). During our last visit, I saw coconut and lemongrass wings with green chili emulsion on the menu. They sounded amazing but we had already hit our ordering limit with noodles, crispy rice, soups, pork belly salads, lemongrass beef stir fry, etc., so I refrained. I figured I would order the wings on our next visit. Well, that visit never happened. But these wings did.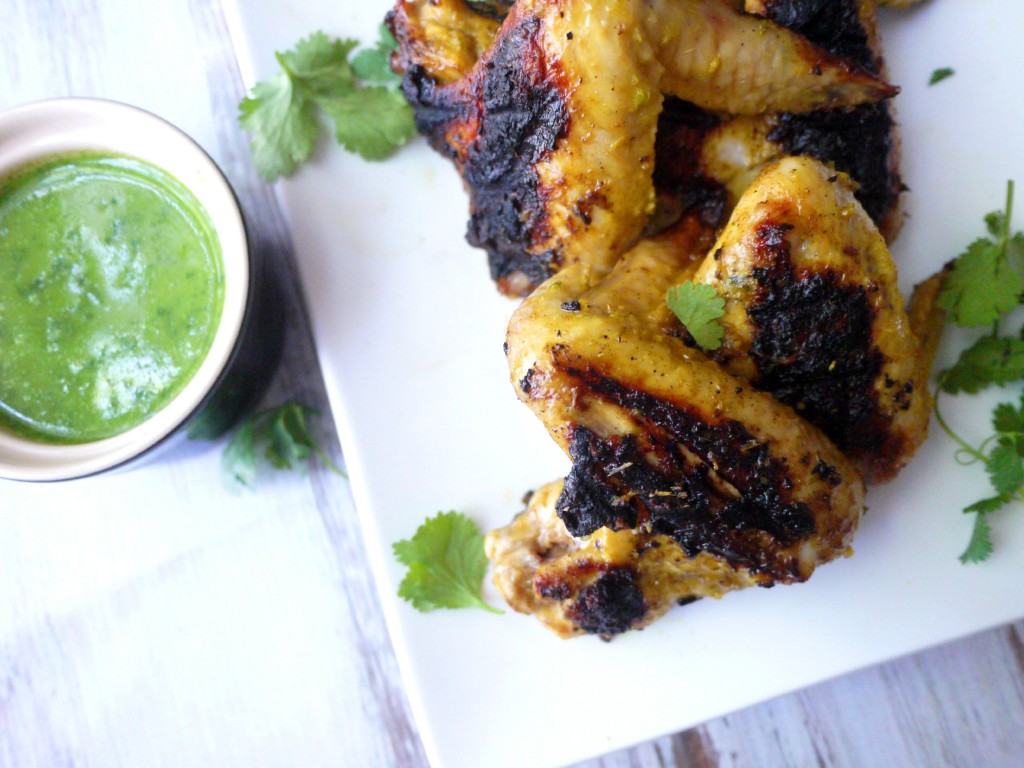 Turns out that Bon Appetit has a coconut and lemongrass chicken wing recipe (sans green chili emulsion). Perfect! Using their recipe as a base, I busted out these hearty wings and took them to the next level with the chili sauce. The best part about a spicy dipping sauce for a spice sensitive girl with a heart burn issue is that rather than scarfing down wings overly slathered in spicy sauce, I can dip or spoon just the right amount of sauce over each wing – just enough heat to make me happy without dealing with a 4-alarm fire situation in my esophagus.
The green chili emulsion makes these wings. I mean, they're yummers without the sauce but they're WOWZA with the sauce. As for cooking technique, baking works just as well as grilling. You won't get that nice charred flavor (and the crispy char is worth it here), but it's a super healthy option and less work than grilling. Can't argue with that. Actually, you can't argue with anything about these wings – they're crispy and moist, they're gluten-free, they're dairy-free, and they're an absolute must for your Memorial Day cookout. A MUST I tell you!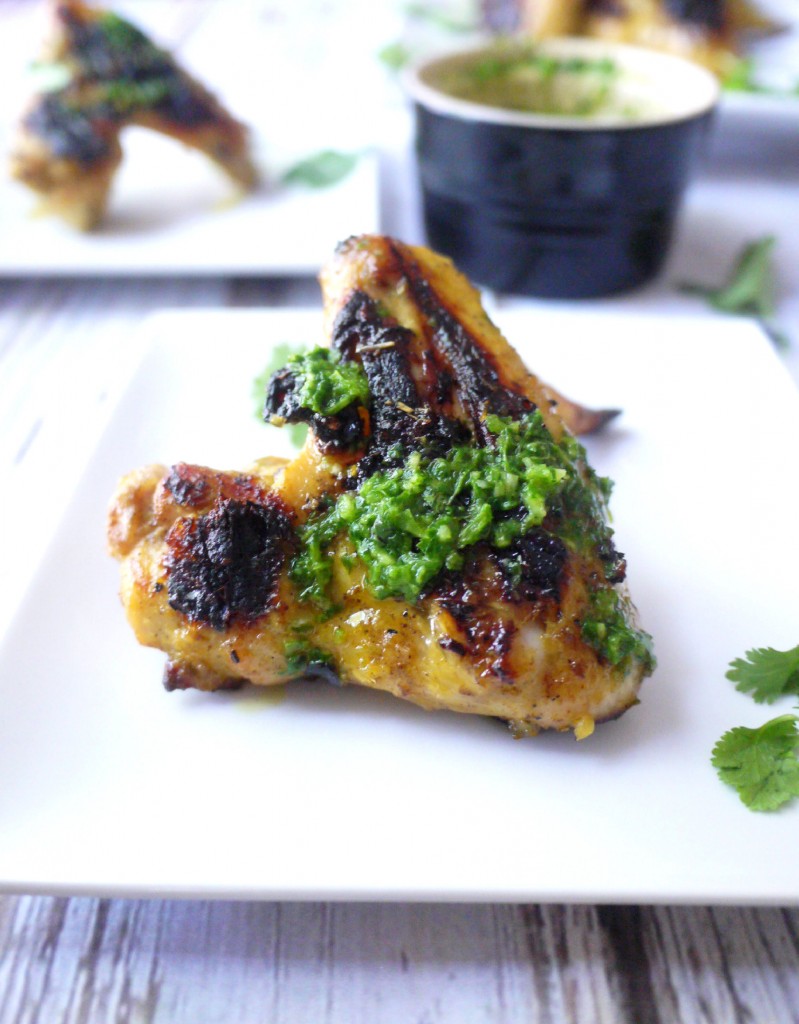 Char-Grilled Coconut and Lemongrass Chicken Wings with Green Chili Emulsion
These wings were inspired by a menu item at Doi Moi restaurant in D.C. and adapted from a
Bon Appetit recipe
.
Author:
Healthy Recipe Ecstasy
Ingredients
Chicken Wings:
1 cup canned unsweetened low-fat coconut milk
2 medium shallots, chopped
3 garlic cloves, chopped
2 tablespoons lemongrass paste
2 jalapeños, seeds removed and chopped
1 tablespoon chopped and peeled ginger
2 tablespoons fresh lime juice
Zest of one lime
1 tablespoon fish sauce (such as nuoc nam or nam pla)
2 teaspoons kosher salt
1 teaspoon turmeric
1 cup water
3 pounds whole chicken wings
Oil or cooking spray for grill
Green Chile-Cilantro Emulsion:
1 cup fresh cilantro
3 tablespoons green chilis (the equivalent of one large jalapeno)
2 cloves garlic, chopped
Juice of 1 lime
½ cup canola oil or neutral oil
Salt and pepper, to taste
Instructions
Chicken Wings:
Combine coconut milk, shallots, garlic, lemongrass, jalapeños, ginger, lime juice and zest, fish sauce, kosher salt, turmeric, and 1 cup water in a blender. Purée mixture until a smooth marinade forms.
Place chicken wings in a large dish. Pour marinade over the wings; turn wings to coat evenly. Cover chicken and chill one hour to overnight.
Remove chicken from marinade, shaking any excess marinade back into dish. Transfer chicken to a large platter. Let stand at room temperature for 15 minutes.
Transfer marinade to a large saucepan and bring to a boil over medium heat. Reduce heat to medium-low and simmer, stirring occasionally, until marinade thickens, 10-15 minutes. Pour half of marinade into a small bowl; set aside for basting chicken while it grills. Keep remaining marinade in saucepan; cover and keep warm until ready to serve the chicken.
Build a medium fire in a charcoal grill, or heat a gas grill to medium-high, or, like me, heat up your indoor grill. Oil grill grates to prevent sticking. Grill chicken wings, turning every 5 minutes and basting occasionally with marinade in small bowl, until fat is rendered and skin is nicely charred in spots, 30-35 minutes. Continue cooking chicken without basting (so it will get crisp) until wings are cooked through, about 5-10 minutes longer.
Transfer chicken to a large platter and let it rest for 5 minutes. Transfer marinade in saucepan to a small bowl.
Green Chile-Cilantro Emulsion:
In the cup of a blender, combine the cilantro, garlic, chilies, and lime juice. Blend for 1 minute. With the blender running, slowly add the oil and continue to blend for 1 minute. Season with salt and pepper, to taste.
Serve green chili emulsion alongside chicken or pour it over the chicken. You also have the leftover marinade as a dipping sauce but the green chili sauce is where it's at.