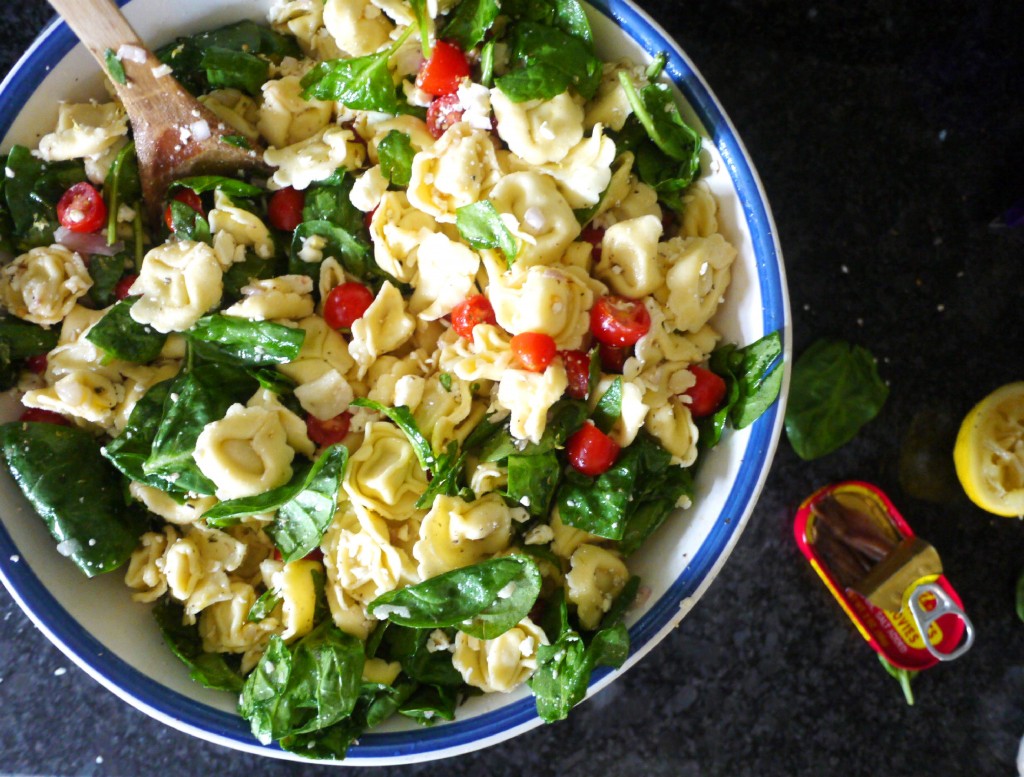 When I think of summer cookouts, I think of hamburgers, hot dogs, corn on the cob, potato salad, pasta salad, and all the good fixins'. When I was young, I used to think the pre-made, grocery store-purchased, mayonnaise-laden pasta salads (macaroni, of course) were the end all and be all of cookout side dishes. But then I grew up. More importantly, my palate grew up, and I no longer enjoyed the dense, overly creamy, bland pasta salads of my youth. Instead, I craved a fresh, flavorful, and light cookout side dish. That's why, back in law school, I stopped picking up my pasta salads at the grocery store deli counter and I started making my own.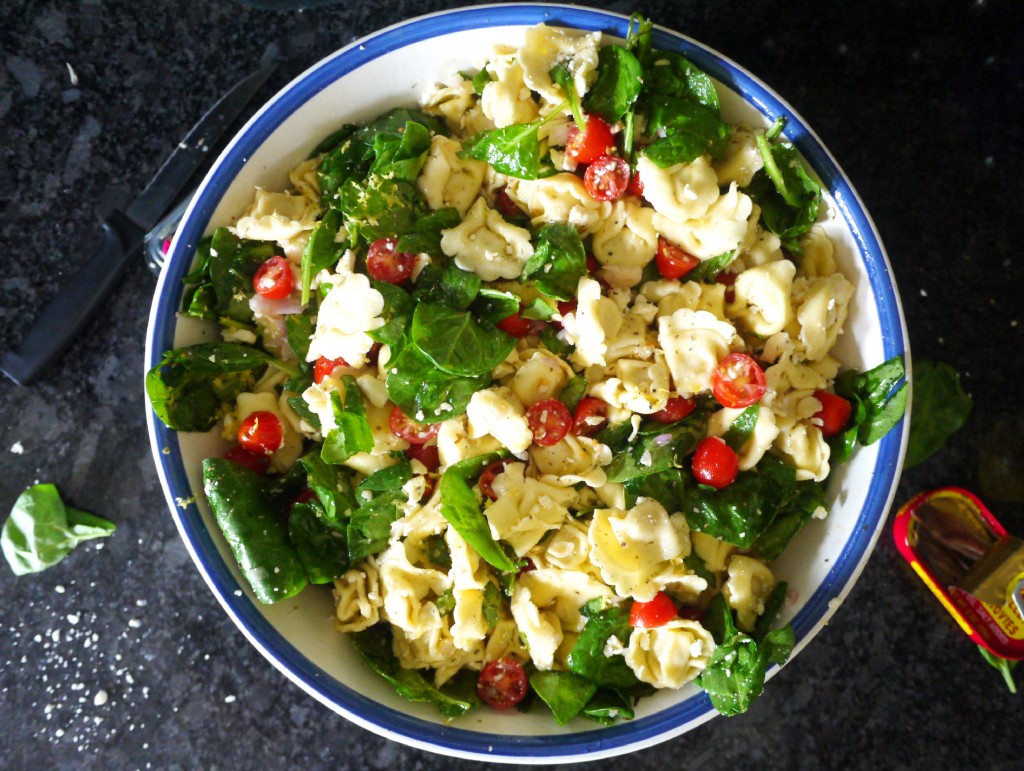 Since then, this Greek tortellini salad has been my cookout "go to." It's light and lemony, chock full of bright bursting tomatoes and healthy green spinach, and finished off with a tangy vinaigrette and salty feta cheese. The salad is extremely easy to throw together, but I must admit, I never make it the same way twice. Sometimes, I make the vinaigrette ahead of time and then pour it over the pasta and veggies. Other times, I take all the ingredients, throw them in a bowl and mix them together. I used shallots this time, but I've also used red onions. Most of the time, I use cheese tortellini, but, in the past, I've used spinach and cheese tortellini or regular penne pasta. Really, the sky is the limit with this pasta salad. However, for purposes of this blog, I tried to scrap together an actual recipe with set ingredients and amounts, but everything can be adjusted to taste. In fact, after making this today, I immediately decided it needed more dressing, and I've doubled the amount of vinaigrette in the recipe. Side note: for a salad like this where every flavor counts, make sure you have good red wine vinegar on hand. The red wine vinegar I found in my cabinet today is cheap and old so today's salad was missing the vinegary tang of past tortellini salads.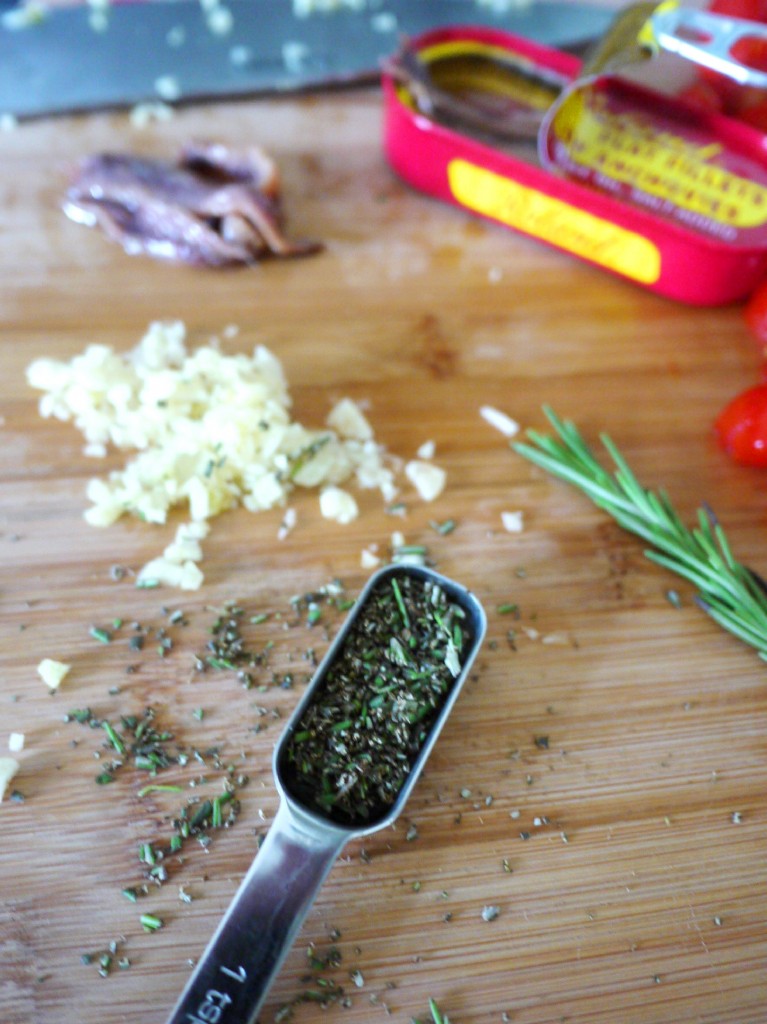 Now, let's talk about the anchovy. Half the people I know in this world hate anchovies. I am not one of those people. You want to know why? Anchovies are the invisible hero. All you people out there who hate anchovies probably don't realize just how many recipes include anchovies. Your Caesar salad? There are probably anchovies in the dressing. That spaghetti squash puttanesca? Could be anchovies in the sauce. You would never know because you can't taste them. I understand that some people cringe at the thought of eating an anchovy whole or topping their salad with one of those slimy, hairy fishies. But, I promise, if you use anchovies in the base of a dish they practically disappear, leaving behind only that salty, umami-type of flavor.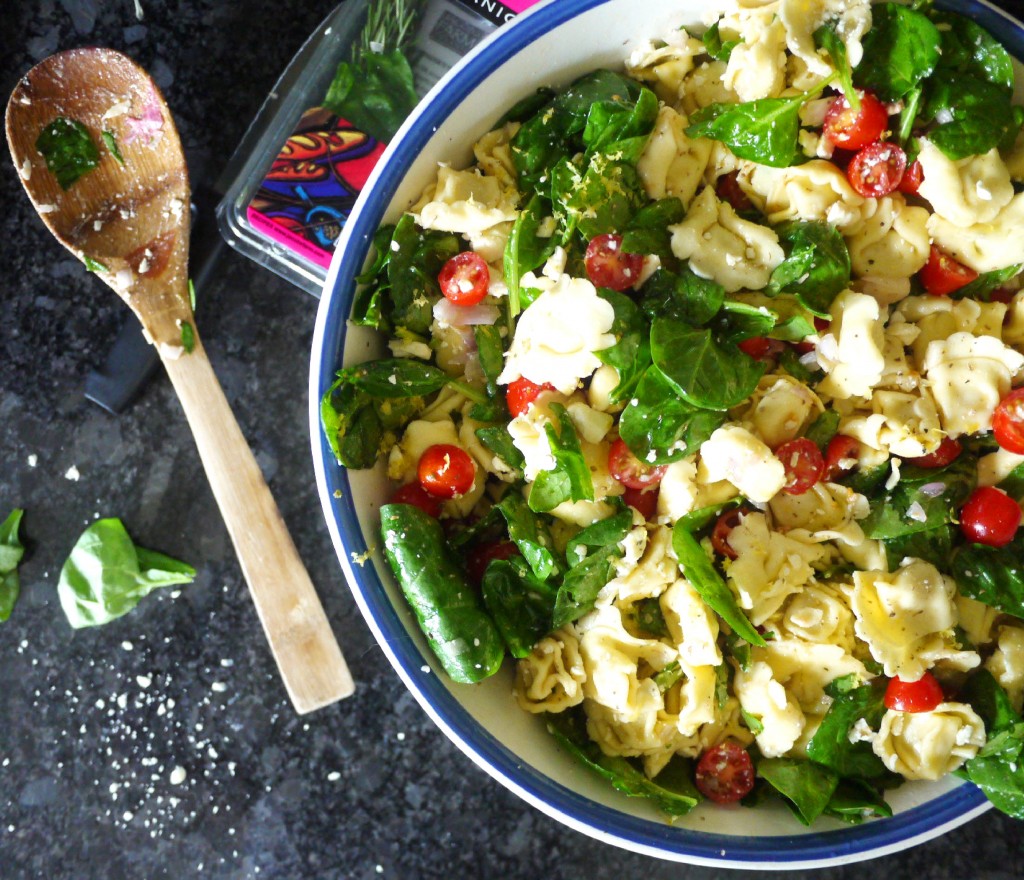 Healthy Recipe Ecstasy?  If, like me, you're sick of the heavy, fatty, grocery store pasta salads, this is a great substitute. All your friends will be much happier (and healthier) if you bring this tortellini salad to their cookout. One of the biggest disappointments of the pre-made pasta salads is that it contains little to no nutrients and even less flavor. This tortellini is chock full of fresh veggies and tangy flavors. If you have a gluten sensitivity, you can easily swap out the tortellini for a gluten-free rotini or penne pasta. Keep all the other ingredients the same and your pasta salad will retain the yummy Greek flavors — tomato, feta cheese, red wine vinegar, oregano and rosemary. If you're vegetarian (or don't believe my anchovy hype), then feel free to leave the anchovy out for a truly veggie-friendly dish.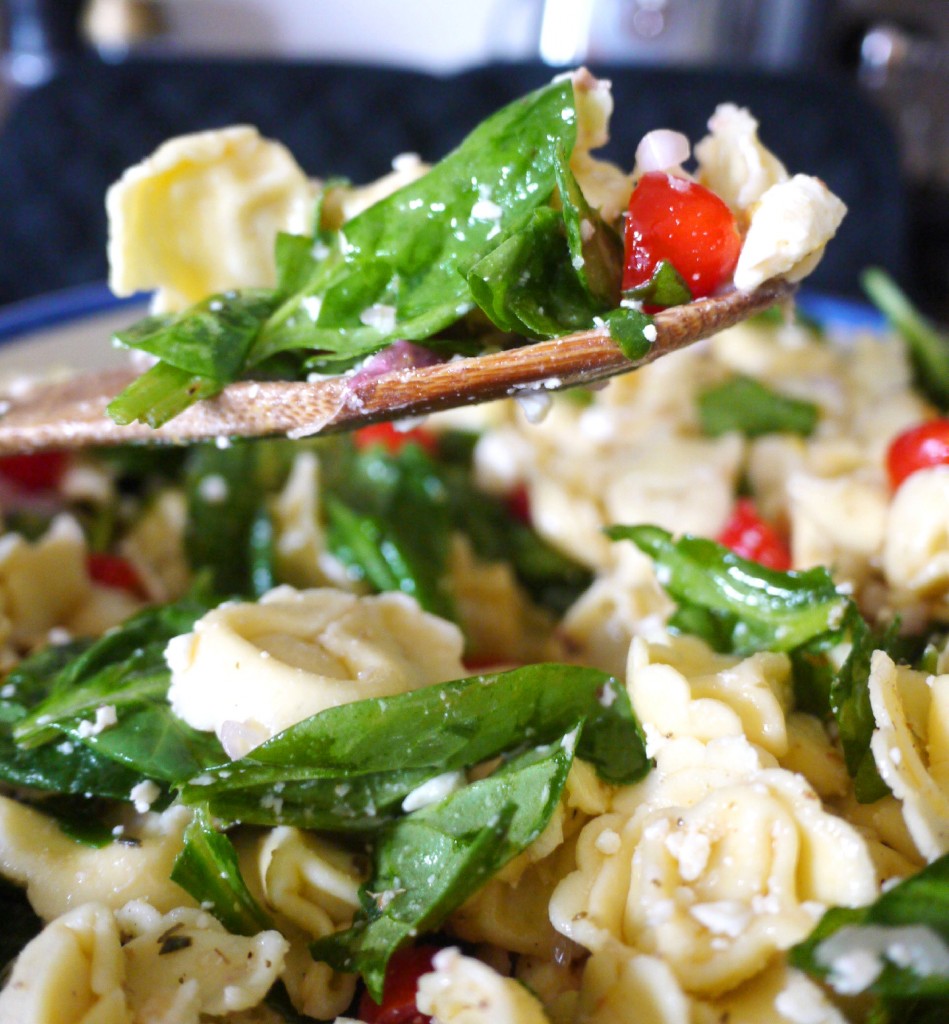 Greek Tortellini Salad with a Red Wine-Anchovy Vinaigrette
Author:
Healthy Recipe Ecstasy
Ingredients
SALAD:
2.5 pounds cheese tortellini (yields about 12 cups of cooked tortellini)
3 cups grape tomatoes
2 shallots, chopped
6 ounces baby spinach leaves
1 cup crumbled feta cheese
Zest of one lemon
Freshly-ground black pepper to taste
VINAIGRETTE:
2 teaspoons finely chopped fresh rosemary
4 garlic cloves, minced and slightly mashed
5 anchovy filets packed in oil, chopped and slightly mashed
½ cup lemon juice
½ cup red wine vinegar
2 teaspoons dried oregano
1 teaspoon salt
Black pepper to taste
1 cup extra virgin olive oil
Instructions
Cook cheese tortellini according to package. Drain and rinse with cold water. Let the tortellini cool completely and add it to a large bowl.
Cut each grape tomato in half and chop the shallots.
Add the tomatoes, shallots, spinach leaves, and feta cheese to the tortellini.
Combine the mashed anchovy, mashed garlic and chopped rosemary in a small bowl. Add lemon juice, red wine vinegar, salt, black pepper, dried oregano and whisk all the ingredients together until combined. To all you anchovy haters, those pesky anchovies will dissolve and you will never see them again. Slowly whisk in the olive oil until all the vinaigrette ingredients are combined. Adjust seasonings to taste.
Gently mix the vinaigrette into the tortellini with two big wooden spoons. Add more black pepper to taste and give the salad a final mix.
Garnish with lemon zest.
NOTE 1: This recipe makes a ton. I usually make it for a cookout, but feel free to half the recipe if you're making it to eat at home. You'll have enough for a few dinners and lunches.
NOTE 2: The tortellini salad is best right after the dressing is mixed in. If you leave the salad sitting for too long, the dressing tends to dry out. On the other hand, it's great after a night in the fridge because all the flavors meld together. If you're not going to eat the entire salad right away, my advice is to mix in half the vinaigrette dressing and save the second half of the dressing to mix in with leftovers.
NOTE 3: If you're not scared of anchovies, PUT THEM ON TOP OF THE SALAD! Seriously, do it. I dare you.