I. Want. Salad. Seriously, every time I travel, especially over to the bacon roll- and fried fish-loving UK, I come home just salivating for some greens.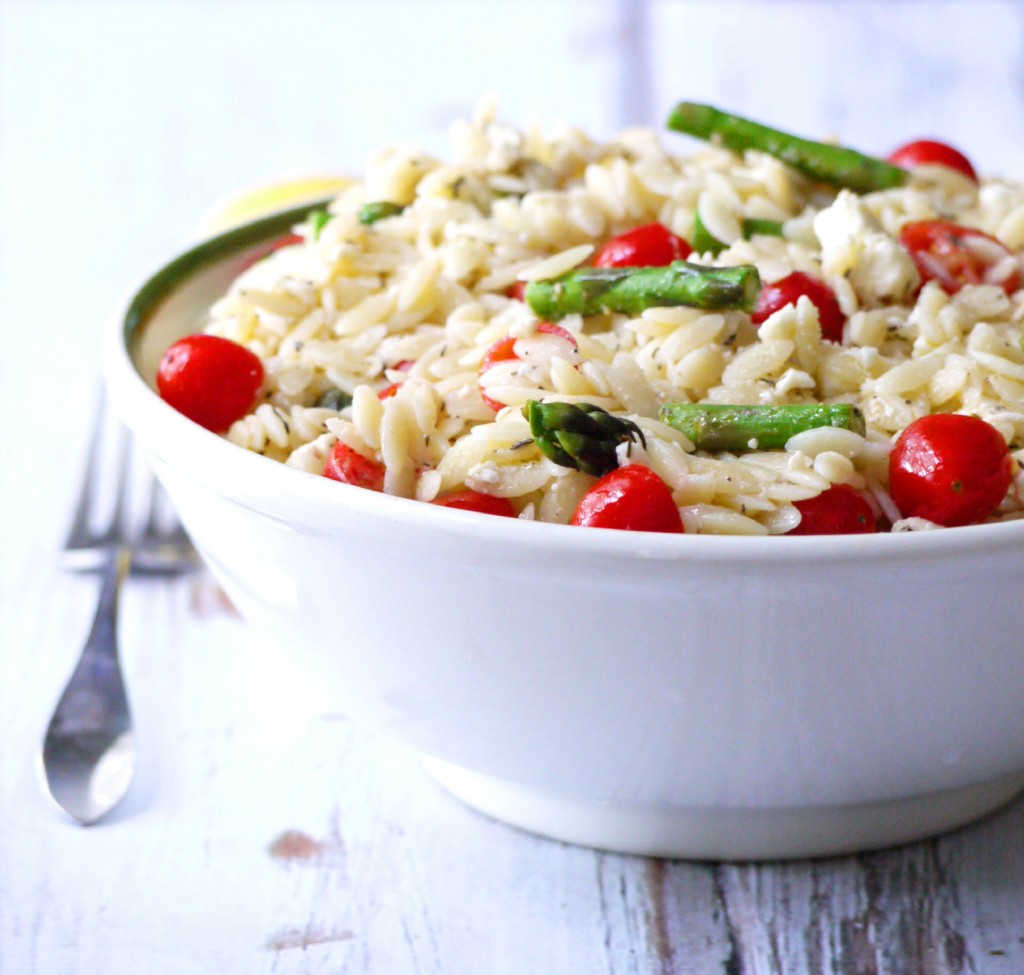 Maybe it's because I tend to go a bit off the rails when I travel. Whoops. But, who doesn't? Don't answer that. I don't want to know.
The day after we got home, I buried my face in a big bowl of spinach, avocado and quinoa salad. YUM. I felt like I was at a health spa with every bite I took.
Of course, we came home three short days before the holiday most known for burgers, hot dogs, and red, white and blue popsicles; not known for green salads and quinoa. And, as much as I love to dive face first into a creamy, mayo-laden macaroni salad on the Fourth, I'm just not quite ready to give up my veggies.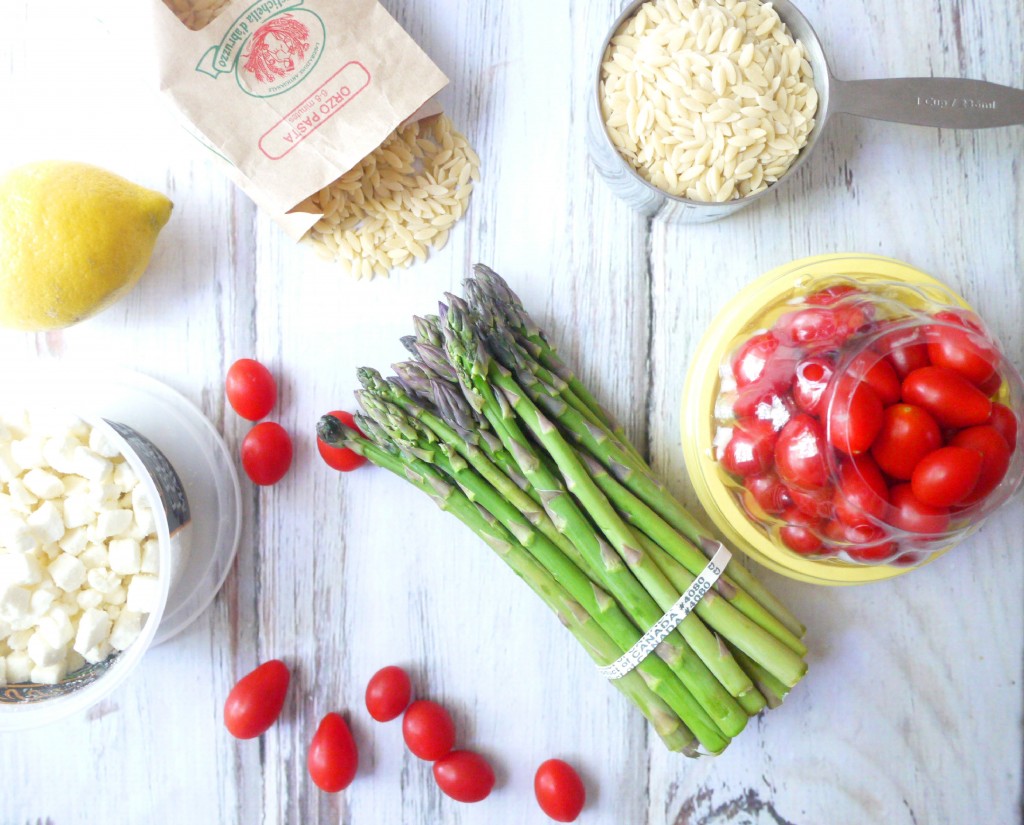 So this Fourth of July, I'm looking for the healthiest side salads out there, starting with my favorite orzo salad. Don't you just love that word? O-R-Z-O. It sounds so fancy but really it's just pasta that kind of looks like rice. Rasta? Pice? Ok, no. I'll stop there.  I'm still jet lagged….
I heart this salad times a million. It's super easy to make. It's lemon-y, feta-y, crispy asparagus-y. All my favorite things. You can make it ahead of time. Eat it hot, warm, cold, however you like. It's like the world's best potluck dish. Put it out on the table at your Fourth of July cookout and fuhgeddaboudit. Your guests certainly won't fuhgeddaboudit though.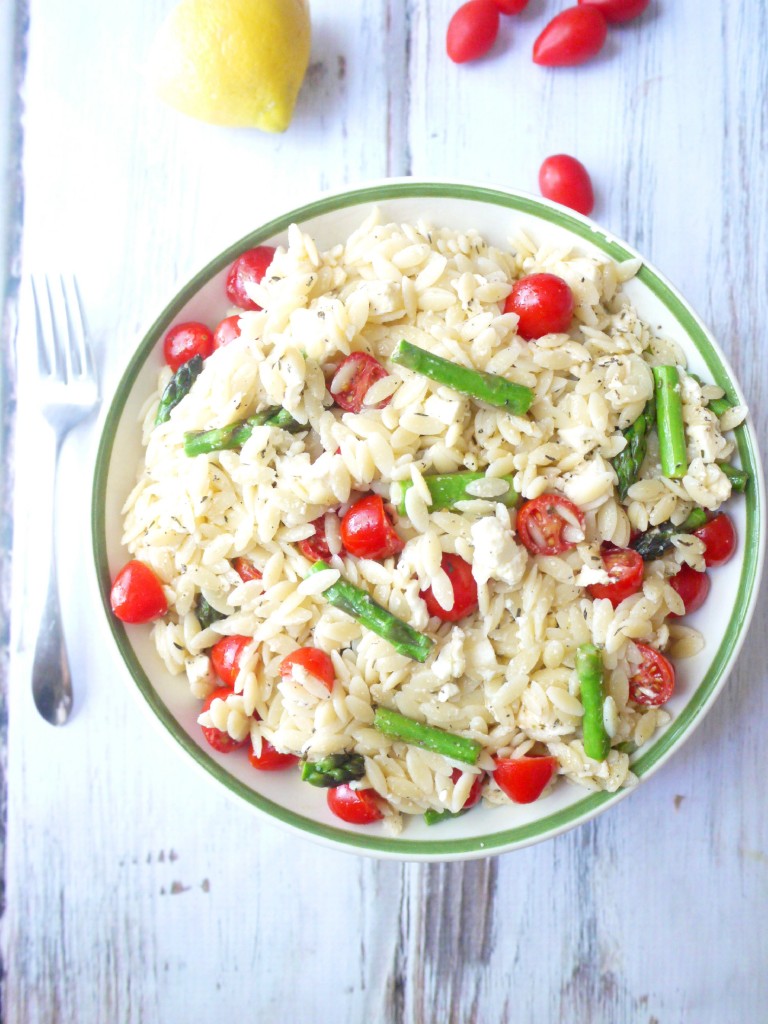 If you're having a raging shindig and need multiple sides, check out this list of the healthy side dishes I'm eyeing up this Fourth.
Spinach Pesto Pasta Salad by Baked By Rachel
Minty Mushy Pea Quinoa Salad by Healthy Recipe Ecstasy
Avocado Tomato and Corn Salad by Bake Your Day
Chickpea Avocado and Feta Salad by Two Peas and Their Pod
Greek Tortellini Salad by Healthy Recipe Ecstasy
Superfood Quinoa Salad by Healthy Recipe Ecstasy
Mediterranean Bulgur Salad (Tabbouleh) by A Couple Cooks
Lemony Grilled Potato Salad by Cooking Light
Japanese Noodle Salad by Noshing with the Nolands
White Bean Salad with Pomegranate and Parsley by Healthy Recipe Ecstasy
Summer Bean Salad by Cooking Light
Southwest Quinoa and Black Bean Salad by Healthy Recipe Ecstasy

Summer Orzo Salad with Asparagus, Cherry Tomatoes and Feta
Author:
Healthy Recipe Ecstasy
Ingredients
2 cups orzo pasta
1 bunch of asparagus
1 cup cherry tomatoes, sliced in half
1 and ½ cups crumbled feta cheese
1 and ½ teaspoons dried thyme leaves
Juice of 2 lemons
Sea salt and freshly-ground black pepper, to taste (I like to go heavy on the pepper for this recipe)
2-3 tablespoons olive oil drizzle, plus 1 teaspoon for cooking the asparagus
Instructions
Cook orzo according to the package. Drain and set aside.
Chop the asparagus stalks into thirds. Heat one teaspoon olive oil in a large skillet and cook the asparagus over medium heat until cooked but still crisp, about 3-4 minutes.
Add the orzo and asparagus to a large bowl. Add the tomatoes, crumbled feta, thyme and lemon juice. Toss all the ingredients together. Season with salt and pepper and drizzle with olive oil.
Serve hot, warm, or cold. It's good at any temp! Oh yeah, and Happy Fourth of July. ;) :)