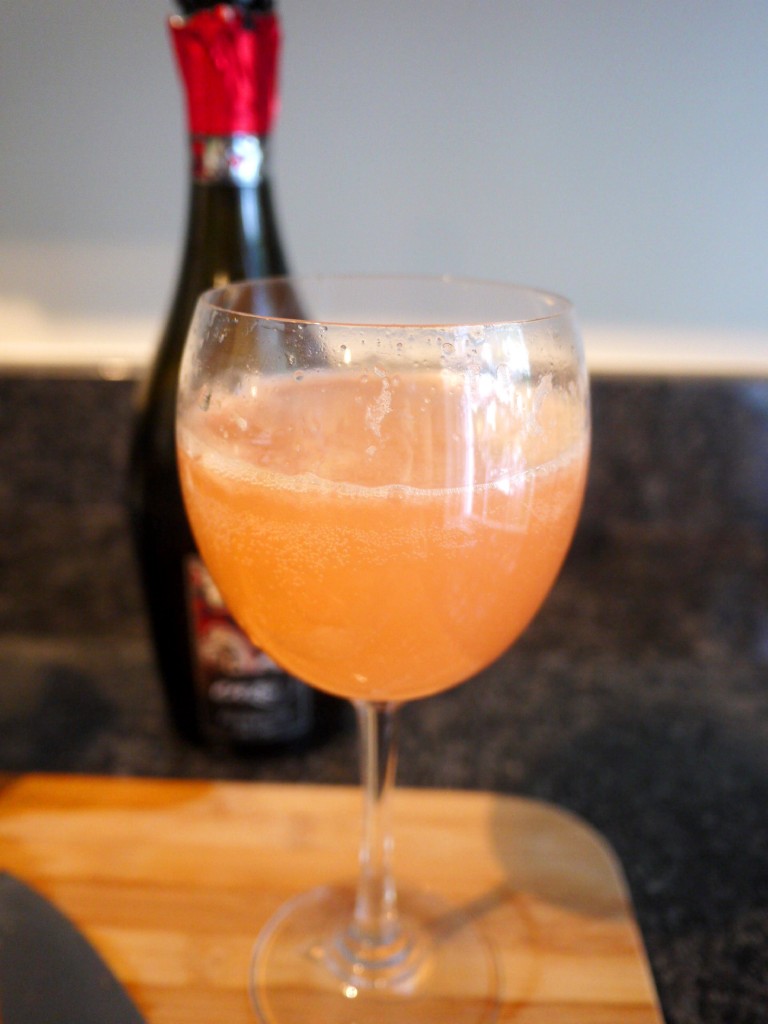 I don't often talk about alcohol on this blog because, offered the choice between a fine glass of wine and a fine cheese, I will choose cheese every time. That doesn't mean, however, that I don't enjoy the occasional cocktail or glass of Prosecco. In fact, my all-time favorite weekend brunch drinks are those that mix sparkling wine (such as Prosecco) or champagne with some type of fruit – mimosas, bellinis, etc. These drinks are light and refreshing and, usually, relatively low-calorie compared to some of the more creative cocktails or a heavy Bloody Mary.
I've had this particular mimosa in my arsenal for quite some time. In fact, it dates back to the beginning of my relationship with Alasdair – back when he lived in Florida and we were debating whether to hop on the roller coaster ride known as long-distance dating. During my first visit to Alasdair's house in Florida, I was introduced to his grapefruit tree. I think I may have mentioned that I am botanically challenged, so the fact that I was contemplating a relationship with this Scottish guy who lived in Florida and grew his own grapefruit tree was slightly intimidating.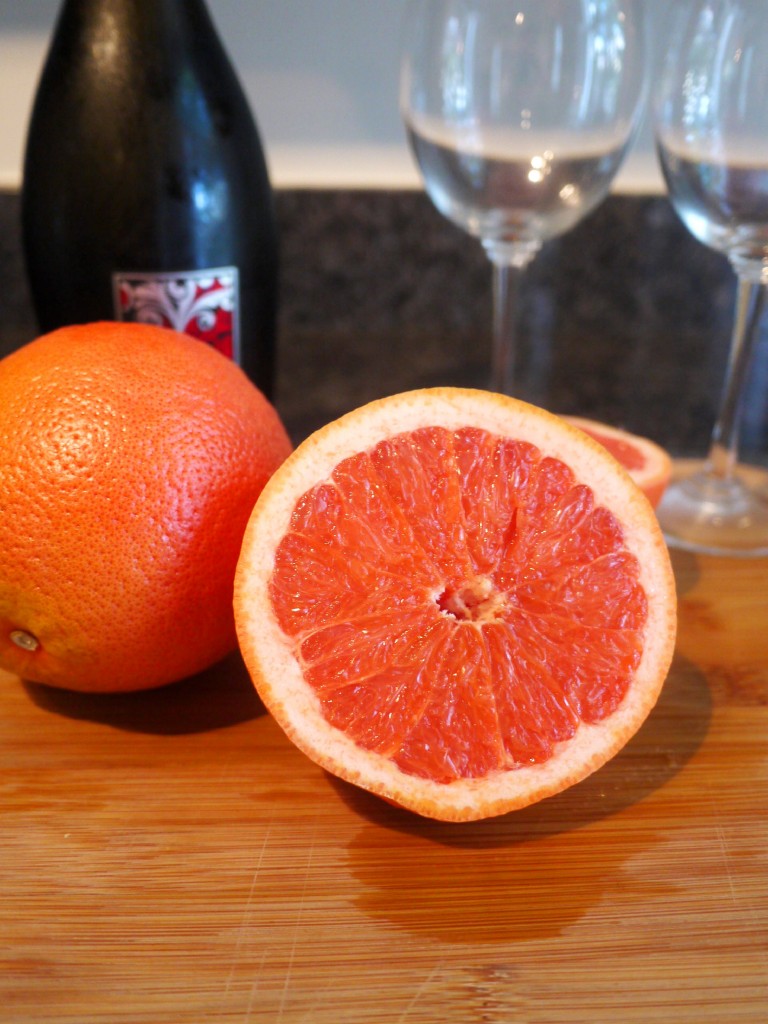 One morning during my visit, we were discussing the abundance of grapefruit in the backyard and considering our breakfast options. I'm not a huge grapefruit-for-breakfast person, and I wanted to bring something to the table such as my amateur yet burgeoning culinary skills, so I threw out the idea of grapefruit mimosas. Fortunately, he loved the idea. So much so, he even agreed to squeeze all the juice out of the grapefruit (thankfully he is really good at "juicing" because I'm kind of horrible at it). This is Alasdair, five years ago, helping me make grapefruit mimosas. It feels like forever ago!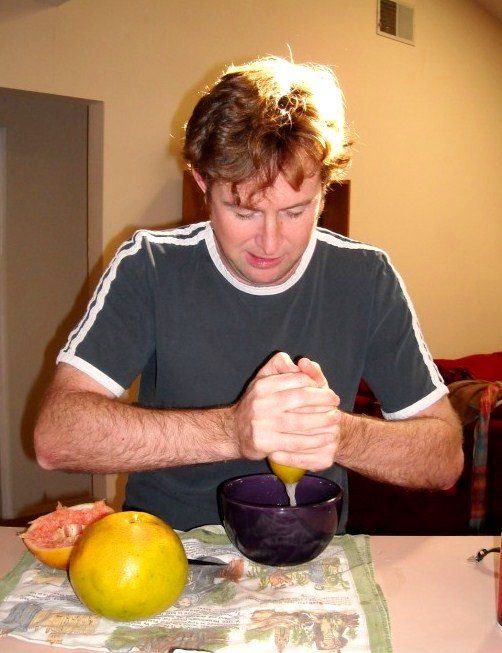 Ten minutes later, we had two glasses filled with champagne and grapefruit juice, and Alasdair was praising my creativity. We were both blown away by the flavor combination. We considered this drink was our little discovery, and now it's a memory of a fantastic weekend spent together. In fact, I think it's what sealed the deal…. 😉 Nearly five years later, after long distance dating from Florida to D.C., Florida to San Francisco, Florida to Paris, and Florida to D.C. again (I really made him work for it), we are two months away from our wedding and still drinking grapefruit mimosas. Oh, and he is still squeezing the juice for me. 🙂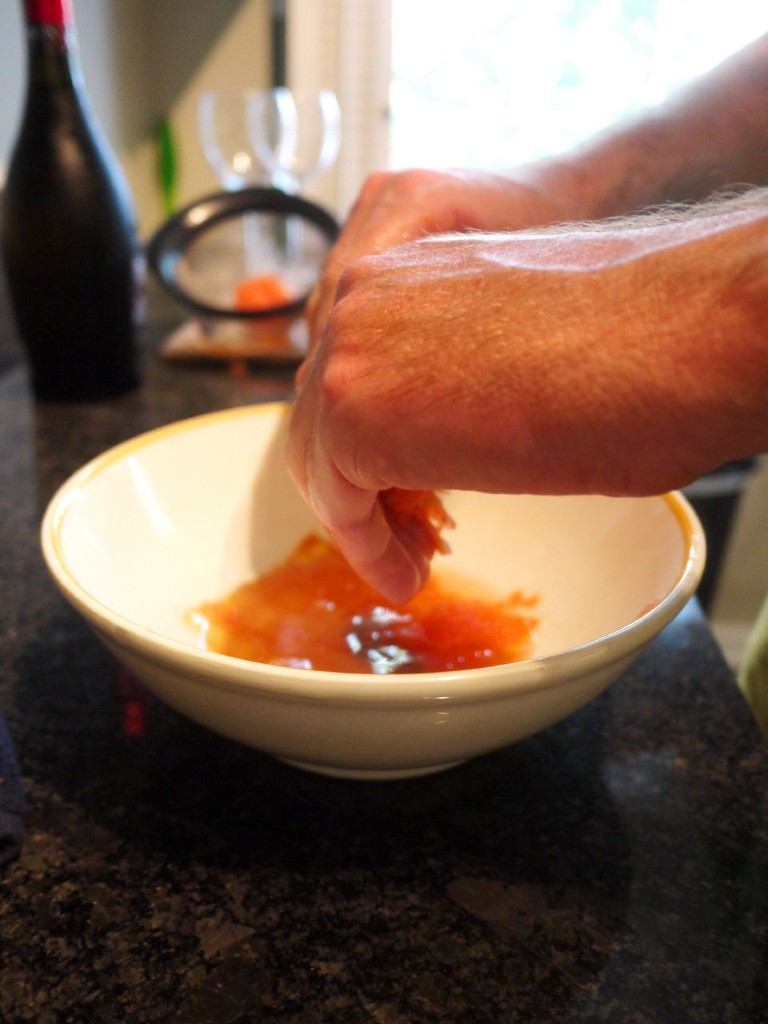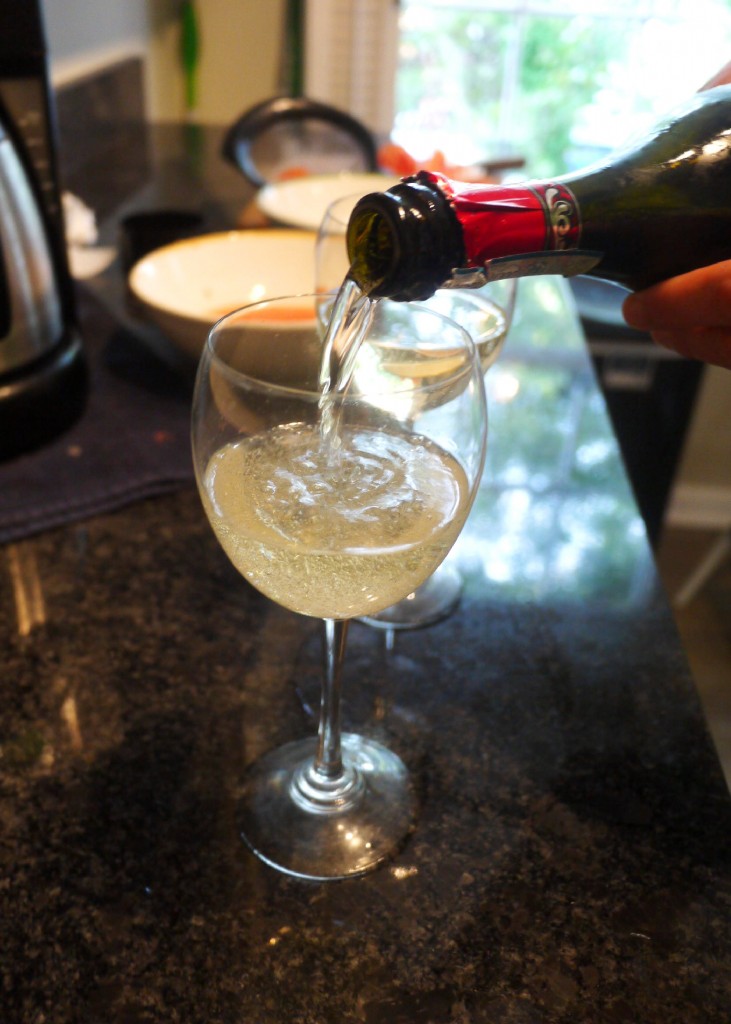 Healthy Recipe Ecstasy? As far as calories go, champagne and sparkling wine are the best choices out there. Especially when compared to carb-loaded beers and sugary cocktails. The addition of healthy grapefruit juice only ups the health factor. And, for some reason, the grapefruit juice and champagne/sparkling wine compliment each other in a way that's utterly delicious and hard to explain. I find mimosas with orange juice to be too acidic and sugary. But grapefruit has a little less sugar than oranges so, not only does it taste smooth and refreshing, it's a slightly healthier choice. Oh, and the best part is, you only need two ingredients to make this drink!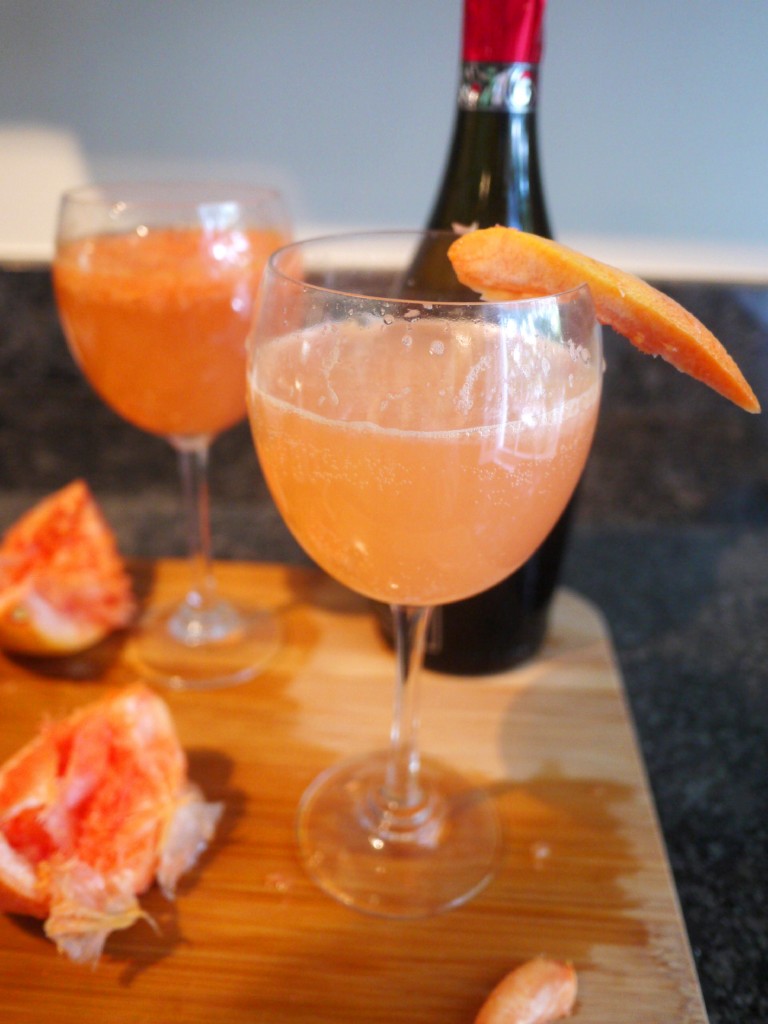 Grapefruit Mimosas
Author:
Healthy Recipe Ecstasy
Ingredients
2 grapefruits
Half a bottle of champagne or sparkling wine such as Prosecco
THAT'S IT.
Instructions
Slice the grapefruits open and squeeze the juice into a medium-sized bowl. Use a mesh strainer to strain the juice into a second bowl, leaving the seeds and pulp behind. One grapefruit produces enough juice for one large mimosa.
SIDE NOTE: Alasdair loves pulp and did not strain his grapefruit juice last time I made these mimosas. I hate pulp with a passion so I would never consider that but feel free to leave the pulp in if you're a fan.
To make the drink, go about half and half with the alcohol and juice. I used a regular wine glass because we don't have champagne flutes, and I added approximately ⅔ cup Prosecco and ⅔ cup strained grapefruit juice.
Garnish with a twist of grapefruit skin and enjoy!