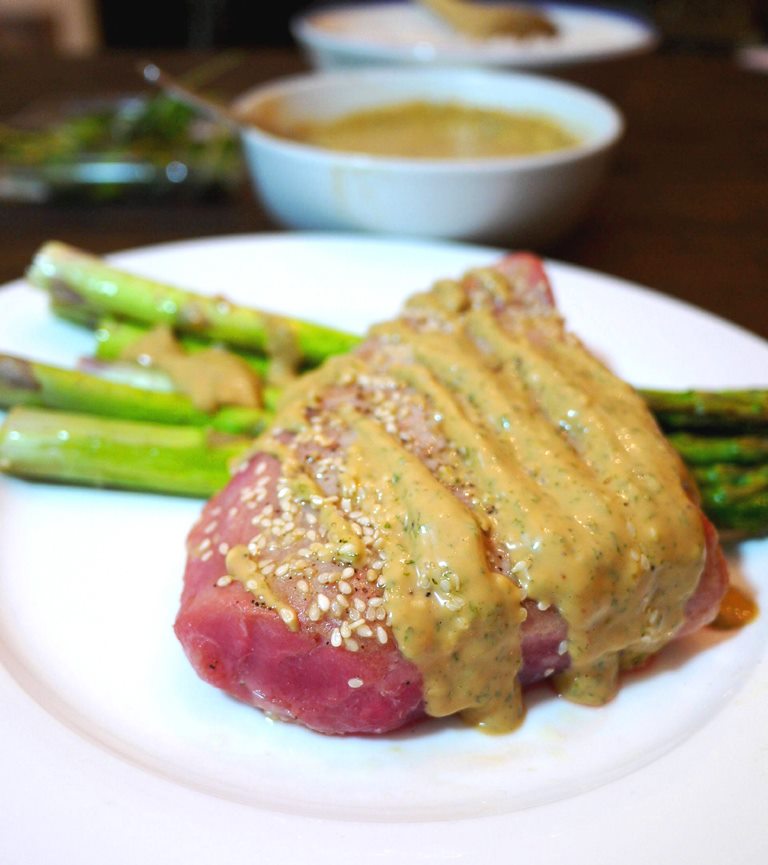 Yesterday was our first 100-degree day of the summer in Washington, D.C. If you live in D.C., you know that means a muggy, humid, sweaty existence. By the time I got home from work (a 1.5 mile walk in the humidity), I was exhausted and overheated, and I needed something quick and easy that would cool down my body. I also spent most of the week eating out and over-indulging so I reeaaalllyyy needed to get back on the healthy recipe track. The perfect remedy to a heat week in Washington? Tuna steaks and asparagus with a spicy mint mayonnaise sauce. The garlic chili paste gives the sauce a little kick while the mint is the perfect complement to cool you down on a hot summer's night.
I created this recipe last summer on a whim. Alasdair loves sauces and spice, and I had an overabundance of mint leaves that I needed to use up, so I put on my thinking cap and made the mint mayo sauce to liven up the healthy tuna steaks, wild rice and asparagus dinner I had planned. Alasdair said that it was one of the best meals he had eaten in a while – restaurant quality even. It still makes me happy to think about!
VERDICT: Healthy Recipe Ecstasy Reached! It doesn't get better than this!

Sesame Crusted Tuna Steaks with a Spicy Mint Mayonnaise Sauce
Author:
Healthy Recipe Ecstasy
Ingredients
MAYONNAISE SAUCE
1 cup light mayonnaise (make sure your mayonnaise does not contain any dairy)
⅛ cup gluten-free soy sauce
¾ tablespoon garlic chili paste
1 cup mint
Black pepper to taste
TUNA STEAK
4 tuna steaks
¼ cup gluten-free soy sauce
¾ tablespoon garlic chili paste
4 tablespoons sesame seeds (1 tablespoon per tuna steak)
Instructions
Preheat the broiler on high.
Mix the mayonnaise sauce ingredients together in a small bowl and then puree until smooth with a food processor. I used a handheld food processor which is perfect for this small amount of sauce. A regular standing food processor would work fine as well.
Mix the ¼ cup soy sauce and ¾ tablespoon garlic chili paste in a medium bowl. Dredge each tuna steaks in the soy sauce mixture until fully covered. Place the tuna steaks on a baking sheet coated with cooking spray. Sprinkle sesame seeds on top of each tuna steak
Broil the tuna for 6-8 minutes or until it's cooked to your liking. I like my tuna pretty rare but you can cook it longer to your specifications.
Serve the tuna steaks with the mayonnaise sauce and enjoy!
NOTE: I like to serve this tuna dish with asparagus and wild rice - the sauce goes especially well with those sides. However, you can substitute other vegetables and starches in as well. The sauce tastes just as good over broccoli and potatoes. :)