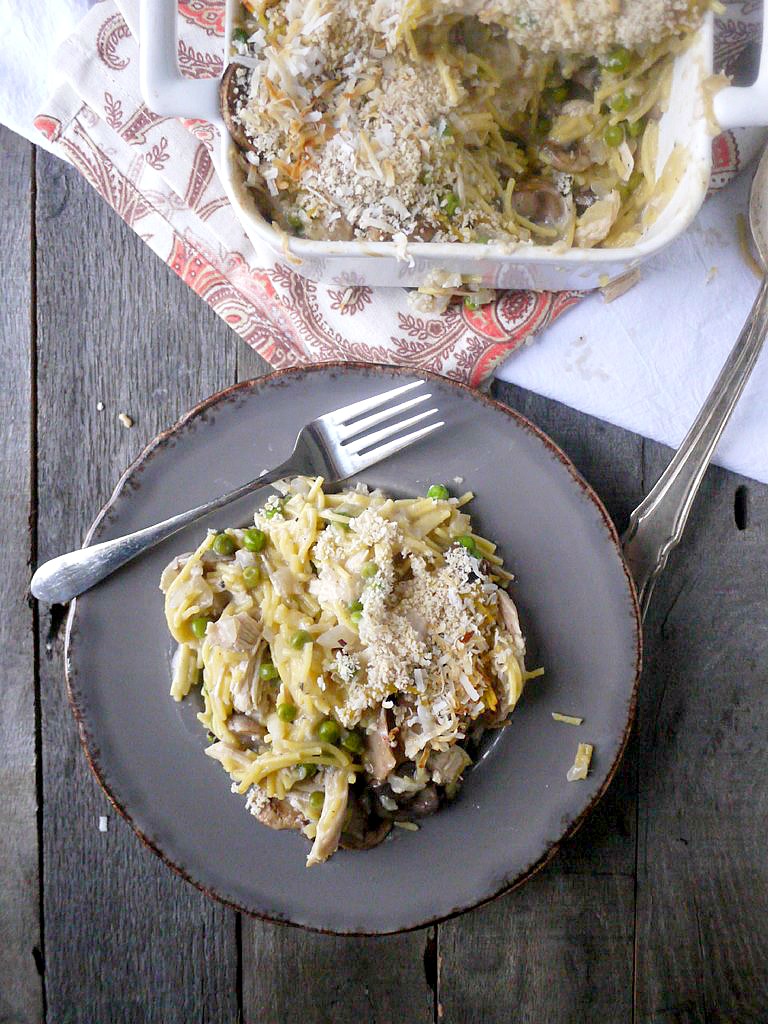 Is anyone else stuck in a between-holiday-eating limbo? On one hand, after no less than three Thanksgiving feasts in the past two weeks, I am definitely in need of some healthy goodness in my body. But, on the other hand, I'm kind of still grooving on creamy casseroles and holiday indulgences. I mean Christmas IS just around the corner….
So, I decided to compromise. I'll let myself keep chowing down on the comfort food that is so appreciated at this time of year when it's all dark and cold but I'll health it up a bit.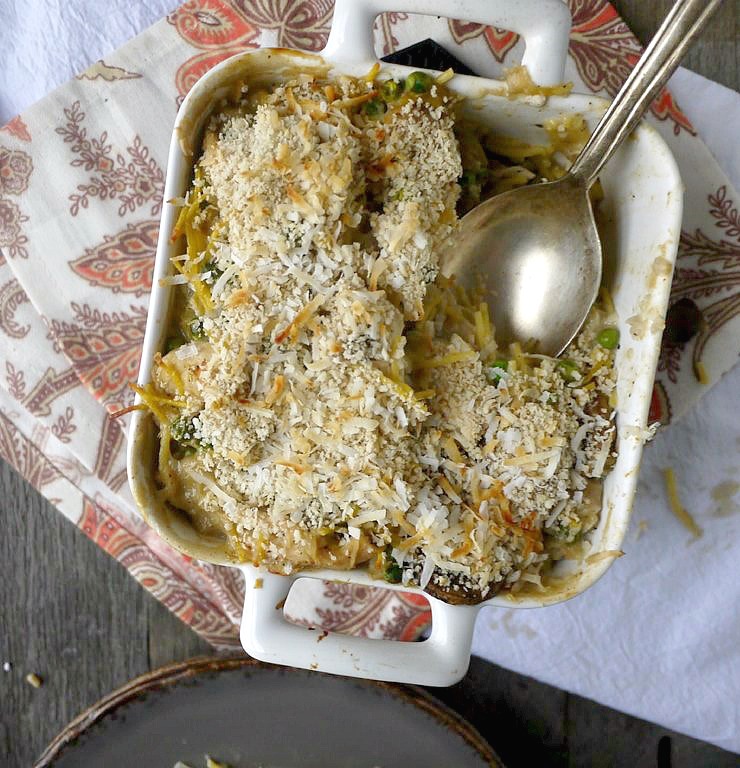 Who else loves a comfort food makeover? Remember in the movie Clueless when Dionne goes, "Cher's main thrill in life is a makeover, it gives her a sense of control in a world full of chaos"? That's how I feel about comfort food makeovers. When my eating is a bit chaotic, a comfort food makeover gives me a sense of control.
That's why this healthier, dairy-free chicken tetrazzini makes me so happy. Am I chowing down on a chicken and pasta casserole? Absolutely! Does it give me the warm fuzzies inside? Of course. Do I feel guilty? NOT. ONE. BITE. I mean bit….or maybe I do mean bite….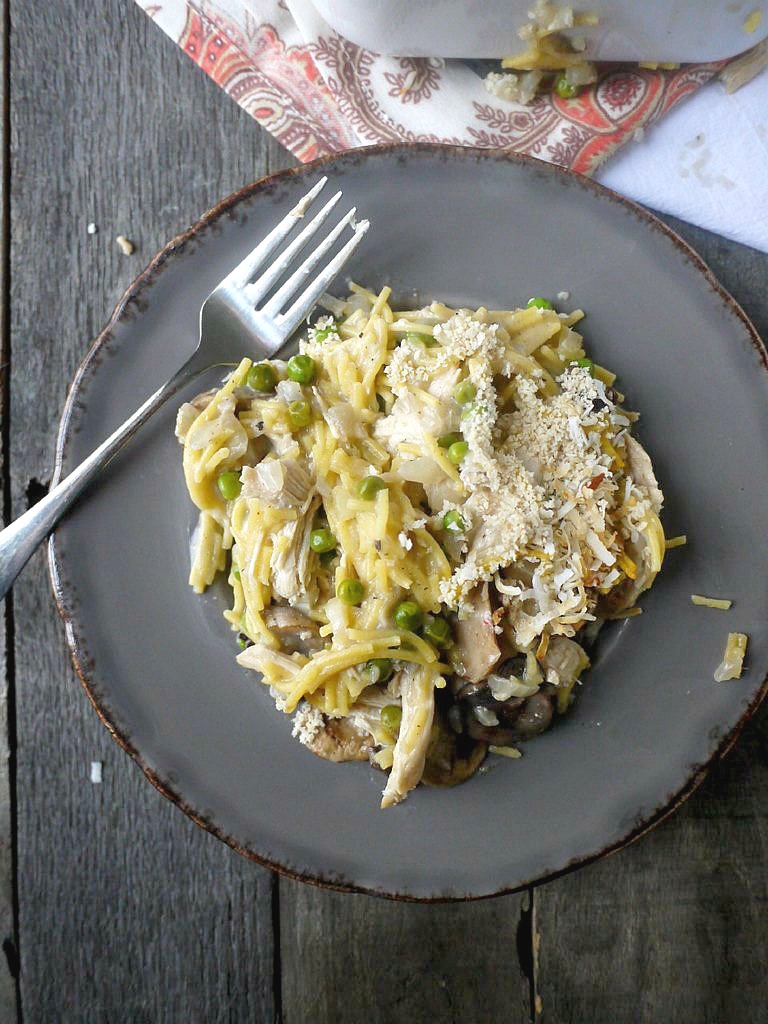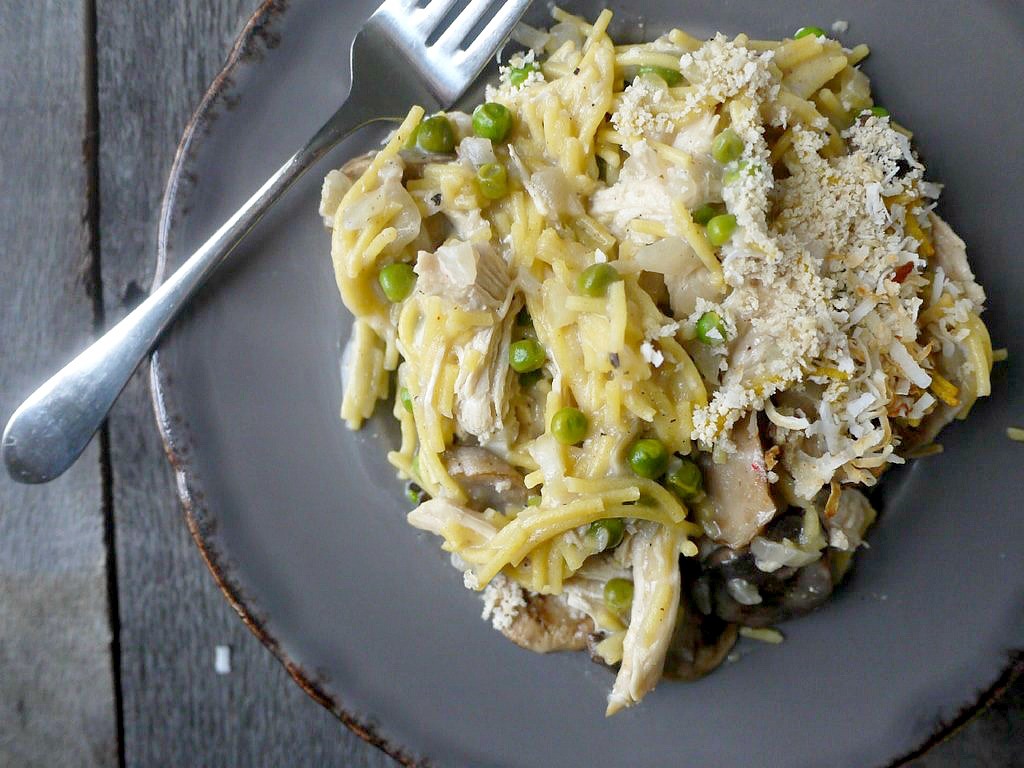 Seriously, guys, a few easy peasy swaps and this comfort food casserole becomes a guilt-free classic. Buh-bye guilt. That's right. You're not wanted here. So, how did I do it?
First, I upped the amount of veggies. You've got celery, mushrooms AND peas. Hello green peas.
Next, I nixed all the dairy. Instead, I used a small amount of olive oil and some light coconut milk for that creamy casserole texture. A little bit of smoked paprika and unsweetened coconut flakes add some punch to a dish that would be otherwise kind of blah without all the cheesy goodness.
Finally, we went whole-wheat all the way to get in some extra fiber – whole-wheat flour, whole-wheat pasta and whole-wheat bread crumbs. If you have a gluten issue, feel free to swap in gluten-free flour, your favorite gluten-free pasta and gluten-free bread crumbs. I've made this dish with quinoa pasta and it's glorious.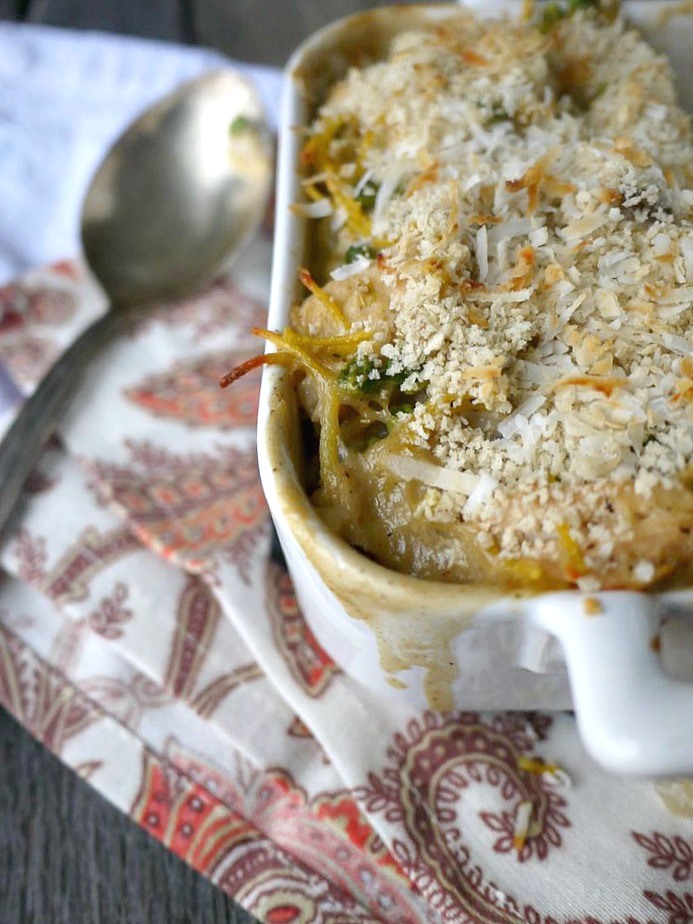 GLOR-I-OUS!
Now, 'scuse me while I get back to digging in!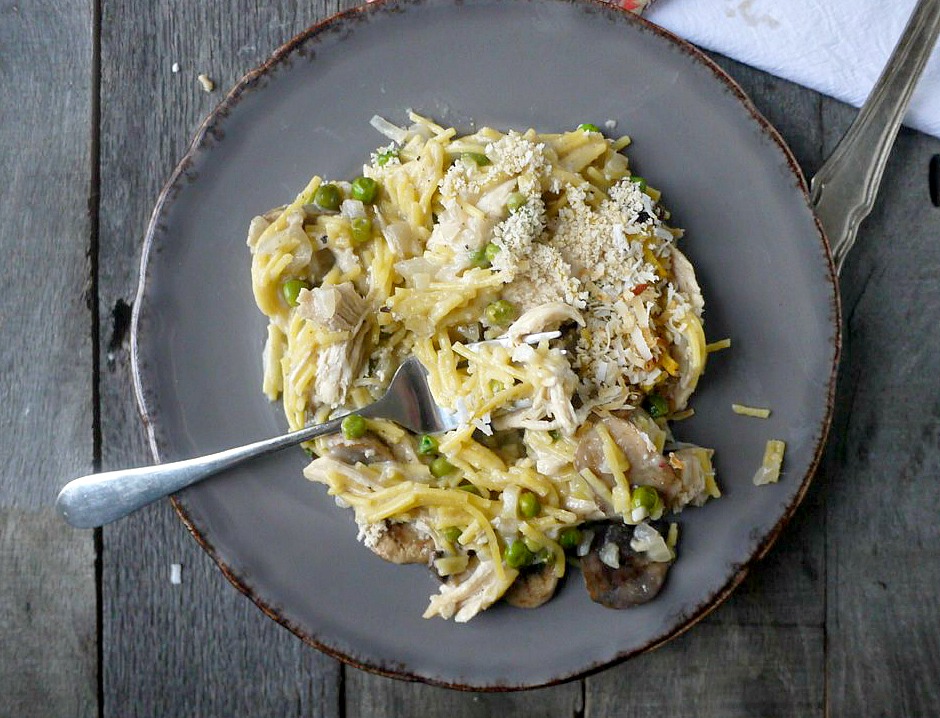 Dairy-Free Chicken Tetrazzini
Author:
Healthy Recipe Ecstasy
Ingredients
2 teaspoons olive oil, divided
1 (8-ounce) package presliced mushrooms
2 cloves garlic, minced
⅔ cup finely chopped onion
½ cup finely chopped celery
½ cup frozen peas
¼ teaspoon freshly ground black pepper, plus more as needed
¼ teaspoon salt, plus more as needed
¼ cup dry white wine
3 tablespoons whole-wheat flour
1 cup fat-free, less-sodium chicken broth
1 cup light coconut milk
Pinch of smoked paprika
1.5-2 cups cooked whole-wheat spaghetti (about 4-6 ounces uncooked pasta)
2 cups shredded cooked chicken breast (I used a rotisserie chicken)
¼ cup unsweetened coconut flakes
¼ cup whole-wheat bread crumbs
Instructions
Preheat oven to 350 degrees F.
Heat 1 teaspoon oil in a large, deep skillet over medium-high heat. Add the mushrooms and saute until the liquid from the mushrooms evaporates and the mushrooms become pale golden, about 2-3 minutes. Add garlic, onion, celery, peas, black pepper, and salt along with the second teaspoon oil, and sauté 5-6 minutes or until the vegetables are tender. Add dry white wine and cook for 1 minute.
Gradually add flour to pan; cook 2 minutes, stirring constantly (mixture will be thick) with a whisk. Gradually add broth, stirring constantly. Bring to a boil. Reduce heat; simmer 5 minutes, stirring frequently. Remove from heat.
Add coconut milk and pinch of smoked paprika, stirring with a whisk until blended. Add pasta and chicken; stir until blended. Taste and adjust seasonings as needed. I added a bit more salt and pepper at this point.
Spoon pasta and chicken mixture into a small glass or ceramic baking dish coated with cooking spray. Sprinkle the bread crumbs and coconut flakes evenly over the pasta and chicken mixture.
Bake, uncovered, until golden brown on top and the sauce bubbles, about 25 minutes. Remove casserole from oven; let stand 15 minutes before serving.