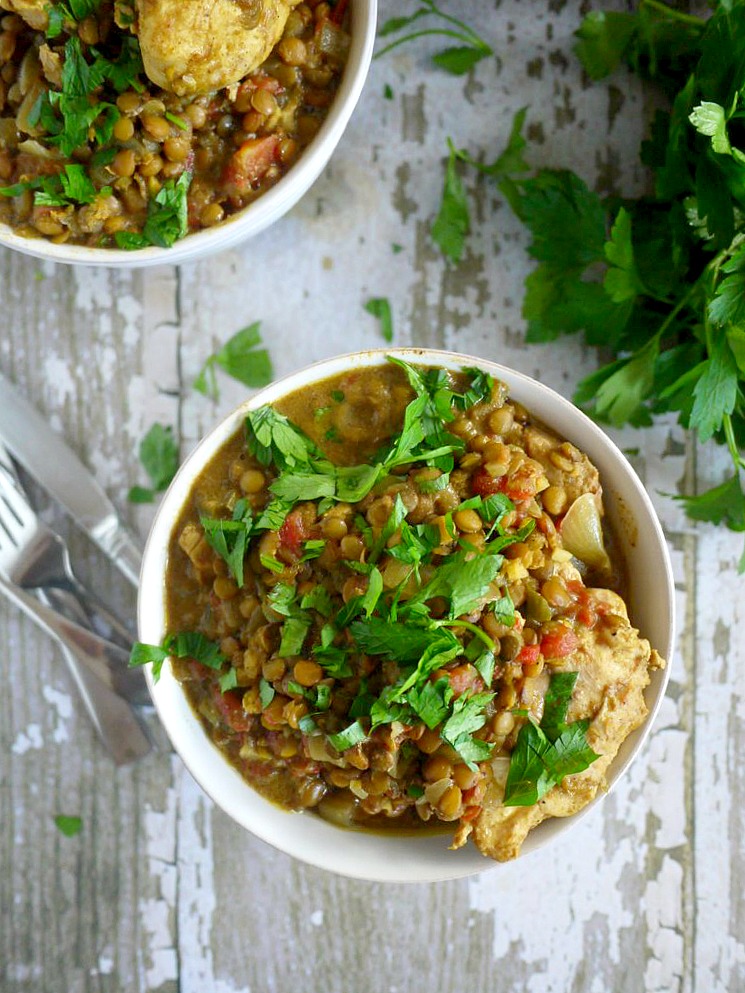 It's exactly one week before Christmas. If you're like me, you're probably busy with last minute shopping and attending holiday parties. You may be planning your holiday menu, and you don't want to drain your culinary energies before the big day. Either way, you don't have time to slave away in the kitchen every night making dinner. That's where Crock Pot Chicken and Lentil Curry comes in.
Here are three reasons why you need to make this recipe now:
1. This curry is hearty but healthy so that you can stay on track with your diet this week and go crazy next week stuffing your face with casseroles and pie.
2. Crock Pots are amazing. They do the cooking for you. Set it and forget it is right.
3. The leftovers are even better than the original, which is important when you're making a huge pot of food to last a few days. Seriously though, guys, this recipe makes a ton of food and you will be super happy about that. Eat half this week and put the other half in the freezer for the "I don't feel like cooking" nights. Done and done.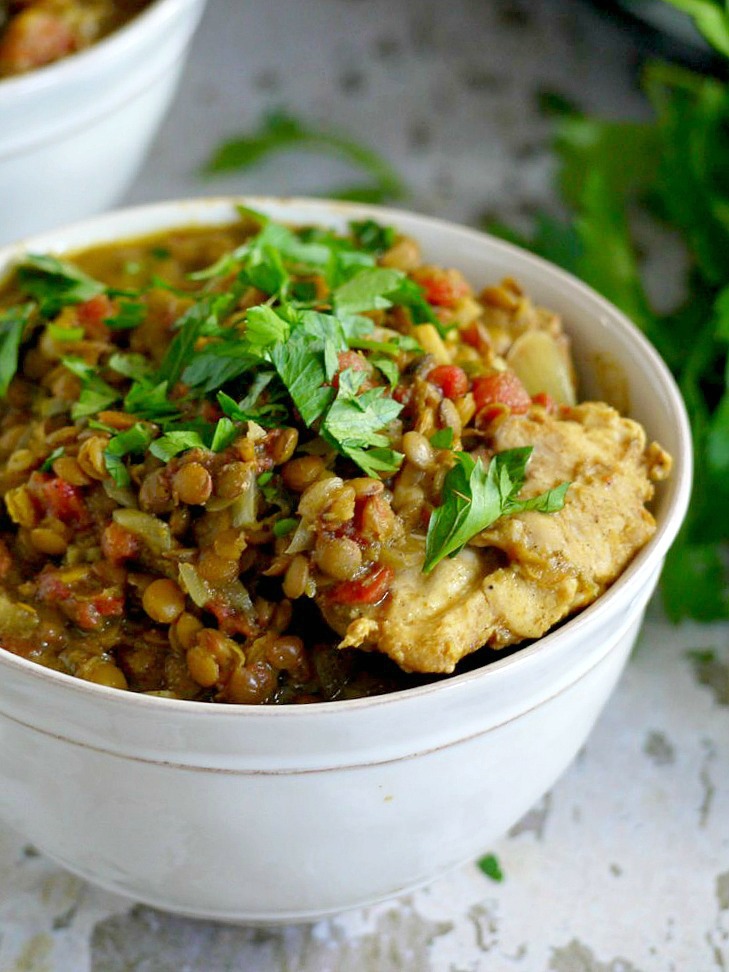 Healthy Recipe Ecstasy? This is one of those amazing recipes that's dairy-free and gluten-free, but so full of spice and flavor you don't miss either. And, it got Alasdair's curry stamp of approval, which is a tough stamp to get because he is a curry connoisseur. It also got my curry stamp of approval, which is tough to get because I'm not a huge curry fan. But, this one is so comforting and yummy on a cold winter night that even I love it!
You know when we both agree on a dish it must be a winner. Should I even say it? Can't…help…myself… WINNER WINNER CHICKEN DINNER! Ahhh, had to get that out. You know how it is.
Crock Pot Chicken and Lentil Curry
Author:
Healthy Recipe Ecstasy
Ingredients
1 tablespoon olive oil
2 pounds chicken thighs (6-7 thighs)
2 teaspoons curry powder
1 teaspoon ground cumin
1 teaspoon kosher salt
1 teaspoon garam masala
½ teaspoon ground red pepper
½ teaspoon tumeric
2 cloves
1.5 cups onion, chopped
3 teaspoons fresh ginger, minced
1 Serrano pepper, minced (the Serrano pepper gives the dish a medium spicy kick. If you want a more mild curry, remove the pepper seeds)
5 garlic cloves, minced
2 cups lentils
1 can no-salt-added diced tomatoes
1 cup low-sodium beef broth
1 cup light coconut milk
Cilantro, for garnish
Instructions
Mix all the spices -- curry powder through the cloves -- in a small bowl.
Season the chicken thighs on both sides with salt, pepper and one teaspoon of the spice mixture.
Add one tablespoon of olive oil to the crock pot. Next, add the onion, ginger, pepper, garlic, chicken, lentils, diced tomatoes, beef broth, and spice mix.
Mix everything together. Set the crock pot on high for four hours, cover it, and go watch a movie or wrap presents.
After two hours, add one cup coconut milk to the crock pot and stir. Let it cook another two hours. Watch another movie. :)
When the crock pot finishes cooking, give the curry a final mix, adjust any seasonings as necessary, garnish with cilantro and sit down in front of the fire with a big bowl of curry! You can also add a few more Serrano peppers as a garnish if you want a little more heat.
NOTE: the chicken thighs should be tender enough to shred with a fork. I usually serve 1-2 chicken thighs on top of the bed of curry, and we shred them as we eat. But you can shred the chicken thighs right in the crock pot before serving if you like.