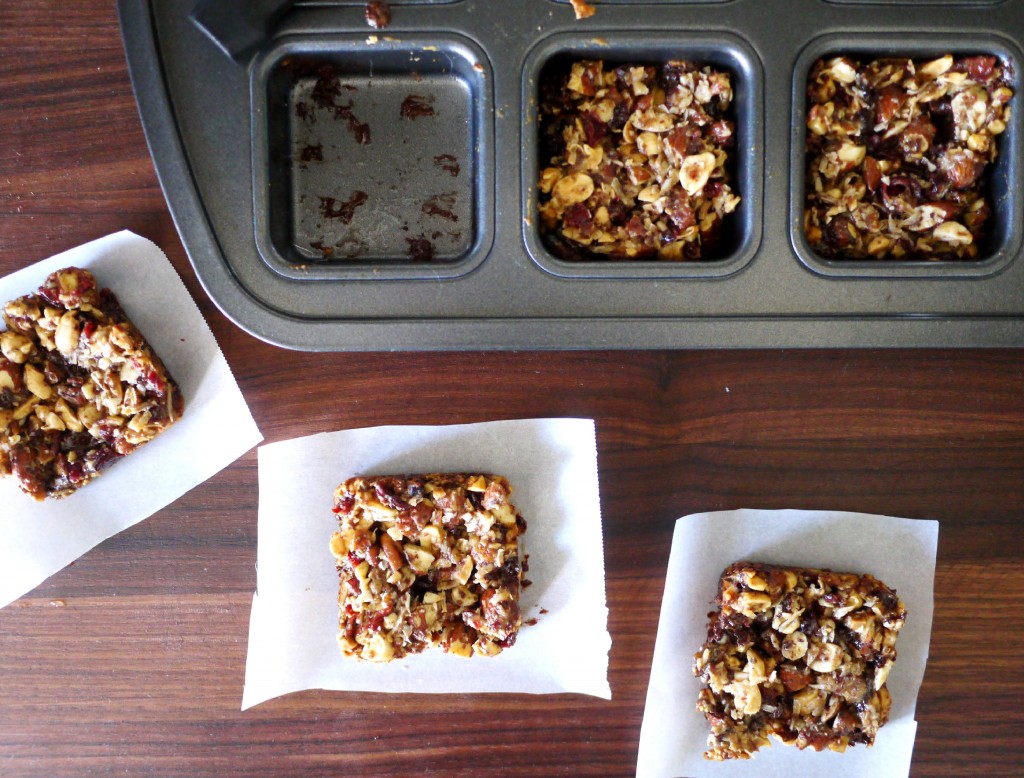 I love that my friends get me. This year, for Christmas, my friend Katie gave me a Pampered Chef Brownie Pan with this explanation:
"I know you don't do a lot of baking but you can use the pan for all sorts of savory recipes. There's a whole board dedicated to this pan on Pinterest." <— she gets me.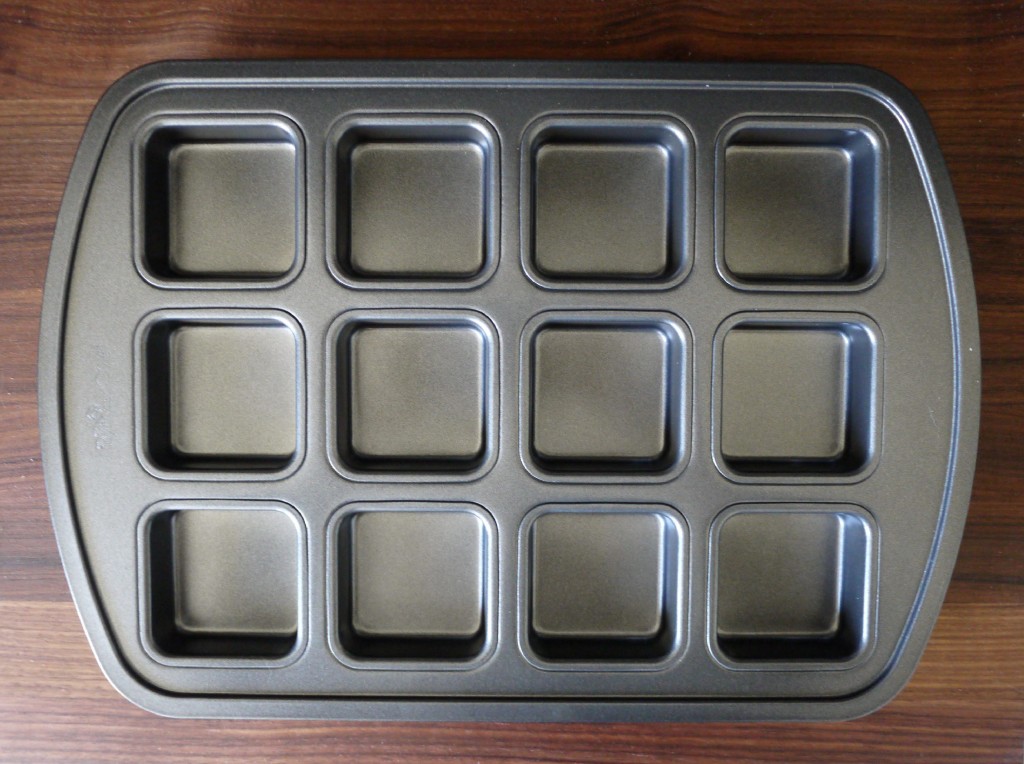 After thanking her, I immediately spaced out on the rest of our conversation because I was uncontrollably daydreaming about lasagna cups, omelet squares, mini shepherd's pie, and all the other hearty meals that will look so much cuter in a mini square shape. The possibilities are endless, really. However, as I'm now a week into Healthy January with minimal progress made on the road to Health-town (a place where I don't wear leggings everyday), delectable treats such as mac 'n' cheese squares will have to  wait. Instead, I will be christening the brownie pan with some good, old-fashioned granola squares. Before you hit the snooze button, trust me that these delectable little squares that will change your life.
Here's my thing about granola bars. They sound healthy, but most granola bars are filled with inordinate amounts of added and unnecessary sugars along with all sorts of fillers. That's why I stopped buying regular granola bars and started being "KIND"-er to my body. That's right, I jumped on the KIND bar wagon. I must preface this by saying that I am being paid zero dollars by nor do I have any affiliation with KIND. I am just a fan. I love that their bars have half the ingredients of other granola bars. I love that I feel like I'm making a good choice when I have a KIND snack. I love how they make great travel companions. And, I love that they taste so good that even Alasdair is now a fan. Too much of a fan, in fact, because our grocery bill has gone up exponentially since I introduced him to the KIND lifestyle. KIND bars went from being my go-to snack while on travel to a sometimes twice daily snack in our household. That's a whole lot of KIND-ness and a whole lot of money.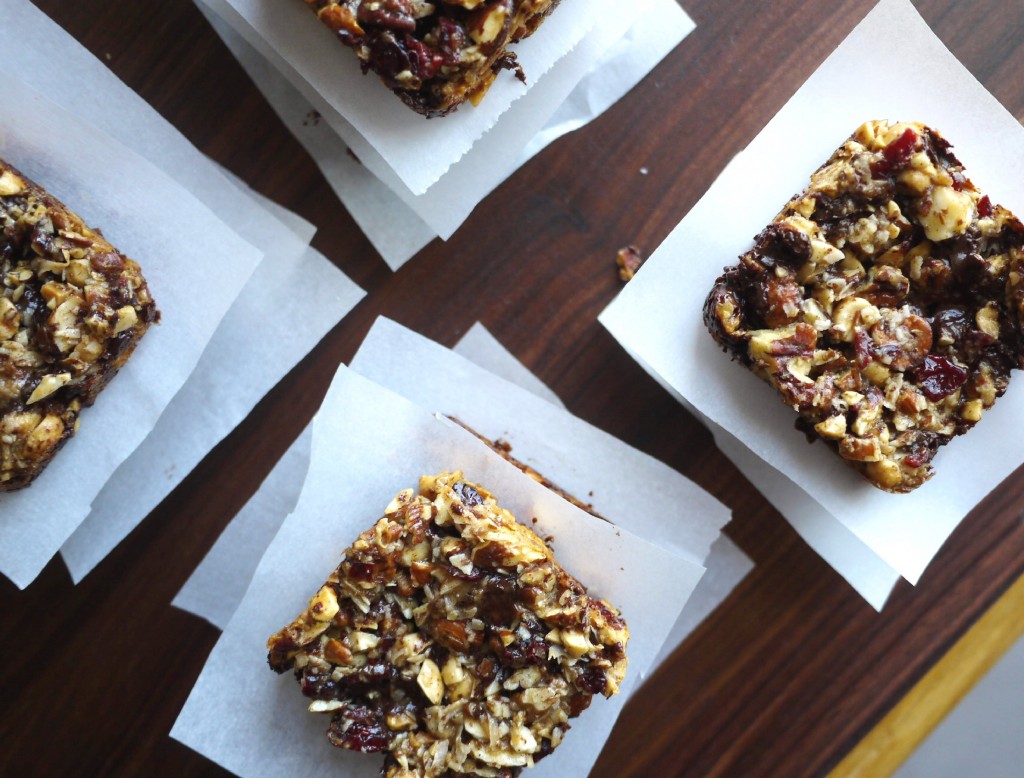 That's why I decided that I needed to cut costs and start making these bad boys at home. I've shied away from making homemade granola bars in the past because I envisioned a sticky mess and the thought of spreading a whole baking sheet with the mixture and then cutting little bars just seemed like an unnecessary time suck. But, now, with this brownie pan, I have no excuse. It's basically saying, get off your lazy butt and pop some granola into our little squares. Ok, pan, I hear ya. No need to yell!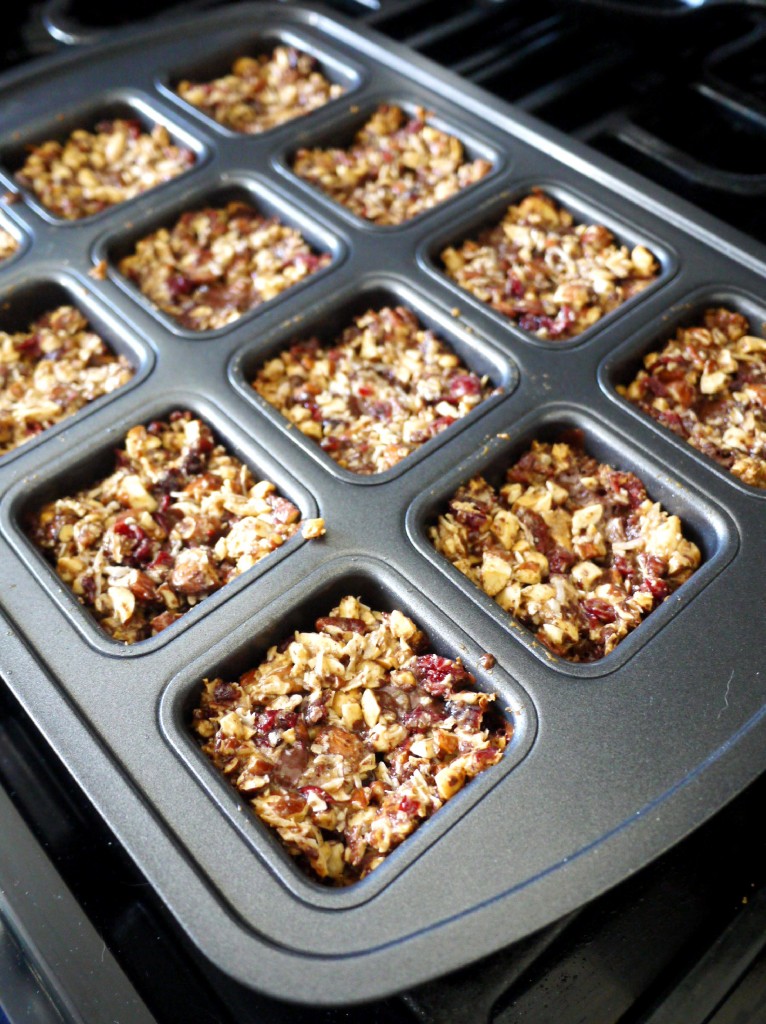 So, I got over my homemade granola bar fear and popped out (literally I popped the squares out of the pan – it was that easy) a version inspired by one of my favorite KIND bars. It's got dried cranberries, it's got almonds, it's got almond butter, it's got almond extract (secret ingredient alert!), and it's even got some sinful dark chocolate.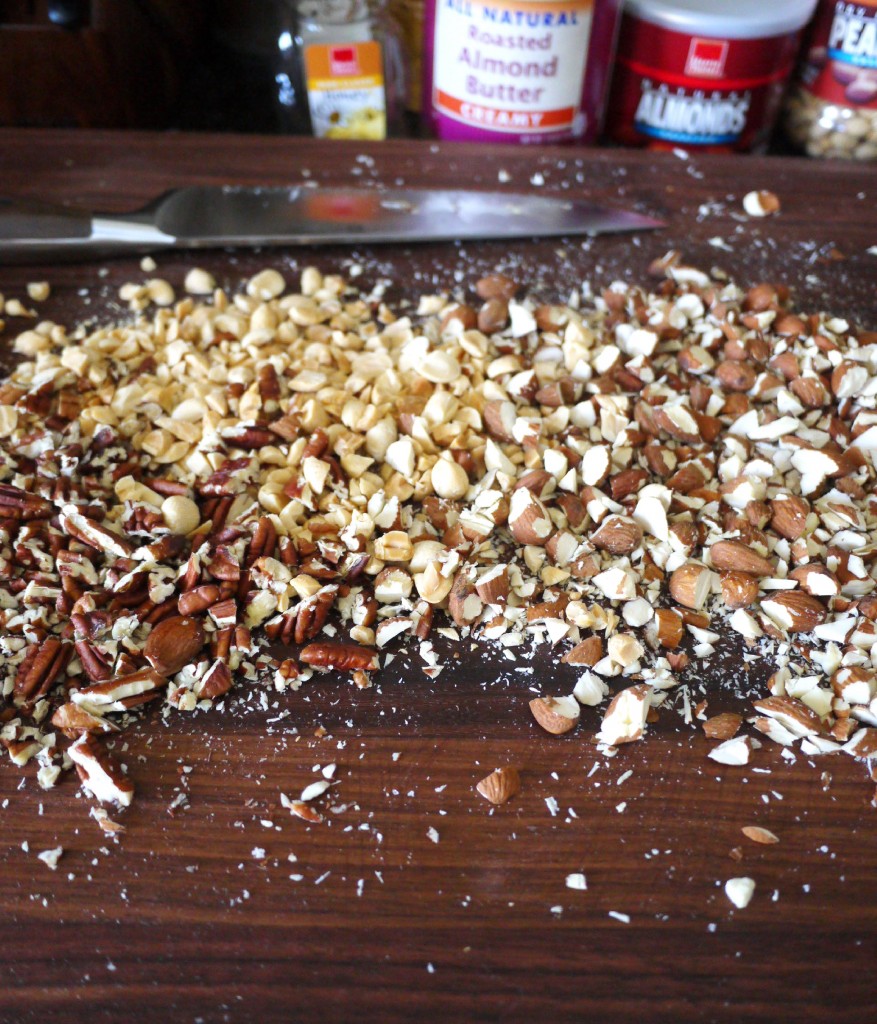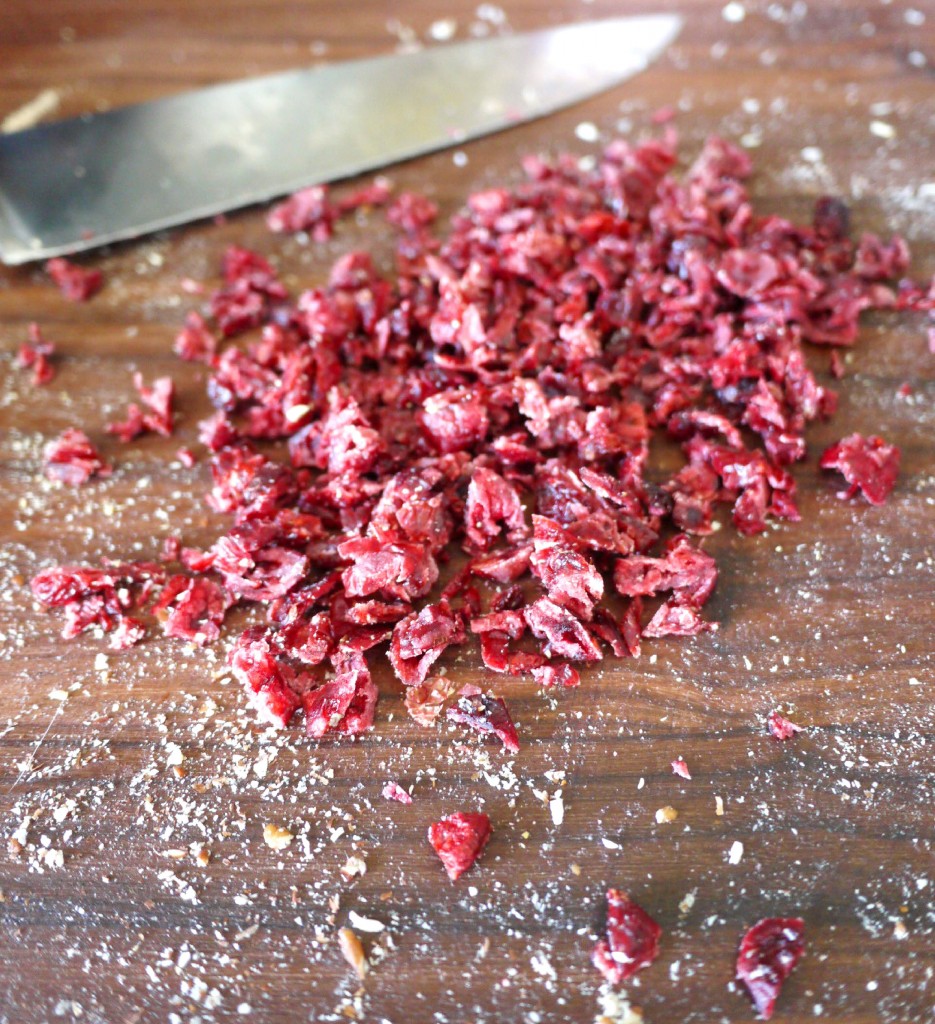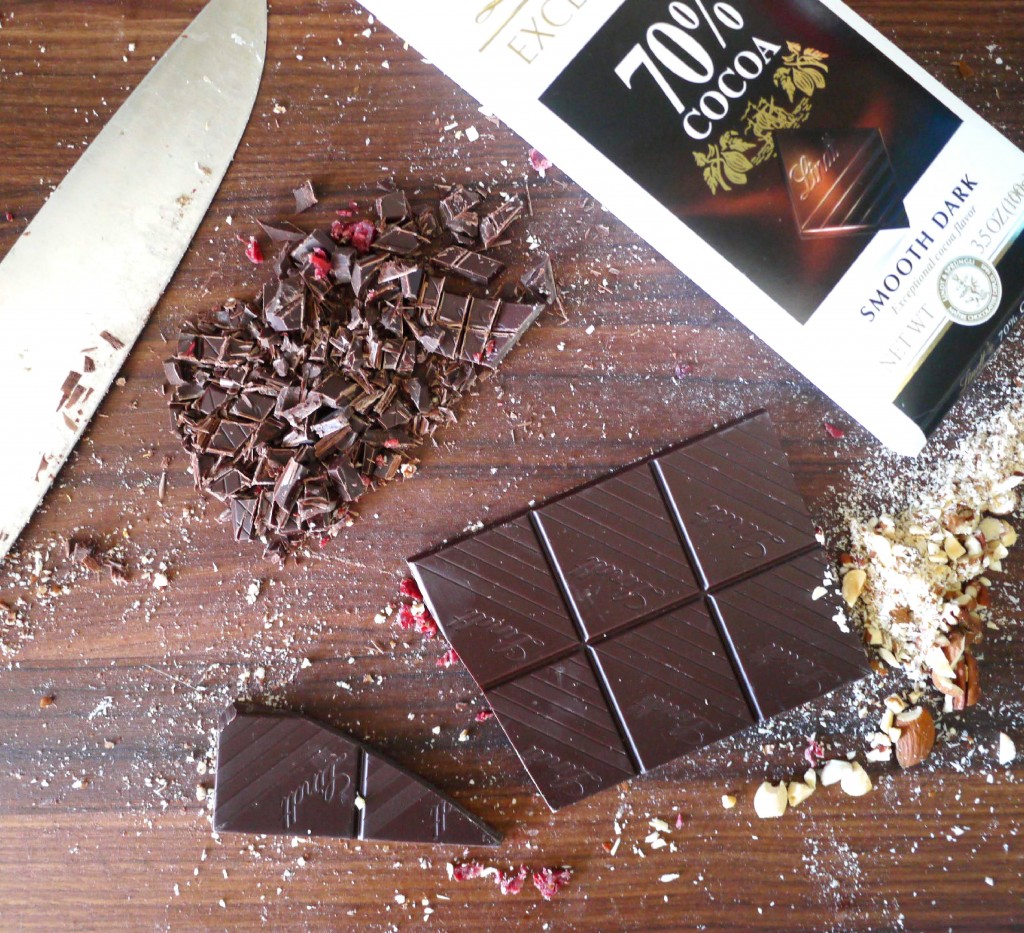 What it doesn't have is gluten, dairy, wheat, high fructose corn syrup and words like cellulose and methylcellulose. Now, I have healthy on-the-go snacks for the whole week, and it cost me NOTHING. All of these ingredients were already in my pantry. And, I'm guessing you can find a lot of these ingredients or at least similar ingredients in your kitchen. What's that? You don't have almond butter lying around? Use peanut butter. You've got walnuts but no pecans? That works too. If you don't feel like making a massive trip to the store then use what you got – swap ingredients in and out. Do what's easiest for you, because the point of granola bars, or nut squares in this case, are not to cause you undue stress, they are to make your life easier. And these cranberry and chocolate nut squares don't just make your life easier, they make your life better. Promise.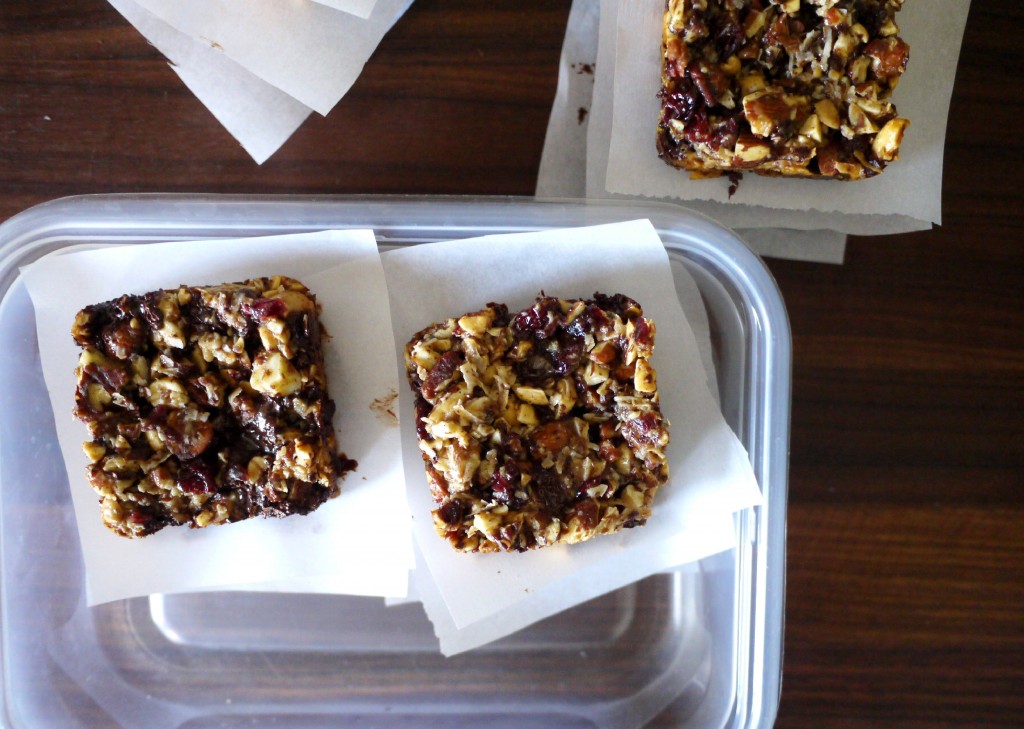 P.S. If you do follow my recipe exactly, I must warn you that fights may ensue in your household over who gets to eat the last square. These are – dare I say – BETTER than my favorite KIND bar. It's kind of ridiculous how good they are. Is this health food disguised as a treat or a treat disguised as health food? I don't know and I don't care! Too busy eating……
Cranberry and Chocolate Nut Squares (GF, DF)
Author:
Healthy Recipe Ecstasy
Ingredients
¼ cup honey
¼ cup all-natural almond butter
2 tablespoons organic agave nectar
¼ teaspoon sea salt
½ cup unsalted peanuts, chopped
½ cup pecans, chopped
1 cup unsalted almonds, chopped
½ cup dried cranberries, chopped
½ cup unsweetened coconut flakes
3.5 ounces dark chocolate, chopped (I used a Lindt 70% cocoa chocolate bar which yielded about ½ cup plus 2 tablespoons chopped)
1 tablespoon flaxseed meal
1 teaspoon vanilla extract
½ teaspoon almond extract
Cooking spray
Pampered Chef Brownie Pan (check the note at the bottom of the recipe if you're using a regular baking dish)
Instructions
Preheat oven to 300 degrees.
In a large bowl, add the honey, almond butter, agave and sea salt. Stir until well combined. Gently stir the chopped nuts, chopped cranberries, coconut flakes and chocolate into the honey mixture.
Add the flaxseed meal, vanilla extract and almond extract, and stir until all the ingredients are well combined.
Divide the granola mixture evenly amongst the brownie pan squares. Press the granola mixture into each square with a rubber spatula to help it even out and hold together.
Bake for 20 minutes. Then remove the pan from the oven and allow the squares to cool completely. Once cool (about an hour), run a knife along the edge of each square and pop them out.
IF YOU ARE USING A REGULAR BAKING DISH: Coat an 8x8 square pan with cooking spray. Spread the granola mixture in an even layer in the pan. Press the mixture down with a spatula. Bake for 20 minutes and then let cool completely. Once cool, place the pan in the freezer for 30 minutes before cutting the granola mixture into squares.
NOTE: Store squares in an airtight container in the fridge for up to a week. I often keep store-bought KIND bars in my pantry but they can become very sticky so cool storage is recommended.