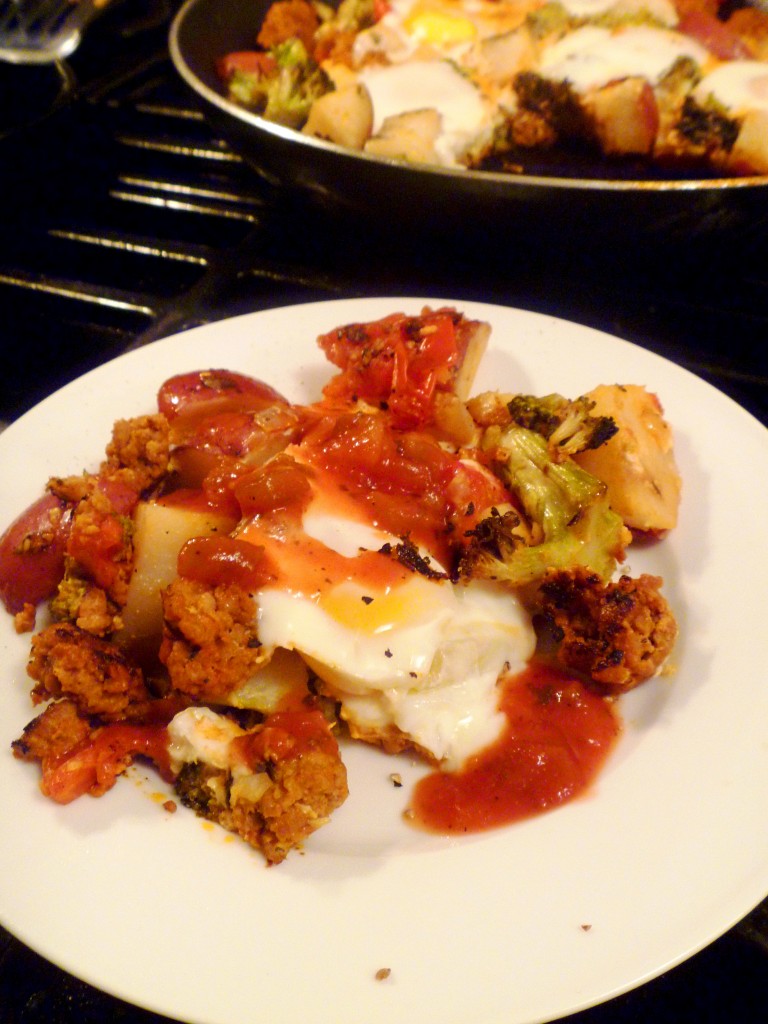 Are you wondering what to do with all those Roasted Potatoes and Broccoli? Well, I'll tell you what to do. You're going to put those leftovers to use in a spicy breakfast hash recipe. I love leftovers, but sometimes leftovers get boring (sorry leftovers). Afer two nights eating the same dish, even the best food can be a little ho-hum. Before you know it, you've shoved the leftovers to the back of the fridge and then the guilt sets in. Every time you open the door, you can hear the leftovers whimpering "pick me," like little puppies at adoption day. You want to eat the leftovers, you really do, but you're too busy making a fresh batch of pasta. SUCH a dilemma.
Not anymore though! The Roasted Potatoes and Broccoli do not have to endure the far reaches of the refrigerator, and you don't have to deal with fridge guilt. Just add some spicy chorizo sausage, broiled tomatoes and eggs, and you won't even recognize your leftovers in this hearty breakfast dish.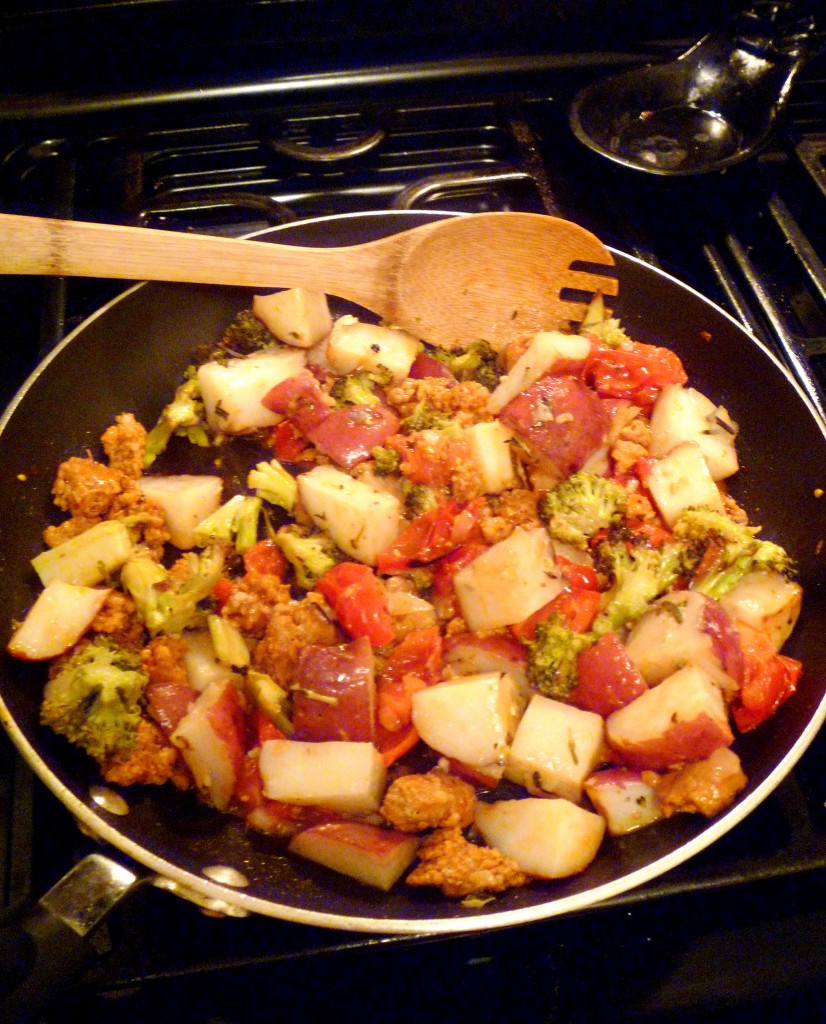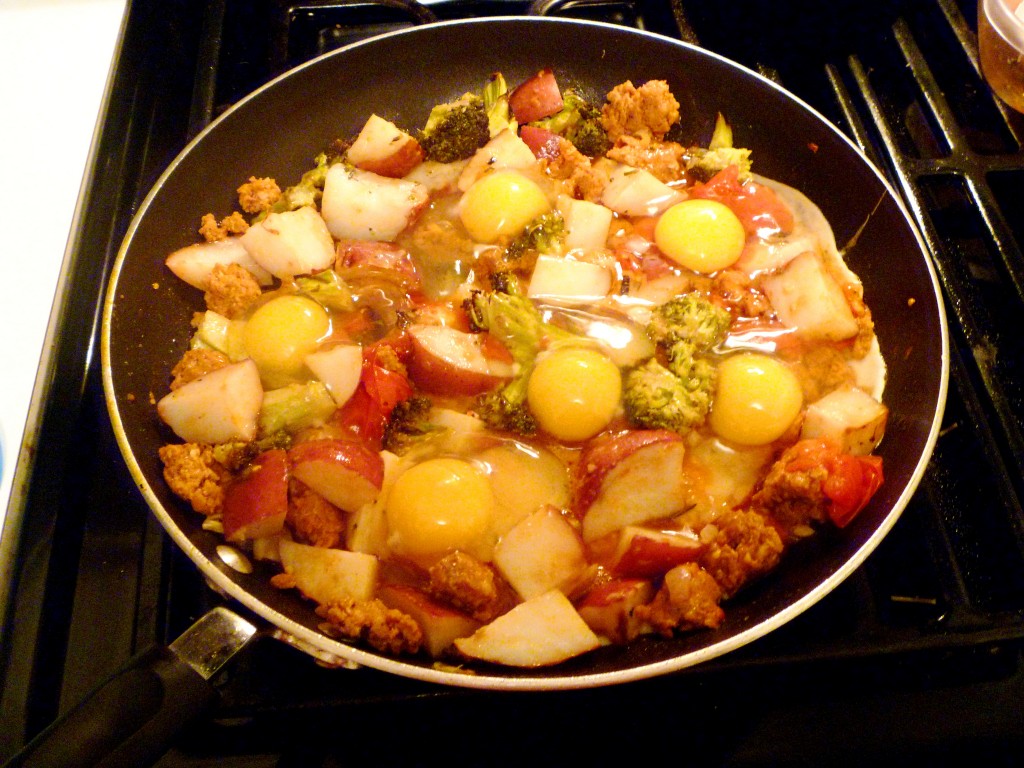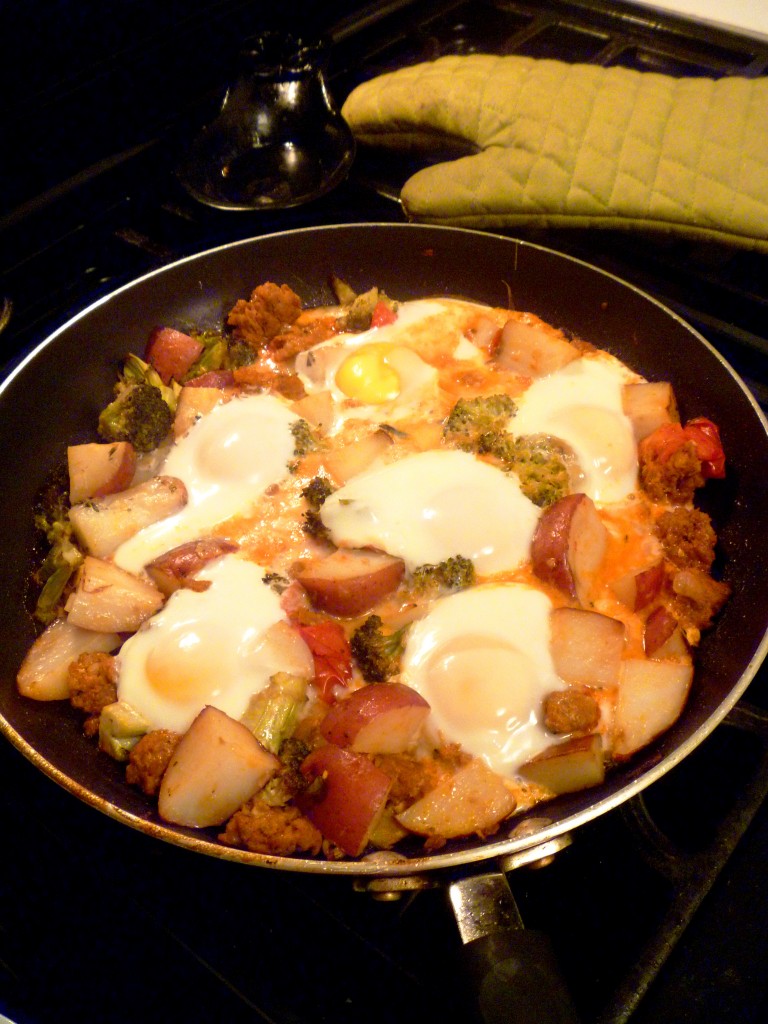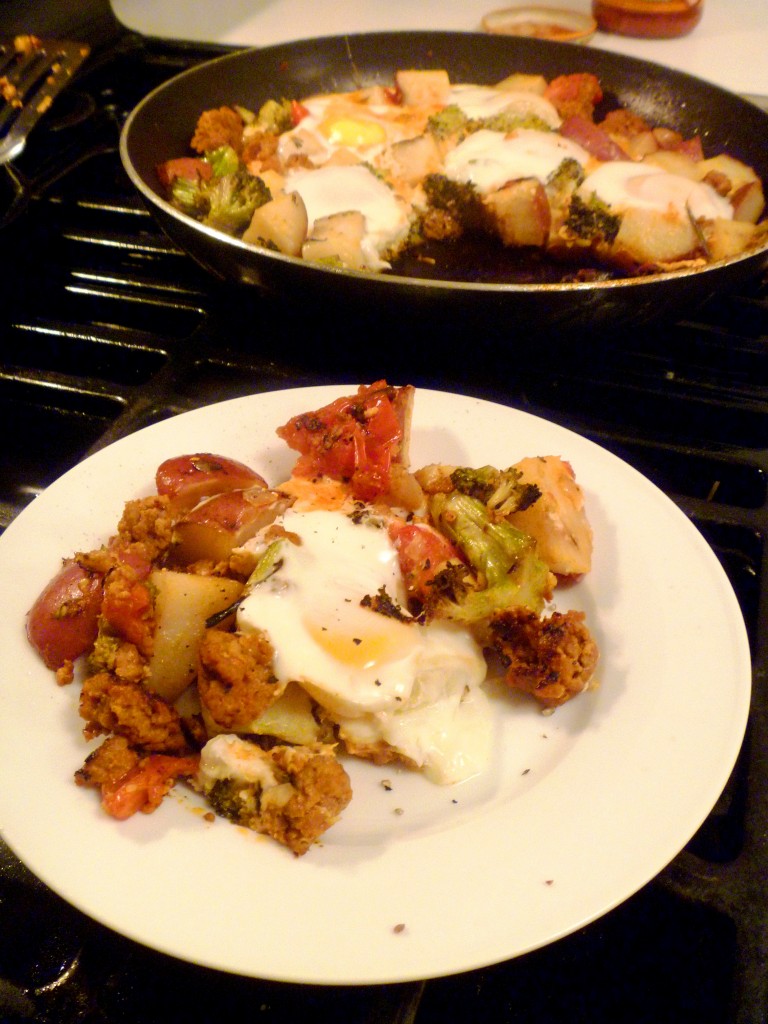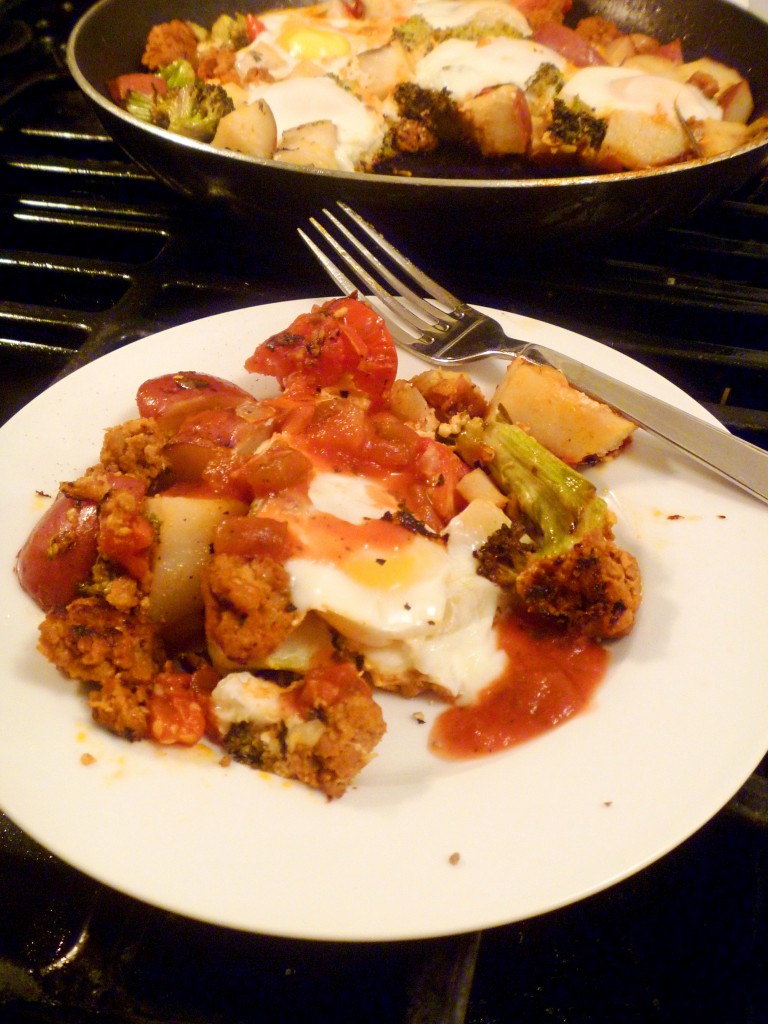 Healthy Recipe Ecstasy? If you like a good hash, then you'll like this recipe. It's everything that's delicious about breakfast thrown into one skillet – eggs, sausage, and potatoes. And, the broccoli and tomatoes round out the dish so you get a serving of veggies. Just like the Roasted Potatoes and Broccoli, this dish is gluten-free. Obviously, the sausage brings a *bit* of fat, so I didn't use any butter or oil to cook the meat. But, the fat in the sausage is so worth it. It really livens up the leftovers, and you've been so good the past two nights eating your roasted potatoes and broccoli. 🙂

Chorizo, Tomato and Egg Breakfast Hash
Author:
Healthy Recipe Ecstasy
Recipe type:
Breakfast/Brunch
Ingredients
8 Campari tomatoes (if you can't find Campari tomatoes, you can use plum tomatoes or cherry tomatoes)
3 Chorizo sausage links
4 cups leftover Roasted Potatoes and Broccoli
6 eggs
Black pepper to taste
Salsa (optional)
Instructions
Heat the broiler. Cut tomatoes in half. Broil for eight minutes.
While the tomatoes are broiling, take the sausage out of its casing. Cook the sausage over medium high heat in a large skillet for five minutes, breaking it up as it cooks. There's no need to use oil or cooking spray because the sausage releases enough fat to keep it from sticking. Turn the heat down to medium. Add tomatoes and Roasted Potatoes and Broccoli. Stir the ingredients together and cook for two minutes.
Next, break six eggs over the hash mixture. Cook for about 10 minutes over medium heat.
If you have a large skillet cover, you can cover the skillet and that will help the eggs set up. If you do not have a large skillet cover (like me), then heat the broiler and put the skillet in the oven to broil for two minutes. Look at those beautiful eggs!Remove the skillet from the oven and sprinkle black pepper over the hash. Top with salsa (optional).