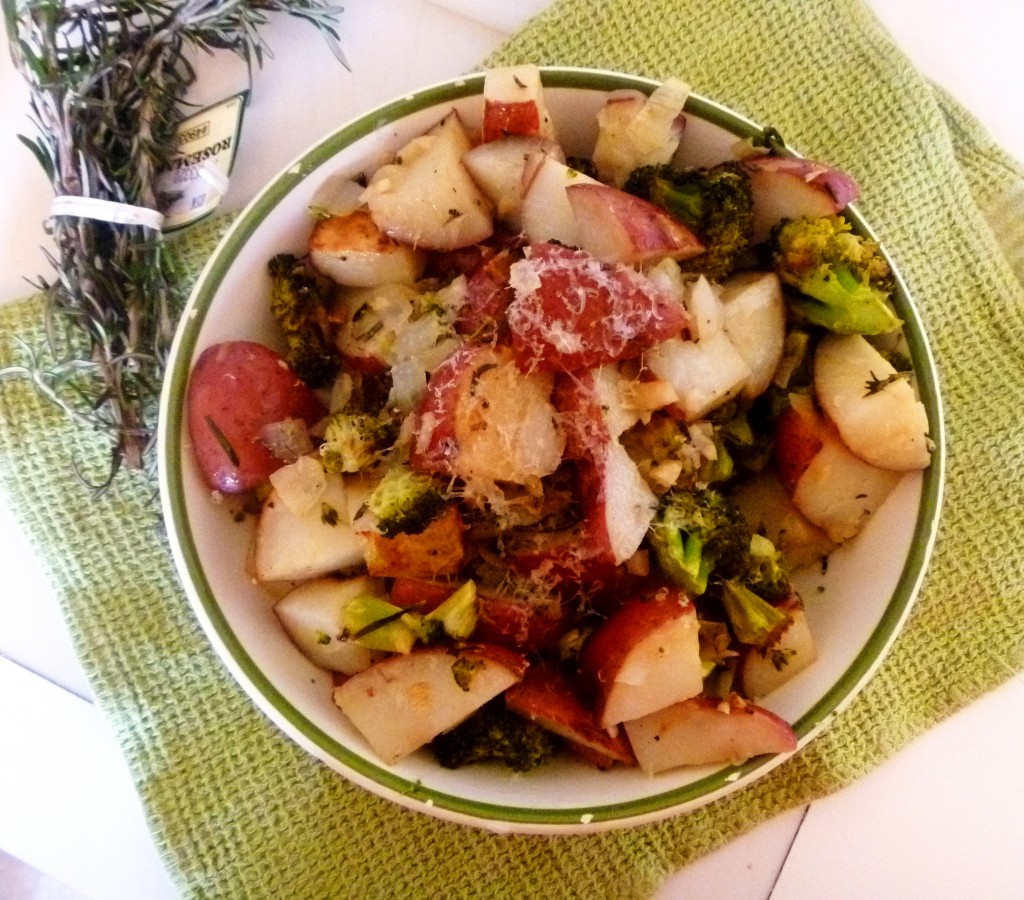 When I hear the word "roasted," I think, this recipe is going to take hours. If not hours, at least a good 45 minutes. And sometimes, I just don't want to wait 45 minutes for something to roast. I do, however, want the yummy roasted flavor. So, how do you roast without boredom or hunger setting in?
Start off in the microwave! This doesn't work for everything. I mean you can't stick an entire chicken in the microwave. At least, I don't think you can… But you can stick potatoes and broccoli in the microwave! Giving them a quick zap before sticking them in the oven is a great way to cut the cooking process in half!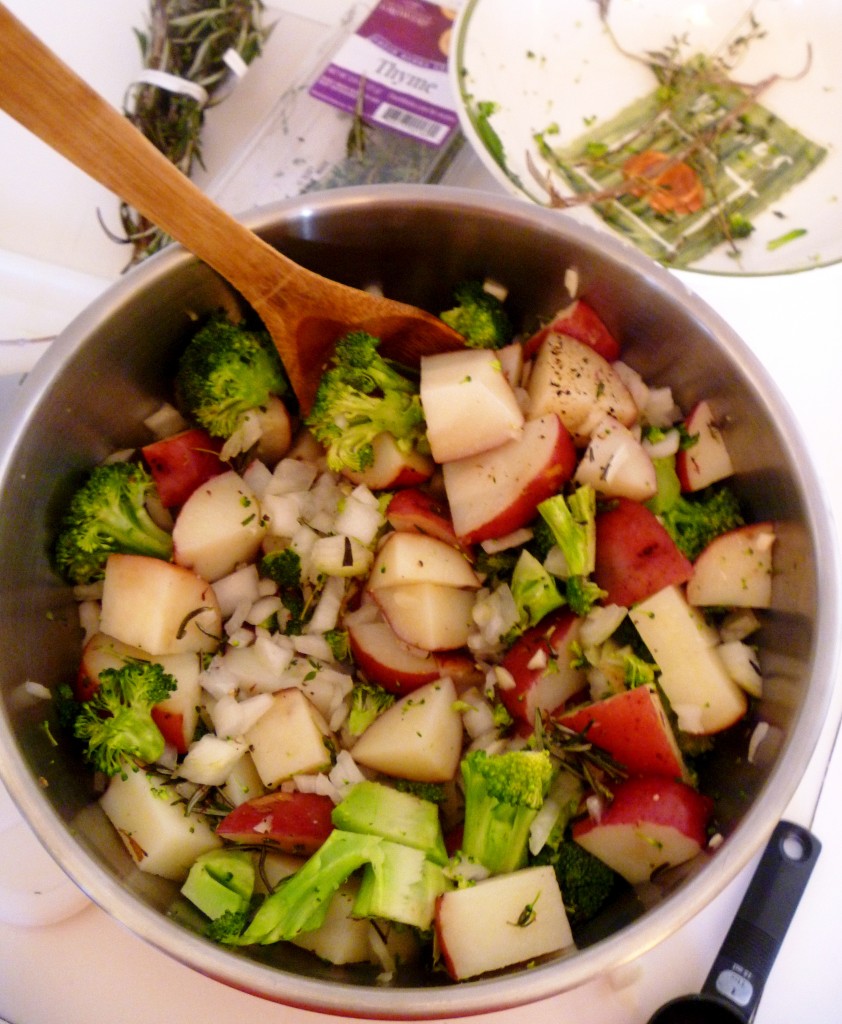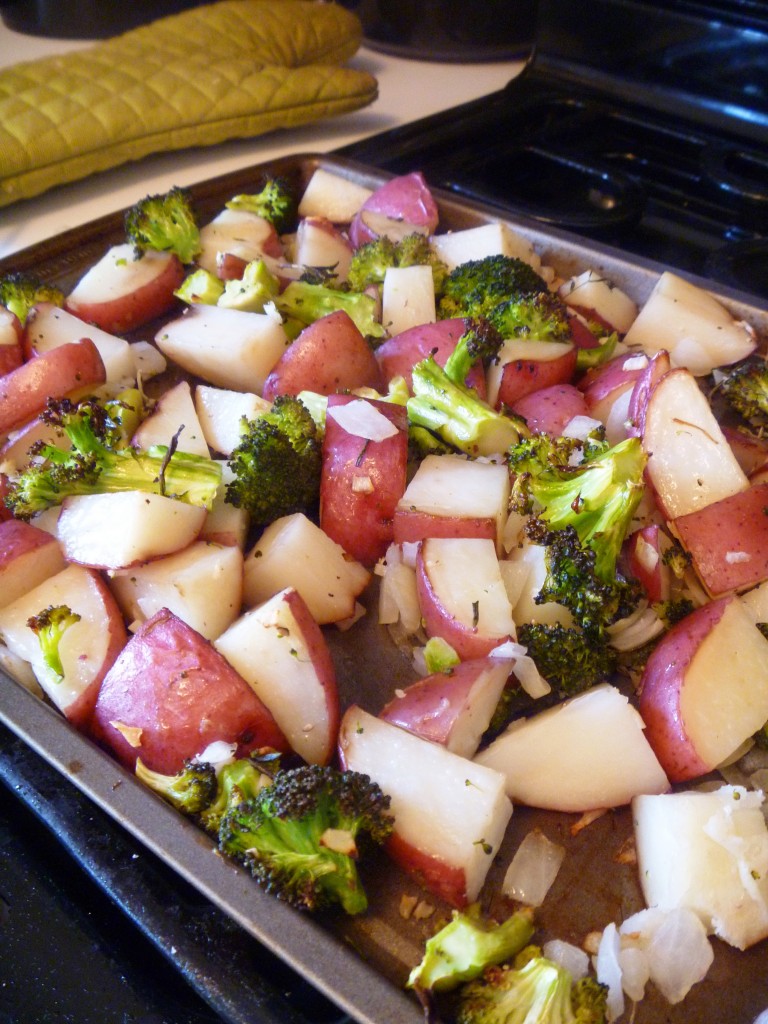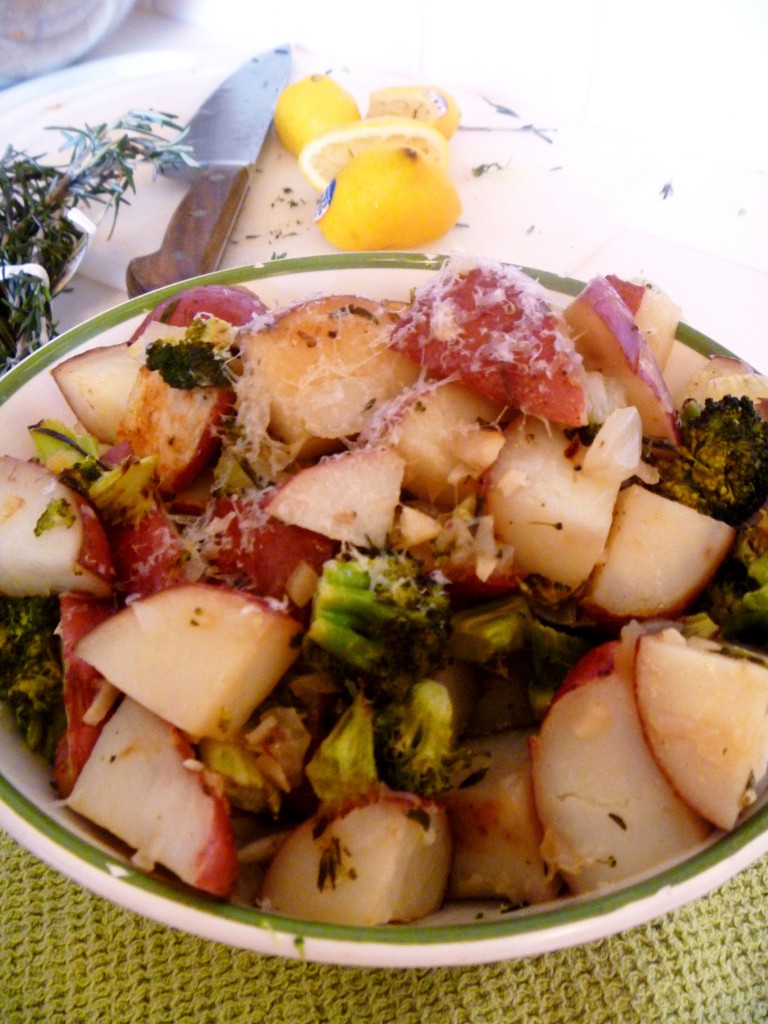 Healthy Recipe Ecstasy? Yes! Broccoli and potatoes can be a boring, dry and flavorless side dish. But the combination of flavorful herbs and a tangy lemon butter sauce turns these staples into a punchy side dish that will brighten your plate. This dish contains a small amount of dairy, but it's gluten-free and vegetarian. The best part about the dish is that it can be repurposed. Tonight, the side dish can accompany your chicken or fish and tomorrow you can use the potatoes and broccoli in my yummy Chorizo, Tomato and Egg Breakfast Hash.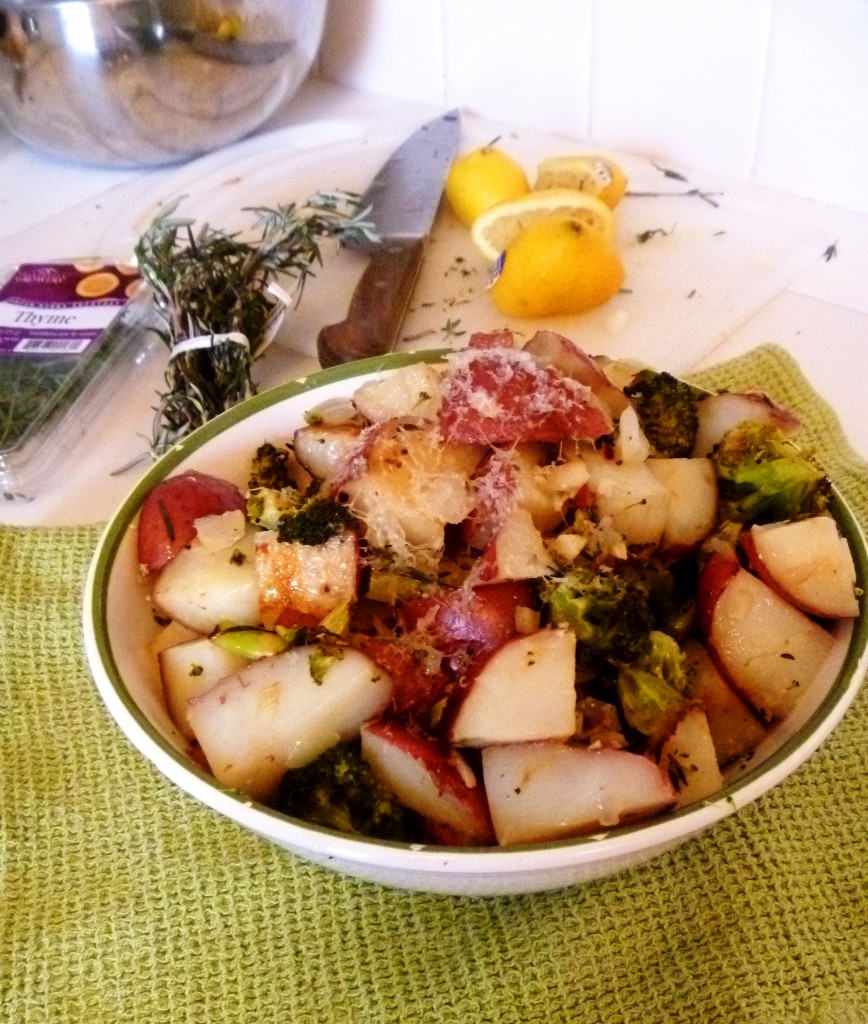 Roasted Potatoes and Broccoli with Lemon Butter Sauce
Author:
Healthy Recipe Ecstasy
Ingredients
6 red potatoes
1 bunch broccoli (about 3 cups)
3 garlic cloves, minced
1 cup onion, diced
1 tablespoon fresh thyme, chopped
1 tablespoon fresh rosemary, chopped
2 tablespoons olive oil, divided
Salt and pepper to taste
½ cup butter
Juice of two lemons
Pinch of salt
¼ cup Parmesan or Pecorino Romano cheese
Instructions
Microwave potatoes for 5-6 minutes. You should be able to stick a fork easily into the potato but it should still be sturdy enough to cut without turning to mush. Cut potatoes into cubes.
Steam broccoli in the microwave for one minute (to steam add about ½ a cup of water and broccoli to a bowl). Drain broccoli and coarsely chop.
Add potatoes and broccoli to a large mixing bowl along with garlic, onions, thyme, rosemary and one tablespoon olive oil. Add salt and pepper to taste. Mix the ingredients together.
Heat oven to 425 degrees. Add potato-broccoli mixture to a baking sheet coated with cooking spray. Drizzle one tablespoon olive oil over the mixture.
Cook for 10 minutes, then toss the mixture around to make sure everything gets cooked evenly and cook for another 10-15 minutes or until the potatoes are soft.
While the potatoes are roasting, melt butter over medium heat. Stir in lemon juice and a pinch of salt as soon as the butter melts and then remove from heat.
Put the potato-broccoli mixture back in the mixing bowl. Add the lemon-butter sauce (if you're looking to be really healthy you can use half as much of the sauce. I used all of it and it was delicious but maybe a little too saucy if there is such a thing. You can also use half now and add half later when you heat up your leftovers!). Top with cheese and mix everything together one last time. Serve hot.