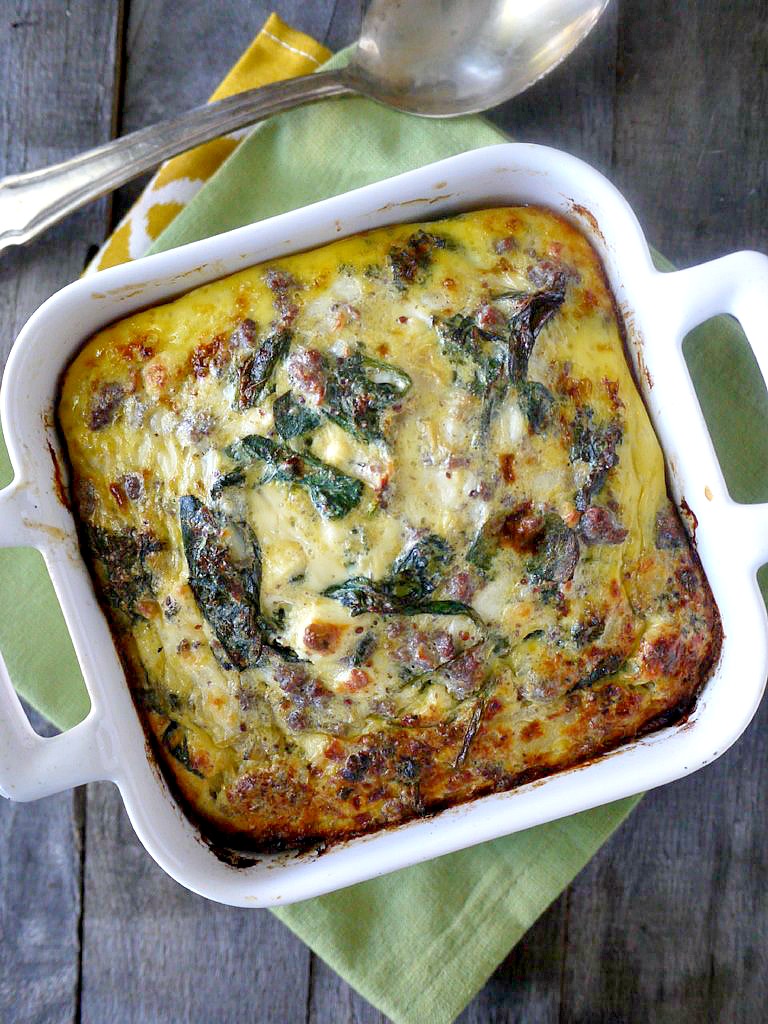 You all know I'm a pretty big fan of the egg – in any form. Well, that hasn't changed with this pregnancy. THANK GOODNESS. You can take my sushi and my cocktails but please, I beg of you, don't take my eggs. Granted, I'm not supposed to eat raw eggs which leaves out hollandaise and softly poached eggs, but that leaves a whole plethora of egg dishes that makes this preggo girl happy.
Healthy egg and spinach breakfast sandwiches have been clutch to get me through the mornings.  Frittatas and egg casseroles have been there for me for breakfast, lunch and dinner some days. And hard-boiled eggs are a killer snack. Yes, I'm the girl who thinks hard-boiled eggs are killer.
Here's the thing with egg casseroles though – there's usually a ton of dairy, some fatty breakfast meats and a crispy flaky flour crust. Delicious but not on the midwife pregnancy diet. So I set out to make a pregnancy-friendly breakfast casserole that would make the midwives proud (and my tummy happy).
First things first. I knew the casserole had to be chock full of greens. Spinach and kale are pregnancy super foods (can you say folate?) so they were both going in the protein- and choline-filled eggy pool.
Next, I wanted to double up on the lean protein (meat + eggs) so I chose bison. Yes, that's right, BISON. Before you go all "bison in a breakfast casserole???" on me, think about it for a second. Lots of people put sausage or even ground beef in their casseroles. Bison is basically the same thing but leaner. Bison burgers are delish so bison breakfast casseroles have to be even better, right? RIGHT.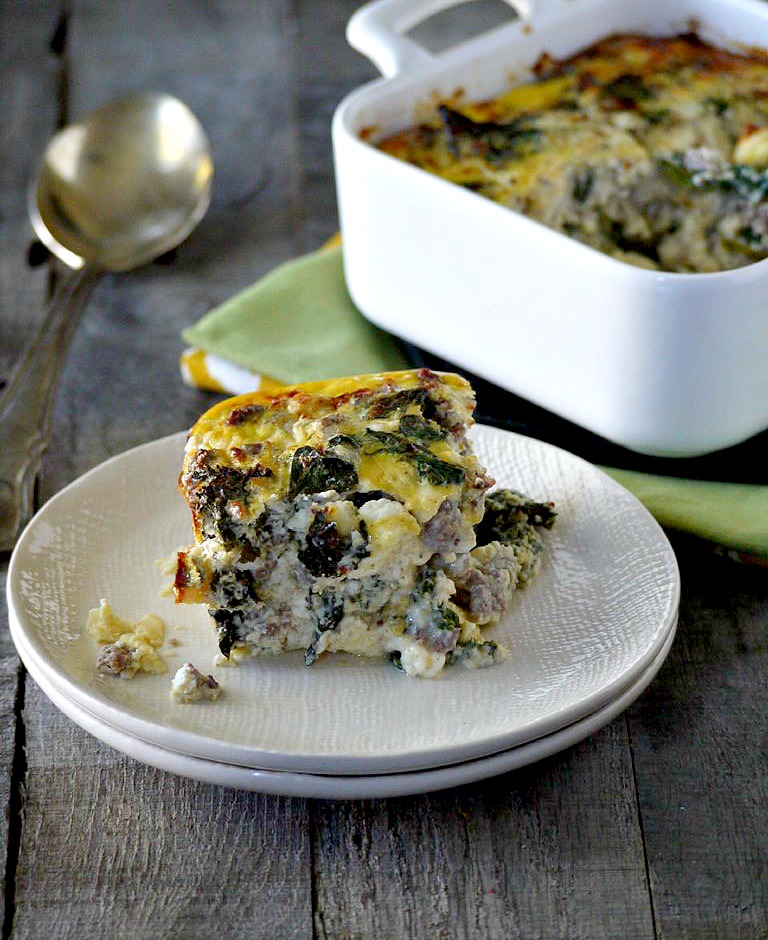 I also wanted this casserole to be "crust-less." Pregnancy is a time to carb load, right? Wrong. At least according to my midwives. Sure, first trimester was a carb-fest to ward off nausea. And, sure, a mix of protein and whole grains throughout the pregnancy is key to warding off fatigue, dizziness and more nausea. But carb-load we do not. I've been sticking to quinoa, brown rice, sprouted grain breads and corn tortillas as much as possible and trying to steer clear of carbs where I don't absolutely need them. Like this casserole which is extremely hearty and filling sans carb.
Finally, I had to deal with the dairy aspect. You know I love coming up with creative dairy substitutes, and casseroles are the perfect place to utilize some of those techniques BUT dairy is full of calcium and protein which is really good for pregnancy. Especially low-fat cottage cheese – so much protein!! – so I've been incorporating it more than usual. I also used sheep's milk feta cheese which is easier on my tummy and just all-around delish. The combo of the cottage cheese and feta adds a salty, creamy element to the casserole to balance out the super healthy greens.
I could have added a whole bunch more veggies to the casserole but too many flavors overwhelm my now delicate palate. This casserole is my perfect combo of healthy nutrients and creamy comfort.
It does a body and a baby good!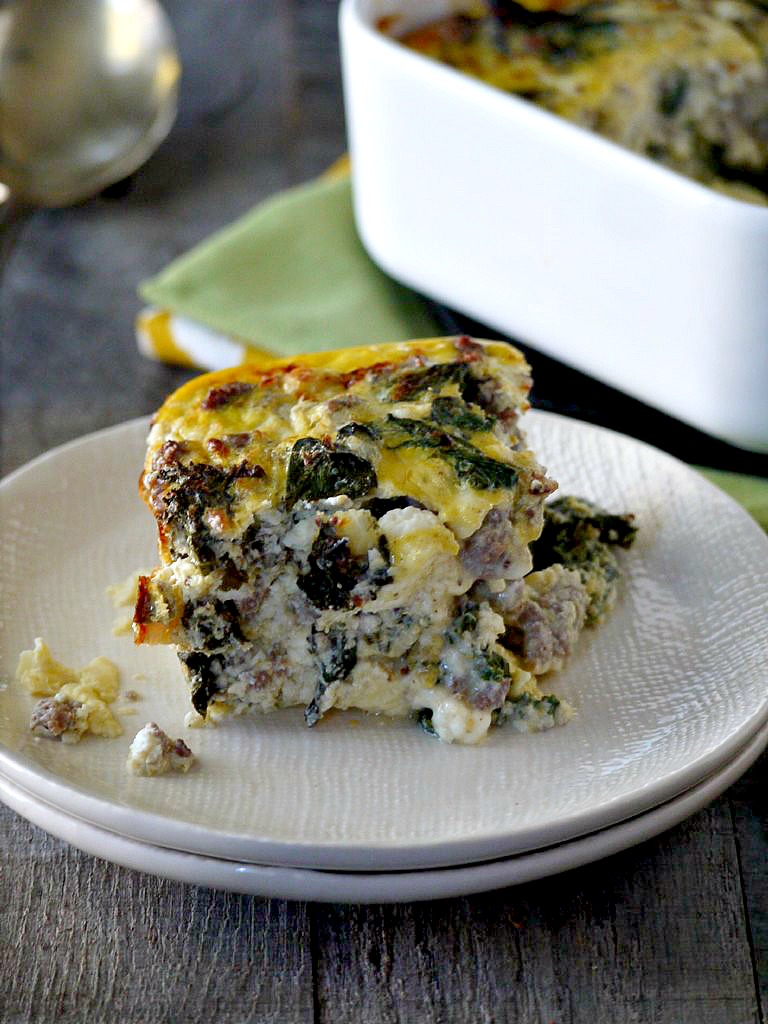 Bison, Greens and Feta Breakfast Casserole (AKA The Perfect Pregnancy Breakfast Casserole)
This recipe makes a small but hearty four-slice casserole. Feel free to double or triple the recipe if you're making it for a family or crowd. NOTE: I did not season the casserole with salt because the feta cheese I used was salty enough to season the casserole.
Author:
Healthy Recipe Ecstasy
Ingredients
1 teaspoon olive oil
½ cup chopped onion
½ pound ground bison
Freshly-ground black pepper, to taste
2 cups fresh kale leaves, stems removed
2 cups fresh spinach leaves
6 eggs, lightly beaten
1 tablespoon whole-grain mustard
1 cup one-percent cottage cheese
½ cup sheep's milk feta cheese (make sure the feta cheese is pasteurized if you're pregnant)
Instructions
Preheat oven to 375 degrees F.
Heat the oil in a large skillet over medium-high heat. Add the chopped onions to the skillet and cook for 3 minutes or until just softened. Add the ground bison to the skillet and cook 3-4 minutes or until browned, breaking the meat up with a wooden spoon as it cooks. Season to taste with black pepper.
Add the kale to the skillet and cook for 1-2 minutes or until it begins to wilt. Add the spinach and cook for 1 minute. Remove from heat.
Transfer the bison-greens mixture to a large mixing bowl. Add the eggs, mustard, cottage cheese and feta cheese. Mix all the ingredients together and transfer to a prepared baking dish.
Cook for 1 hour or until the egg mixture is completely set and golden brown on top. Let the casserole sit for at least 20 minutes before slicing.