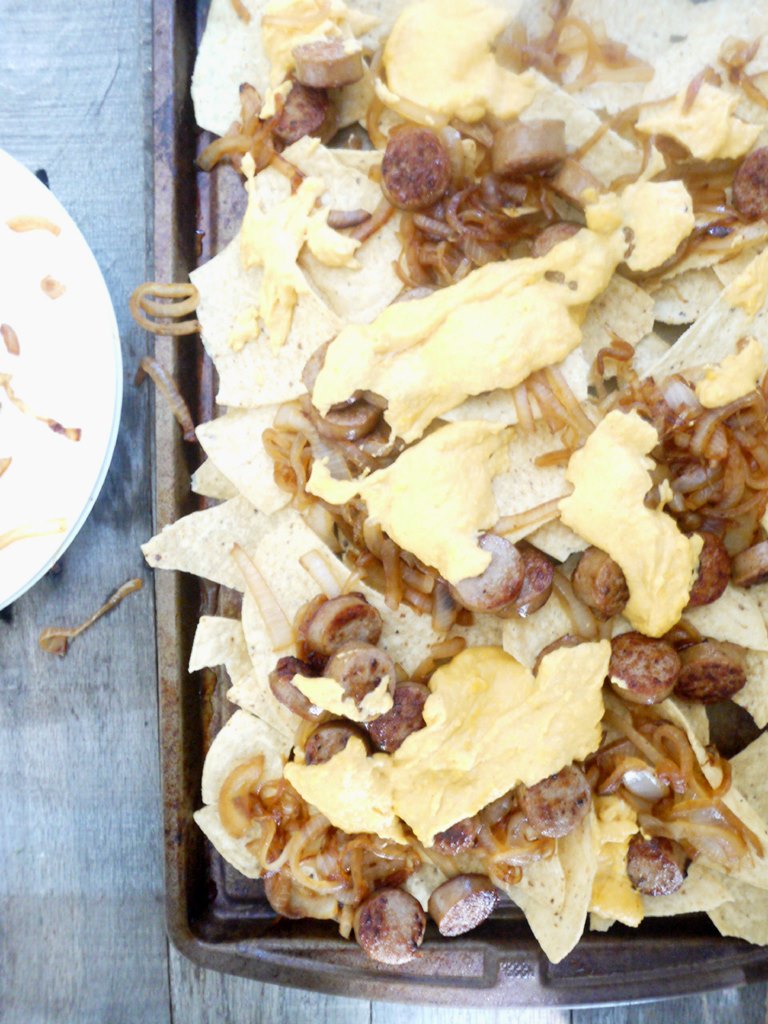 I have a confession. I don't really like German food. Sure, I'm obsessed with soft pretzels, and I could devour a good schnitzel, but, overall all, I'm not a fan.
I don't say this lightly – my opinions are grounded in experince. I spent a week in Germany a few years ago and, except for a pretty delish train station pretzel, my tummy came back disappointed. The best meal we had was at a Thai restaurant in Berlin. Sauerkraut makes me sour and not in a good lemon pucker face kind of way. And currywurst was soooo not my thing.
With that said, it shouldn't surprise you that I usually pass through the Oktoberfest season with mixed feelings. I love a good celebration but I can only eat so many sausages. Now, Cinco de Mayo, on the other hand, I could celebrate for a month. Give me all the tacos, nachos and guacamole I can handle, and, then, give me more.
So, I've been debating whether it's worth it for me to even acknowledge Oktoberfest on this little bloggity-blog space. Sure, I could make soft pretzels, but that's been done ten times over. I thought about making a pretzel grilled cheese but Tastespotting beat me too it.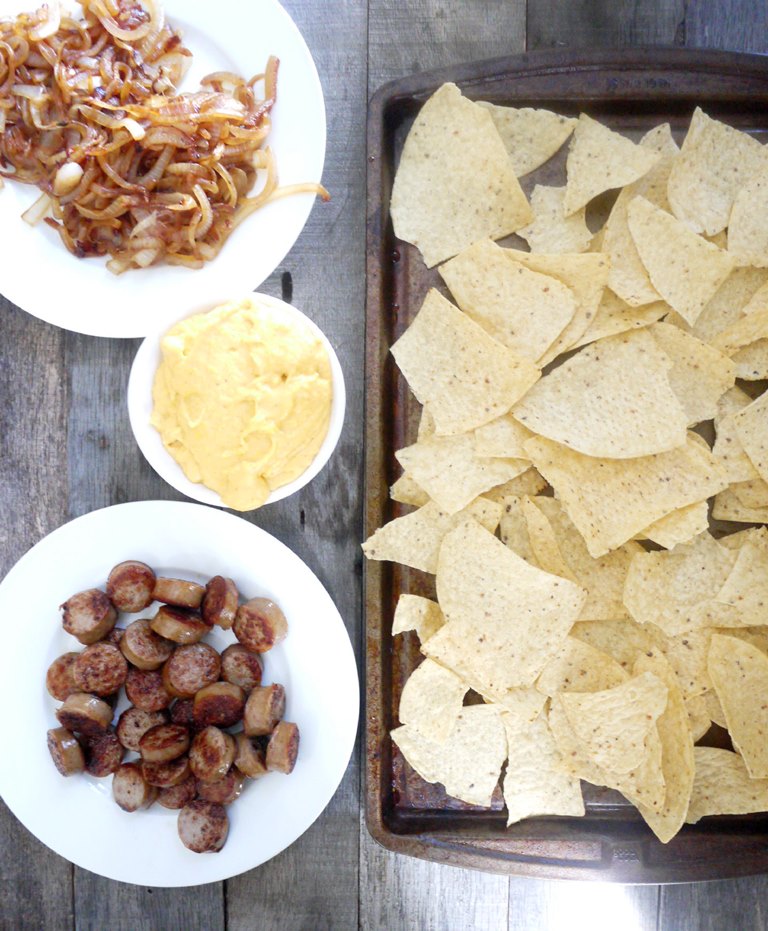 Then, it hit me. Why don't I combine one of my favorite cuisines (Mexican) with traditional Oktoberfest cuisine for a rockin' fusion dish? I like brats but not enough to eat an entire brat sandwich. So, I demoted the brats from their starring role to sidekick territory, scattering them atop tortilla chips and sweet caramelized onions. Then, I topped the whole shebang with some German-inspired, tangy mustard-cheddar sauce. Yeah, that's more my style. Tastebuds = happy. REALLY HAPPY.
A word on health. Health means different things to different bodies. While most people in this world could benefit from a diet focused on plants, nuts, whole grains and lean protein, what's good for your body may be different than what's good for your neighbor. Tomatoes get high marks for their cancer-fighting properties, but they can cause acid reflux sufferers some raging heartburn. Low-fat yogurt can help some people's systems run smoothly while making others run to the bathroom. Some people feel awesome after eating whole-wheat bread and others can't digest the gluten. My point is – a healthy diet is personal and while this recipe may not seem healthy to a lactose-sensitive vegan, it can rock the world of a individual with gluten issues.
Personally, I like to follow the 80/20 rule in life. If I eat well 80 percent of the time, I can allow myself to indulge 20 percent of the time. Around the holidays that may be more like 70/30 or even 60/40 but I still try to keep myself from 24/7 indulging. Or, if I'm going to indulge, I will pick and choose.
That's what this brat nacho recipe is about. If I'm going to eat cheese and meat, I'm going to limit my wheat and gluten. Having all three together makes my belly feel like it's going to explode. Plus Oktoberfest is already a gluten-heavy holiday with all the beer, pretzels and brat sandwiches so this recipe allows gluten-intolerant folks to join in the fun. If I'm going to devour cheese sauce, I'm going to forgo the milk and/or heavy cream for some non-fat Greek yogurt and low-lactose cheddar. And, if I'm going to eat sausage, I'm going to make sure it's high quality meat with no nitrates or unnecessary chemicals added.
Eating well when you indulge is just as important as eating well when you're eating healthy. So cheers to Oktoberfest and cheers to a well-thought out indulgence!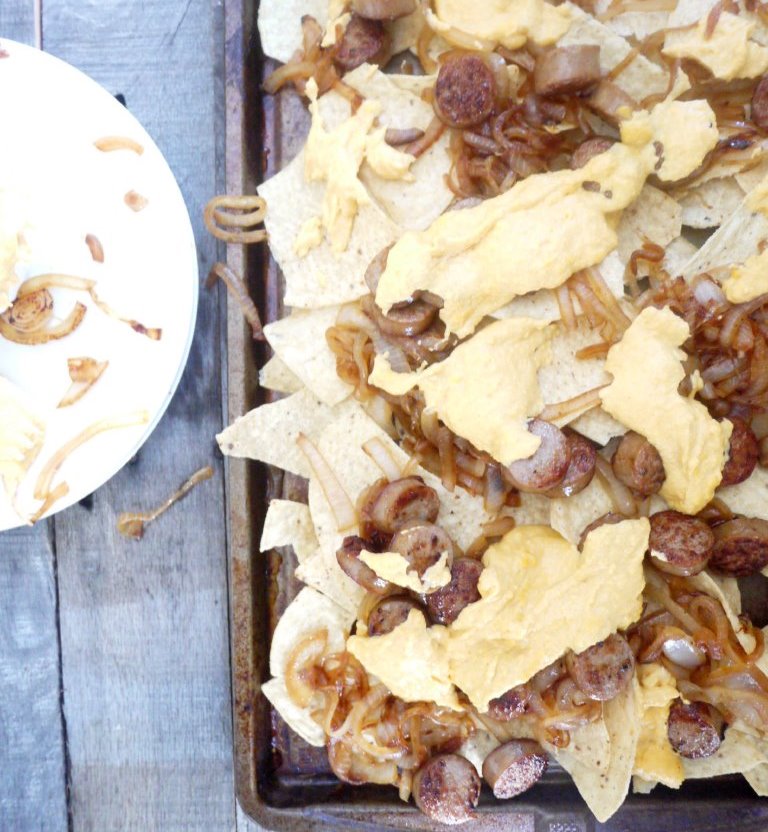 More "healthy" Oktoberfest treats:
Gluten Free Soft Pretzels from Free People
Braised Red Cabbage with Vinegar from Bon Appetit
Sausage, Sourdough, and Bell Pepper Spiedini from Bon Appetit
German-Style Potato Salad from Spache the Spatula
German Apple Pancake from Cooking Light
German Chocolate Fudge Bites from Chocolate-Covered Katie

Beer Brat Nachos with Caramelized Onions and Mustard-Cheddar Sauce
Author:
Healthy Recipe Ecstasy
Recipe type:
Appetizer/Snack
Ingredients
6-8 cups tortilla chips
4 gluten-free beer bratwurst links (I used Gilbert's Craft Sausages. If you can't find beer bratwurst, regular bratwurst will work fine. Or you can health it up a bit with chicken or turkey brats)
2 medium onions
1 tablespoon yogurt butter
½ cup non-fat Greek yogurt
½ cup Dijon mustard
2 tablespoons yogurt butter (I used Brummel and Brown)
2 tablespoons low-sodium chicken broth
¼ teaspoon cayenne pepper
¼ teaspoon kosher salt
3 cups grated cheddar cheese
Instructions
Cook Brats: Cut the brat links into ½-inch thick rounds. Cook the brat slices in a medium skillet over medium high heat for 2 minutes on each side or until nicely browned.
Caramelize Onions: Trim the tip and root from the onions, cut them in half and remove the skins. Cut the onion into thin slices. Melt the butter in a large skillet over medium heat. Add all the onions to the skillet and stir them gently to coat with butter. Cook the onions for 20 minutes, stirring occasionally, until brown and caramelized.
Make Cheddar Sauce: Combine yogurt, mustard, butter, and cayenne in a small saucepan over medium heat. Gradually whisk in the cheese, ½ a cup at a time. Continue cooking until smooth and all the cheese is melted, about 5 minutes. Serve warm.
To Assemble: Spread the tortilla chips on a baking sheet or large platter. Top with caramelized onions and brat slices. Spoon the cheddar sauce over the chips. Serve immediately.