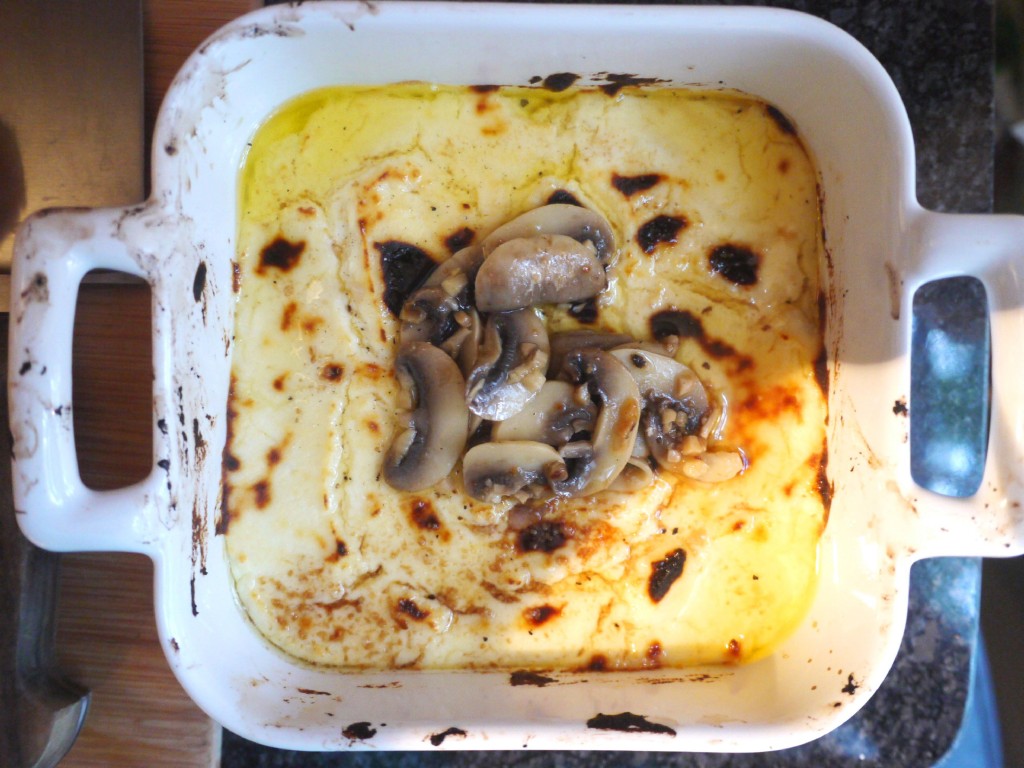 Ever since we moved into the new house and bought a real dining table (with an extension and extra chairs, like grownups), I've been dying to throw a dinner party. We've had the occasional friend or friend couple over for casual dinners but I've been wanting to really fill up the table, bust out my fancy new dinnerware, and prepare a feast. Since Alasdair was out of town last weekend, I decided Saturday night was the perfect opportunity for a girls dinner night. So, on Saturday, four of my girlfriends came over, which was the perfect number seeing as how I only have a total of five fancy new dinnerware plates at this moment. Despite there being just five of us (a perfect size for a starter dinner party), that didn't stop me from cooking enough for an army. I blame the Jewish mother gene and my desire to spend the week eating yummy dinner party leftovers.
Whenever I throw a party, whether it's a small dinner or a Cinco de Mayo fiesta, I always begin by contemplating potential themes. This girl (meaning me) gets pretty serious about themes. I'm not talking "Flappers and Gangstas" or "80s-style" though those are party themes I have rocked in the past. I'm talking about a subtle menu theme – a country, region, cooking style, etc. – that makes it easier to narrow down potential recipe ideas into a more manageable category. Otherwise, I end up flipping endlessly through cookbooks, magazines, and online sites overwhelmed by the culinary choices. Plus, there's nothing worse (IMHO) than a confused menu (first world problems, I know). So, for my small dinner party Saturday night, I decided on a subtle Italian theme. I say subtle because I wasn't planning on limiting my dishes to classic, in-your-face Italian food. Instead, I wanted to allow myself leeway by focusing on the ingredients and flavors which might be found in Italian dishes. That's how I came up with the masterpiece that I like to call the (subtle) Italian Dinner Party. Feel free to use this menu as a jumping off point for your next dinner party!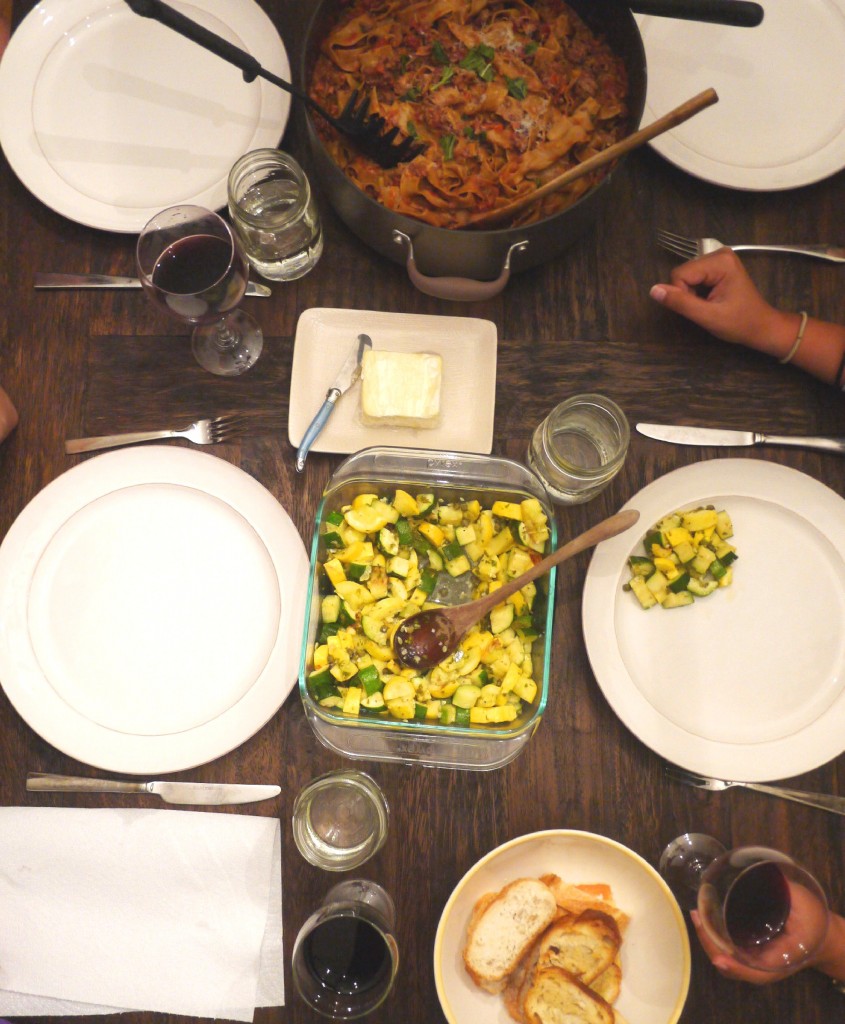 For starters, I served:
A cheese and meat plate with rosemary goat cheese, rosemary and olive oil Asiago cheese and spicy soppressata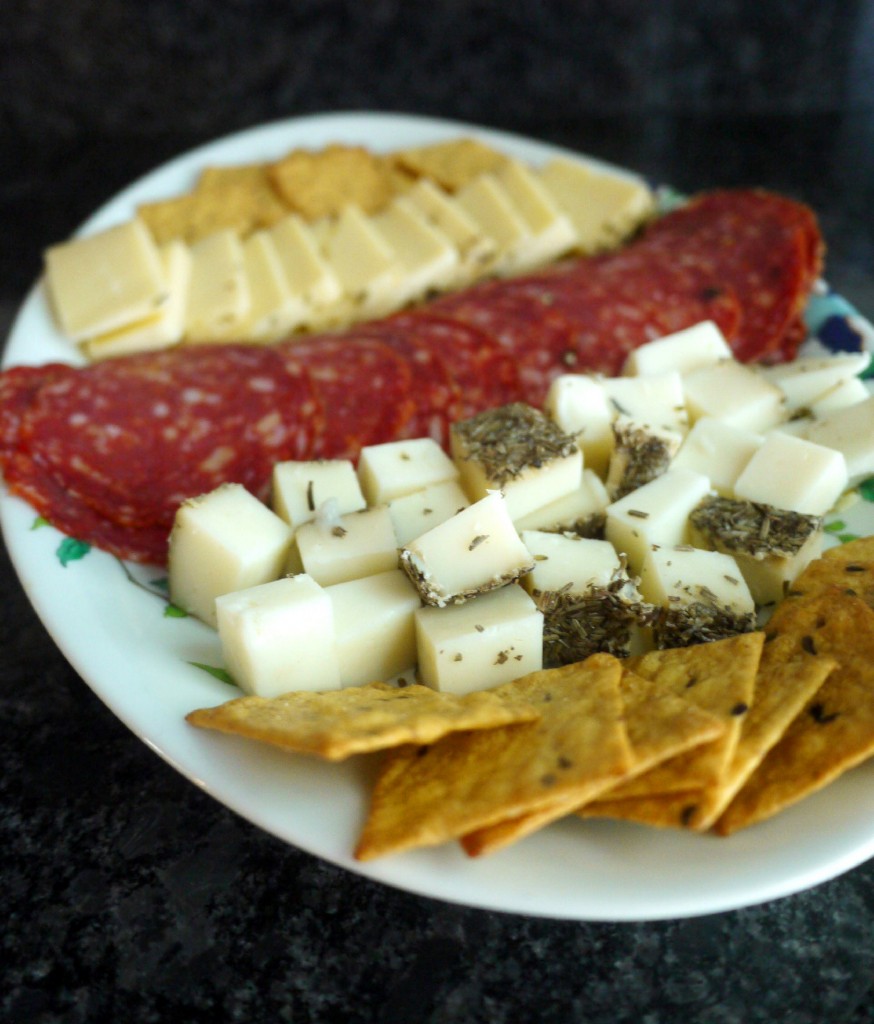 Prosciutto-wrapped white asparagus topped with olive oil and basil leaves
Sliced radishes with an anchovy-garlic dipping sauce (adapted from Chef Pablo Osorio's recipe)
Baked ricotta with a brown butter balsamic glaze (adapted from Tasting Table)
Tomato and basil bruschetta (brought by a party guest)
For the main course, we ate:
Red-wine pasta Bolognese with porcini tagliatelle (adapted from Geoffrey Zakarian's recipe)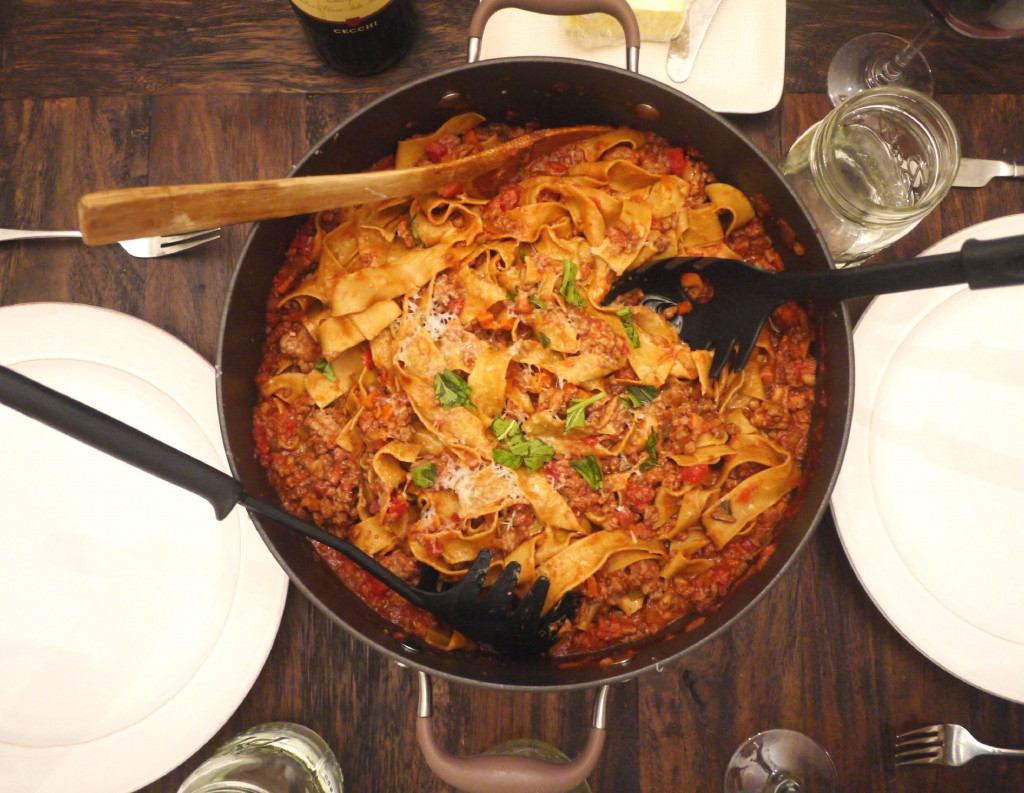 Roasted zucchini and squash with a caper gremolata (adapted from Cooking Light's recipe)
Beet, orange and feta salad (brought by a party guest)
For dessert, we had:
Chocolate martinis
Gelato
Doesn't that sound amazing? Not to toot my own subtly themed dinner party horn, but it was pretty over-the-top fantastic. As you can see from the gigantic Dutch oven filled with pasta, I'm going to be eating pasta Bolognese for weeks, which is totally fine with me because Geoffrey Zakarian's Bolognese recipe is incredibly rich, flavorful, and addicting. The star of the party, though, was the baked ricotta. I mean, anytime you bake cheese it's going to steal the show but, even so, this was not your average baked cheese dish. Whereas your average baked cheese dip might be perfect for backyard BBQs and tailgates, this baked cheese dish is all about decadence and luxury. It's the kind of cheese dish that needs a rustic baguette rather than a tortilla chip. It's the Rolls Royce of cheese dishes rather than the party bus.
What's gives this cheese dish the right to be so fancy and sophisticated and look condescendingly down upon your cheesy taco dip or cheddar cheese bake, you ask? Well, first you have the soft, creamy ricotta which is broiled until the top layer is brown and crisp, leaving a gooey, cheesy decadence underneath. Then, you have the mushrooms which have been sauteed in olive oil with garlic and chili flakes. And, then, most importantly, you have the piece de la resistance: the brown butter balsamic glaze. I can't describe what this glaze does to the cheese so I won't even try, but it's magical. I was actually hesitant to add the mushrooms and the glaze to the cheese because it was uncharted territory  for me, and I didn't want to ruin a fine baked ricotta. Plus, I don't love balsamic vinegar. But, I was wrong to hesitate. So wrong. The three parts ooze together into a trifecta of cheesy, buttery, balsamic-y splendor until you are literally shouting about baked ricotta from your rooftop and fighting with your party guests for the last bite.
Healthy Recipe Ecstasy? Let's not kids ourselves. There's nothing healthy about baked cheese topped with butter sauce. However, this dish is so rich and decadent, you feel satisfied quicker than if you were chowing down on a run of the mill cheese dip AND it's topped with a vegetable (yep, that's my sad, weak rationalization). As there's not much to say in terms of health regarding the baked ricotta, let's talk about the healthiness of the menu as a whole. One of the most important things to think about when throwing together a menu is to (1) make sure there's something for everyone (I always make sure to include at least one dish that's vegetarian, one dairy-free dish and one gluten-free dish in case someone has a dietary intolerance or preference (2) make sure you're serving a well-balanced meal and (3) make sure you mix light dishes and heavy dishes. You don't want three carb-heavy appetizers that fill up your guests before dinner. That's why I complimented the rich baked cheese dish with the lighter, tangy radish appetizer, and the salty prosciutto-asparagus. For our dinner, the low-carb roasted squash side dish and beet salad paired perfectly with the heavier pasta Bolognese. If you put out a grocery store veggie tray or make a bland vegetable side dish, your guests will probably focus on the cheese and pasta. But, I find that if you make the vegetables interesting, your guests will eat a more moderate amount of the fatty, carb-heavy dishes, leaving room for delectable dessert dishes like chocolate martinis and gelato. 🙂

Baked Ricotta with Mushrooms and Balsamic Brown Butter + Italian Dinner Party
Author:
Healthy Recipe Ecstasy (Adapted from Tasting Table)
Ingredients
Ricotta:
2 cups whole milk ricotta
¼ cup extra-virgin olive oil (the recipe calls for ½ cup olive oil but I thought that was a bit unnecessary)
3 garlic cloves, finely chopped
1 and ½ teaspoons dried red pepper flakes
½ pound white button mushrooms, stemmed and thinly sliced
½ cup dry white wine
Salt and freshly ground black pepper
Balsamic Brown Butter:
1 stick unsalted butter
2 tablespoons balsamic vinegar
Salt and freshly ground black pepper
1 small loaf rustic bread, thickly sliced (feel free to substitute gluten-free crackers)
Instructions
Dampen a doubled, large piece of cheesecloth with cold water and use it to line a fine-mesh strainer. Set over a medium bowl, add the ricotta and refrigerate for 1 hour. Discard the excess liquid and reserve the ricotta.
In a medium skillet, add the olive oil, garlic and red pepper flakes. Place the skillet over medium heat and cook until the garlic is lightly browned, 4 to 5 minutes. Stir frequently to ensure the garlic doesn't burn. Add the mushrooms and white wine and bring to a simmer. Cook until the wine has evaporated and the mushrooms are tender, about 8 minutes. Season with salt and pepper and transfer to a medium bowl.
Make the balsamic brown butter: In a medium saucepan set over low heat, add the butter. Melt the butter, stirring frequently, until it is fragrant and turns a deep brown color, 10 to 12 minutes. Remove the pan from the heat and set aside to cool for 5 minutes, then stir in the balsamic vinegar. Season with salt and pepper.
To finish: Place the oven rack in the top of the oven and preheat the broiler to high. The oven rack position is crucial. I didn't listen at first and my ricotta would not brown. I moved the oven rack and BOOM. Nicely browned ricotta. Place the strained ricotta into a small baking dish. Place the baking dish under the broiler. Cook until the ricotta is browned on top and heated all the way through, 5 to 7 minutes. Sprinkle with salt and pepper and top with the mushrooms. Drizzle with a little balsamic brown butter (store the rest in an airtight container for up to 1 week). Serve the baked ricotta warm with bread or crackers.